Engagement Ring Financing Up To $10,000 With Jacaranda Finance | Apply Now!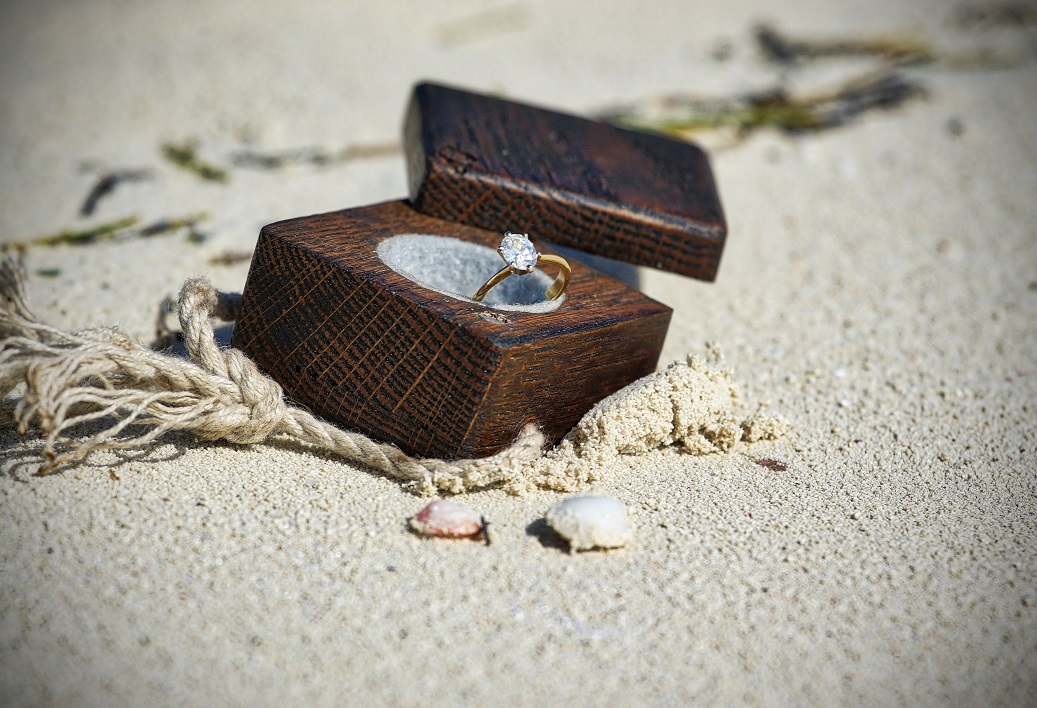 Engagement ring financing for the most loved-up of birds!
Wanting to pop the question to your significant other? The celebration of young (or old) love is one of the most exciting celebrations there is. Mainly because weddings are great fun and there's an open bar. However, in order to provide everyone with this great fun and open bar, there needs to be a bride and groom and there needs to be some money. It all starts with the ring (cue Smeagol voice). If there's no ring, there's no bride and grooms, no wedding, no fun, no open bar. So, you see how important that engagement ring is to the sanctity of marriage?
When you think about it, if you have no money to buy the ring in the first place, the whole occasion is pretty much moot. That's where engagement ring financing from Jacaranda Finance comes in. If you're head over heels for your better half and dying to tie the knot but money is a little tight, we have the solution for you!
What is engagement ring financing?
Well, the name pretty much describes it all but, essentially, engagement finance is a type of personal loan. You can apply for any amount between $300 and $10,000 to help buy your lady or gent their new favourite piece of bling.
A 2017 Australian survey found that couples are spending an average of $6,143 on an engagement. For some people, this amount will seem low and for some, it will seem extravagant. We supposed there's not really one sum that's prudent to spend on a ring. It's more about what style you like and what you can afford. If you can't afford a $15,000 engagement ring then we suggest lowering your budget… by a lot!
Whatever it is you're looking for, you're bound to be spending a significant amount of money. Therefore, we want to help soften the financial blow a little by offering one of the best engagement ring cash loans options in Australia. Apply online today, pop that magical question to the old ball and chain and then pay it off later. We can imagine your nerves are at an all-time high right now and we want to help ease them a little. Our engagement finance could be exactly what you need to find the perfect sparkle for your love.
How does your engagement ring financing work?
A wedding ring loan from Jacaranda Finance is super easy to apply for and you could even receive your cash advance that same day! You just jump onto our website and use the loans calculator at the top of the page. It will ask you to enter how much you want to borrow and your repayment period. Then, we'll tell you exactly how much your repayments will be on a weekly, fortnightly or monthly basis over the term of your loan.
Once you're happy, click Apply Now and we'll take you to our simple application form. The whole form will only take you a few minutes to complete. Then, once you have submitted your application, it could take us a quick as 60-minutes to complete our assessment – if you apply within normal business hours. We'll get back to you with an outcome as soon as we have everything we need. In some cases, we may ask for some additional documentation which may delay the process slightly. However, as everything is done online, our process is still a lot faster than other more traditional money lenders.
I've just applied for my engagement ring financing, what now?
After you have submitted your application, we will tell you within a couple of minutes if we're able to make you an offer or not. We know that your time is precious and so we would never want to waste it. If we're not able to help you, we are very sorry. We have a duty of cure as responsible lenders to only approve people for loans they can afford. However, we always encourage you to apply again down the track and our criteria are always changing and we're sure your situation is too.
As soon as we have everything we need and your application has been officially approved, we'll send you an electronic contract to sign and send back to us. All you need to do is read over your contract, sign it and email it back to us. The second we see that contract in our inbox, we will transfer you your wedding ring loan. Most of our clients receive their loan within a couple of hours, however, this is completely dependent on the policies of the bank you are with. Otherwise, the funds will reflect in your account by the following business day.
It's also good to keep in mind that, if you are applying outside of our normal business hours, it will take us a little longer to assess your application. If you've decided, spur of the moment, that you're going to get down on one knee and you want to buy the ring before you change your mind, you can still apply. Your application will be on of the first ones we look at as soon as we're back in the office. If all goes to plan, you could have a fiance by dinner time…. Given they say yes, of course!
Do you offer engagement ring finance options for people with bad credit?
Yes, we do!
We're all about giving everyone a fair go. Therefore, as long as you meet our basic eligibility requirements, we'd be more than happy to approve you for a wedding ring loan. We do conduct credit checks, however, this is not the only thing we look at. In the spirit of giving everyone a fair go, we prefer to put a little more focus on your current financial situation. This entails your income over the last 90-days, your spending habits and your overall relationship with money.
Furthermore, as long as you have a regular and consistent source of income, it doesn't bother us where exactly it comes from. Whether you're looking for loans for self-employed , your employer pays your wages or you're receiving Centrelink, everyone is welcome at Jacaranda Finance.
So, am I eligible for engagement ring loans?
To qualify you need to be:
Over the age of 18;
An Australian citizen or permanent resident;
Receiving a regular income for the last 90 days;
Able to provide a valid mobile number and email address.
If this sounds like you then go ahead and apply for our engagement ring loans and we will do our best to help you in any way that we can.
How to finance an engagement ring?
If your other half has expensive taste then one of our secured personal loans of $2,001 to $10,000 (very expensive taste) might not quite cut it. You may need to put a bit of your own money towards the ring as well as borrow money. Therefore, here are some tips on how to finance an engagement ring.
Get a loan today from friends or family – If you're in a rush to lock your lover in before they change their mind about being with you, maybe you have some generous and romantic friends or family that would be willing to loan you the extra cash?
In-store financing – If you are a little short on cash, even after your engagement ring loans, you could look to get some in-store financing. Many major jewellers will offer financing plans to help you pay off your ring.
Save up – The best way to pay for anything is to save up and use your own cash. We understand that this can sometimes be easier said than done. However, if time permits it, we always recommend trying to save as much of your own money as you can.
How to finance an engagement ring by saving up
Set up automatic transfers
Create a separate savings account form your everyday spending and then organise for a certain amount of money to be transferred into your savings account every payday. Whenever you think you can make the transfer amount larger, definitely do so. If buying this ring is your top priority then you should save your money accordingly.
Do your research
An engagement ring is a big ticket item. Therefore, research it from top to bottom to find the best diamond, types of metal, style and jewellery to suit your needs and your budget. Make sure you're going to be getting the best value for money.
Be a cheap date
Instead of cutting into a 10-ounce steak every date night, opt for some cheaper, more humble options. Take your lady or gent on a nice homemade picnic, create a candlelit dinner in your own backyard or cook up something hearty in front of their favourite movie. Always try to find cheaper alternatives to your regular activities.
Make some sacrifices
Say no to any big purchases for a while. Hold off on that new Xbox for your man cave or that extremely overpriced pair of boots so you can put a few extra dollars towards the ring. After all, would you rather have nice shoes and play Xbox than having someone who loves you and keeps you warm at night? We didn't think so.
Pay cash for things
What is this 'cash' we speak of? Well, it is a seemingly outdated way to pay for things these days but it is also a very effective way to save money. Firstly, go out and by yourself a piggy bank. Yes, a piggy bank: one of those ones that you can't get money out of unless you break it. Then, pay a trip to the ATM and start using cash for your purchases. Every Time you've given a $5 note, put it into your piggy bank. At the time, you won't really miss $5 but over time it will add up to a healthy wad of sweet, sweet savings.
How much does engagement ring financing cost?
We offer three types of personal loans. These are small unsecured personal loans from $300 to $2,000 and medium secured personal loans from $2,001 to $4,600. Lastly, if you're looking to really, really impress, we offer large secured personal loans from $5,000 to $10,000.
Small personal loans cost:
A one-off establishment fee of 20% of the wedding ring loan principal (broken down into repayments)
Monthly fees of 4% of the loan principal
A direct debit dishonour fee of $35 for failed payments
Medium secured personal loan cost:
A one-off establishment fee of $400 (broken down into repayments)
An annual percentage rate of 48%
A direct debit dishonour fee of $35 for failed payments
Large secured personal loan cost:
An annual percentage rate of 21.24%;
A direct debit dishonour fee of $35 for failed payments.
The only other difference between these types of personal loan options is that our medium and large secured personal loans require an asset to be attached for security. This could be your car, motorbike, boat or caravan.
Ready to get hitched?
All up to speed on our engagement ring financing? Head back up to the top of the page and get started with your application.
Have more questions? Check out our FAQ page to find the answers you're looking for. If you're still a little unsure, get in touch with us via our website or our Facebook page.
Thinking of applying for an IVF loan? Read on for more information!
Want to read more? We've got all the details you need to know about loans for people with bad credit.
Jacaranda has the low down on low interest loans and how to repair your credit rating!
We've got all you need to know about quick loan approval online.
4.7

out of

5

based on

155

reviews.
Overall rating: