28th September 2023
10 Tips to Save Money on the Weekend
Do you find it easy to save during the week, only to blow it all on weekend festivities? You may be in need of some weekend budgeting tips!
Last modified: 26th September 2023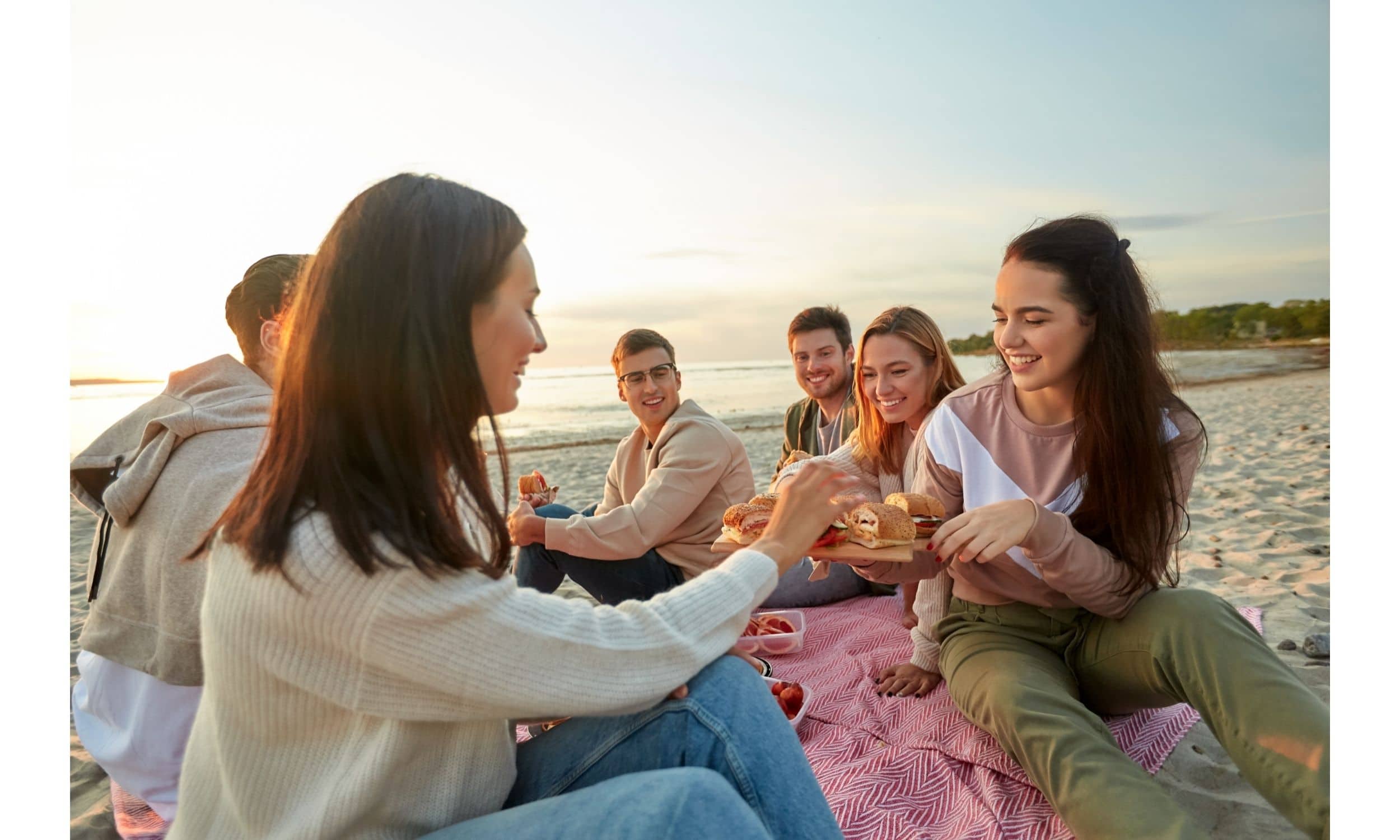 Whether it's an expensive Saturday brunch, a big night on the town, or too many Uber Eats orders, costs can quickly pile up on Saturday and Sunday.
We've put together ten budgeting tips to help you avoid the (financial) Monday hangover by saving money on the weekend while still having fun.
Originally published 19 May 2021.
---
---
Top 10 tips for saving money on the weekend
The cost of living is the single largest cause of stress among the majority (51%) of Aussie households, and our weekends have become more expensive due to current high prices.  
The latest data from the Australian Bureau of Statistics (ABS) shows household spending on discretionary (non-essential) goods and services was just 0.6% lower than in May last year. The CommBank Spending Insights Index also indicates that Aussies still stubbornly spend money on fun things in the face of the surging cost of living. How dare we!
If you want to cut back on your weekend spending to help your overall savings efforts, jump to each top weekend savings tip below:
---
1. Create a weekend budget
Considering how much you spend during the week, create a budget to factor in any costs you might pay on the weekend. If you know you have a friend's birthday coming up, factor these costs into your budget accordingly.
This can help you track your spending, hold yourself accountable and save money.
---
Download the FastMoney App now!
---
2. Set a spending limit for nights out
One of the most significant ways to spend excess money on the weekend is to have a big night out, especially when alcohol is involved. According to a report by Eventbrite, the average event-goer spends $112 on a night out, having an average of three drinks a night. As many as 18% grab five or more drinks, while only 6% don't have any drinks.
In 2023, this average cost is only set to rise. Inflation figures for the June 2023 quarter show the price of alcohol is up nearly 5% year-on-year, with new excises on beer sending the average schooner price as high as $12!
If you tend to splurge too much on a night out, consider setting up a spending limit for yourself. Choose a maximum amount that suits your financial situation, whether it's $50, $100, or $1,000. A handy tip is to withdraw your budget amount from an ATM and leave your credit card at home to avoid any temptation.
3. Limit your expensive meals and takeaway
Australians spend an average of $40 per week on food delivery through apps like UberEats, Deliveroo and Doordash, over $2,000 yearly! Meanwhile, we also spend at least $129 monthly on food at restaurants and cafes.
These expensive meals, whether eating out or ordering in (especially given those hefty Ubereats delivery fees), can take a toll on your budget any day of the week, but we're more likely to do it on the weekend. Try to minimise your expensive meals to just once a weekend maximum.
4. Find free activities to do
You can do plenty of fun activities for free on the weekend. You could check out the local museum, head into the city, do some people-watching, or go on a hike to immerse yourself in nature.
Even just going for a walk around your local neighbourhood can be fun, whether you're alone or with a friend. Sometimes, getting back to basics can be great for the soul (and the wallet).
Check your local community and social media groups, government websites or sites like Urban List for inspiration on free things you can do in your area.
5. Avoid impulse buying
Did you know that Aussies spend over $13 billion yearly on impulse purchases? Strolling through a shopping centre or online shopping on your phone is all good until you accidentally buy a $1,000 coat you didn't need. 
Impulse shopping is more likely to happen on the weekends when we have time off, and doing so too frequently adds up. Stick to buying what you need and resist those flashy sale signs or online deals.
A little self-control can lead to significant savings!
6. Stay in and watch TV
The weekend doesn't have to involve lavish plans with expensive meals and activities. Why not spend a weekend on the couch, bingeing the latest garbage Netflix series?
Instead of spending money going to the cinemas, pick a movie or TV show on a streaming service you're already paying for. Buy some popcorn and ice cream from the grocery store and relax at home.
7. Tick off some life admin
Use the weekend to knock out some tasks you've been putting off. Whether it's decluttering your space, mending clothes, or even updating your resume, being productive can prevent unnecessary spending and even save in the long run. 
You could even use this time to sell some unwanted items around the house. According to Gumtree, as many as 86% of Australians have unwanted or unused items lying around the house worth up to $7,000!
8. Spend time with nature
Use your weekend to reconnect with the great outdoors! Whether it's a walk in the park, a hike, or even a day at the beach, nature offers many free activities. Going outside is not only great for your pocket but for your soul as well.
9. Do some meal prep
If you spend $10 a day on lunch at work, that's almost $2,500 a year. Why not use some free time on the weekend to buy groceries in bulk and do some serious meal prepping?
Spending part of your Saturday or Sunday prepping meals for the week is economical, often healthier, and gives you a great start to the upcoming workdays. Plus, you could learn some new cooking skills along the way!
10. Sort out your finances
Give yourself a mini financial health check if you're spending the night in. Review your subscriptions, see where to cut costs, and check your savings progress.
It's not the most thrilling weekend activity, but it can be among the most rewarding. Future you will be grateful too!
Try not to stress about your weekend spending.
Sometimes, life happens, and you go over your weekend budget. If that does happen, it's OK! Try not to stress too much: worrying about every dollar spent can affect your mental well-being. Weekends are a time to recharge, and perpetual anxiety about expenses can counteract the relaxation you seek.
The value you receive from spending the money can often be worth more than saving it, so try to find that balance between being overly frugal and draining your bank account too much.
If the thought of weekend spending gives you the jitters, consider setting up a separate 'weekend fund'. Transfer a small portion of your income into this account for your weekend escapades. This way, you know you're spending within a set limit, alleviating some of that financial anxiety.
Start building your emergency savings now.
Did you know that 20% of households said they couldn't raise $3,000 in an emergency, and 11% have less than $100 in cash savings? If you go way over budget on the weekend and find yourself in a pickle, having an emergency savings fund you can access if needed is useful.
If you don't already have some, read our article below for a guide to how you can start building your emergency savings.
Need a loan fast?
Whether it's for unexpected expenses arising or a spur-of-the-moment getaway, Jacaranda Finance has your weekend sorted.
Most lenders are closed on the weekend, but we're open on Saturdays, meaning you can apply for a loan in the morning and potentially receive your funds that very same day!2
See how a Jacaranda Weekend Loan can help you or begin your application by hitting the 'get started' below.
---
The information on this website is for general information only. It should not be taken as constituting professional advice from the website owner - Jacaranda Finance. Jacaranda Finance is not a financial adviser, and the content on this page does not take into account your objectives, financial situation or needs. You should consider seeking independent legal, financial, taxation or other advice to check how the website information relates to your unique circumstances.
Jacaranda Finance is not liable for any loss caused, whether due to negligence or otherwise arising from the use of, or reliance on, the information provided directly or indirectly by use of this website.
William is the Content Manager at Jacaranda Finance. He has worked as both a journalist and a media advisor at some of Australia's biggest financial comparison sites such as Canstar, Compare the Market and Savings.com.au, and is passionate about helping Australians find the right money solution for them.
You can get in touch with William via
williamj@jacarandafinance.com.au
.