Before lenders lend out money, they want to be able to predict whether that person is going to pay the money back. Legacy lenders, such as banks and credit unions, predominantly use credit scores to determine the risk of debt going bad. However, innovative new lenders like Jacaranda Finance are turning away from traditional risk scoring, and using alternative data instead.
Jacaranda Finance is a modern FinTech company that specialises in short-term lending. A pioneer in the industry, they have turned away from a focus on traditional credit bureau data. Instead, they have developed a state-of-the-art scoring system that utilises alternative data, specifically, bank statement data.
Jacaranda isn't the first, and certainly won't be the last, lender that has shifted its focus from a traditional risk management model to an alternative risk model.
In this deep dive into alternative data, we discuss how Jacaranda Finance uses their bank statement scoring model, the pros and cons, and why alternative data is the future of the lending industry.
What is alternative data and why is it useful?
Alternative data is collected from non-traditional data sources to give a complete and current overview of a particular situation, to make the most accurate decisions and yield additional insights that complement traditionally sourced information.
Traditional data sources, like credit reports, don't give a comprehensive picture of a person's real time spending habits. To fill this void, data-driven alternative data like bank statement data can be used to guide better informed decision-making.
Many companies have started to collect, clean, analyse, and interpret rich data from non-traditional sources. Some other examples of this include data from credit card transactions, mobile devices, social media presence, public records, and web traffic.
Credfin, the service Jacaranda works with to analyse and categorise their bank statement data, is able to extract, clean, and group the information in a way that is easy to interpret by the end user (e.g. the loan underwriter). This is an integral cog in the loan processing machine, which allows for trending behaviour observation, a faster assessment process, accessibility to specific data, and enhanced risk mitigation.
How Jacaranda created their decision engine
Jacaranda Finance created, trialled, implemented, and continues to innovate their loan processing engine with the utilisation of non-traditional and traditional data sources. The Jacaranda feature library contains more than 800,000 unique data points. Some of these include:
Count of transactions in specific categories and over certain periods;
Ratio of incoming and outgoing amounts;
Count of transactions with specific keywords;
Regularity of transactions;
Stability of payments on a monthly basis.
From the 800,000 unique data points, over 75,000 with the most potential were selected and generated during the pilot of the new risk engine. Using Information Value as a comparison metric, the most predictive features based on a number of transaction types were used to estimate the predictive power of the features.
The 'Gini' of scorecards that were developed, using bank statement data in conjunction with AI and machine learning, were significantly higher than traditional credit scorecards:
| Model | Gini |
| --- | --- |
| Bureau Only (traditional model) | 24 |
| Bureau Only (machine learning model) | 40 |
| Bank Statement Only | 46 |
| Bank Statement & Bureau | 50 |
The higher the Gini, the more predictive power the model has. A Gini of 100 is perfectly predictive, meaning it is able to identify who will likely repay their loan and who will likely default, with high probability.
Pros and cons of bank statement data
While it might seem like a no brainer, there are still benefits and drawbacks to bank statement scoring as an alternative data source that should be considered.
| Pros | Cons |
| --- | --- |
| Enhanced risk mitigation – Bank statement information is much more detailed, comprehensive, and up-to-date than other data points in assessing borrower credibility. | Implementation – Creating a system that combines AI and machine learning that integrates multiple data points can take time, trial and error, and be a difficult feat. |
| Trending behaviour – Information gathered from bank statements can be used to populate trending graphs that predict future financial behaviour. | Multiple bank accounts – If a person only provides the bank details of one account, but they have three accounts in total, we might not get the full picture of the person's financial situation. |
| Speed – The entire process of scoring an application with all data points takes an average of two and a half minutes. So, it's extremely fast and efficient. | |
| Specific data – You can look at specific data sets to see relevant information. For example, if a person is applying for a Small Amount Credit Contract (SACC) loan, you can see their history of SACC loan management behaviour. | |
Figure 1: Example Of A Trending Graph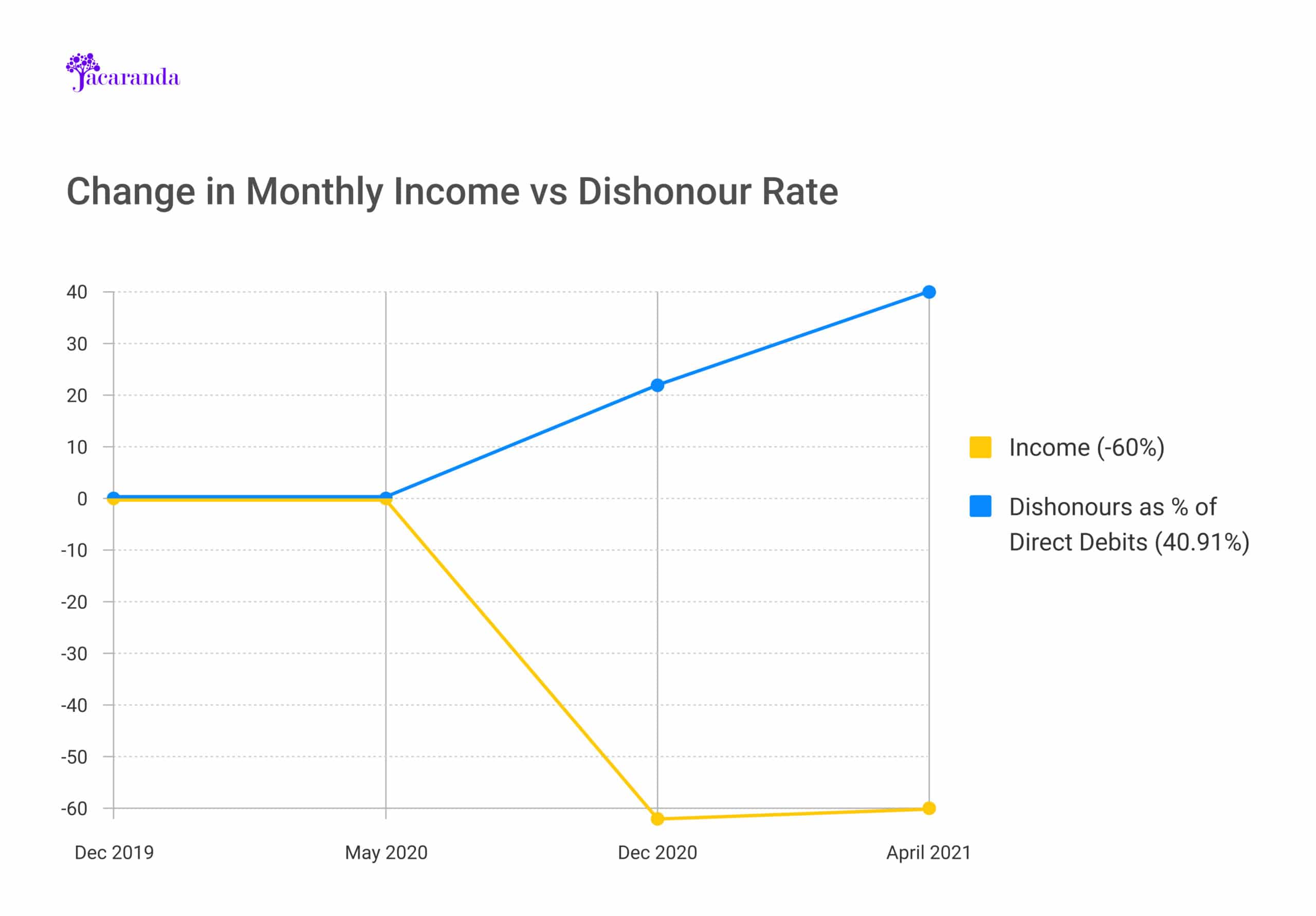 Alternative data being used around the world
FinTechs in the lending space aren't the first companies to integrate alternative data in their decision making. According to AlternativeData.org, total buy-side spending skyrocketed from $232 million in 2016 to $1.08 billion in 2019. This demonstrates the increasing popularity of alternative data, and shows that it is proving to be useful to companies in many industries.
For some real-world examples, we've listed four different business situations in which alternative data is being used to enrich decision-making processes.
1. Verizon
In 2019, Verizon Media's Yahoo Finance launched a service that provides retail investors with robust alternative data. Charging $49.00 monthly, the service allows their investors to get a deeper look at the data and essential parts of their returns, as well as research, charts, and more to gain further insights into the business and make better informed investments.
2. Hedge funds
Hedge funds also use alternative data to supply investors with valuable information about their shopping habits, purchasing decisions, demographics, and more.
As of 2019, 400 firms were selling alternative data to hedge funds, and expected to pull in $1 billion profit as a result.
3. Geopolitical risks
Alternative data can be used to predict risk from governmental changes including spending, trade tariffs, currency valuation, taxes, and environmental regulations. This can allow political decision makers to make more accurate predictions and better manage geopolitical risks.
For example, stock research firms have done this to notify clients that they spotted Occidental Petroleum Corporation's Gulfstream V at the airport, which led people to speculate that they were meeting Warren Buffet's Berkshire Hathaway Inc. Shortly after, Buffet invested $10 billion in the company. So, their prediction was correct, and this was due to alternative data.
4. Zip
Similar to the AI and machine learning used by Jacaranda Finance, Zip now utilises bank statement scoring technology in their expansion into Europe and the Middle East. The in-house credit and fraud scoring engine known as "Nikita" analyses 500+ factors in milliseconds, which is highly transferable to new growth markets with minimal traditional credit data available.
The future of alternative data
In Europe and the USA, alternative data is a commonly used tool. Naturally, Australia is sure to follow in their footsteps.
In the finance industry, specifically, in the lending space, Jacaranda Finance predicts that using alternative data like bank statements will become the 'new norm'. With the rise of open banking, this rich data is highly accessible and easily available to all. So, FinTech innovators are going to continue to create more and more products that accurately predict risk.
Daniel Wessels, Founder & CEO of Jacaranda Finance, believes that FinTechs are going to continue to pioneer this unexplored territory in the Australian lending market.
"Mark my words. Over the next few years, you'll continue to see more and more FinTechs popping up that are doing what we're doing. They'll be quick, they'll be simple, and they'll be extremely cost effective," said Wessels.