Home > Blog Posts > Our top picks for the best shows on Netflix 2018
Our top picks for the best shows on Netflix 2018
November 20, 2018

●

10 minute read

●
Authoritative Source
Daniel Wessels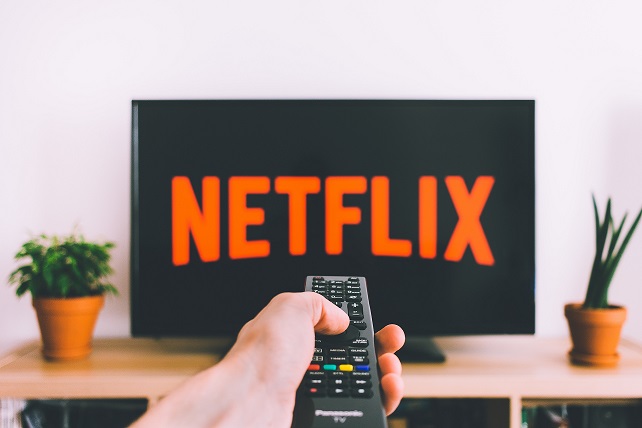 Looking for the best shows on Netflix 2018? We have a few binge-worthy gems just waiting to take over your spare time.
Ahhhh Netflix. The be all and end all of on-demand television. There's nothing like waking up on a Sunday morning with a throbbing headache and a craving for pizza and parking your sorry self in front of Netflix All. Day. Long. Or maybe there's a classic Australian summer storm and your only option is to make a giant bowl of popcorn and binge-watch Brooklyn Nine-Nine. Oh, the humanity.
Life can be tough sometimes. Paying $10 a month to have access to something like 100 million hours of movies and tv shows and growing, at any given time of the day. Sooooo tough. It really is, though. Have you ever been so pumped for a Netflix and chill only to spend 45 minutes scrolling through every genre of movies and TV shows, only to then lie on the floor on your phone for an hour until you fall asleep? You and 20 million other Australians. The endless options are enough to cause panic in even the most decisive of people. And at just $10 to $13 a month, it's not like you need money loans to cover the cost.
So, as the festive season is approaching and the food coma/ hangovers are likely to increase tenfold, we have put together a list of the best shows on Netflix 2018. We even went through and tested them all, just because we care.
Here we go.
The best shows on Netflix 2018
First, just a little side note – we haven't put these in order because, as Jake Peralta would say, they're all to it and also we'd prefer for you to rank them yourselves.
Brooklyn Nine-Nine
Now, we're fairly biased here but there is no denying that Brooklyn Nine-Nine is an absolute winner. Not only is it hilariously funny – yes, we just said hilariously funny because it's really that funny – it also touches on some pretty current issues that are floating through the world. The comedy show is set in Brooklyn at the 99th police precinct. It addresses issues like sexual orientation, gender equality, racial equality, male femininity, and just pointing out injustices for what they are, but with a twist of belly-laughing humour. Today's article brought to you by Jacaranda Finance, where you can get bad credit centrelink loans if you have bad credit and are on Centerlink payments.
The show is so good that when Fox tried to cancel it, there was a global uproar from Nine-Niners. This was enough for NBC to pick up the sixth season of the show just 24 hours after its cancellation. Thank the network Gods, right? If you are yet to experience the timely wit of Jake Peralta, the hilarious monotony of Captain Holt or the tough love of Rosa Diaz, we're telling you now, you're missing out. Netflix offers you 5 wonderful seasons of Brooklyn Nine-Nine with season 6 to air sometime next year. So, get binging. We promise you won't be disappointed.
Making a Murderer
This mini-doco series was released in 2015. It follows the story of Steven Avery who was wrongfully convicted of rape. He spent 18 years in prison for a crime he did not commit. Once he was exonerated, he filed a lawsuit against Manitowoc County, Wisconsin for 30-odd million dollars. Not long after, Avery found himself behind bars again for the murder of Theresa Halbach. This was all too convenient for the Manitowoc County residents involved in his first wrongful conviction.
Anyway, season 1 follows his initial release, his murder trial and his (probably wrongful) murder conviction. Season 2, released in October 2018, follows Avery's gun new lawyer, Kathleen Zellner. We see her completely unravel the State's case against Steven. Just watching it, it seems fairly obvious that Avery, a kind-hearted, completely loveable man, was framed for the murder so his hefty lawsuit would be silenced with him behind bars, but we'll let you make up your own mind. This documentary will give you all the feels and is definitely a must-watch for 2018.
The Haunting of Hill House
If you like scary movies then this is definitely one of the best shows on Netflix 2018. As far as scary Netflix TV shows go, this one takes the cake. It follows a family living in a creepy, gothic mansion that is filled with evil, murderous ghosts. The Dad, Hugh Crain, one night decides to gather his 5 children and haul them out of the house as quickly as possible, leaving his wife behind. His wife then dies. Ruled a suicide (yeah, okay), the children are left to grow up dealing with such dark trauma.
Do you need a Centrelink loan? You can apply for centrelink loans here at Jacaranda Finance if you need a loan and are receiving Centrelink payments.
When tragedy forces the family back into the haunted Hill House, all hell (literally, hell) breaks loose. This show is so scary that people have claimed to have passed out from pure fright. It's definitely no family affair but the way the show delves into the psychological problems of its protagonists will keep you watching right until the very end… if you can last that long, anyway. The Haunting of Hill House is surely not for the timid. However, it is still one of the top Netflix shows this year.
Glow
Glow is for sure one of the best shows on Netflix 2018. Alison Brie stars as Ruth Wilder, a struggling actress trying to make her way in Los Angeles. Wilder finds an unexpected chance at stardom with a glitter and spandex-clad world of women's wrestling. Wilder then goes on to work alongside 12 other Hollywood misfits – emphasis on misfits – including her best friend, whose husband she slept with… suuuuuuper awkward, but extremely entertaining.
Glow is a 100% binge-worthy show as it boasts humour, all the feels and complete ridiculousness. Definitely, one of the best shows on Netflix 2018 and something you can just throw on when your head is hurting.
Maniac
While super weird, Maniac is definitely one of the top Netflix shows of this year. Emma Stone and Jonah Hill play Annie Landsberg and Owen Milgrin – 2 strangers who are drawn to the late stages of this really mysterious, really questionable pharmaceutical trial.
Stone's character partakes because she is disaffected and aimless, fixated on broken relationships with her Mother and Sister. Hill's has struggled throughout his life with a disputed diagnosis of schizophrenia. The three-day drug trial is supposed to repair anything about the mind but, naturally, things do not go as planned. So, yeah. Weird, right? Nevertheless, it is super captivating and every episode leaves you wanting more. Need more money, fast? If so, get a quick loan today from Jacaranda Finance.
Arrested Development
An absolute classic. Arrested development is by far one of the best shows on Netflix 2018. It premiered all the way back in 2003 and was subsequently cancelled in 2006 but was given a reboot for season 4 in 2013 and then season 5 in May of 2018. For those of you who have not engaged in this seriously funny, seriously strange sitcom, here's a little catch-up.
The Bluths are a dysfunctional, once-wealthy, morally-then-actually bankrupt family. Their absurd adventures are captured by fragmented narration, hilarious dialogue, handheld camerawork, flashbacks and flashforwards and unquestionably surreal jokes. Jason Bateman stars as Michael Bluth, the most normal of the bunch by far, who constantly tries to desperately keep the family above water.
Dear White People
This show is one of the best shows on Netflix 2018 because it highlights some of the real social issues that are so apparent in today's society. Despite the show's name, Dear White People is not actually about white people. It is based on the film by the same name, released in 2014. It follows a group of students of colour at an Ivy League College in The States. The students are faced with a landscape of cultural bias, social injustices, misguided activism, and slippery politics. An accurate representation of the current landscape of America… just saying.
Regardless, Dear White People offers a refreshing insight into aspects of society that should probably be talked about more as the show is definitely eager to instigate many meaningful conversations. If you're into controversial shows that boast a strong political standpoint, Dear White People is definitely one of the best shows on Netflix 2018.
Comedians in Cars Getting Coffee
Who the heck doesn't love Jerry Seinfeld? Although we could watch Seinfeld re-runs until the cows come home, it is nice to have some fresh footage of Seinfeld himself in action. Comedians in Cars Getting Coffee follows Jerry Seinfeld as he drives around with a different celebrity each episode in some old school, super expensive car. They get coffee, sit in cute little cafes and diners, and talk about, well, literally anything.
We get to watch as Jerry pokes and prods the likes of Jim Carrey, Tina Fey, Alec Baldwin, Chris Rock, Barack Obama, fellow Seinfeld cast members and many more world-renowned names about what it means to be 'funny'. Every guest has their own opinion and makes you laugh in their own way.  If you love comedians, cars and coffee, you will love Comedians in Cars Getting Coffee.
My Next Guest Needs No Introduction
Following on from comedic talk shows, My Next Guest Needs No Introduction with David Letterman is definitely one of our top picks of Netflix TV shows. David Letterman, the former host of The Late Show, started My Next Guest as a much more stripped-down, minimalistic continuation of The Late Show.
Letterman interviews the biggest stars and most influential people about the hard stuff like their upbringing, any controversy surrounding them at the time or in the past – and he's certainly not afraid to ask the big questions. From Barack Obama and Malala Yousafzai to George Clooney and Jay Z, Letterman gives us a glimpse into the lives of some of our favourite big names. With only 1 episode being released every month, you're always left wanting just that little bit more.
Big Mouth
Fairly newish to Netflix, Big Mouth is one of our picks for the best shows on Netflix 2018. It's a well-made cartoon that follows the journey through dreaded puberty. Anyone who is over the age of 16 will know all too well the nightmare that growing up can sometimes feel like as a young teen. However, although the show is about puberty-age teenagers, it is definitely an adult animated sitcom.
Comedy veterans John Mulaney, Nick Kroll, Maya Rudolph and Jordan Peele lend their voices to the characters of the show as they play a group of friends going through that difficult transitional period of life together. It's sweet, silly, funny, all too accurate and one of the many must-watch Netflix shows.
Unbreakable Kimmy Schmidt
Written by Tina Fey, Unbreakable Kimmy Schmidt is unsurprisingly hilarious. Basically, Kimmy was rescued after being abducted by a weirdo 'reverand' and spending 15 years in an underground bunker as part of a misguided post-apocalyptic cult. Upon her rescue, she discovers that world is still intact and the reverend who's been caring for her all these years is, in fact, a gross creepy weirdo cult leader.
Kimmy then needs to start her life over completely. However, she starts out with a fresh, optimistic and somewhat naive perspective of what life outside the bunker might be like. She quickly finds a place to live with a vibrantly gay wannabe Broadway actor, Titus Andromedon, who makes ends meet as a street performer in Times Square. The unlikely pair eventually forms a strong and hilarious friendship, and together they battle the difficulties of starting fresh, staying motivated and making it through whatever life throws at them. It's funny, entertaining, super easy to watch and definitely one of the best shows on Netflix 2018.
Other noteworthy shows
Stranger Things
The Chilling Adventures of Sabrina
Orange Is The New Black
BoJack Horseman
Black Mirror
Mindhunter
Queer Eye
American Vandal
Ozark
13 Reasons Why
The Sinner
If you have your own idea of the best shows on Netflix 2018, we'd love to hear from you! We're always looking for new shows to binge! Click here to get in touch!
If you love our blog, imagine what we can do with our personal loan! Check out our online loans when you're looking for quick cash!
Heading to the Rugby World Cup? Jacaranda has the details you need to read.