Home > Blog Posts > Register Your Car
Register Your Car
February 28, 2020

●

8 minute read

●
Authoritative Source
Daniel Wessels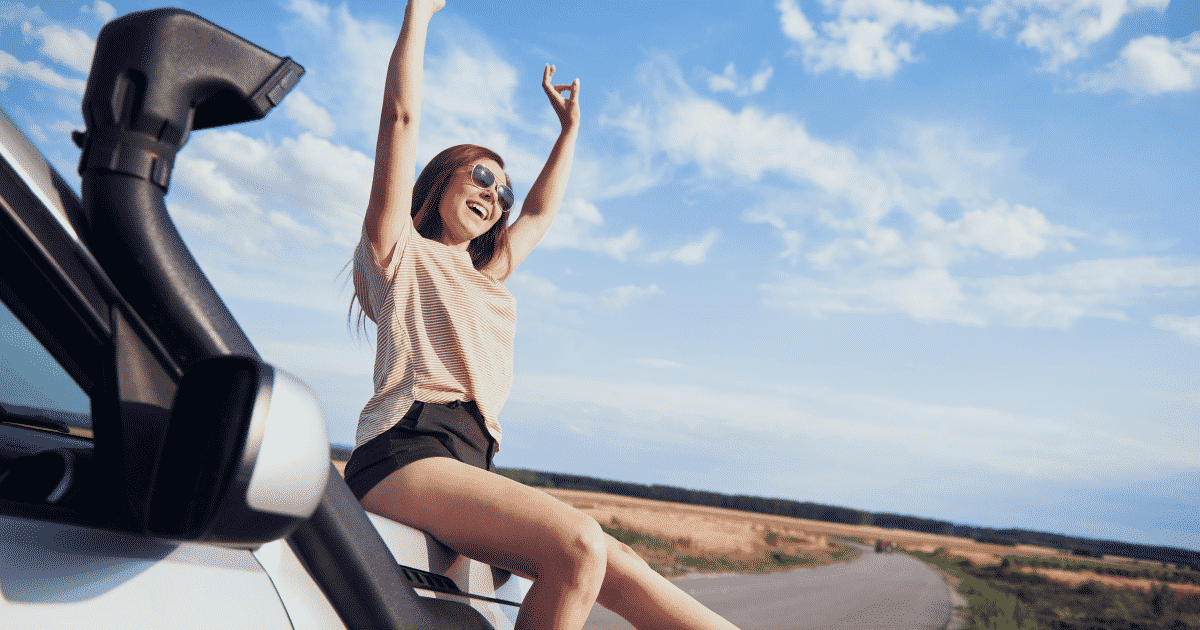 Car Registration
Have you found your dream car? Ready to start cruising down the coast? Before you go ahead and drive away in your new vehicle, there are some legislated costs you need to be aware of. If you live and drive in Queensland, you need to register your vehicle with the Department of Transport and Main Roads. Furthermore, there are a few more important things to be aware of when it comes to car registration and the cost of it.
If you are halted by car registration expenses, stay tuned! Jacaranda Finance offers fast and easy small car registration loans! Keep on reading, and we'll cover it all!
What Is Car Registration? 
Car registration is the series of numbers and letters that are assigned to a vehicle by the relevant road traffic authority upon registration of a motor vehicle. The cost of such registration depends on what you are registering. Whether you want to register a car, motorcycle, trailer, truck or boat but your wallet is a bit tight at the moment, you are welcome to apply for a car registration loan with Jacaranda Finance. 
Jacaranda Finance Provides Car Registration Loans
Jacaranda is happy to provide you with the loan you need to make your car dream come true. Car registration loans are a type of personal loan. Also, a personal loan can typically be used for many different purposes. Have you been looking for fast easy loans online? Jacaranda Finance could be the lender you've been searching for.  
Jacaranda may help you get the cash you need when you need it. We know that when you need money in a hurry, there is no time to waste standing in long queues at the bank. Our loan application process is 100% online, so you can apply wherever you are and whenever you like. All you need to get started is an internet connection and a device – you could even apply for a loan from your smartphone!
Can I Get a Car Registration Loan With Bad Credit?
The short answer is yes, you can! Whether you have a bad credit score or you receive Centrelink, with Jacaranda, everyone is given a fair go, regardless of financial situation. In some cases, Centrelink may be taken as a form of income – however, in other cases, it may not be. If you're unsure, we recommend you submit an application. Our team will do our best to match you with a loan product that suits your individual circumstances. 
We are committed to responsible lending, and we do conduct credit score checks, but there is no need for this to deter you from submitting an application. The good news is our team focuses on more than just your credit score. We prefer to look at the bigger picture, looking at how you are going to repay the loan and your current financial behaviour – after all, this is the most important part.
Learn more about loans with bad credit here!
Why Do I Need to Register My car?
The purpose of car registration is to establish a link between the vehicle and the user of the vehicle. Almost all motor vehicles are uniquely identified by a vehicle identification number, meaning that only registered vehicles display a vehicle registration plate and carry a vehicle registration certificate. You also need compulsory third party (CTP) insurance to register your vehicle in all Australian states. In most states, your CTP is included with your rego. If you live in NSW however, you will need to purchase it separately. 
Application Checklist
Before you apply, there is a small checklist of requirements to look over. Check them out below:
Be over 18 years of age
Be an Australian citizen, or have permanent residency
Receive a regular income into a personal bank for the last 90 days
Have an active contact number and email address
Once you have checked you meet all these requirements, you are ready to apply today!
How Do I Apply For Car Registration Loans?
When you've checked off all the requirements on our checklist, you are ready to apply. So, here are some handy steps to follow when completing your application:
Step one: Applying online
Jacaranda Finance is 100% online, and we have created a fast online loan application for your convenience. We want to create a loan experience that is hassle-free and won't drain your energy and patience!
Step two: Assessing your application
Once you have submitted your car registration loan application, we will begin to assess your application based on the personal details you provide.
Step three: Supporting documentation
Utilising the latest in safe banking technology, we are able to create a loan application process with no paperwork! So, how do we do it? Well, with banking technology, we are able to access your bank statements for a read-only copy of your statements. So, say goodbye to endless photocopying and mountains of paperwork!
After submitting your application, you can sit back and relax while we do all the work! If you are approved, your funds will be transferred into your bank account with the next round of banking. Times may vary depending on your bank's processing times.
What loan options do we provide
| Loan type | Loan amount | Loan term |
| --- | --- | --- |
| Unsecured | $300 to $2,000 | 12 months |
| Secured | $2,001 to $4,600 | 13 to 24 months |
| Secured | $5,000 to $10,000 | 13 to 24 months |
How Much Will My Registration Cost?
Owning a car is expensive, and costs can suddenly appear when you least expect it. Don't let car registration costs throw you off your well-balanced car budget. Here we have listed everything you need to know about the costs of registering a vehicle.
Vehicle registration duty 
Vehicle registration duty (previously stamp duty) is something you have to pay when transferring registration or applying for new registration. However, there are some exceptions. 
If you're using a motorised wheelchair, you don't have to pay vehicle registration duty. Further, there are no additional exemptions for seniors card or pensioner concession cardholders. However, seniors and pensioners may be eligible for a reduction in their registration fee.
Find out if you're exempt from registration duty here.
Visit the Queensland Government website to calculate how much duty you may need to pay.
Further, the cost of registration depends on what you are registering—car, motorcycle, trailer, truck or boat, and if you want a 6 month or 12-month registration. Queensland Government has listed registration fees for common vehicles here.
What Will a car Rego Loan Cost With Jacaranda Finance?
We aim to 100% transparent with our fees and costs when you borrow money with us. That means no sneaky fees hidden in the fine print at the bottom of your contract. Here's a breakdown of our small loan costs if you are considering applying for a car registration loan or you're looking to do some serious work on your car.
You can easily cover the costs of car registration with a small personal loan. Small personal loans ranging from $300 to $2,000, and there is a 20% establishment fee charged upfront + a monthly fee of 4%. Also, car registration loans from $2,100 to $4,600 require a car, motorbike, boat or caravan to be provided as security. If you cannot provide security, please apply for $2,000 or less. 
If you're also looking to pay for car repairs or maybe a new set of tyres, then consider a medium secured personal loan. For medium secured personal loans, the costs are an establishment fee of $400 plus an annual percentage rate of 48%. Our annual comparison rate is 67.41%. 
We also offer large secured loans from $5,000 to $10,000. These loans have an annual percentage rate of 21.24% with a comparison rate of 48% per annum. Again, these are secured loans so you will need to supply some sort of security such as a car, motorbike or caravan.
On all of our loan products, you will also be charged a $35 dishonour fee if an automatic payment fails to come out of your account.
Jacara Finance Is Responsible Lenders
When assessing your car loan registration, we adhere to responsible lending practices. Therefore, we won't approve a loan if the applicant cannot afford the repayments. However, we encourage all applicants to apply and not to be afraid of credit checks. Credit checks are only one piece of our assessment policy. We also consider the state of your present finances and your current source of income.
We are more than happy to help you with a car registration loan. If you find yourself falling short of car costs, then apply for one of our loans to put you in the driver's seat!
For information about the practices beyond responsible lending, visit the MoneySmart website.
Renew a Vehicle Registration
Don't forget to renew your vehicle registration before the due date. You will receive a registration notice about 4 weeks before your registration expires. Driving an unregistered car is an offence, and you may be fined. Further, if you're unable to pay the cost for renewal of your car registration or your payment is late, you will be charged a fee for late payment. 
However, Jacaranda Finance is here to help. Tough financial situations happen to all of us and can cause stress and frustration. We are determined to ease the stress and provide you with the money you need for your car registration cost and everything that comes with it.
You Can Bank On The Jacaranda Team
With a fast application and speedy outcomes, borrowing just got a whole lot easier. Jacaranda Finance always has your best interest in mind, and you can trust us always to have your back.
Apply today and you could get an outcome in 60-minutes, given that you apply within our office hours. 
If you need help with your application or have questions about your outcome, have a chat with our customer service team! You can either call us on 1300 189 823 or chat to us on Facebook for instant answers, without having to pick up the phone.
Happy driving!
Read More
Curious to learn more helpful tips? Learn about how to be good with money and stay cool in the heat!