Home > Blog Posts > Will The Drought In Australia Ever End?
Will The Drought In Australia Ever End?
October 24, 2018

●

10 minute read

●
Authoritative Source
Daniel Wessels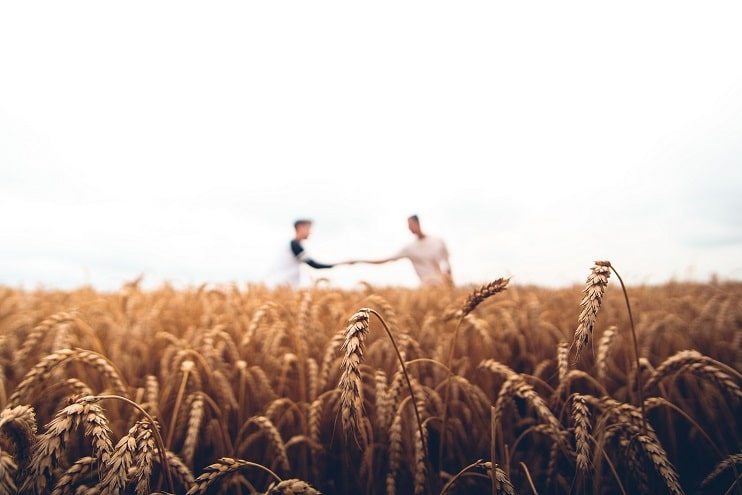 As many of you will know, Australia is no stranger to drought. In fact, drought in Australia is becoming a long-term thing. Luckily, there are millions of Australians who have been pitching in in various ways to try and minimise the devastating effects as much as possible. We decided to do our part as well and, last month,  held our first fundraiser for the drought relief.
The Jacaranda Finance Drought Row-lief was just one of many movements to try and minimise the detrimental effects the drought is having on our country. In fact, 2018 has brought the second driest Autumn since the Bureau of Meteorology started taking records in 1900. This article brought to you by Jacaranda Fiannce, apply with us today if you need a loan with no credit check.
It's bittersweet, isn't it? We live in such a big, beautiful country yet the land is constantly struggling. We are so lucky to have the space that we do and the diversity it offers us. Deserts, rainforests, beaches, mountain ranges, stretches of the Australian outback. When drought in Australia hits it can be hard to maintain that optimism so many of us share about our land.
Everything you need to know about the 2018 drought in Australia
Australia is the second driest continent in the world, next to Antarctica, with less than 600mm of rainfall per year. As the weather and climate in Australia are so erratic, we hold 6 places in the top 25 most severe droughts ever recorded in the world. Many people do not realize you can also use Jacaranda Finance to get a car loan. Apply with us today if you need a new vehicle.
The worst drought in Australia happened from 2001 to 2009: 8 long years of devastating drought in Australia. However, the 2018 drought has brought its own devastation for the southern states of Australia. In fact, New South Wales has been declared 100% in drought. Furthermore, parts of Queensland, eastern South Australia and Victoria are also experiencing harsh conditions. Farmers all over are running out of food and can barely keep their stock alive. People who need quick loans apply with Jacaranda Finance, because we give quick decisions on applications.
Many parts of central and eastern NSW, north-west Victoria and eastern South Australia have actually had below average rainfall since April 2017. We also just saw the second driest September on record.
The impact drought in Australia has on communities
It's no secret that the farmers are doing it tough. Australians farmers have been left praying for decent rain as they have been planting seed in dry soil or culling cattle and sheep they can no longer afford to feed.
Droughts in Australia tend to affect our communities and our environment in so many ways. As everything in the environment is connected and everything in our communities is connected, drought in Australia hits like a domino effect. The lack of water alone is severely detrimental as people, animals and plants all need water just to live.
The many different drought impacts are often grouped as economic, environmental, and social impacts. Each one brings with it several dominoes. These are:
Economic impacts
Farmers lose money if their crops dry up
This money may have to go to irrigation or to drill new wells if the water supply is low
Ranchers will also have to spend more money on feed and water for their animals
Businesses who depend on farming may lose business when crops or livestock are impacted
Wildfires from dry land may affect people working in the timber industry
Power companies who rely on electricity that is created from the energy of running water have to spend more money on other fuel sources. The power company customer would also have to pay more
Water companies will have to pay more for additional water supplies
People may have to pay more for food
Environmental impacts
Loses or destruction of wildlife
Lack of food and drinking water for animals
Increase in disease in widlife due to reduced water supply
Migration of wildlife
Increased stress on endangered species or even extinction
Lower water levels in reservoirs, lakes and ponds
Loss of wetlands
Wildfires
Wind and water erosion of soil
Poor soil quality
Social impacts
Mental health issues
Health problems related to low water floors and poor quality water
Health problems relating to dust
Loss of human life
Threat to public safety from an increased number of forest and range fires
Reduced incomes
People may be forced to take out relocation loans and move from farms into cities, or from one city to another
Fewer recreational activities
Why do we have drought in Australia, anyway?
When we think of drought in Australia, many of us think of a complete lack of rain. However, droughts in Australia can occur even when we are getting rain, it's just not as much as expected or as much as needed. Drought occurs when an area doesn't have a big enough water supply for a prolonged period of time: generally months or even years.
Environmental things like climate change, ocean temperature, changes in the jet stream, and changes in the local landscape all make a difference when it comes to droughts. One main reason why Australia experiences so many droughts is because we sit under the subtropical high-pressure belt, which encourages the air to push down, preventing the lift required for rain. We have personal loans here at Jacaranda Finance.
Plus, there are other systems called climate drivers that can make things worse from one year to the next. Some of you may have heard the term 'El Nino'. This refers to the El Nino Southern Oscillation (ENSO). ENSO is the phenomena that drives the dominant flows of air over the Pacific Ocean. It generally leads to more air being pushed down, which again prevents rain.
As these major climate drivers are currently neutral, the Bureau of Meteorology (BOM) has attributed the current drought in Australia to cooler ocean temperatures to the north, bringing less tropical moisture and weak westerlies to the south.
Sounds super confusing, doesn't it? For some Australia drought statistics that may help uncomplicate some of this weather lingo, check out the BOM website.
Drought relief Australia
So, while everything we've talked about here so far is feeling kind of doomsday-esque, there is always a silver lining. Luckily, we live in a country where the residents carry a great amount of care for struggling communities, like the farmers.
Several large organisations, small businesses, families and individuals have initiated different fundraising campaigns that have filled the nation with the motivation to help. All it takes is one person with the ambition to make a change and it seems that many will then follow that ambition until it becomes a whole movement.
Some recent drought relief campaigns in Australia include:
Jacaranda Finance Drought Row-lief – raised over $11,000 from the row-a-thon event.
Buy a bale of hay – run by Rural Aid for people to donate as little as $20 for a bale of hay, up to $9,500 for a semi-trailer load of hay: raised $4.5 million so far.
Fiver for a Farmer – A campaign that encouraged schools and workplaces across the country to dress up as farmers and donate $5 each: raised approximately $1 million.
Red Cross Disaster Relief and Recovery Appeal – encouraged donations of any size to help Australian farmers and communities living in drought-affected areas.
Aussie Helpers – helps farming families by offering free mechanics for trucks and trailers, hale bales, food, clothing and other necessary materials.
Drought Angels – a small charity that provides personalised, heartfelt and discreet assistance to farmers in terms of caring for their mental health.
Some companies that have made an effort to donate a portion of their profits to the drought relief include:
Domino's Pizza – donated 50cents from every pizza sold on August 8 between 4 pm and 9 pm to Rural Aid. Plus, an additional $40,000 from Domino's charity, Give For Good.
Woolworths – donated $1.5 million to Rural Aid's Buy a Bale program.
Coles – Provided $5 million in grants and interest-free loans from its Nurture Fund to help farmers combat income loss from the drought in Australia.
Bunnings – dedicated all the proceeds from one of their famous sausage sizzles to Rural Aid.
Origin Energy – Donated $100,000 to Drought Angles and is matching dollar-for-dollar any money its employees donate to Rural Aid's Buy a Bale drive.
Farrel and McCrohon – supplied their office for a drought donation drive that collected dog food, livestock feed and cash donations in Grafton.
Ergon Energy – waiving charges and deferring payments for drought-affected families.
Commonwealth Bank – Donated $2 million to farmers, including $1.75 million as part of a national fundraising appeal with the Australian Red Cross, as well as an extra $250,000 to the Buy a Bale drive.
Xero Australia – Donated $20,000 to Drought Angels.
ANZ Bank – Donated $1 million including $500,000 to the Financial Counselling Foundation and the other $500,000 to the Foundation for Rural and Regional Renewal.
National Australia Bank – donated $50,000 to the Country Women's Association of NSW and the QLD Country Women's Association.
Jacaranda Finance – donated just over $11,000 to Aussie Helpers
Wondering how you can get involved?
It's clear that there are a lot of people who care about those affected by drought in Australia. However, how much do these donations really help the situation? Well, as someone is yet to figure out how to control where the air goes and the temperature of the ocean and all the confusing factors that contribute to the weather, pitching in with these types of donations is about all anyone can do at this point.
While many Australian farmers have made it clear that they wish not to be represented as charity cases, it's still important for the local Australian community to pitch in and help other Aussies in need, regardless of what that need may be. Right now it is relief from the drought in Australia. Sine ways for you to get involved include:
Donate to the various fundraisers and charities listed above. As little as $5 can go a long way.
Buy Australian branded products – Farmers can have a hard time competing in the food marketplace. The fruits and vegetables you buy at the farmers' markets have all come from hard-working farmers and are the freshest and tastiest available.
Donate hay, water groceries and diesel
Sponsor food hampers, care packs, stores vouchers and feed
Donate feed and non-perishable goods
Some do's and don't's of help those affected by drought in Australia
Give to many, not to a few
When one individual or family has the beneficiary of generosity, it could have unintended consequences for others who are doing it equally as tough. It's best to make your donations to the fundraiser appeals and charities that distribute support evenly across all struggling farmers to ensure that everyone is getting the help they need. This will also emphasise that the help we are offering our proud farmers is a hand up and not a handout.
Give to a registered charity
Unfortunately, there are some people out there who use the generosity of others to do bad things. To ensure that your donations are going to the right place, only donate to a charity or fundraiser appeal that is actually doing something in the area.
It's not just farmers who need help
While the farmers are struggling to feed their livestock, maintain their crops and service their vehicles, this does create that domino effect we spoke about before. Other people in towns, dealerships and other local businesses that rely on business from farmers suffer as well. There are also the people who don't ask for help. It's important that we don't forget about the chain of people who feel the impact of the drought in Australia.
So, when will the drought in Australia end?
Unfortunately, the end of a drought does not come with the first fall of rain. A drought can end just as gradually as it begins. The beginning of the end of a drought starts with soaking rains that allow for water to enter the soil and recharge the groundwater. This, in turn, sustains vegetation and feeds streams during periods of no rain.
Even when a drought has been broken, it still may not be truly over. A return to normal rainfall patterns and amounts is necessary for conditions in streams, reservoirs and groundwater to also return to normal.
So, in saying this, it is hard to know when this current drought in Australia will end. The Bureau of Meteorology's seasonal outlook is, unfortunately, not indicating good odds for rainfall in the next 3 months, especially in NSW. There is even a risk of an El Nino developing later in 2018. However, we're all well aware that the weather has a mind of its own and you can only predict so much from it.
Like everyone, we are keeping our fingers and toes crossed in the hopes that the right amount of rain will fall at the right time to help alleviate such harsh conditions that are have engulfed so much or our nation.
If you have your own stories and experiences with drought, or you have donated in a way that we haven't mention in this blog, we would love to hear from you! Get in touch, today!
If you like our content, you'll love our money loans! We have some of the best cash loans Australia has to offer!