Home > Blog Posts > New Year, Same You?
New Year, Same You?
February 8, 2019

●

10 minute read

●
Authoritative Source
Daniel Wessels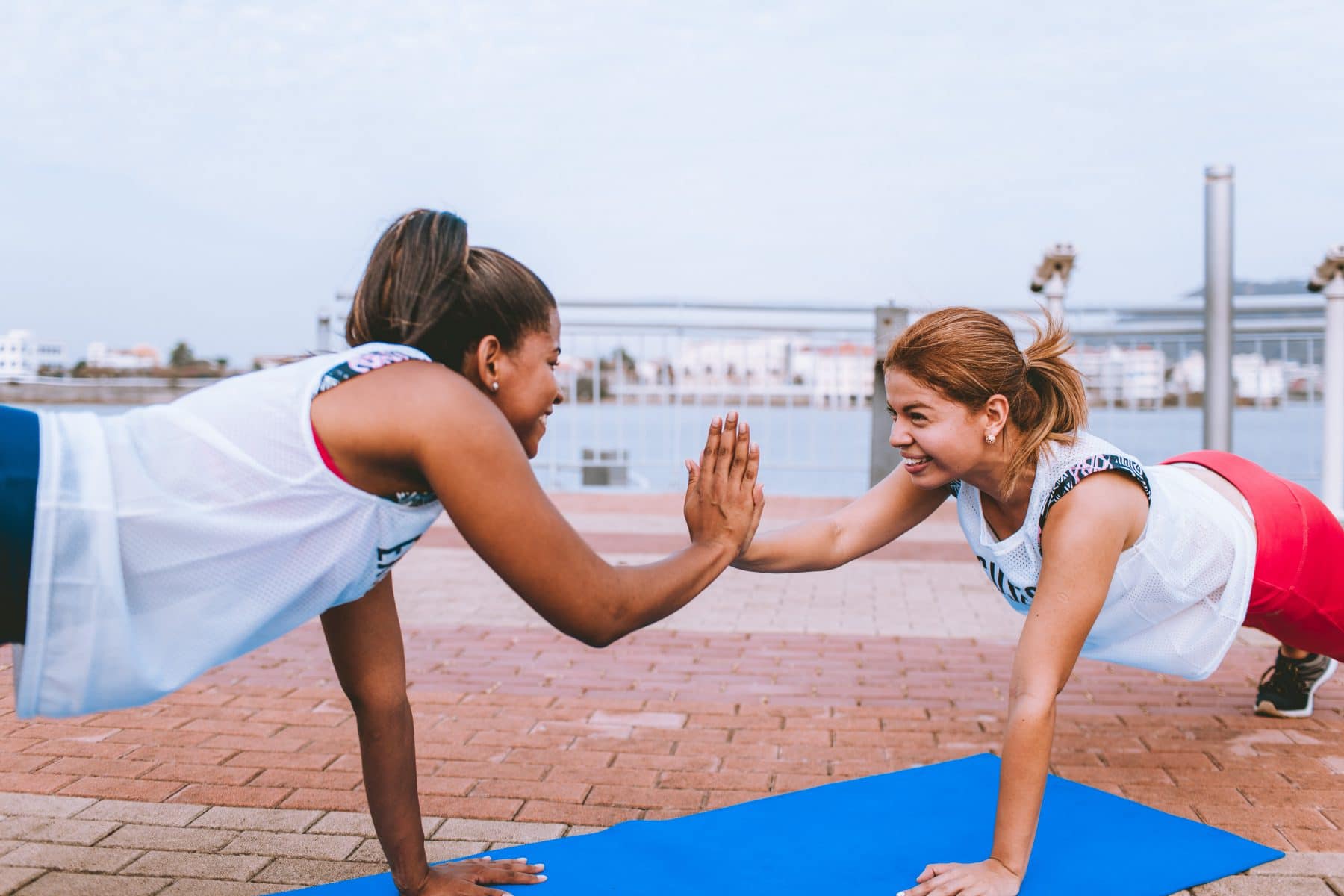 How many of us have approached New Year's Eve thinking 'ahh what the hell, I'll have the cake – my new year's diet starts next week'. New year, new me – but old habits die hard. You're a week in and haven't seen results. All of a sudden you find the excuses creeping back in. Suddenly your plan to hit the gym before work is history and you're running out the door barely making it to the bus in time. We've all been there and done that. So, how can we really put our goals into action and make them happen? It may seem an impossible feat, but we guarantee you that where there is a will there's a way.
So, why?
You may be asking why our shiny new goals fall by the wayside. It's simple, really. The goals we set are often huge commitments that resemble nothing in our current lives. For example, committing to going to the gym every day and actively watching what you eat is a big undertaking. If you have never been a gym junkie, promising to go every day may be somewhat unrealistic.
The experts say that goals are much more achievable when broken into bite-size chunks. It helps to work towards them as a gradual process rather than expecting to see instant changes. Huge changes with no build up at all are often the cause for us to feel completely overwhelmed. This often means that we give up before we even really give ourselves the chance to get started.
Sense of Accomplishment vs. Sense of Failure
How amazing does it feel knowing you have accomplished what you set out to do. It feels good knowing that you've really stuck to something you promised yourself. Often times, we have the most success when we set smaller goals to achieve on the way to our big goal bad credit centrelink loans.
Take climbing Mt Everest as an example (extreme example, we know – but you get the point). You don't just get up one day and decide you are going to climb Mt Everest. Nor do you decide that you a going to climb the whole thing in one day. The reality of attempting to climb Mt Everest is that there is a heck of a lot of training and preparation involved which is broken down into manageable steps. The trek itself is broken down into many different camps and zones. Just reaching Base Camp is an achievement in itself. The journey is taken step by step and every part completed is an achievement.
Although an undertaking like Mt Everest is extreme, any goal we set can be accomplished in much the same way. Breaking the ultimate goal down into manageable size chunks is the most effective way of reaching the end. Smaller goals will keep you moving in the right direction and this will, in turn, allow you to feel as if you are achieving what you set out to do loans online.
The experts tell us that going cold turkey on a life-changing goal is almost always a recipe for disaster. Take committing to never eating junk food again. If you tell yourself you will never touch a piece of pizza again you are essentially depriving yourself. Depriving yourself of something or promising to commit to a rigid goal structure often feels like a punishment. It forces the mind to believe sticking to a rigid routine is the only way to achieve success. Evidently, an innate sense of failure results when the routine falls through.
How Can I Make My Goal A Reality?
The goal setting season is well and truly upon us, so it's time to get serious. You want to give yourself the best chance at success – don't let this be another year of could-of, would-of, should-of. So, we've come up with some steps to help you achieve what you really set out to do.
Aim High, But Start Low – Celebrate Your Success
Here's a quote from Norman Vincent Peale we're sure you're familiar with: 'Shoot for the moon. Even if you miss, you'll land among the stars.' To put it as simply as possible – if you're aiming for something, and you don't achieve it, at least you'll be somewhere better than where you started.
Don't be afraid to set big, bold goals. After all, you can do anything you set your mind to. The trick is breaking the main goal into a series of smaller goals and not allowing yourself to be daunted. Celebrate your success along the way.
If your goal is to eat less junk food, you might commit to eating healthily from Monday to Friday but allow yourself a treat on the weekend. Although it may seem like you are breaking your promise of no junk food, what you are really doing is not depriving yourself. Food is such an unavoidable part of our day-to-day lives. It is difficult to be around family and friends and see how much they are enjoying something you can't have. Depriving yourself will make you feel like your goal is a punishment. So, it is important to reward yourself with some balance.
This does not only apply to diet-related goals. Most goals are designed to allow for a significant change in our lives. Committing, initially, to applying whatever your goal may be to your life 100% of the time is often unattainable.
Big goals can really help you aspire to reach your full potential, so don't let the size of the achievement get the better of you. After all, a journey of a hundred miles begins with one step.
Don't Let Others Set Or Influence Your Goals
Your goals need to be entirely yours. It is your responsibility to set them and it is your responsibility to construct a plan of how you are going to achieve them.
When you let others set or modify your goals they are no longer about you. All of a sudden there is no commitment as it is no longer your goal or your responsibility. It is important to take ownership of whatever you set out to achieve. A goal must come from your own desire to change within yourself. If we do not recognise what needs to change, but allow others to urge us to change then there may not be any actual commitment to the cause.
Often, our friends and family might only want the best for us. However, in setting or modifying your goals they are placing an unrealistic expectation on the outcome. Nobody knows what is best for you, but you! The goals that others suggest may be unrealistic for your lifestyle. You need to figure out what works best for you – often it is a case of trial and error. It is okay to let others help and support you through achieving something, just don't let it become about them and not you!
Be Clear On What Your Success Will Look Like
You need a clear goal. In order to achieve what you are setting out to do, you need to know what the end product looks like. If you don't know where you want to end up then how are you going to get there?
You need a plan. Not just any old plan, but a seriously clear plan that can get you where you want to be. Hope is not a strategy for success. Planning is the best way to avoid failure.
Here are our top tips for effective planning
Make sure your goals are SMART
Specific – Make sure your goal is clearly defined. Rather than saying you want to cut out all unhealthy food, try targeting something like excess sugar. It may make the change less overwhelming.
Measurable – You need a way to have a clear way to measure your goals so you know when you have achieved them. As you achieve smaller parts of your goals you should reward yourself, however, keep track of where you are going.
Attainable – The purpose of setting goals is, of course, to push ourselves in order to accomplish something. If you have decided to set a goal it is usually because you feel you can do better within a certain area of your life. Shooting for the stars is awesome. But, if the goals we set are too unattainable all we are doing is setting ourselves up for frustration and failure. Therefore, making your goals attainable is essential to turning them into a reality.
Relevant – Our goals should be a direct representation of where we wanna be in life. Therefore, relevance is a highly important factor when planning what we want to achieve. After all, why create goals that aren't going to bring you any closer to who or what you want to be.
Time – We suggest setting a time frame in which you would like to smash your goal. A time frame gives you something to work towards and an endpoint. The small goals you set along the way should also have a time frame for completion.
Set Some Milestones
Often, when we set a goal with an endpoint in the distant future the end is perceived as unattainable. This can often mean you will continue to put it off and action won't be taken until it is too late. Instead of looking at the amount of time standing between you and the end point of your goal, set milestones or mini goals along the way. It is a good idea to track how you are progressing when you hit these milestones. This way you can adapt or change your approach along the way.
Work Out What Needs To Happen To Reach Your Goal
This is an important step in the process. In order to progress, you need to know exactly what is involved in every step of your plan. Make this very clear. Step out every action you plan so there is nothing left to the imagination. If you're going to commit to making your goals a reality you need to know exactly how you are going to do it.
Put Your Plan Into A Schedule
We are all different. Some of us like to write things down, some like to physically map out what the plan is and others prefer to talk about their goals. Whatever works best for you, do it! Literally, put your plan into a schedule – a step by step guide so there is no confusion. Sometimes it is a good thing to have it written down in a diary or on a whiteboard where you will see it every day. Keep reminding yourself why you are doing what you are doing and where you are going.
Follow Through
Once you have completed these steps it's really up to you. You're the only person that can make it happen. As previously mentioned, you need to remind yourself every day why this is your goal and how you are going to complete it. You will have your bad days, everyone does. Negative thoughts are a part of life… but you can do it. Remember to reward yourself when you reach your small goals along the way.
What To Remember
It is important to remember that we all have bad days. Be kind to yourself when negative thoughts are making themselves apparent. Remember though, you are the master of your own destiny. It is up to you to make this happen so you need to try and think as positively as possible. Don't let a small setback spell the end of your quest to achieve a goal. Remember the smaller goals along the way and don't forget to congratulate and reward yourself for reaching them. The smaller milestones along the way are all a part of reaching the end product. Therefore they are just as important and deserve the recognition and reward.
A common misconception is that one bad day overrides all the good days and hard work – it doesn't! Don't forget how far you've come. You've worked so hard to get to where you are, what's the point in just throwing in the towel now? Imagine how good you'll feel when you can finally say 'I did it'!
Good Luck!
Let's Keep In Touch!
Want to read more from Jacaranda? Learn about how you could tackle credit card debt!
Learn more about how you could get a cosmetic surgery loan.
We've got the top tips on planning a family holiday! Find out how to get your diet back on track with these tips.