Home > Blog Posts > Steve Irwin day: "Crikey means gee whiz, wow!"
Steve Irwin day: "Crikey means gee whiz, wow!"
November 15, 2017

●

4 minute read

●
Authoritative Source
Daniel Wessels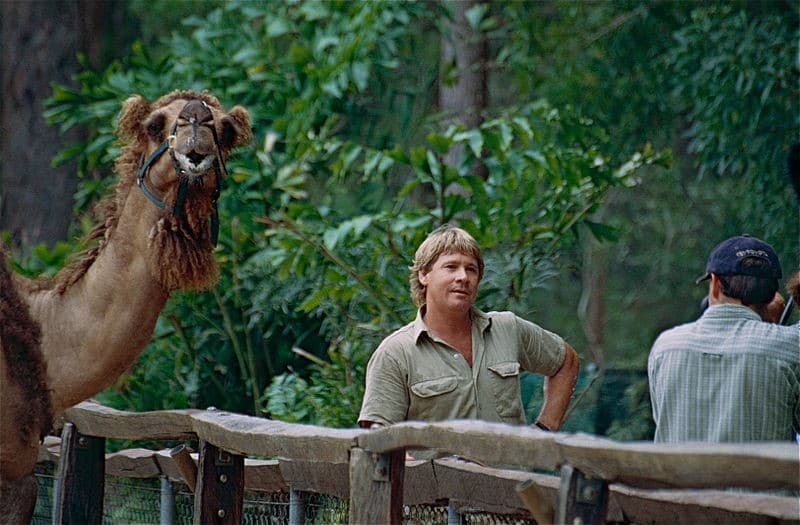 In 2006, while filming a new animal documentary, Australian adventurer Steve Irwin was struck across the chest by a stingray. The freak fatal blow stopped his heart off the coast of Port Douglas, Queensland. His great love for animals was evident in everything he did and most of us still remember the way he'd yell "Crikey!". November 15 has been dubbed Steve Irwin day in remembrance of his life and legacy, which is now carried on by his family.
Here are the top 5 funniest Steve Irwin moments!
"You bit me on the nose, you little brat!"
While getting up close and personal with an eastern bearded dragon, Steve Irwin got attacked by the tiny lizard. Admittedly, the creature was already in its defensive stance and had given the animal lover fair warning and get a personal loan.
Animal fact! These animals can change their gender depending on the temperature.
Chased by a cassowary
Although Steve Irwin might be best known for handling some of the world's most dangerous animals, like the Inland Taipan, he's also been chased by some less exciting creatures. One such prime example is the cassowary. Start watching at 0.11 to see Steve unsuccessfully running away from the bird.
Animal fact! Cassowaries are the heaviest birds in Australia, so don't let one sit on you while getting a small loan.
When a brolga was just too into Steve
This piece of footage was dug out of the Crocodile Hunter archives because it was too funny not to be shared. While Steve Irwin tries to introduce the large bird it mercilessly pecks him. However, unlike many of his other animal interactions, this one was not a form of attack. Instead, the brolga mistook Steve as one of its own companions and was helpfully trying to preen him! Start watching from 0.54 to see just how many takes it took to get the perfect shot!
Animal fact! The brolga crane has a very elaborate courtship display that involved dancing with their wings spread open.
Every time Steve was on the today show with Jay Leno
From poisonous snakes, overeager Kangaroos and angry birds to dangerous crocodiles and bearded dragons with uneasy bladders, Jay Leno was subject to it all. We think that the talk show host must have eventually tired of being frightened out of his wits because eventually other tv personalities were invited for one-on-one time with animals instead.
Any time an inanimate object got the better of him
Be it a boat, a vine or even a tree, Steve seems to have generally had better luck with animals. These clips were dug out of his personal archives for your loan for centrelink.
10 facts about the crocodile
He wasn't the Crocodile Hunter for no reason. It was Steve Irwin's favourite animal! But here are a few facts about this powerful predator that you might not have known!
There's no outswimming a crocodile. Their powerful tails propel them forward at 40 kilometres per hour! Even the great Michael Phelps has only clocked a maximum speed of 9.6 kilometres per hour.
Crocodiles often sit on river banks with their mouths ajar. This is neither friendly nor aggressive, they're just cooling off! Crocodiles sweat through their mouths.
They can't chew! Instead, all 24 of their razor-sharp teeth are meant for biting and crushing. Therefore, crocodiles often swallow rocks to help grind their food inside their stomachs.
Crocodiles have stars in their eyes. Not literally, but they do have eye crystals that reflect moonlight and starlight! This evolutionary trait has given them one of the best night vision capabilities in the animal kingdom.
The phrase 'crocodile tears' refers to fake crying and was inspired by the myth that reptiles cry when they eat human flesh. Today we know that it's because when they eat, air is forced through their sinuses, resulting in foaming of the tear ducts in their eyes.
The saltwater crocodile has been known to attack and kill sharks! Coincidentally, a saltwater crocodile named Bindi was Steve Irwin's favourite animal. She lives at Australia Zoo in Queensland.
Crocodiles might look like logs, but they can strike vertically. Their tails are a mass of powerful muscles that can propel them directly out of the water! They can also climb up to the canopy of trees! So, if you're ever being chased by a croc, don't head for a tree! Get a bad credit centrelink loan from Jacaranda Finance today.
Quirky facts about Steve Irwin
Steve caught his first crocodile at the age of 9 and has been around animals all his life!
The first episode of the Crocodile Hunter was of Steve and Terri on their honeymoon, catching crocodiles.
His daughter Bindi Sue was named after his two favourite animals, Bindi the Crocodile and Sui the Staffordshire bull terrier.
There is a species of snapping turtle named Steve Irwin, in his honour.
Steve has purchased and dedicated large pieces of land in Australia, Vanuatu, Fiji and the United States to endangered species and wildlife.
The flagship of the Sea Shepherd Conservation Society is called the MY Steve
"I'm a proud Australian, a very, very proud Australian." – Steve Irwin
All we can say today is that Australia is even prouder of you Steve, may you rest in peace.
Like what you're reading? check out our blog for more interesting posts like top 10 things to do on a budget this Aussie summer