11th November 2022
This Week In Finance: 11 November 2022
Welcome back to This Week in Finance, Jacaranda Finance's weekly wrap of all the top personal finance news affecting everyday Australians.
Last modified: 21st February 2023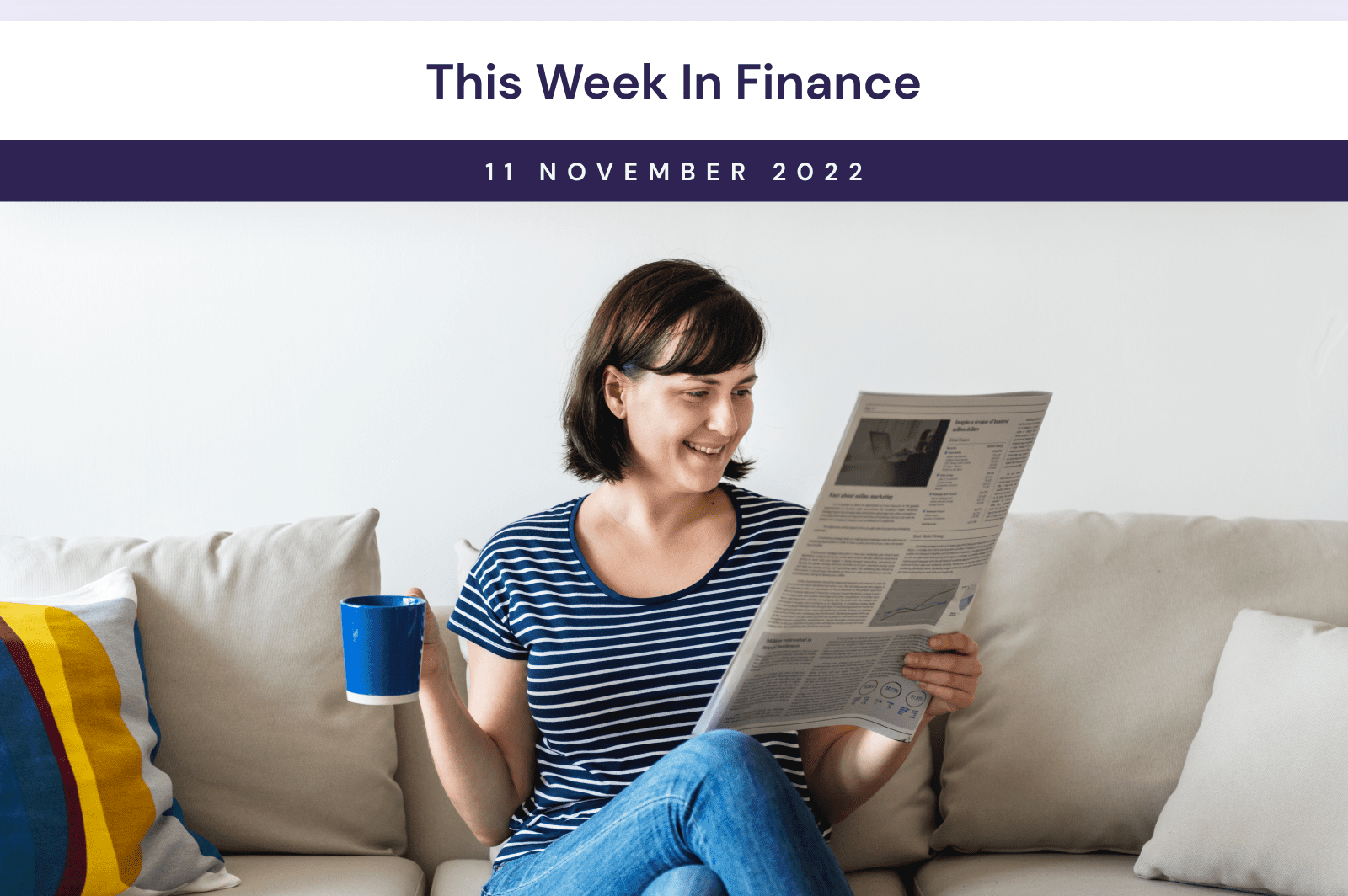 This week marked Scams Awareness Week, a Government initiative to bring awareness and provide information about scams: something that's currently ringing true for many Australians.
With talk of rising energy bills continuing in the weeks following the Federal Budget, some of Australia's leading economists have endorsed government intervention to restrain these soaring gas and electricity prices.
And speaking of things that are rising, banks have seen a recent surge in savings accounts due to increased cash rates. Household spending, however, seems to be slowing down, but not before the spike seen in September.
Jacaranda has also received data from Nib about their two health and wealth awards programs.

Read more on all these top money stories from the past week below.
---
Scams Awareness Week kicks off
This week across Australia (7-11 November) marked Scams Awareness Week, a Government initiative to spread awareness and provide helpful information about scams.
After combined losses of over $2 billion reported last year to the ACCC's Scamwatch, the government and the financial sector, the projected figures for this year are even direr: the ACCC projects 2022 losses will amount to $4 billion.
Between January and September of 2022, Scamwatch received 166,000 more scam reports than in the same period the previous year, which represents a 90% increase. However, these stats are not as accurate as they could be, as only 13% of victims report the scams to Scamwatch.
During Scam Awareness Week, the Australian Government and Scamwatch are reminding people of the harmful nature of scams in the hope of decreasing the number of victims.
"With millions of Australians more vulnerable to scams following the recent spate of large-scale data breaches, there has never been a more important time to know the tell-tale signs of a scammer," ACCC Deputy Chair Delia Rickard said.
"In addition to costing consumers, businesses and the economy billions a year, scams are emotionally devastating for victims and their families. It's important that people reach out for help if they need it. There are a number of crisis support services available."
Jacaranda has provided an informative security page containing some helpful tips on how to recognise a scam, the following steps to take, and how you could protect your digital accounts from being hacked.
---
Economists endorse government action to reduce energy bills
A hot topic following the release of the Federal Budget last month has been soaring energy prices, and whether the government will put forward any immediate plan to reduce gas and electricity bills.
In recent months, the nation has seen sharp increases in energy bills. The latest Consumer Price Index (CPI) report shows that 'gas and other household fuels' is up 10.5% in September 2022 compared to September 2021.
The Labor Government's budget forecasts point to a 56% rise in electricity prices and 44% in gas prices over the next two years and thus announced the need to reduce household energy bills.
The Conversation surveyed 47 of the country's leading economists and found the overwhelming majority endorsed government intervention in the market, with only three of those surveyed suggesting against any government action.
The most popular response with 13 votes was 'extra tax on resource rents for gas producers with proceeds used to reduce prices for consumers.' Resource rents are excess profits gas producers earn from selling resources that flow from other sellers' exclusive access to the resource.
Other popular suggestions were subsidising low-income earners and capping the price at which producers can sell gas domestically.
The Albanese Government has asked the Australian Competition & Consumer Commission (ACCC) to investigate the code of conduct that governs supply agreements between gas producers and consumers to ensure reasonable pricing and improve transparency.
---
Household spending expected to slow after another sharp increase
The Australian Bureau of Statistics' (ABS) latest media release shows a continued rise in household spending in September 2022.
The ABS found that household spending has risen by 28% compared to the same period last year - the 19th consecutive month of increases.
"There continued to be strong increases coming off the back of last year's COVID-19 Delta lockdowns. Spending in Clothing and footwear (up 73.1%), Hotels, cafes and restaurants (up 60.6%), and Transport (up 53.0%) all saw strong increases due to reduced spending from lockdowns in these categories", Jacqui Vitas, ABS head of macroeconomics said.
Commbank's (CBA) Household Spending Intentions (HSI) Index meanwhile saw similar trends for October 2022; however, there was a definite slowdown from September. This slowing of spending and the current historic lows of consumer sentiment (-6.9% from October to November) seem to go hand in hand.
The HSI rose by 0.9% during October. Compared to October 2021, the HSI is up 7.4%, whereas, for September, the HSI rose 14.1% compared to 12 months prior.
"Increased household spending in October reflected higher prices and seasonality, with discretionary spending continuing to weaken in response to increased interest rates," CBA Chief Economist Stephen Halmarick said.
---
Savings accounts surging in popularity
New research from NAB shows that more and more saving-savvy Australians are taking advantage of the cash rate hikes by stashing more money in their bank accounts.
Though the increasing cash rate is not ideal for those with mortgages, saving accounts are seeing interest rates as high as 4.10% p.a and climbing.
NAB insights revealed that compared to the same period last year, there was a 1,200% increase in the number of 12-month term deposits opened in the past three months.
The major bank also saw a 29% increase in the opening of savings accounts in the past three months.
NAB Executive for Everyday Banking Paul Riley said the savings market is competitive and urged consumers to check out what's on offer.
"The fact we are seeing hundreds of new accounts opened every day by new and existing customers reflects how much customers are shopping around," Mr Riley said.
Wondering if the rising cash rate affects your Jacaranda personal loan? Check out our article, Will The RBA Cash Rate Change Affect My Personal Loan Rate?
---
Aussies bettering physical and financial health with Nib
As the cost of living continues to rise, Australians are continuing to search for new ways to get the best bang for their buck.
At the same time, health and well-being are at the forefront of many Australians' minds following the pandemic: people are now seeking healthcare solutions that work for both health and wealth.
This need is what spurred Nib private health insurance to release two health initiatives: Nib Rewards and GreenPass.
Nib Rewards is a member-exclusive program where members can redeem offers and save on over 100 major retailers across Australia. Offers on groceries, well-being, dining and retail are all included in the Nib Rewards program.
According to Nib data supplied to Jacaranda Finance, members have saved $1.6 million since the program's launch.
Nib has also recently released GreenPass, a non-exclusive program that allows users to access a range of health and well-being rewards, including online health checks and access to exclusive rates for nib's network of dentists, optometrists, and physiotherapists. Nib rewards users for healthy living.
The top 3 rewards users have utilised are through Garmin (30% of users), New Balance (18% of users), and CorePlus Connect (15% of users).
That's all for this week! Check back next Friday for another wrap of the week's biggest finance stories.
Check out our latest posts:
Jemima Kelly is a Content Writer at Jacaranda Finance. She is enthusiastic about accurate and informative content, and holds a Bachelor of Creative and Professional Writing from QUT.