18th November 2022
This Week In Finance: 18 November 2022
This Week in Finance is Jacaranda's weekly wrap of all the top personal finance news affecting everyday Australians.
Last modified: 9th December 2022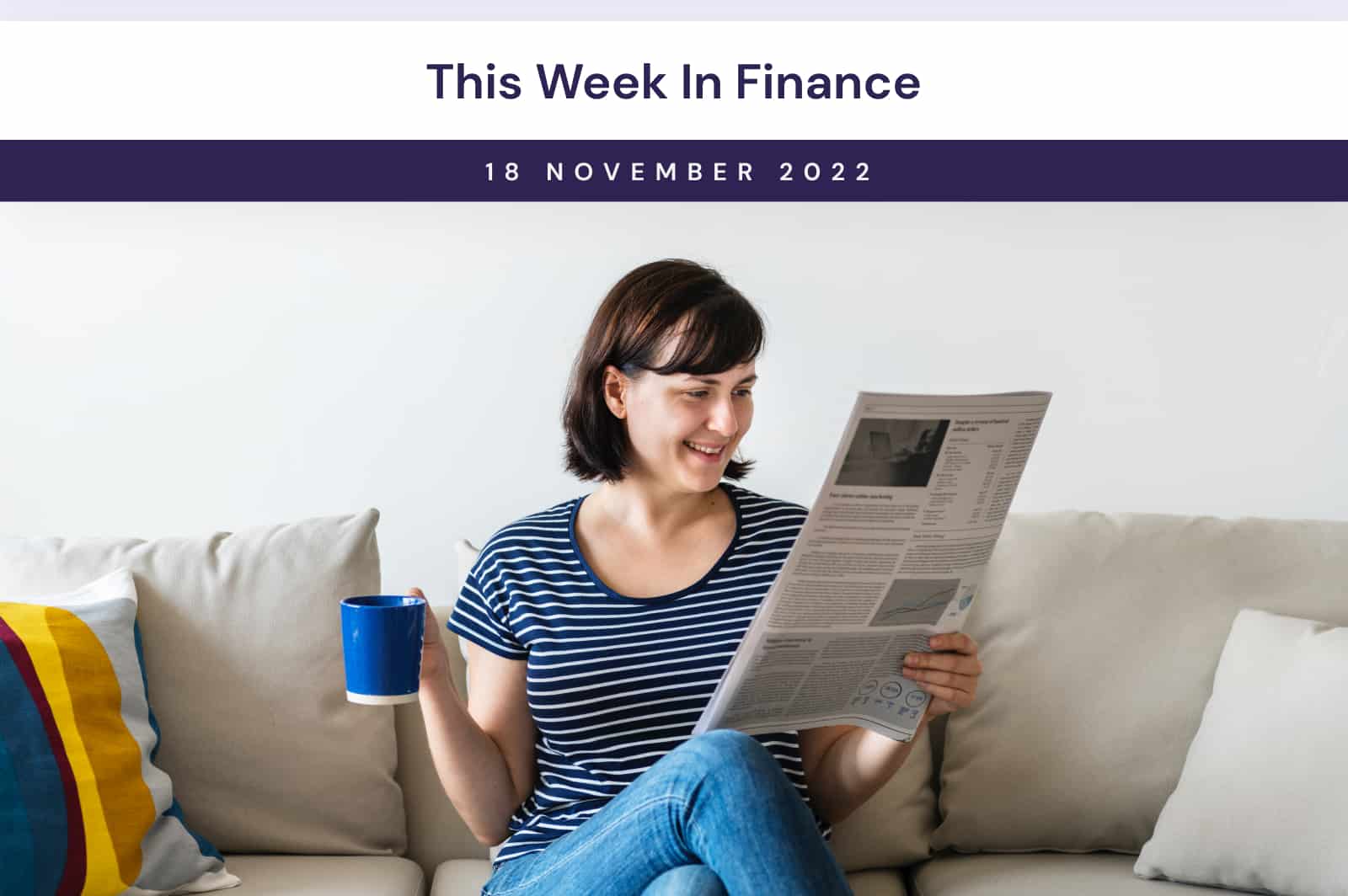 In this week's edition, we discuss the latest figures on wage growth, which should come as promising news to many Australians. The Australian Bureau of Statistics shows that wages are growing at their fastest pace in years.
In less promising news, one new report finds that debts from buy now, pay later (BNPL) services are growing in both size and frequency, and another highlights how weekly spending on petrol has more than tripled in the past 12 months.
We also cover how and why Aussies are ditching the big banks for more affordable alternatives, the predicted spending for the upcoming Black Friday sales in November, and the new changes affecting first home buyers in New South Wales.
Read more on all these top money stories from the past week below.
---
Wages grow at the fastest pace in 10 years
Wage figures published by the Australian Bureau of Statistics (ABS) for the September quarter show that wages are growing at their fastest quarterly pace since March 2012 - more than 10 years.
According to the ABS, the official Wage Price Index (WPI) grew 1% in the September quarter and 3.1% annually. That annual pace of growth is also the highest since 2013.
Program Manager of Prices at the ABS, Michelle Marquardt, said this growth was mainly driven by the private sector (+1.2%), which grew at double that of the public sector (+0.6%).
"This quarter, a significant contribution to wages growth came from jobs paid by individual arrangement. These are mostly private sector jobs where employers paid increases based on end of financial year wage and salary reviews or interim increases as a retention strategy," she said.
However, wage growth is still lagging significantly behind inflation, which currently sits at 7.3% annually and is expected to reach 8% by the end of the year.
---
BNPL debts on the rise
A new BNPL report from Good Shepherd Australia New Zealand, an organisation specialising in financial services, counselling and support, has revealed a sharp increase in the number of financial counselling clients who are struggling with buy now, pay later (BNPL) debts.
According to the report, the number of Good Shepherd's clients with BNPL-related debt increased eight times from 2017-2021, while also showing:
60% of financial counselling clients have BNPL debts
73% have either missed essential payments or gone without those essentials to service their BNPL debts
84% of those with BNPL debt have opened additional accounts to manage it
"We know firsthand that too many of our clients using BNPL products are suffering financial stress and hardship and that they are using them for life's essentials for things like food, electricity bills and nappies," Good Shepherd Director, Research, Advocacy and System Impact, Dr Ros Russell said.
This report's release coincides with the launch of yet another BNPL product, this time from major bank NAB.
On 11 November, NAB Now, Pay Later was launched and became available for the more than 50,000 customers who pre-registered.
NAB customers can access up to $1,000 and split purchases into four payments. According to NAB, the platform does not charge any interest, account fees or late fees.
See also: How BNPL can affect your loan application
---
Aussies ditch the big banks in droves as interest rates climb
In a time of rapidly rising interest rates, Australians are starting to lose trust in the big banks as they seek to save money, new research reveals.
Data from Money Transfer Comparison via a survey of more than 1,000 Australians found nearly three-quarters (71%) said they had lost some level of trust in their banks due to high interest rates and fees, while 74% said they would consider switching to more affordable options.
As many as 75% said they would switch to non-traditional banking and lending services due to their banks charging too much; 42% had lost trust in some bank services, and 28% had lost trust that banks were the best platform for their financial needs.
"With so much information available online, and so much competition in the market, it is very easy for consumers to compare interest rates and fees across dozens of financial service providers," Money Transfer Comparison managing director Alon Rajic said.
"A significant consumer shift from traditional banks to innovative fintechs may also drive banks to increase their competitiveness."
Looking at savings account interest rates as of 18 November 2022, the highest total interest rate available (not restricted to specific age groups) is 4.30% p.a, belonging to the ING Savings Maximiser account.
The next highest interest rate available from one of the big four banks is 3.50% p.a, from both Westpac and ANZ.
NAB and Commonwealth Bank offer total interest rates of 2.75% p.a and 2.70% p.a, respectively.
---
Black Friday sales to see billions spent
The data is starting to trickle in on what Aussies are expected to spend in the sales bonanza weekend which is Black Friday and Cyber Monday (Friday 25 November to Monday 28 November 2022).
With retailers offering massive discounts in the lead-up to Christmas, research from Finder revealed almost one-third (32%) of Australians (or 9.8 million people) plan to shop during Black Friday and Cyber Monday.
Finder's research found the average Australian is predicted to spend $375 on the upcoming sales season (including boxing day), totalling $7.5 billion across Australia.
Meanwhile, the Australian Retailers Association (ARA) in collaboration with Roy Morgan forecast sales to reach a record $6.5 billion across just Cyber Monday and Black Friday, an increase of $200 million from 2021.
According to ARA CEO Paul Zahra, 25% of Christmas shopping is completed during this four-day period.
"We know that many people are more conscious about their household budgets with the cost of living going up and interest rates on the rise, so the Black Friday sales are an ideal time to complete your Christmas purchases, save money and ensure that your gifts are delivered on time," Mr Zahra said.
---
NSW first home buyers can now ditch stamp duty
In an Australian first, the NSW Government passed legislation last week that will let first home buyers avoid paying stamp duty, and instead opt for an annual property tax worth 0.3% of the property's value (plus $400).
Stamp duty is a one-off tax on the purchase of a property to cover the cost of transferring ownership. It can also be quite a large upfront cost: stamp duty for an established home valued at $500,000 in New South Wales can cost over $17,000.
The NSW Government's First Home Buyer Choice scheme is designed to halt the decline in homeownership among younger age groups by replacing this major upfront cost with an ongoing tax.
As an example, this equates to either an annual fee of $3,400 per year on a house valued at $1 million, or an upfront payment of $40,090.
Eligible first-home buyers can access the scheme from 12 November 2022, and NSW Premier Dominic Perrottet said it could shave two years off the time taken to save for a house deposit in the state.
"The great Australian dream of home ownership just got much easier for a generation of young families," Mr Perrottet said.
"People can now save huge sums of money on the biggest purchase of their life."
This scheme is only available for houses valued under $1.5 million. The NSW Government has provided a First Home Buyer Choice Calculator to help determine which option is best for potential buyers.
---
Weekly petrol spending jumps nearly 200% in a year
New data from Compare the Market shows that Australian drivers are paying nearly 200% more for fuel compared to 12 months ago.
As of October 2022, the average Australian driver was paying a whopping $75.56 per week for petrol: a mammoth $50 per week increase compared to $25.51 in September 2021. This is a 196% jump!
The bad news at the bowser looks set to continue, with the latest weekly petrol price report showing the average retail petrol price nationwide is now $1.99 per litre.
According to Compare the Market's report, Queensland is paying the most each week for fuel at a staggering $85.15: a 95% increase since June 2022!
"Australians became accustomed to lower fuel prices earlier this year, however, the temporary halving of the fuel excise ended in September and we're now beginning to feel the pinch as fuel retailers pass their higher costs onto customers," Compare the Market's Chris Ford said.
That's all for this week! Check back next Friday for another wrap of the week's biggest finance stories.
William is the Content Manager at Jacaranda Finance. He has worked as both a journalist and a media advisor at some of Australia's biggest financial comparison sites such as Canstar, Compare the Market and Savings.com.au, and is passionate about helping Australians find the right money solution for them.
You can get in touch with William via
williamj@jacarandafinance.com.au
.