2nd December 2022
This Week in Finance: 2 December 2022
This Week in Finance is Jacaranda's weekly wrap of all the top personal finance news affecting everyday Australians.
Last modified: 9th December 2022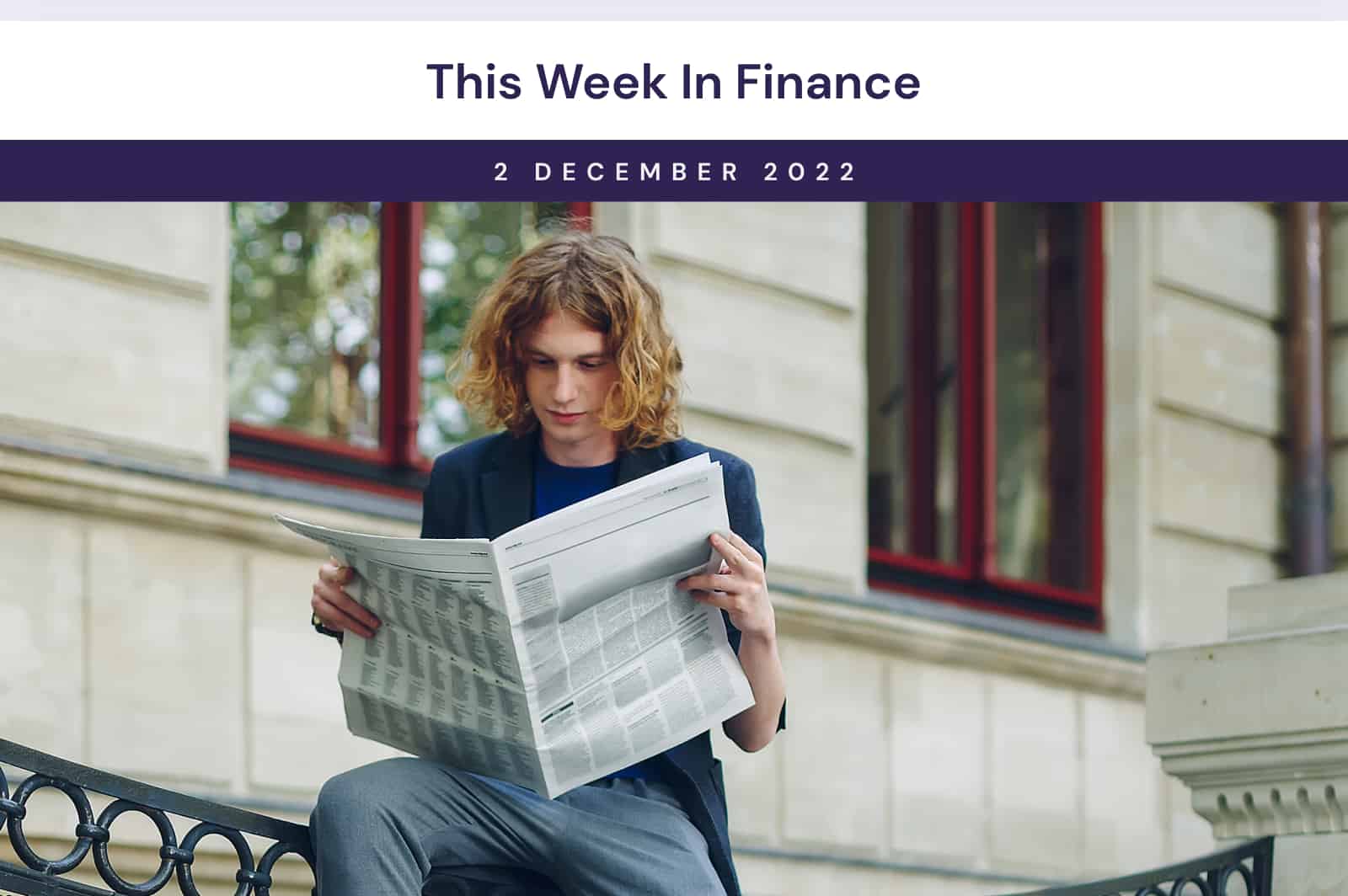 It's hard to believe it's December already! There were some big money stories that dropped this week as the news shows no sign of slowing down in the lead-up to Christmas.
This week saw another monthly inflation data dump, with the official figures showing prices are still rising but at a slower pace than before. Fingers crossed this trend continues!
Based on other new data, Aussies have been cutting back non-essential spending to deal with high prices - with the exception of Black Friday. Major bank data estimates Australians smashed their spending record during the recent Black Friday and Cyber Monday shopping events.
This week's news wrap also covers the potential government cap on energy prices, falling housing values (again!) and a fairly dire report on rental affordability.
Read more on all these top money stories from the past week below.
---
Inflation slowing, but still rises 6.9%
The monthly Consumer Price Index (CPI) indicator - aka inflation - rose 6.9% in the year to October 2022, according to the Australian Bureau of Statistics (ABS).
This is lower than the previous month's inflation figure of 7.3%, indicating that the annual pace of price growth is slowing somewhat.
However, inflation remains high overall. The most significant contributors to this month's rise in prices were dwellings/housing (+20.4%), fuel (+11.8%) and fruit and vegetables (+9.4%).
According to the ABS report, automotive fuel prices increased significantly after the Federal Government's temporary cut to the fuel excise ended on 29 September, up from 10.1% in September.
Holiday travel and accommodation prices moderated from an annual rise of 12.6% in September down to 3.7% in October - good news for those yet to book their Christmas getaways.
Aussies cutting back on spending
With inflation still running hot, albeit lower than before, new data shows more than one-third (37%) of Australians were spending less on the non-essentials compared to 12 months ago.
The latest Equifax Australian Credit Scorecard survey, reported by Yahoo Finance, shows 51% of us are also implementing budgeting techniques amid the cost of living crunch.
Equifax general manager consumer James Forbes said mortgage holders in particular were struggling with higher repayments, with 70% of those with a mortgage adjusting their spending habits.
"Many mortgage holders who bought at the top of the market haven't had time to pay down their loans or build equity," Mr Forbes said.
"Depending on how far they have extended themselves, this group is going to be among the first to feel the pinch as interest rates rise."
---
Black Friday sales top $7 billion
Australians spent more than an estimated $7.1 billion across the four-day Black Friday and Cyber Monday shopping event, according to internal customer spending data from NAB.
That would be well above the $6.5 billion predicted by the Australian Retailers Association (ARA) several weeks ago, with people clearly trying to make the most out of the pre-Christmas sales bonanza.
NAB's data shows spending was up 20% compared with the week prior. Shoe stores were the biggest winners with a 146% increase in spending, followed by camera stores at +116%.
Electronic and clothing stores also saw a 65% and 64% rise in spending, respectively.
Australians preferred online shopping to brick-and-mortar stores, with online spending up 24% on the week prior compared to 11% for physical transactions.
"Over 40% of Australians are now creating and following a budget, with people planning out their shopping more thoroughly while hunting down the best sales," NAB Executive for Small Business Ana Marinkovic said.
"Each year, the deals get bigger and better, with many Australians waiting for the American-inspired Black Friday and Cyber Monday discounts before doing their gift shopping."
---
Could energy bill relief be on the way?
According to The ABC, the Albanese Government is set to act on soaring power prices by capping wholesale gas prices, among other options.
The details are set to be unveiled as early as next week when the Prime Minister holds National Cabinet, and could also include subsidies for select groups of Australians.
Last month a panel of nearly 50 leading economists endorsed government intervention to restrain gas and electricity prices, after the Federal Budget forecast power prices to rise by more than 50% in the next two years.
Capping the price at which producers can sell gas domestically, alongside subsidising low-income earners and an extra resource rent tax on gas producers, were among the most popular options selected by the economists.
"We have a sense of urgency, but we also have the sense of making sure that we get it right and get the detail right," Mr Albanese said on Monday.
"These issues are not simple because of the different ownership structures, because of the different sources of energy, because of different powers that exist between the Commonwealth and State and Territory governments."
---
House prices fall again
National house and unit prices have dropped again for the seventh consecutive month, falling a further 1% in November 2022.
That's according to the latest CoreLogic monthly Home Value Index, which shows a -3.2% decline in housing values annually.
However, the pace of declines has continued to drop off in comparison to previous months:
In October, housing values fell 1.2% nationally
In September, they fell 1.4%
And in August, they fell 1.6%
Brisbane and Hobart led the falls (-2% each), followed by Sydney (-1.3%), Canberra (-1.2 %), Melbourne (-0.8 %) and Adelaide (-0.3%). Perth saw no change, while Darwin was the only capital city to see values increase (+0.2%).
CoreLogic's research director Tim Lawless said the initial shock of rapid cash rate rises is wearing off, but this doesn't necessarily mean house prices are set to rise again.
"Potentially we are seeing the initial uncertainty around buying in a higher interest rate environment wearing off, while persistently low advertised stock levels have likely contributed to this trend towards smaller value falls," he said.
"However, it's fair to say housing risk remains skewed to the downside while interest rates are still rising and household balance sheets become more thinly stretched.
"Next year will be a particular test of serviceability and housing market stability, as the record-low fixed rate terms secured in 2021 start to expire."
Housing affordability still putting off first-home buyers
Despite prices dropping across most of Australia, housing affordability is still a major concern for first-home buyers (FHBs).
Helia's First Home Buyer Report 2022 (reported by RateCity) found that just 57% of potential FHBs think now is a good time to buy, down from 67% in 2021.
As many as 68% of FHBs said housing affordability was keeping them from buying, and 60% cited saving for the deposit as a difficulty.
To conquer affordability issues, 48% of FHBs were looking at reducing lifestyle expenses, and 45% were waiting for prices to fall further.
According to Helia (formerly Genworth), just one in four FHBs are aiming to buy with a 20% deposit - the standard benchmark to avoid the dreaded Lender's Mortgage Insurance (LMI).
That's a significant drop from 41% in 2019, and Helia CEO Pauline Blight-Johnston said affordability issues, climbing interest rates and rising inflation are making saving for a home feel increasingly out of reach for many.
"Our report also shows we are starting to see the market for FHBs diverge into two distinct groups; higher-earning Australians who may have family support consider falling prices as a buying opportunity, and younger FHBs in regional areas or without family backing, feel at risk of being left behind unless further support is available," she said.
---
Rental affordability plummets nationwide
Moving on to renters now, and the latest Rental Affordability Index (RAI) paints a pretty dire picture of rental affordability across Australia.
Published by National Shelter, SGS Economics & Planning, the Brotherhood of St Laurence, and Beyond Bank Australia, the annual rental report found that many Aussie renters are struggling to keep up with high rental payments alongside other rising costs.
Every capital city around the nation experienced a decline in rental affordability in 2022: Hobart remains the least affordable city to rent in Australia, with the average household paying 34% of their income towards rental payments, above the general rental stress threshold of 30%.
Damningly, the results reveal there is currently no affordable rental housing in Australia for single pensioners, people on JobSeeker, pensioner couples and single part-time working parents on benefits.
National Shelter Executive Officer Adrian Pisarski said rental affordability is worse than before the pandemic.
"Low-income households have fared the worst over the past year after an improvement
generated by the COVID supplements in the previous year," he said.
"It may be time to be calling for rent controls to put a brake on unsustainable rents, at the very least Commonwealth Rent Assistance needs to rise by 50% to allow households receiving it to retain a level of affordability.
"Australia needs a National Housing Plan, much more social and affordable housing, better tenancy laws, reforms of tax settings, new planning measures and the removal of incentives
distorting our housing system."
If you are seeking financial assistance for rental bonds and moving costs, consider applying for a Jacaranda Finance rental bond loan.
That's all for this week! Check back next Friday for another wrap of the week's biggest finance stories.
William is the Content Manager at Jacaranda Finance. He has worked as both a journalist and a media advisor at some of Australia's biggest financial comparison sites such as Canstar, Compare the Market and Savings.com.au, and is passionate about helping Australians find the right money solution for them.
You can get in touch with William via
williamj@jacarandafinance.com.au
.