21st October 2022
This Week in Finance: 21 October 2022
Welcome back to This Week in Finance, Jacaranda Finance's weekly wrap of all the top personal finance news affecting everyday Australians.
Last modified: 9th December 2022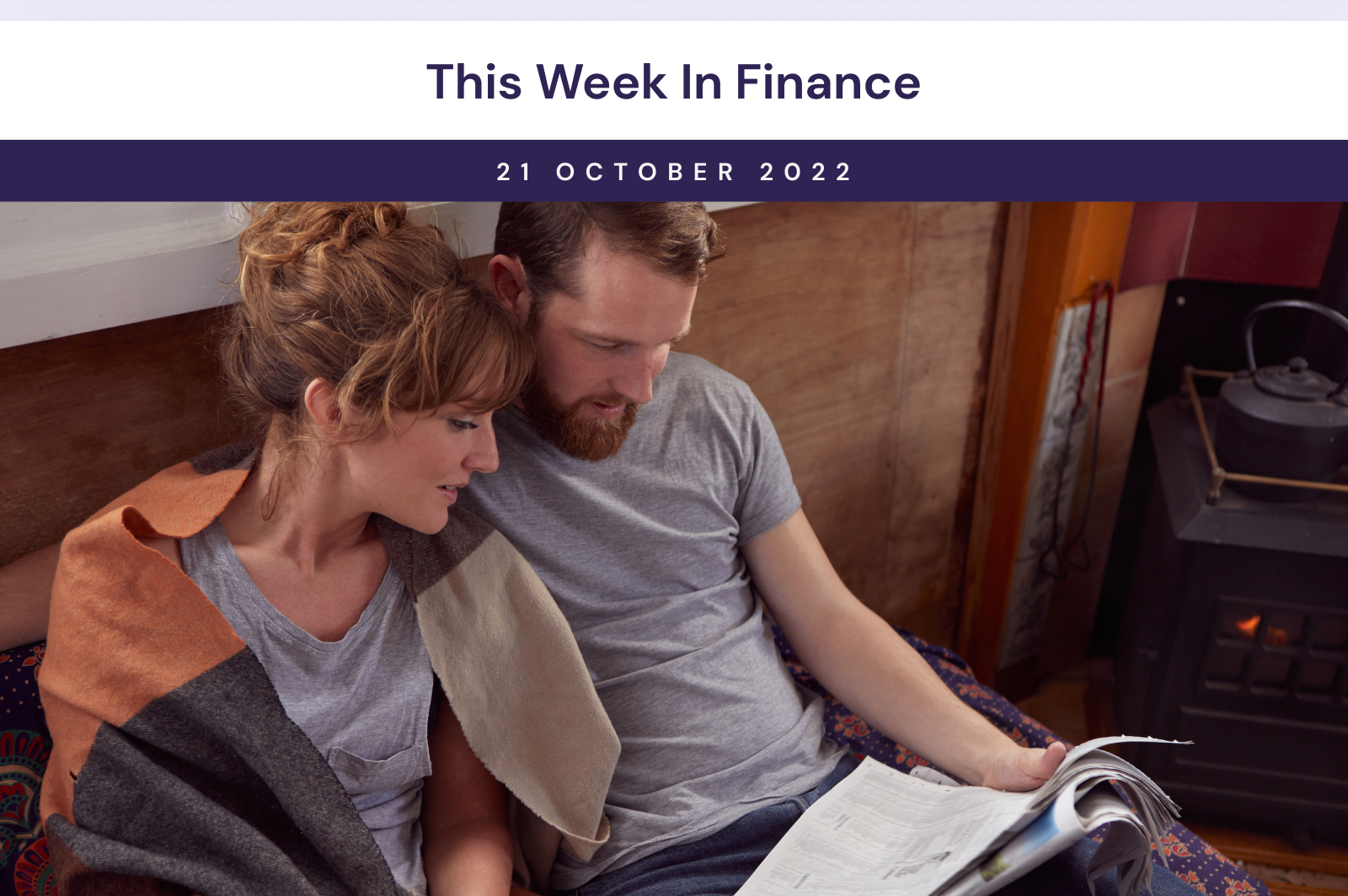 It's been a bit of a quieter week on the personal finance front this week, and given the current environment, this might be a relief to some. But there's still plenty of news that will be relevant to the average household.
Most pressingly, a new report has found the price of food from our two biggest supermarkets (Coles and Woolworths) has gone up more than 8% in the past few months and is expected to climb even higher.
But despite those ever-increasing costs of eating and remaining alive, Aussies are still finding ways to save - to the tune of almost $750 per month on average. There's even news on our kids' savings habits, with new research revealing kids are squirrelling away as much as $12 a week for household chores (no doubt contributing to inflation!).
To help cope with the cost of living, many Australians have moved houses in the past 12 months, spending an average of $3,000 each time.
Now might be a good time to move too, with a new report discovering property prices falls in almost 80% of all housing markets.
Read more on all these top money stories from the past week below.
---
Supermarket prices jump 8% in three months
Food prices at two of Australia's biggest supermarkets have climbed 8.2% in just three months, according to research from UBS.
Woolworths prices jumped 8.3% while Coles food prices rose 8% in the July-September quarter - between them, fresh food costs jumped 9% on average while packaged or dry food rose 7.7%.
According to UBS analyst Shaun Cousins in The Australian, food inflation is expected to climb further to 8.7% in the next 12 months.
"Generally, this is as high as I have seen, certainly in the last decade. This is the highest rate of inflation that Australian consumers would have seen for many years," he said.
For comparison, food inflation in the previous quarter was 5.6% and 5.5% at Coles and Woolworths respectively.
---
Aussies still managing to save
Despite the rising cost of living, Australians are still managing to demonstrate good savings habits, according to a survey from Finder.
Finder's survey found that 3 in 5 Australians (60%) – equivalent to 12 million people – have good savings habits, and are managing to put aside an average of $743 per month.
That's the equivalent of $8 billion per year.
Assuming a starting balance of $5,000, by depositing $743 per month into the current market-leading savings account of 4.05% p.a. - The ING Savings Maximiser - you could stand to have saved nearly $14,000 in 12 months, earning more than $370 in interest.
However, the survey also uncovered that 2.4 million Australians don't have any savings to fall back on in an emergency.
"The cost of living crisis hits harder for those without emergency savings," Finder Money Expert Sarah Megginson said.
"The majority of Australians are self-confessed savers, helping them weather emergencies and fast-track future money goals.
"Whether it's to buffer themselves from the current cost-of-living crisis or to create long-term wealth, building a healthy savings account balance is the key to being financially resilient.
"Having savings to dip into during an emergency or even to help cover basic living costs can take so much stress out of your life."
---
Property prices falling in nearly 8/10 markets
New research from CoreLogic has discovered a widespread decline in housing values, with nearly 4 in 5 property markets in capital cities experiencing a drop in prices over the past three months.
Across more than 3,000 house and unit markets, CoreLogic found 79.5% - or 2,405 markets - saw values go backwards over the September 2022 quarter, a massive increase from the 38.3% seen in the previous quarter.
This follows a -1.4% decline in housing values seen across Australia in the Home Value Index for September 2022, the fifth consecutive month of declines.
CoreLogic Economist Kaytlin Ezzy said this confirms the extent of the housing market downswing seen in the wake of six successive months of interest rate increases.
"This analysis shows the effect of the three 50 basis point rate hikes through the September quarter, plus the lagged impact of the first two hikes (totalling 75 basis points) in May and June, so it's not surprising to see significantly more markets recording a decline in value," she said.
"Across the capital's house markets, Sydney, Melbourne, Canberra and Hobart each saw 100% of analysed suburbs experience a decline in values over Q3, with Hobart the only city also recording a quarterly decline in all unit markets analysed."
---
Average moving costs hit $3,000
The 2022 Muval Index has explored the moving habits of Australians and found that the cost of living has become a key reason for people to relocate.
According to the report, finding a cheaper property or location to reduce the cost of living was the third-most common reason for moving, behind downsizing (12%) and upgrading (30%).
Financial pressures have become so extreme in recent months that a rent increase of $50 a week would prompt 40% of Australians to consider moving house.
Other financial reasons to move included:
Cheaper house prices (35%)
Electricity prices (34%)
Loss of income/employment opportunities (34%)
An increase in interest rates of 2% or more (27%)
A pay rise or increased income (20%)
Overall, the average cost of moving house in 2022 was $3,000: an average of $1,581 was spent on removalist costs and $1,451 for additional expenses such as boxes, cleaning and packing services.
"Our data is telling us that moving is one way Australians plan to combat the cost of living pressures with many households that are feeling the pinch willing to pack up their lives to find a new home with the right price tag," Muval Chief Executive Officer James Morrell said.
"Over the last two years, we saw Australians move to escape COVID-19 and now they are searching for a more affordable lifestyle.
"With inflation and interest rates rising rapidly, the cost-of-living crunch is set to disrupt millions of Australians and we expect there will be another wave of people looking to move house in the coming months."
---
Pocket money earnings revealed
Forget CEO earnings in ASX-listed companies, new data has revealed just how much our kids are earning in pocket money in a red-hot chores market.
Data from mobile app Spriggy, aimed at teaching financial well-being to young Australians, shows pocket money can be as high as $12 per week for some children.
The average 7-year-old earns roughly $6.50 a week in pocket money; a 12-year-old earns nearly $10, while the typical 14-year-old brings home $12.05.
Kids in NSW earn the most pocket money each week on average at $8.80, while girls earn 17 cents more on average each week compared to boys.
"We found that girls complete around 12% more jobs than boys which suggests that girls are more engaged in earning, spending, and saving at a young age," Spriggy Product Manager Alice Brennan said.
"Working for pocket money promotes an entrepreneurial mindset, teaches kids the value of money, and helps build strong financial literacy during what are very formative years."
| Age | Average Pocket Money 2022 |
| --- | --- |
| 7 | $6.50 |
| 8 | $6.80 |
| 9 | $7.00 |
| 10 | $7.60 |
| 11 | $8.25 |
| 12 | $9.75 |
| 13 | $11.00 |
| 14 | $12.05 |
Source: Spriggy via Savings.com.au.
Check back next week for another wrap on the week's biggest finance stories.
Read our latest posts
William is the Content Manager at Jacaranda Finance. He has worked as both a journalist and a media advisor at some of Australia's biggest financial comparison sites such as Canstar, Compare the Market and Savings.com.au, and is passionate about helping Australians find the right money solution for them.
You can get in touch with William via
williamj@jacarandafinance.com.au
.