25th November 2022
This Week in Finance: 25 November 2022
This Week in Finance is Jacaranda's weekly wrap of all the top personal finance news affecting everyday Australians.
Last modified: 21st February 2023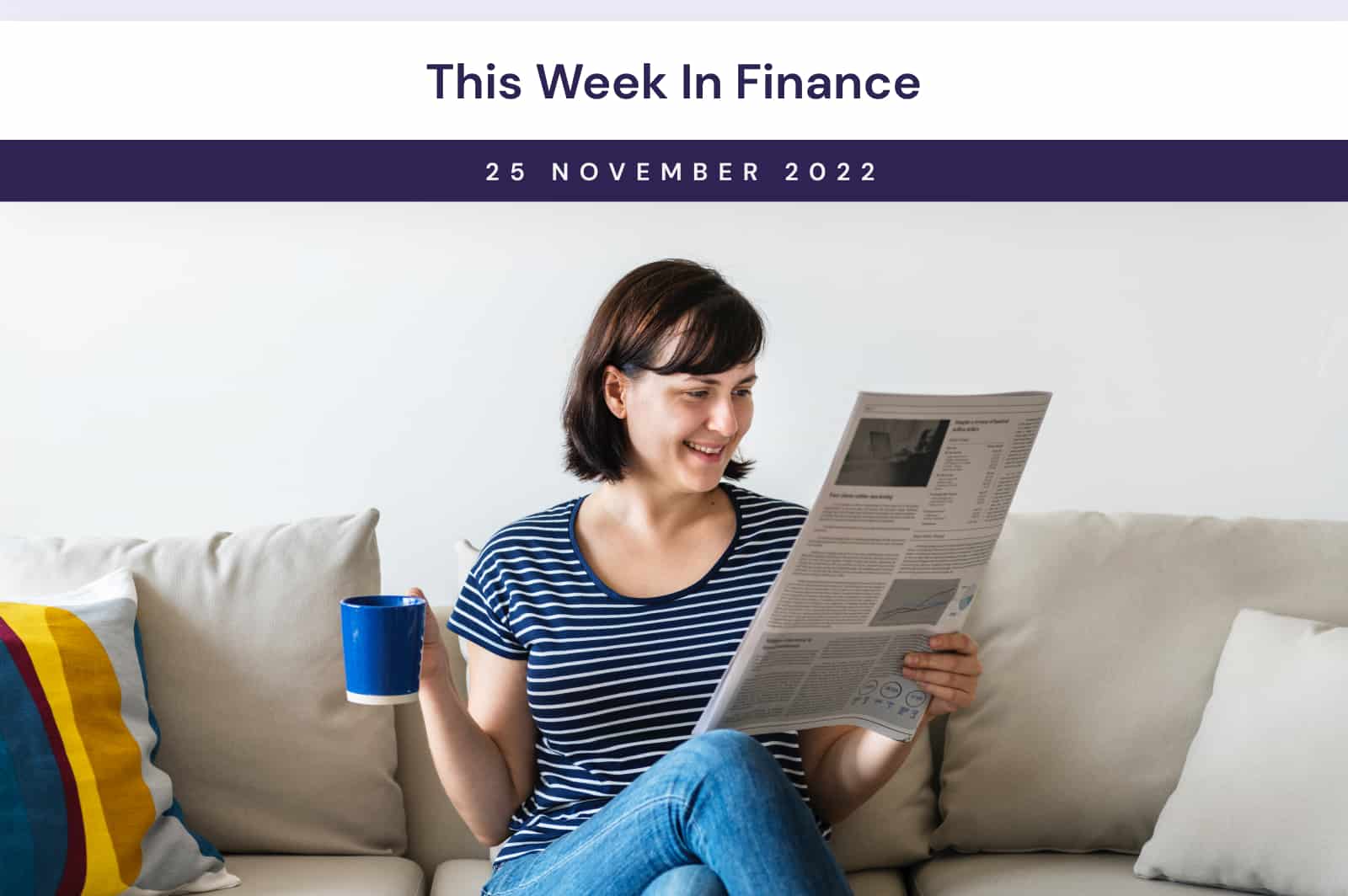 Today marks the year's busiest day in retail across the nation: Black Friday. With the average Australian predicted to spend around $375 on sales, sources show some products (still) aren't worth the price tag.
In this week's news wrap, we also take a look into what's going on in the world of Buy Now, Pay Later and how payday lending may be a harmful financial choice this Christmas.
We also cover the pressures everyday Aussie households are currently being put under, including rising fuel prices and rising flood waters.
Read more on all these top money stories from the past week below.
---
Aussies to spend cautiously this Black Friday
Between the clothes flying off the rack and brawls starting over the last pair of Versace boots (cue Confessions of a Shopaholic), Australians are being warned of potentially dodgy products to avoid during the sales bonanza.
According to consumer group CHOICE, there are plenty of products worth dodging during today's sales, even if they might seem like a bargain.
CHOICE warns against buying range a range of products from mattresses to fridges to earbuds from select brands.
Not only will people be looking to splurge on the larger expenses during Black Friday, new Commonwealth Bank research reveals many people are also planning on purchasing essentials.
As the cost of living continues to put a financial strain on Aussies, two in five shoppers are delaying their normal purchases until the sales in an attempt to ease financial pressures.
CBA General Manager, Shopping, Rochelle Eldridge, said that elevated inflation and higher prices are putting pressure on many households, which is putting everyday savings top of mind for many Australians.
"We are seeing people prioritise essential items, with 7 in 10 shoppers planning to buy essential everyday items or larger items that they need at the sales this weekend," Ms Eldridge said.
---
Consumer advocates push for new BNPL regulations
After 10 years of operating in a mostly unregulated space, Buy Now Pay Later (BNPL) services could soon be governed under new legislation after multiple consumer groups have pushed for the services to be considered as credit.
A coalition of consumer groups, including CHOICE, Consumer Action Law Centre and Financial Counselling Australia, made the recommendation to change the way BNPL is governed after the Treasury released a consultation paper seeking feedback on the future of BNPL's regulatory framework.
Currently, BNPL products are not considered credit and thus are not regulated under the Credit Act, meaning they are not required to meet responsible lending standards that all credit providers must comply with.
This means that no credit checks are required when signing up for the service: an attractive feature for customers who may not be able to comfortably afford the product.
"Australia has safe lending laws for a reason. Buy now, pay later and other fringe lenders shouldn't be allowed to evade important consumer protections by exploiting a loophole in the law," CEO of CHOICE Alan Kirkland wrote in the submission.
"As many people struggle to pay their household bills, more are using buy now pay later to pay for essentials. Strong government action is needed now more than ever.
"We're not asking for anything special – just that buy now, pay later plays by the same rules as everybody else that lends money to consumers, including the obligation to lend safely."
---
Warning against payday loans in lead up to Christmas
December is just around the corner, and with that comes the rush of last-minute Christmas shopping.
Though shopping around this time can develop quite a hefty receipt, a major bank has advised shoppers against using short-term 'payday loans' for a quick fix to cover the costs.
New research from NAB reveals that one in 10 Australians facing financial hardship have been approved for a payday loan in the past three months.
In Q3 of this year, payday loans were the third most common type of loan used to manage financial hardship, behind credit cards and borrowing from friends and family.
Head of Customer Vulnerability at NAB Mike Chambers warned against using payday loans to alleviate the extra Christmas expenses.
"Christmas can be a financially stressful time for many people, and when faced with financial stress it can be tempting to try and find a quick fix to manage costs," Mr Chambers said.
"Payday loans can seem an attractive option, as they are often instant and have low credit controls in place, making them more accessible to people in desperate situations.
"What people don't realise is there are often many hidden costs associated with the loans, on top of higher interest and late payment fees."
---
Fuel prices putting pressure on Australian households
New data from the Australian Automobile Association (AAA) shows that the average Australian household is spending more than $381 each week on transportation – up from $367.63 for the same period in 2021.
Australian capital cities are spending $413.54 a week on average on transport-related costs in the September quarter of 2022 (Q3) - an increase of $1.33 from Q2.
The data also shows that most households are spending 14.9% of their income on transport, with Hobart and Launceston households averaging around 18%.
AAA Managing Director Michael Bradley said transport costs are placing significant pressure on household budgets.
"The latest figures are a timely reminder for governments that they need to carefully consider policies that may add to transport cost of living pressures across both regional and metropolitan Australia," Mr Bradley said.
On a more hopeful note, fuel prices are beginning to drop on Australia's east coast in the weeks leading up to Christmas.
Major petrol markets on the east coast of Australia see a 6-week cycle in terms of petrol prices. This means just before the holidays hit, fuel prices are forecast to be at their lowest in the cycle before picking up again in the weeks following Christmas.
The ACCC is advising Aussies to hold off filling up until this time.
---
NSW floods deemed the nation's costliest natural disaster
As the floods in NSW continue to wreak havoc on the state, insurers are estimating that $5.5 billion in claims have been lodged in response to the natural disaster.
One rural town feeling the strain of the floods in particular is the central western community of Forbes.
Phyllis Miller, the mayor of Forbes, told The Daily Telegraph some people with existing policies have received letters saying the policies will not be renewed, while others say insurers refused to cover them to begin with.
Despite this, Insurance Council of Australia (ICA) chief executive Andrew Hall rejected accusations that the industry was putting profits before people and believes insurers are "sticking by their customers".
However, he went on to insist that changes be put in place in towns like Forbes.
"Now is the time to say to the government we need a flood levee or we need to do something about those particular homes so this doesn't happen again," Mr Hall said.
That's all for this week! Check back next Friday for another wrap of the week's biggest finance stories.
Jemima Kelly is a Content Writer at Jacaranda Finance. She is enthusiastic about accurate and informative content, and holds a Bachelor of Creative and Professional Writing from QUT.