4th November 2022
This Week in Finance: 4 November 2022
Welcome back to This Week in Finance, Jacaranda Finance's weekly wrap of all the top personal finance news affecting everyday Australians.
Last modified: 9th December 2022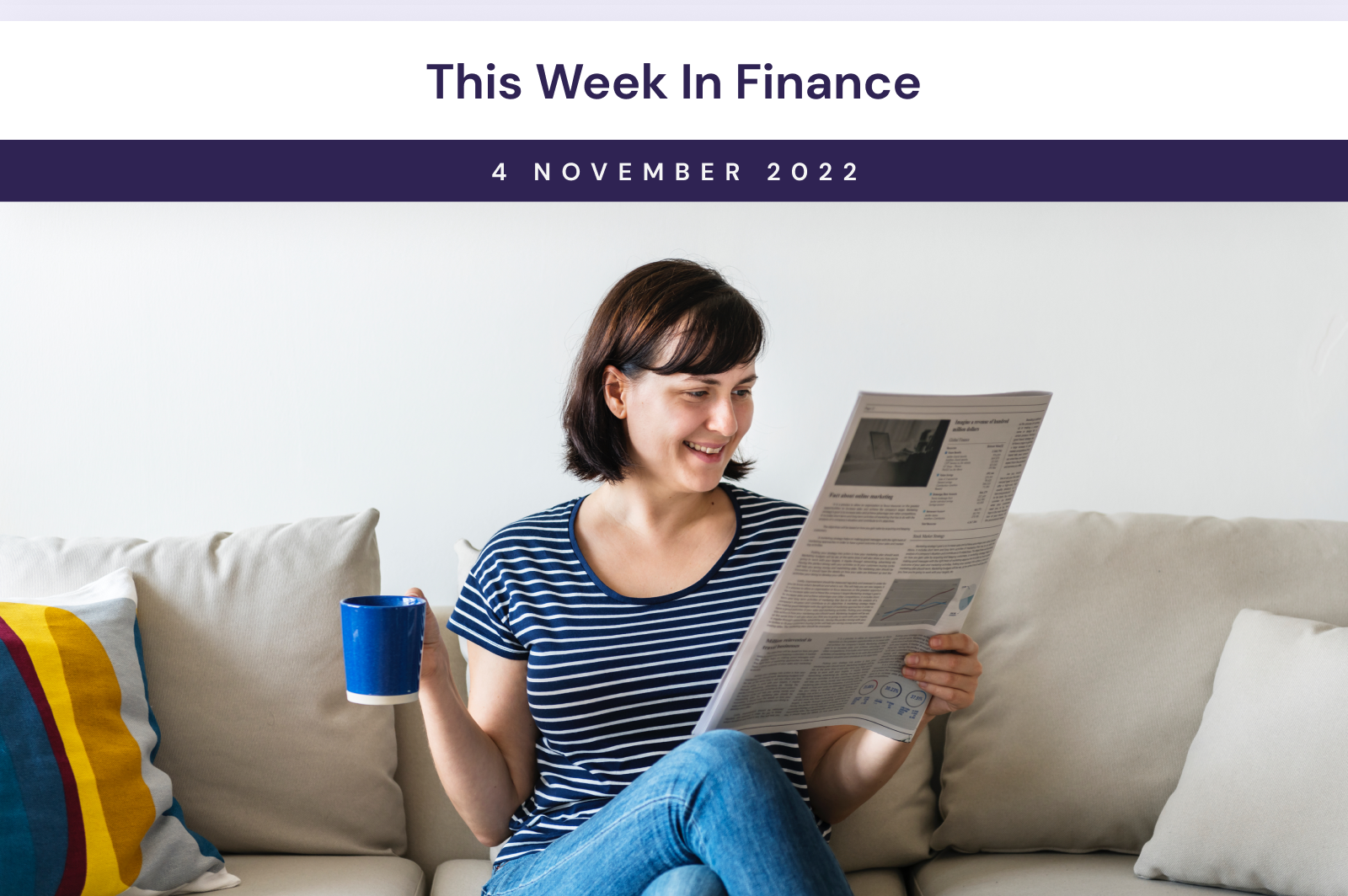 This week we saw quite a lot happening in the financial space despite the Melbourne Cup and the associated craziness dominating the headlines.
While the Melbourne Cup was giddying-up, the boffins at the Reserve Bank were deciding on whether to increase Australia's official cash rate for the seventh consecutive month. Spoiler alert: they did, and it could mean yet more pain for the typical household with a mortgage (less so for savers).
Other personal finance stories you might've missed this week include:
Property prices falling yet again across the country;
Demand for credit such as personal loans has surged as the cost of living bites;
New research reveals hundreds of thousands of Aussies are missing out on energy bill concessions worth hundreds; and
Health insurance premiums rose for more than 5 million people with some of the country's largest health funds.
Read more on all these top money stories from the past week below.
---
Cash rate gets a Melbourne Cup day increase
While the Melbourne Cup might be the race that stops the nation, it didn't stop the Reserve Bank of Australia (RBA) from lifting interest rates yet again on Tuesday.
In its meeting on 1 November, the RBA decided to increase the official cash rate by 25 basis points to 2.85%.
This marks the second consecutive month with a 25 basis point increase and is the seventh consecutive increase since May 2022, with the cash rate now 275 basis points higher than its record low of 0.10%.
Although the RBA has slowed the pace of rate increases in recent months, recent inflation figures led Governor Philip Lowe to signal that further rate increases are ahead of us.
"As is the case in most countries, inflation in Australia is too high. Over the year to September, the CPI inflation rate was 7.3 per cent, the highest it has been in more than three decades," he said in the statement.
"A further increase in inflation is expected over the months ahead, with inflation now forecast to peak at around 8 per cent later this year.
"The Board has increased interest rates materially since May. This has been necessary to establish a more sustainable balance of demand and supply in the Australian economy to help return inflation to target.
"The Board expects to increase interest rates further over the period ahead. It is closely monitoring the global economy, household spending and wage and price-setting behaviour.
"The size and timing of future interest rate increases will continue to be determined by the incoming data and the Board's assessment of the outlook for inflation and the labour market."
Economists at both Westpac and ANZ forecast the cash rate could end up as high as 3.85% in the coming months, which according to RateCity analysis could see monthly repayments on a typical $500,000 mortgage rise by almost $1,100 in just 12 months.
See also: Will The RBA Cash Rate Change Affect My Jacaranda Personal Loan Rate?
---
House prices fall for the 6th straight month
The downturn in Australian housing prices continued in October, with the median national dwelling value falling a further -1.2% according to CoreLogic's latest Home Value Index.
That's slightly smaller than the -1.4% in September and -1.6% in August, but still marks the sixth consecutive month of decline.
According to the report, every capital city and rest-of-state region apart from regional South Australia recorded a drop in housing values, with the size of the declines different across the country.
Brisbane was the capital city to record the biggest monthly fall (-2%), while regional New South Wales saw the biggest non-capital city change at -1.7%.
The median dwelling value nationwide is now $721,018 and is down -0.9% over the last 12 months.
"Despite the easing in the pace of decline, with Australian borrowers facing the double whammy of further interest rate hikes along with persistently high and rising inflation, there is a genuine risk we could see the rate of decline re-accelerate as interest rates rise further and household balance sheets become more thinly stretched," CoreLogic's Research Director Tim Lawless said.
"With borrowing capacity being hit hard as interest rates rise, it's likely more housing demand has been diverted towards more affordable sectors of the market."
---
Demand for personal loans soars in 2022
Consumer credit demand experienced a significant increase in the September 2022 quarter, according to Equifax data supplied to Jacaranda Finance.
The latest Equifax Quarterly Consumer Credit Demand Index shows consumer credit demand rose 17.1% in the year to September, driven mainly by unsecured credit such as credit cards and personal loans.
Credit card demand was up 31.5% in the September quarter compared to the same time in 2021, while personal loan applications also saw strong growth (+22%). Demand for buy now pay later eased slightly but was still up +9.9%, while auto (car) loan applications fell -3.8% compared to September 2021.
Mortgage demand, however, declined -6.1%, reflecting recent interest rate increases for mortgages.
"As the cost of living increases and the impact of interest rate rises starts to hit home for many Australians, the buffer of household savings consumers accumulated over the past few years is starting to erode," Equifax General Manager Advisory and Solutions Kevin James said.
"In light of this, some consumers may be turning to unsecured credit to help them bridge the gap."
---
Are you missing out on energy bill concessions?
In last week's budget, the Treasury estimated that electricity prices will rise by an average of 20% in late 2022 and a further 30% in 2023-24.
With energy bills soaring, a paper released on Wednesday by the Consumer Policy Research Centre (CPRC) found that hundreds of thousands of Australians who are eligible for concessions - as many as 35% - may not be getting them, missing out on hundreds of dollars of savings.
The largest gap was in the ACT, where 41% of those eligible for up to $750 worth of annual energy concessions were not receiving them. In South Australia, 38% of eligible consumers were not receiving rebates that could be worth up to $242 a year.
The report suggests that the onus lies with eligible concession holders to ensure their concession is applied and updated on each bill, which leads to many people missing out.
"Concessions should apply to the same groups everywhere. It shouldn't be so hard to figure it out."
The latest Essential Poll from The Guardian meanwhile found that more than two-thirds of voters want the government to intervene in the energy market to curb soaring power prices.
When asked if they thought the government had the power to make a "meaningful difference", as many as 67% of those surveyed said they believed the government could, 21% said the government could not and 12% were unsure.
While the Federal Budget set aside billions of dollars to invest in clean energy, there was nothing in terms of direct support to households.
---
Health insurance premiums rise for millions
Many health insurance funds delayed their annual premium increases this year due to ongoing COVID-19 issues, but the toll came due for millions of Australians on November 1st.
Health cover costs increased by between 2.7% and 3.1% for about 5.3 million customers across major funds such as nib, HCF and Bupa, with Medibank delaying its increases until January 2023 following its major cyber security breach.
This year's average premium rise is 2.70% - the lowest average increase since 2001 - but this could still cost the average family an extra $125 per year.
"We know many families are struggling financially at the moment … and the timing of these increases adds pressure to many households doing it tough financially," iSelect spokesperson Sophie Ryan told The New Daily.
"I encourage people to review their cover to ensure that they're still getting a good deal. If your health insurance premium went up this year … and you haven't reviewed your policy, it may no longer be suitable for your personal circumstances."
That's all for this week! Check back next Friday for another wrap of the week's biggest finance stories.
Read our latest articles
William is the Content Manager at Jacaranda Finance. He has worked as both a journalist and a media advisor at some of Australia's biggest financial comparison sites such as Canstar, Compare the Market and Savings.com.au, and is passionate about helping Australians find the right money solution for them.
You can get in touch with William via
williamj@jacarandafinance.com.au
.