16th September 2022
This Week in Finance: 16 September 2022
Welcome to This Week in Finance, Jacaranda Finance's weekly wrap of all the top personal finance news affecting everyday Australians.
Last modified: 21st February 2023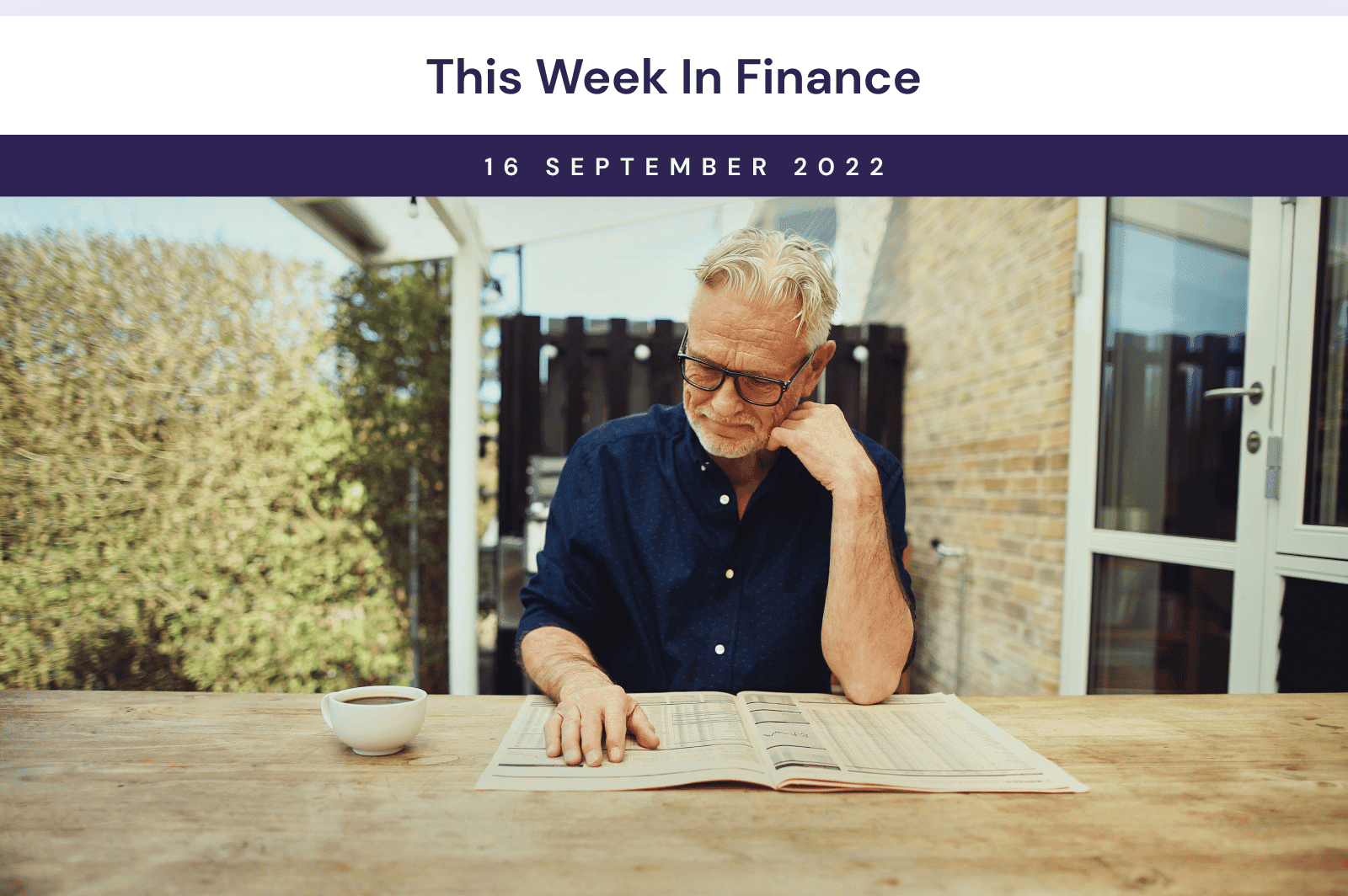 The headlines were dominated by one thing this past week: the passing of Queen Elizabeth II. With rolling 24/7 coverage, you could be forgiven for thinking there was no personal finance news this week, but we managed to find some updates that could affect you.
First of all, the Reserve Bank has issued a statement clarifying some concerns people had about how our money would be affected by a new King, given their likeness has to be featured on some of our coins and notes.
We then had some updates on rising home loans and savings account rates, with the average homeowner now paying hundreds more per month than they were a few months ago. But for those who're stashing their money in a savings account, their interest rates going up may come as a welcome relief.
Other finance news this week includes:
Household spending falling on non-essential things like travel and entertainment
Domestic airfares skyrocketing across the country
A record number of Aussies working second jobs
And one in seven Aussies falling victim to credit card fraud
Read on to learn more about these stories and how they might affect you.
---
Will our money change with a new King?
If you've somehow managed to miss the news so far, Queen Elizabeth II passed away last week, with King Charles III being named King shortly after.
Queen Elizabeth II appeared on money in 35 countries - in Australia, her face is on our $5 note as well as our coins. Assistant Minister for Treasury Andrew Leigh said more than 50 billion coins with Queen Elizabeth II on them had been minted since 1966.
But with a new King, our coins which feature her likeness will need to be changed as per tradition. According to the Royal Australian Mint, a Palace-approved effigy of the new Sovereign is likely to be provided to the Royal Australian Mint by the UK Royal Mint within the next 12 months.
The Queen's passing led some Australians to grow concerned that their existing cash would be worthless, but the Reserve Bank of Australia (RBA) has assured everyone that there is no need to worry.
"There will be no immediate change to Australian banknotes. The $5 banknotes featuring the image of Her Majesty The Queen can continue to be used," the RBA said in a statement.
"They will not be withdrawn and are likely to remain in circulation for years to come."
---
Home loan, savings account rates rise
Following last week's 50-basis point cash rate increase, banks and lenders have been quick to raise interest rates on their products, which could be good or bad news for customers depending on who they are.
RateCity analysis shows 18 banks had increased variable mortgage rates, with nearly all of them (including all four big banks) passing on the full 50-basis point increase.
Not all of them have been as quick to raise interest rates for savers, however.
CBA and Westpac have announced 60 and 50 basis point hikes for their bonus savings accounts respectively, but NAB and ANZ are still yet to announce any changes.
Overall, eight banks have announced savings rate hikes of 50 basis points or more so far in September, with key changes including:
ING increasing its maximum Savings Maximiser rate by 0.50% points to 3.60% p.a.
UBank increasing its maximum Save account rate by 0.50% points to 3.35% p.a.
Macquarie increasing its maximum transaction account rate by 0.50% points to 2.75% p.a.
"If your bank hasn't yet announced a decent hike to your savings rate, now is the time to question this decision," RateCity.com.au research director Sally Tindall said.
"A cracking savings rate after this latest round of hikes will be over 3.50% p.a. Anything below 2.50% p.a. should be cause for concern.
"As a result [of these rate hikes], existing customers with a $500,000 loan at the start of the hikes will soon be paying a total of $614 extra on their mortgage a month."
---
Record number of people with multiple jobs
The latest quarterly jobs data from the Australian Bureau of Statistics (ABS) for June shows the number of Australians working two or more jobs has reached its highest level since recording began in 1994.
The number of multiple job holders reached a record high of 900,000 people in the June quarter of 2022, an increase of 4.3%.
With the official unemployment rate now at just 3.5%, Lauren Ford, head of Labour Statistics at the ABS said the number of people with multiple jobs is 6.5% of all employed people.
"Along with the 4.3% increase in the number of multiple job holders, the number of jobs worked as secondary jobs also increased, by 5.5%, and passed 1 million for the first time," Ms Ford said.
"This highlights that some people work more than two jobs at the same time."
---
Australians spending less on fun
The CommBank Household Spending Intentions (HSI) Index rose by 0.8% in August 2022, a decidedly mixed result that shows the impacts of high inflation and increasing interest rates.
Based on CommBank's card spending data, people are spending more on motor vehicles (+13.3%), home buying (+10%) and health and fitness (+7.2%), but spending less on the non-essentials.
Categories like travel (-3.9%) and entertainment (-7.2%) are down, showing that people are perhaps becoming more frugal in uncertain times.
"While the index rose in August, we're seeing weakness in discretionary spending following recent interest rate increases and a growing move to value purchasing," CommBank Chief Economist Stephen Halmarick said.
"For instance, while grocery spending remains high, we're hearing customers are swapping to value products in response to higher food prices."
See also: Can I get a personal loan for a holiday?
---
Domestic airfares soar
Speaking of falling spending on travel, the ACCC's latest Airline Competition in Australia report last week found domestic airfare costs have grown significantly in recent months.
The quarterly report shows the cheapest economy airfares were 56% higher in August 2022 than they were in April 2022 when they hit an 11-year low.
"After about 18 months of historically low airfares, the cost of domestic flying has risen sharply in response to strong demand, temporary capacity reductions and very high jet fuel prices," ACCC Chair Gina Cass-Gottlieb said.
"Discount economy airfares in August were at their highest point in almost two years."
---
One in seven fall victim to card fraud
A survey by comparison site Finder revealed one in seven (17%) people have fallen victim to debit and credit card fraud in the past 12 months.
The survey found approximately $1 billion had been lost Australia-wide - an average of just under $300 per person.
"It's a widespread problem, and shows how effective scammers have become at deceiving innocent Australians," Finder's credit card expert Amy Bradney-George said.
"Contact your bank straight away if you find transactions you didn't make or don't recognise so it can help you figure it out.
"Never click on a link or hand over personal information without confirming you are dealing with a legitimate business."
Scamwatch data shows more than $380 million has been lost to scams in Australia so far in Australia. That's much less than Finder's data, although Scamwatch only records reported scams.
Finder found just over 1 in 10 (11%) Aussies who were scammed reported it.
If you suspect something of being a scam or need help after a scam, visit Scamwatch for more information.
Check back next week for another wrap on the week's biggest finance stories.
Read our latest posts
Jemima Kelly is a Content Writer at Jacaranda Finance. She is enthusiastic about accurate and informative content, and holds a Bachelor of Creative and Professional Writing from QUT.