2nd September 2022
This Week in Finance: 2 September 2022
Welcome to This Week in Finance, Jacaranda Finance's weekly wrap of all the top personal finance news affecting everyday Australians. 
Last modified: 9th December 2022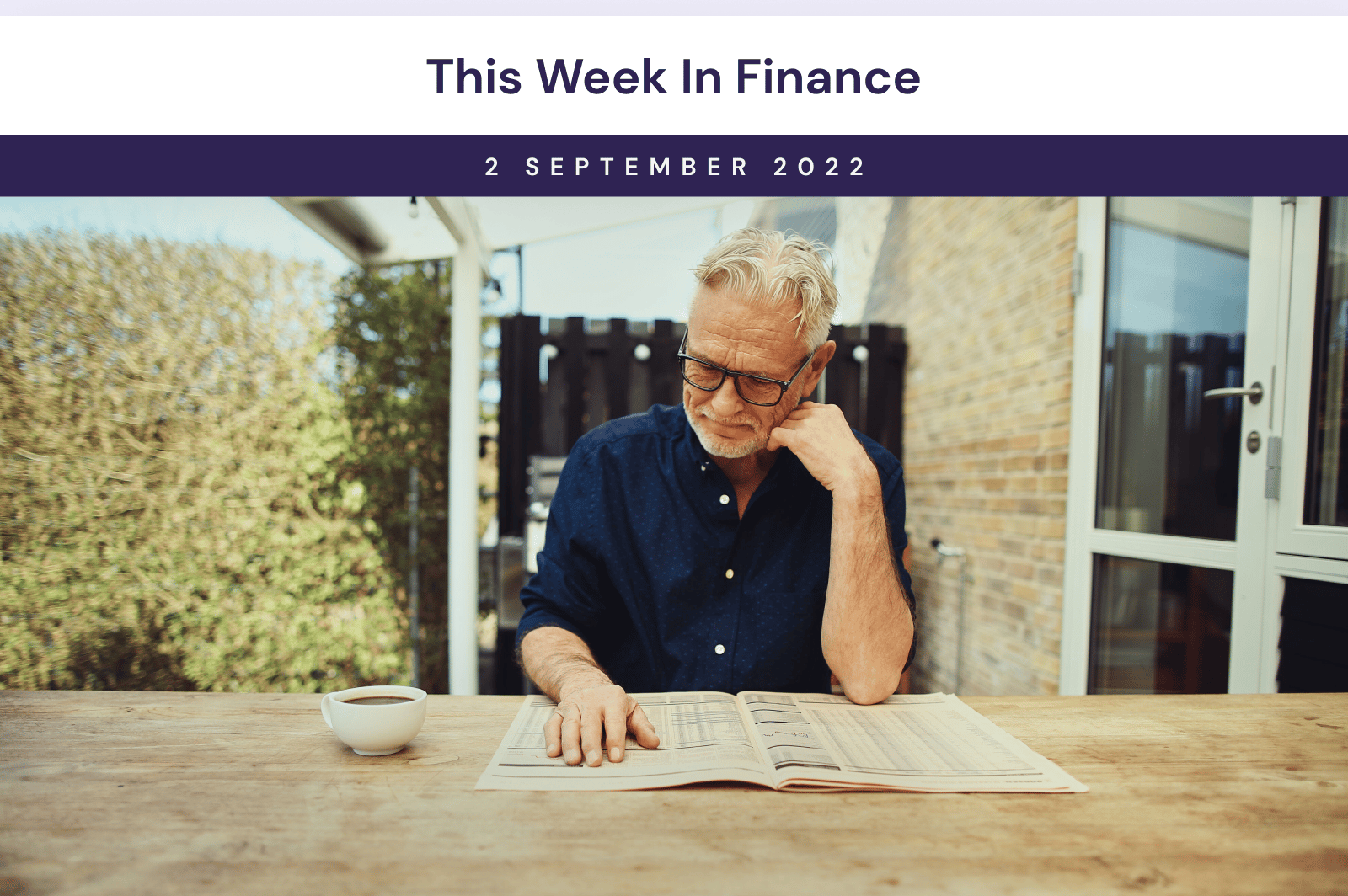 Welcome to This Week in Finance, Jacaranda Finance's weekly wrap of all the top personal finance news affecting everyday Australians.
The ongoing story we're all familiar with by now is the high cost of living, and this week's top news stories continue this theme.
There's some good news on the cost of living front - savings account interest rates are rising, and for those looking to buy a house, prices are falling rapidly across the country. But there's also some not-so-good news.
Petrol prices, after falling in recent weeks, are rising again, and fewer Australians feel their electricity and gas providers are offering good value for money amidst soaring energy prices. Plus, if you've recently bought a home, house values falling might be bad news too…
We've also seen a number of poorly-performing superannuation funds called out and closed to new members by our top regulator, which is good news for any Australian seeking a financially secure retirement.
Read more on all these top money stories below.
---
Petrol prices rise after recent reprieve
After a series of recent falls, petrol prices increased nationwide in the week to 28 August 2022, according to the latest weekly Petrol Price Report from the Australian Institute of petroleum (AIP).
According to the report, motorists are paying 4.9 cents per litre (CPL) extra at the bowser compared to the week before, up to $1.77 per litre.
This is still a long way from the $2.00+ per litre we were paying earlier in the year, but the expiry of the 22 CPL fuel excise cut is looming.
Once that expires in September, motorists can expect to add at least 22 cents per litre to their fuel costs.
---
Savings account rates on the rise again
Following four successive cash rate increases since May, those who like to put their savings in a bank account have some more good news.
Last Friday, Virgin Money increased the maximum interest rate on its Boost Saver account to a market-leading 3.60% p.a for balances up to $250,000.
That places it just above Bank of Queensland's (BOQ) 3.50% p.a. Future Saver account - available for those under 35 years old - and ING's 3.10% p.a Savings Maximiser account.
Looking at the Reserve Bank's deposit rate data, the average savings account interest rate among the major banks is now five times higher (1.30% p.a.) than it was before May 2022 (0.25% p.a.).
---
House prices fall at fastest rate in 40 years
Speaking of those cash rate increases: house prices are falling and falling fast, at least among our capital cities.
Looking at CoreLogic's Home Value Index for August 2022, we can see that house prices nationwide fell by 1.6%. That might not seem like much, but it's actually the biggest monthly decline in 39 years.
Sydney and Melbourne saw monthly house price falls of 2.3% and 1.2% respectively, and as CoreLogic has previously reported, recent cash rate hikes have had an immediate impact on values.
"According to most bank forecasts, the cash rate could rise at least another 75 basis points before peaking. With this in mind, the decline in housing values is expected to become steeper and geographically more widespread," CoreLogic's Research Director Tim Lawless said.
"Nationally, home values are already falling at the fastest pace since the Global Financial Crisis (GFC)...the trajectory of home values will depend on how fast and how high interest rates move, along with the performance of the broader Australian economy, labour markets and demographic trends."
---
Confidence in energy providers plummets
Nearly half of Australians no longer feel they're getting value for money from their energy companies, a new study shows.
According to the latest survey from Energy Consumers Australia (ECA), consumer confidence in Australia's energy market has plummeted over the past month in the wake of soaring household bills.
Between July and August, the results show a large drop in perceived value for money for electricity (62% down to 53%) and gas (66% down to 57%).
"The factors driving high prices are going to be in play for the foreseeable future but just because prices stay high doesn't mean bills have to," ECA boss Lynn Gallagher said.
"The best way to deliver lower bills is to provide practical assistance so that Australians can use energy smarter and more efficiently without impacting their quality of life."
---
Dud super funds named and shamed
The second edition of the new superannuation annual performance test has been released, and Australia's key financial regulator has named the super funds failing to provide value for its customers.
According to the Australian Prudential Regulation Authority (APRA), five products failed to meet its performance benchmark based on investment performance and costs, with four of them failing for the second time.
The four products that failed the test for a second time are now closed to new members, and APRA Member Margaret Cole said plans were underway to transfer the 500,000-plus members to new funds.
"APRA will be engaging with these trustees to ensure that members achieve better outcomes as quickly and safely as possible," she said.
The repeat offenders are as follows:
BT Super's Retirement Wrap (BT is owned by Westpac)
AMG Super, MySuper
Energy Industries Superannuation Scheme – Pool A
Australian Catholic Superannuation and Retirement Fund, LifetimeOne
Check back next week for another wrap on the week's biggest finance stories.
Read our latest posts
William is the Content Manager at Jacaranda Finance. He has worked as both a journalist and a media advisor at some of Australia's biggest financial comparison sites such as Canstar, Compare the Market and Savings.com.au, and is passionate about helping Australians find the right money solution for them.
You can get in touch with William via
williamj@jacarandafinance.com.au
.