23rd September 2022
This Week In Finance: 23 September 2022
Welcome to This Week in Finance, Jacaranda Finance's weekly wrap of all the top personal finance news affecting everyday Australians.
Last modified: 9th December 2022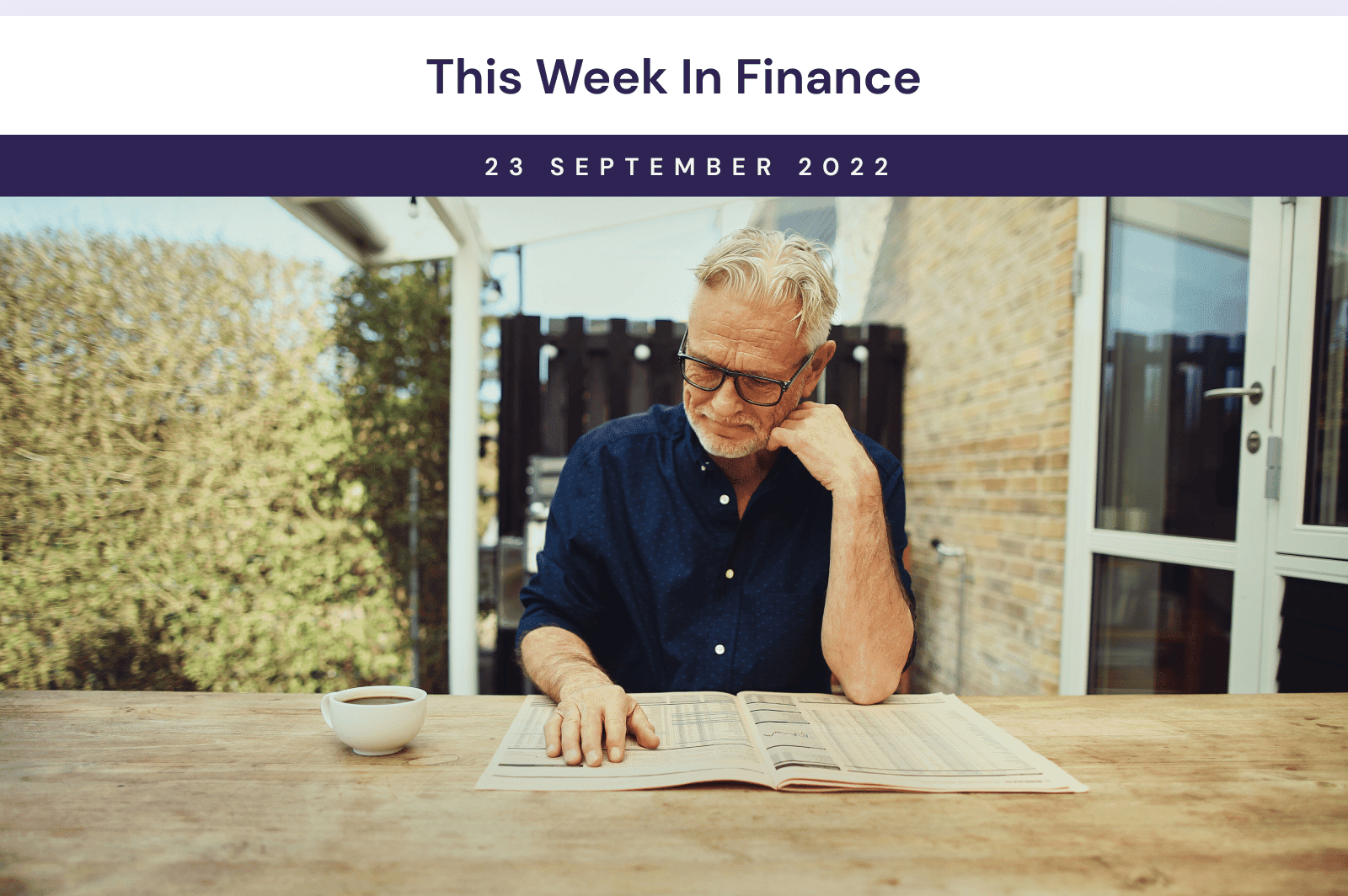 It's been a much quieter week on the financial news front, mainly thanks to the one-off public holiday on Thursday 22 September due to the passing of Queen Elizabeth II.
The four-day work week - three if you're in Victoria - has come at quite short notice, and some new research has found a huge number of Australians are planning on chucking the proverbial sicky before or after, potentially costing hundreds of millions of dollars across the country.
While your own bank account might not be complaining about that, you could feel differently about the impending end of the fuel excise cut on the 29th, although the Treasurer has predicted there won't be an immediate spike in petrol prices.
A major bank has also predicted yet another large increase to the cash rate in October, adding yet more strain to household budgets for those on variable mortgages.
However, for those with their money in savings accounts, news of another rate rise should see their interest earnings increase yet again, with savings account rates surpassing the 4% barrier for the first time in quite a while.
And finally, the confirmation of a third consecutive La Niña could lead to even more flooding and torrential rain this summer, and Aussies have been urged to check their insurance coverage as a result.
Read more on all these top money stories below.
---
Public holiday 'sickies' to come at a cost
On the 11th of September, Prime Minister Anthony Albanese announced there would be a one-off public holiday on Thursday the 22nd: a National Day of Mourning for Queen Elizabeth II.
While this announcement was likely welcomed by most Australians (especially Victorians, who get two public holidays in a row due to the AFL Grand Final on Friday), others such as small business owners and medical professionals weren't as happy with the short notice.
It turns out that for non-Victorians, Friday the 23rd could be a very popular day for absenteeism in the workplace, aka 'chucking a sicky'.
New research from Finder revealed 1 in 8 (13%) Australians – equivalent to 1.7 million workers - have called in sick for non-health related reasons so far in 2022, at a cost to employers of about $354 per person, per day.
According to Finder, absenteeism on the Friday could cost more than $461 million in lost productivity.
"Workers are trying to take advantage of the bonus public holiday by turning it into an extra long weekend," Finder's personal finance specialist Taylor Blackburn said.
"This is how Black Friday got its name in the US – with the Thanksgiving holiday always on Thursday, many workers would not come in on the Friday – hence it was a dark day for owners," he said.
---
End of fuel excise discount near
The 22-cent cut to the fuel excise is scheduled to end next week on Thursday 29 September, months after being introduced by the previous government in response to soaring petrol prices.
As things stand, there are no plans to extend the discount, with the government maintaining it would be too expensive to continue.
This has led to fears petrol prices could skyrocket immediately after the discount ends, but Treasurer Jim Chalmers has reassured Australians that he did not expect a jump in prices next week.
Speaking at Parliament House, the Treasurer said there was enough petrol being stored in reserve that prices should stay stable.
"Fuel prices in most parts of the country at the moment are now around 50 cents a litre below the peak recorded in July," Mr Chalmers said.
"Industry estimates that there [will] be more than 700 million litres of lower excise fuel in the system when the fuel excise is reintroduced."
The latest weekly petrol price report shows the average retail petrol price for the week to 18 September was 163.5 cents per litre (cpl), well below the rolling 12-week average of 182.9 cpl.
The ACCC has also warned it will be monitoring petrol retailers following the excise reintroduction and will take action if it sees evidence of abnormal prices.
See also: Top 6 Tips to Save on Fuel in 2022
---
Cash rate to rise again next month
Major bank Westpac has forecast another 50 basis point (bps) increase to the official cash rate in October, which would take it to 2.85%.
This would be the 5th straight month of 50 bps increases, and the 6th consecutive increase since May, when the cash rate sat at a record low 0.1%:
| Month | Old cash rate | Increase | New cash rate |
| --- | --- | --- | --- |
| May | 0.10% | +25 bps | 0.35% |
| June | 0.35% | +50 bps | 0.85% |
| July | 0.85% | +50 bps | 1.35% |
| August | 1.35% | +50 bps | 1.85% |
| September | 1.85% | +50 bps | 2.35% |
| October* | 2.35% | +50 bps | 2.85% |
 *October change is a forecast only
If this were to occur, the standard variable mortgage rate would have increased by 2.75% p.a in just six months, assuming each increase was passed on by lenders.
---
Savings rates hit 4% p.a for the first time in years
While rising interest rates aren't good news for those with a mortgage, they're often good news for people with their money in interest-earning savings accounts.
Less than 12 months ago you'd have been hard-pressed to find a savings account earning even 1.50% p.a. In fact, the average rate among the big banks was less than a measly 0.50% p.a.
But as of Tuesday 20 September, Bank of Queensland (BOQ) has increased the maximum interest rate on its Future Saver Account to a market-leading 4.00% p.a.
Available for Aussies under 35 for up to $50,000, this is a 50 bps increase on the previous rate and is well ahead of the nearest competitors: 3.70% p.a. offered by Macquarie and 3.60% p.a from ING.
According to the Reserve Bank's data, the last time the average savings account rate was 4% p.a or higher was all the way back in December 2013, when the cash rate was 2.50% (near to where it is now).
---
Aussies urged to check insurance cover ahead of wild weather
The Bureau of Meteorology confirmed last week that Australia has entered a third-straight La Nina weather event, which is set to cause higher than average rainfall.
La Nina was deemed by experts to be the leading cause of this year's devastating flooding across much of Eastern Australia that resulted in nearly 300,000 insurance claims and $5.9 billion in damage.
With the potential for yet more natural disasters, Compare the Market's General Manager of General Insurance Stephen Zeller has urged Australians to check that their insurance policies are up to date and provide adequate cover.
"We know how unpredictable our weather events can be; if you wait until a disaster is imminent or already occurring, it's usually too late to lock in protection," he said.
"That's why we're encouraging Australians to either evaluate their current level of cover or take out protection well in advance of upcoming natural disasters to prevent claims from being impacted by embargoes and waiting periods.
"Flood cover, which is important for many Australians, is often an optional extra."
Check back next week for another wrap on the week's biggest finance stories.
Read our latest posts
William is the Content Manager at Jacaranda Finance. He has worked as both a journalist and a media advisor at some of Australia's biggest financial comparison sites such as Canstar, Compare the Market and Savings.com.au, and is passionate about helping Australians find the right money solution for them.
You can get in touch with William via
williamj@jacarandafinance.com.au
.