9th September 2022
This Week in Finance: 9 September 2022
Welcome to This Week in Finance, Jacaranda Finance's weekly wrap of all the top personal finance news affecting everyday Australians. 
Last modified: 9th December 2022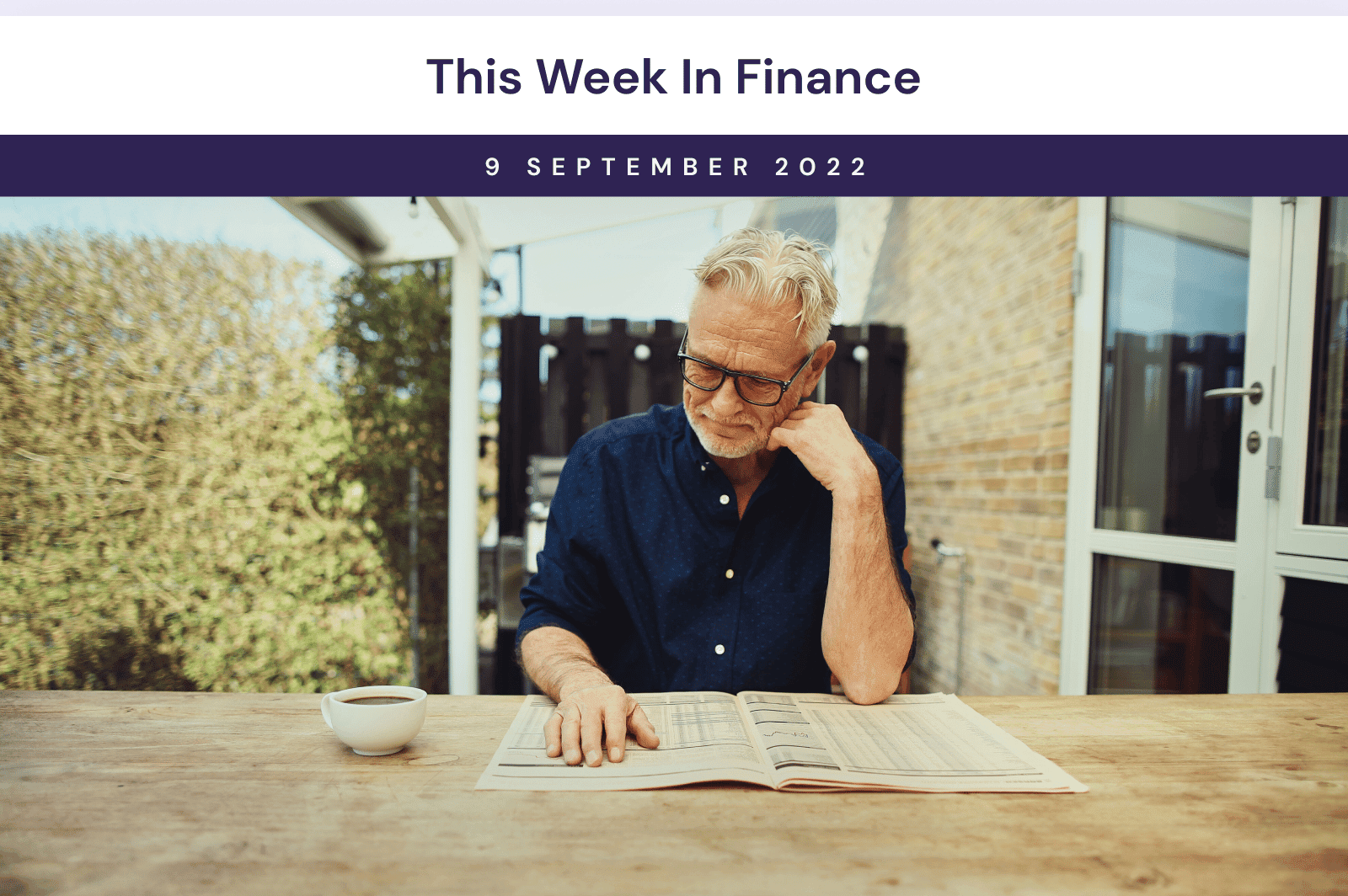 Welcome to This Week in Finance, Jacaranda Finance's weekly wrap of all the top personal finance news affecting everyday Australians.
If last week was about falls - falling confidence in energy plans, falling house prices - then the theme of this week's finance news is rises.
In just seven days we've seen some huge stories break that will affect millions of people, primarily the official cash rate rising by another half-a-percentage point as well as government support payments experiencing their largest increase in 30 years.
The cash rate increase has, once again, been made to try to bring down inflation, which is the only reason government payments will go up by so much in the first place.
Household spending also rose by a whopping 18.4% in just one year, so clearly high costs and financial uncertainty aren't stopping Australians from spending. Nor is it stopping us from buying cars, with new car sales experiencing the best month in five years.
Despite this extra spending, a new report shows we're doing it all responsibly, as the average credit score has gone up compared to two years ago (only by a little bit, but still!).
Read more on all these top money stories below.
---
Cash rate rises 50 basis points again
For the fifth month in a row, the Reserve Bank of Australia (RBA) increased the official cash rate, adding another 50 basis points and taking the cash rate to 2.35%.
September marks the fourth-straight month of 50-basis point increases and means interest rates are now back to where they were in 2014.
"Inflation in Australia is the highest it has been since the early 1990s and is expected to increase further over the months ahead. Global factors explain much of the increase in inflation, but domestic factors are also playing a role," RBA Governor Philip Lowe said.
"An important source of uncertainty continues to be the behaviour of household spending. Higher inflation and higher interest rates are putting pressure on household budgets, with the full effects of higher interest rates yet to be felt in mortgage payments.
"The further increase in interest rates today will help bring inflation back to target and create a more sustainable balance of demand and supply in the Australian economy. The Board expects to increase interest rates further over the months ahead, but it is not on a pre-set path."
This move was expected by most economists and banks, and means the average variable home loan rate has gone up by more than 2% since the first increase in May.
According to RateCity's calculations, someone on a $500,000 mortgage would have seen their monthly repayments increase by over $600 in that time, assuming their bank passed the cash rate rises on in full each time.
See also: Does the cash rate affect Jacaranda Finance loans?
---
Welfare payments get largest increase in 30 years
More than 4.7 million Australians will see an increase in social security payments this month, hopefully providing some much-needed relief to mounting cost-of-living pressures.
Minister for Social Services Amanda Rishworth said on Monday that from 20 September, welfare payments would receive their largest indexation increase in 30 years, while pensioners would see their biggest increase in more than a decade:
Age Pension, Disability Support Pension and Carer Payment are all set to rise by $38.90 a fortnight for singles and $58.80 a fortnight for couples
The rate of JobSeeker Payment for singles without children will increase by $25.70 a fortnight to $677.20 (including Energy Supplement)
Parenting Payment Single will increase by $35.20 per fortnight to $927.40 (including Pension Supplement and Energy Supplement)
The rate for partnered JobSeeker Payment and Parenting Payment recipients will increase by $23.40 a fortnight to $616.60 (including Energy Supplement)
"We want to ensure Australia has a strong social security safety net to protect our most disadvantaged," Minister Rishworth said.
"Our guiding principles as a Government are ensuring no one is left behind and no one is held back and this indexation increase will help those on Government payments keep up with the cost of living."
However, Australian Council of Social Service (ACOSS) argues these increases are still insufficient to keep up with current costs.
It should be noted that these increases are only as large because they're pegged to already-high inflation.
For more information, visit the Department of Social Security.
---
Household spending up across the board
Despite rising interest rates and sky-high inflation, Australians aren't glueing their wallets shut just yet, according to the Australian Bureau of Statistics (ABS).
The latest Household Spending statistics for July 2022 show an 18.4% rise in household spending compared to the same time last year, marking the 17th consecutive month of increases.
According to the ABS head of macroeconomic statistics Jacqui Vitas, spending increased in all categories.
"There were particularly strong increases in spending on clothing and footwear (up 45.0 per cent), transport (up 35.4 per cent) and hotels, cafes and restaurants (up 34.9 per cent)," she said.
"These increases were coming off the back of the COVID-19 Delta lockdown impacts that we saw last year, when there was reduced spending in these spending categories due to lockdowns."
---
Car sales at highest levels since 2017
The Federal Chamber of Automotive Industries (FCAI) latest car sales report revealed new vehicle sales are up significantly, experiencing the best August in five years.
According to FCAI, 95,256 new vehicles were sold in August, an increase of 17.3% from 12 months ago.
Most notably, electric vehicle (EV) sales recorded their best ever month in Australia.
FCAI Chief Executive Tony Weber said this was encouraging amidst the global economic recovery from COVID-19.
"This gives hope that the supply of vehicles to the Australian market is beginning to show signs of improvement," Mr Weber said.
"We have seen strong sales of battery electric vehicles in August, with Tesla alone selling 3,397 vehicles. In the month, EV sales were 4.4% of the total market.
"This is the highest market share for pure battery electric vehicles ever recorded in a single month in Australia."
---
Credit scores on the rise - just
A report by Experian shows a slight increase in credit scores over the past two years, despite all the financial uncertainty.
The average Australian credit score rose by 1.85% between June 2020 and May 2022 to 805, enough to be considered a strong credit rating by the major Australian credit bureaus.
Experian ANZ General Manager Tristan Taylor attributed this rise to proactive behaviour taken by both individuals and lenders.
"The halt in major spending driven by border, hospitality and retail closures left Australians with more disposable income than usual, leading to borrowers paying down debt quicker than expected," he said.
RBA credit card data shows this may be true: from March 2020 to June 2022, Australian credit card debt accruing interest plummeted by almost 37%!
---
Food costs to soar by more than 5% in the next year
Deloitte Access Economics has forecast food prices will rise another 5.5% by June 2023, after already increasing 5.4% in the past 12 months.
According to the report, this will cause shoppers to cut down on their grocery shopping and could become the new normal thanks to ongoing supply-chain issues and more frequent natural disasters.
"Going forward, a higher rate of food price growth may become the norm," Deloitte said.
"Residual pandemic impacts and extreme weather as a result of climate change are generally expected to drive food inflation up over the medium to long term."
For unrelated reasons no one can explain, supermarket giants Coles and Woolworths also just posted annual profits of $1.05 billion and $1.5 billion respectively.
Check back next week for another wrap on the week's biggest finance stories.
Read our latest posts
William is the Content Manager at Jacaranda Finance. He has worked as both a journalist and a media advisor at some of Australia's biggest financial comparison sites such as Canstar, Compare the Market and Savings.com.au, and is passionate about helping Australians find the right money solution for them.
You can get in touch with William via
williamj@jacarandafinance.com.au
.