Home > Blog Posts > 5 Tips for Buying Your First Car
5 Tips for Buying Your First Car
March 12, 2020

●

7 minute read

●
Authoritative Source
Jacaranda Team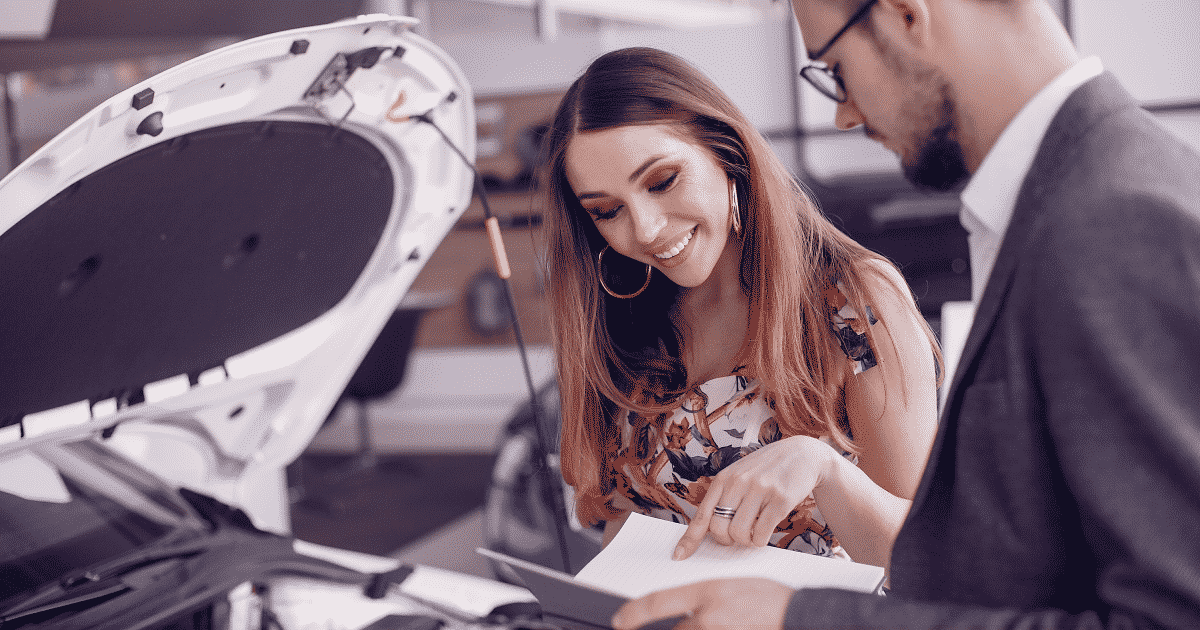 Buying your first car can be stressful and confusing – there are many things to consider and a lot to wrap your head around. But don't worry too much, we have put together a guide with five easy steps to make the process of buying your first vehicle a lot easier. 
#1 Determine your needs
You need to determine what you need the car for and the criteria you have for the car. Do you need a car to get to class or work every day, just for weekend adventures or maybe you need it for you work? Evaluate your lifestyle as well as the driving conditions you face most often. In addition, learn about different features and options of the various cars you are considering, and how they might affect the car's price.
Consider if buying a used or new car is best for your individual circumstances. Write a list of the pros and cons of buying a new and used car. To help you out a bit, here are some key features you should take into account. 
With a new car, you will have a warranty and maybe even capped price servicing. This means you will know exactly what you'll spend on your car over a specific amount of time. However, a car depreciates rapidly and a new car can be reduced with up to 20% of its value the time you leave the dealer.
A used car is much cheaper but you'll never be 100% sure of its history. You could subsequently end up with more expensive ongoing costs and maintenance. It is also worth knowing about the age of the used car and what it's used for, as well as how many kilometres it has driven. In addition, ask for the receipts for all work done and the full service history, and make sure there isn't any debt on the car. This can give you an indication of the conditions of the car and if it's safe to drive and safe for your finances. 
Learn more about buying a used vehicle here!
#2 Set up a budget and plan for financing the car
Set up a budget to make sure you can afford all the costs included with owning and maintaining the car. Owning and maintaining a car comes with running costs, such as:
Car insurance
Car insurance is a necessity in Australia, it is illegal to drive without car insurance. Choosing the best car insurance, however, can be a bit tricky. There are three levels of car insurance cover:
Third party is the minimum insurance you can legally have. In short, it only covers the cost of other people and other properties in the event of an accident. This is also the cheapest insurance, however, you have to cover the whole cost yourself if something happens to your car, e.g it gets stolen or damaged. You could get more cover for less money, so always check!
Third party, fire and theft cover repairs or replacement if your car gets damaged by fire or stolen, as well as other people. It doesn't cover damage to your own car. 
Fully comprehensive car insurance is the highest level of cover. It is the only insurance that covers your own car, even if the accident was your fault. 
Never assume that the lowest insurance is the cheapest. To get the best deal, do an annual rate check to make sure you're getting the best deal. In addition, there are a few things you can do to lower your insurance risk and get cheaper insurance: 
Make your car more secure. For instance, fit an approved alarm or immobiliser and make sure security devices are

Thatcham approved

. 

Be accurate about your mileage. The lower your annual mileage, the lower your premium. 

Drive safely. Prove that you are a low-risk driver to get insurance discounts. 
Car registration
The cost of registration depends on what you are registering – car, motorcycle, trailer, truck or boat and if you want a 6 month or 12-month registration. The registration cost you pay is made up of 3 parts:
the registration fee

the traffic improvement fee

compulsory third party (CTP) insurance premium
Click the links to read more about registration costs and how it is calculated.
Jacaranda Finance also offer Car Registration loans!
Repairs and maintenance
The cost of car repairs and maintenance climb with the age of your car and the routine maintenance your car will need is dependent on the vehicle itself. Modern cars need less maintenance than ever, thanks to increased computerization and mechanical improvements in engine design. However, some services require periodical maintenance regardless of the age of the car. Older or used cars are more likely to need replacement if worn-out parts, such as wiper blade replacement, typically ranging from $7 to $15 to brake pad replacement which has a cost between $100 to $350. Costs of car repairs and maintenance are roughly estimated at $29.55 each week, or $1,536 each year. 
Fuel and road taxes
Account for fuel and road taxes in your car budget. Fuel prices are increasing and contributing to rising car ownership costs. How much you'll spend on fuel depends on the type of car you buy and where in Australia you reside. 
Tolls are usually put in place to recoup the cost of road construction and maintenance. Only three states in Australia have toll roads in operation, New South Wales, Victoria and Queensland and only in the major cities.
Debt and interest charges
Figure out how much you can afford to borrow for a car loan and what the interest rates for the loan are. If you're on a tight budget, a lower monthly bill is an attractive option, however, it means a longer repayment term which further means you will be paying more interest. So on the other hand, you might want to consider paying more each month for your car loan so you can save money on interest. 
#3 Explore your options
Shop around before you buy a new or used car to get the best deal. The Internet offers a wealth of sellers who may ship cars to your area, which may come with an additional fee. This could mean more choices in your price range.
Determine the car insurance you need. Car dealerships may try to sell you extras, like add-on insurance. This includes loan protection, gap cover, and tyre and rim protection. These products might not be good enough value for the money, so don't feel pressured to buy them. This may, however, is subject to your personal needs and what you think is right for you. 
#4 Pick a car according to your budget
How much can you afford to spend? Add up all the costs of the car itself, the insurance, registration costs as well as the costs of owning and maintaining a car. Include the loan rates and other fees to determine the best loan amount and loan term for you. 
Pick out the cars that are applicable, suit your criteria and fit your budget. Narrow it down from there and you might be looking at your new car!
#5 Apply for a loan
Now, you're finally ready to buy your car. But if you don't have the money on hand, you can apply for a car loan. A car loan is a personal loan for a new or used car. Applying for a car loan can also be a daunting task, however, Jacaranda Finance has made it easy for you!
Jacaranda Finance is now offering car loans! Our car loans ranges between $5,000 and $35,000 and the repayment term is from 1 to 5 years. To apply for our fast cash loans you must be over 18 years of age, an Australian citizen or permanent resident as well as receive a regular work income into a personal bank account for the last 3-months.
Want to learn more? Read about our car loans here!
Read more from Jacaranda
Looking to purchase your first car? Why not check out our Beginners Guide to Getting a Car Loan.