Home > Cash loans Brisbane up to $10,000 With Jacaranda!
Cash loans Brisbane up to $10,000 With Jacaranda!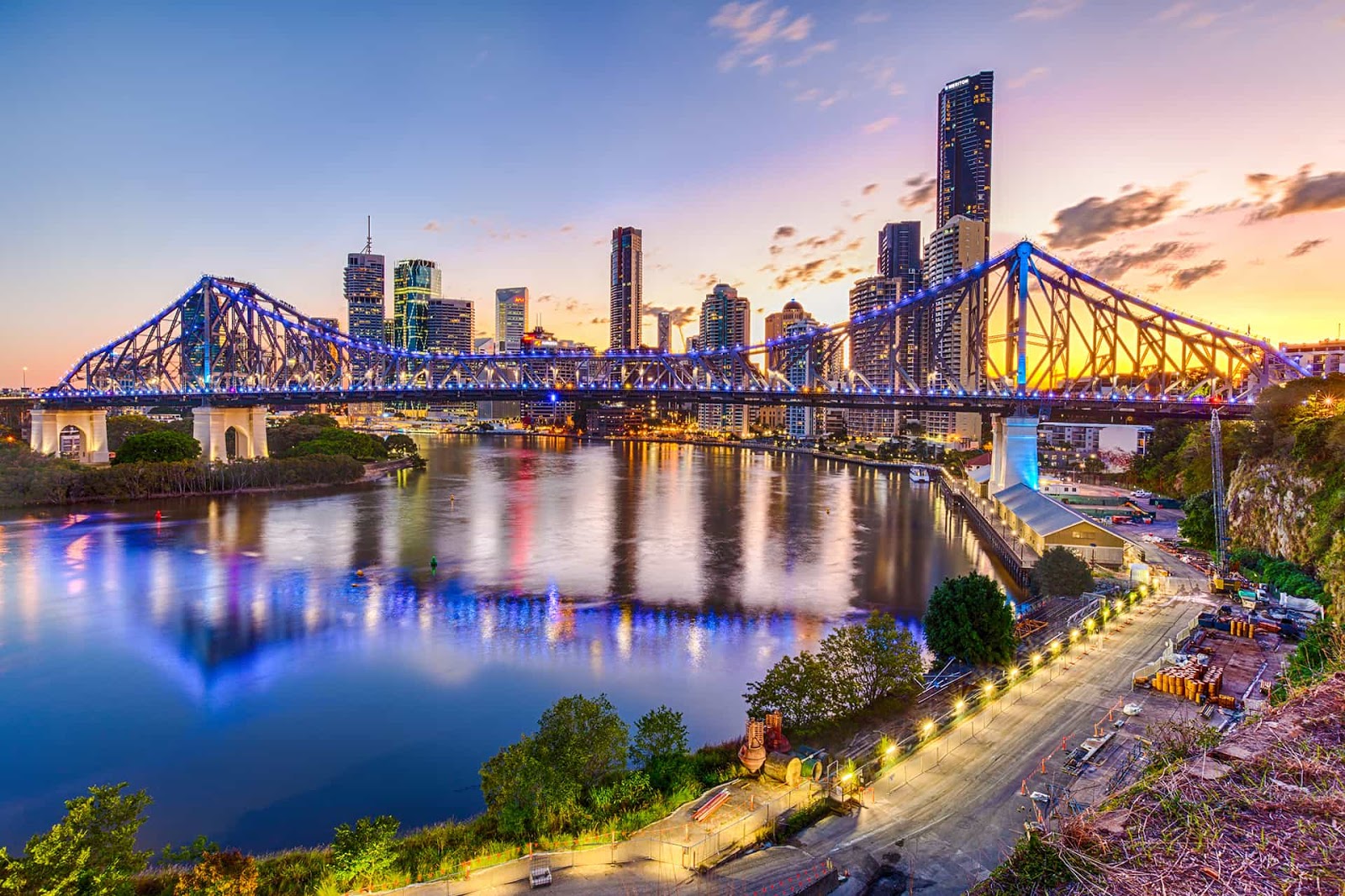 Need a financial pick-me-up?
Ever been stuck between a rock and a hard place when it comes to your finances? Perhaps you feel like you're just running between them, picking up more and more bruises as you go with not a dollar in sight to soften the blow. It doesn't matter where you are in Australia, Jacaranda Finance will give you a soft platform to land on. We offer cash loans Brisbane to anyone in this city that needs a bit of financial padding.
Brisbane is recognised as one of the fastest growing cities in Australia. Living in a fast growing city generally means you can expect the cost of living to be fast growing as well. Whether you rent, own or you're just visiting, you could be paying top dollar just to live somewhere even remotely central. Even if you're living more towards the outskirts of Brisbane, you might still have the added costs of transportation. Whatever your expenses are, life in Brisbane can get very expensive.
Therefore, cash loans Brisbane will definitely come in handy every now and then. Jacaranda Finance has some of the best fast cash loans Brisbane has to offer! Not sure what we're talking about? Keep reading to find out how to get your instant cash loans Brisbane!
Who is Jacaranda Finance?
Jacaranda Finance is Australia's fastest growing short-term cash loan lender. Fast finance for a fast-growing city – Brisbane! We have worked with thousands of Australians to achieve their cash loan goals and we pride ourselves on being second-to-none.
It is also a huge advantage being 100% online. We'll look at just 90 days of bank statements and a Centrelink Income Statement if you receive one. As a result, we can offer a quick loan service tailored to our customers – without tedious paperwork.
Furthermore, we pride ourselves on being responsible lenders. So, you will never get any nasty surprises with your Jacaranda Finance cash loans Brisbane.
What are cash loans Brisbane?
Our quick cash loans Brisbane are designed to be the padding you need when you keep getting hit with expense after expense. Living in Brisbane can get quite costly and it can be really easy to let your finances get on top of you. That's where fast cash loans Brisbane come in.
Applying for an instant cash advance Brisbane will be the easiest thing you do all day. Our applications are completed 100% online so there's no paperwork to print off and send back or pages of documents to rifle through. You can apply for quick loans Brisbane in just minutes and see the funds in your account with 24 hours, as long as you have applied within business hours!
Let Jacaranda Finance help you get yourself out from between the rock and the hard place you're in with your finances. A cash advance Brisbane could be exactly what you need to get on top of the hustle and bustle of expensive city life.
What loans do you offer?
At Jacaranda, we can provide 3 different types of personal loans: small, medium and large personal loans. Here are some details of these loans:  
| Loan Type | Secured Options | Loan amount | Loan term |
| --- | --- | --- | --- |
| Small Bad Credit Loan | Unsecured | $300 to $2,000 | 9 to 12 months |
| Medium Cash Loan | Can be Secured | $2,001 to $4,600 | 9 to 24 months |
| Large Personal Loan | Secured | $5,000 | 9 to 24 months |
You can find more information about our interest rates and fees on our costs page.
For more information on the standard costs of cash loans Brisbane, check out Moneysmart.
How do I repay my cash loans Brisbane?
Before you sign your electronic contract, one of our lovely customer service attendants will ask you to select a day – either weekly, fortnightly or monthly – on which you'd like the payments to come out of your account. Normally it's a good idea to set this day in line with your payday so you always have money in your account. Then we'll organise for the money to be directly debited out of your account on that day for the full term of your cash advance Brisbane.
By using direct debits, you won't need to remember to make a payment or even have to think about them at all. The money will just come out automatically. Then, once you've paid off your loan, the payments will stop automatically so you don't need to worry about organising that yourself. It's all done for you.
It also won't cost you anything to pay out your loan early. If you decide you want to throw some extra money on your payments to pay out your loan early, we won't charge you to do so. Many lenders charge early exit fees so they don't miss out on that interest, not us! As a result, it won't cost you a thing to pay your cash loans off early. In fact, you'll end up saving money on interest and monthly fees! We'll always encourage our clients to pay out their loan as quickly as possible. Without hindering their financial situation, of course.
What are the types of cash loans Brisbane has to offer?
Jacaranda Finance offers several types of fast cash loans Brisbane. No matter what situation you're in, we'll have a loan for you! It's completely up to you what you need that extra cash for.
The instant cash loans Brisbane you can apply for are:
Small personal loans
Medium secured personal loans
Rental bond loans
Car loans
Car Repair/ registration loans
Boat loans
Motorbike loans
Bad credit loans
Emergency expenses
Unexpected day to day bills
Medical loans
Holiday/travel loans
Debt consolidation loans
Dental loans
Furniture finance
We offer all these loans in the fraction of the time of banks and other more traditional lenders. As a result, the world is your oyster with Jacaranda Finance cash loans Brisbane.
Can I get instant cash loans Brisbane?
We offer one of the fastest loan services in the country! You can apply, get approval and receive your money all before you take your all in one day! However, this is subject to the time of day you are applying, if we require any additional information and the third-party transfer policies of your bank. Our cash loans Brisbane application form could take you just minutes to complete. From there, we'll let you know if we're able to make you an offer or not so not to waste anyone's precious time.
If you receive a conditional approval from us, it may only take us 60 short minutes to finish processing your application and putting together our best offer if you have applied within business hours*. Just sit tight, if you don't hear from us within the hour, we will get in touch as soon as we can!
Once we've made contact to go over some final details, we'll send you an electronic loan contract. After we have received your signed contract, we'll transfer your cash advance Brisbane straight to your nominated bank account. The amount of time it takes for that cash to reflect in your bank balance will depend on the policies of the bank you are with. And that's it! We really are that fast!
Do you do credit checks on cash loans Brisbane?
As a part of our responsible lending policy here at Jacaranda Finance, we do perform credit checks on our applications and will not approve a loan that we don't think you can afford.
However, we are a lot more lenient than most traditional lenders as we believe that everyone deserves a fair go and a second chance. So, why not apply now and we can discuss your options?
Can I get cash loans Brisbane if I am receiving Centrelink?
You're welcome to apply!
At Jacaranda Finance, we believe in financial inclusion for all Australians. Therefore, we welcome all loan applicants, regardless of whether their income is from Centrelink or work wages. If you have been receiving regular payments into a personal bank account for at least 3 months, you may still be eligible to apply for one of our cash loans Brisbane.
Can I still apply for cash loans Brisbane with bad credit?
Absolutely!
As we said, we tend to be more lenient than traditional lenders when it comes to our quick cash loans Brisbane.
At Jacaranda Finance, we believe that everyone deserves a second chance.
We understand that sometimes things happen in life that are out of our control and some of us need a hand up to move forward in a positive financial direction.
While we do adhere to responsible lending and conduct credit checks, we are firm believers in always looking at the bigger picture. This means that we'll look past your credit score at your income, expenditure and overall relationship with money to determine your ability to repay the loan you have applied for. Bad credit won't count you out straight away.
Is this the right product for me?
Who is this product for?
Residents in Brisbane looking for a fast cash loan.
To be eligible to apply for a cash loan Brisbane, you need to be 18, have a regular source of income, be an Australian permanent resident and have a valid mobile number and email address.
What repayment terms do you offer?
Repayment terms range from 12 – 24 months. Repayment terms will vary depending on each applicant's financial situation.
Loan types available
Fixed
Who is the lender?
Jacaranda Finance
Am I eligible for cash loans Brisbane?
As responsible private money lenders, we must have certain criteria in place to ensure that our clients are able to repay their bank loans Queensland. To qualify for a cash loan with Jacaranda Finance, you must be:
Over the age of 18
An Australian citizen or permanent resident
Receiving a regular income for the last 90 days
Have a valid mobile number and email address
What are you waiting for? Apply Now!
We can't see why you wouldn't be but if you are not happy with your application experience with Jacaranda Finance then you can withdraw your request at no cost!
So what are you waiting for? Start your journey with Jacaranda Finance today and get back onto the path to financial happiness!
Want to know more? Find out about how you could get an online loan with fast approval.
Want to know more? Jacaranda has all the details on personal loan comparisons.
*If you apply during business hours and we don't require any additional information from you