Home > Blog Posts > Wedding loan or credit card: How to pay for your big day
Wedding loan or credit card: How to pay for your big day
February 20, 2018

●

11 minute read

●
Authoritative Source
Daniel Wessels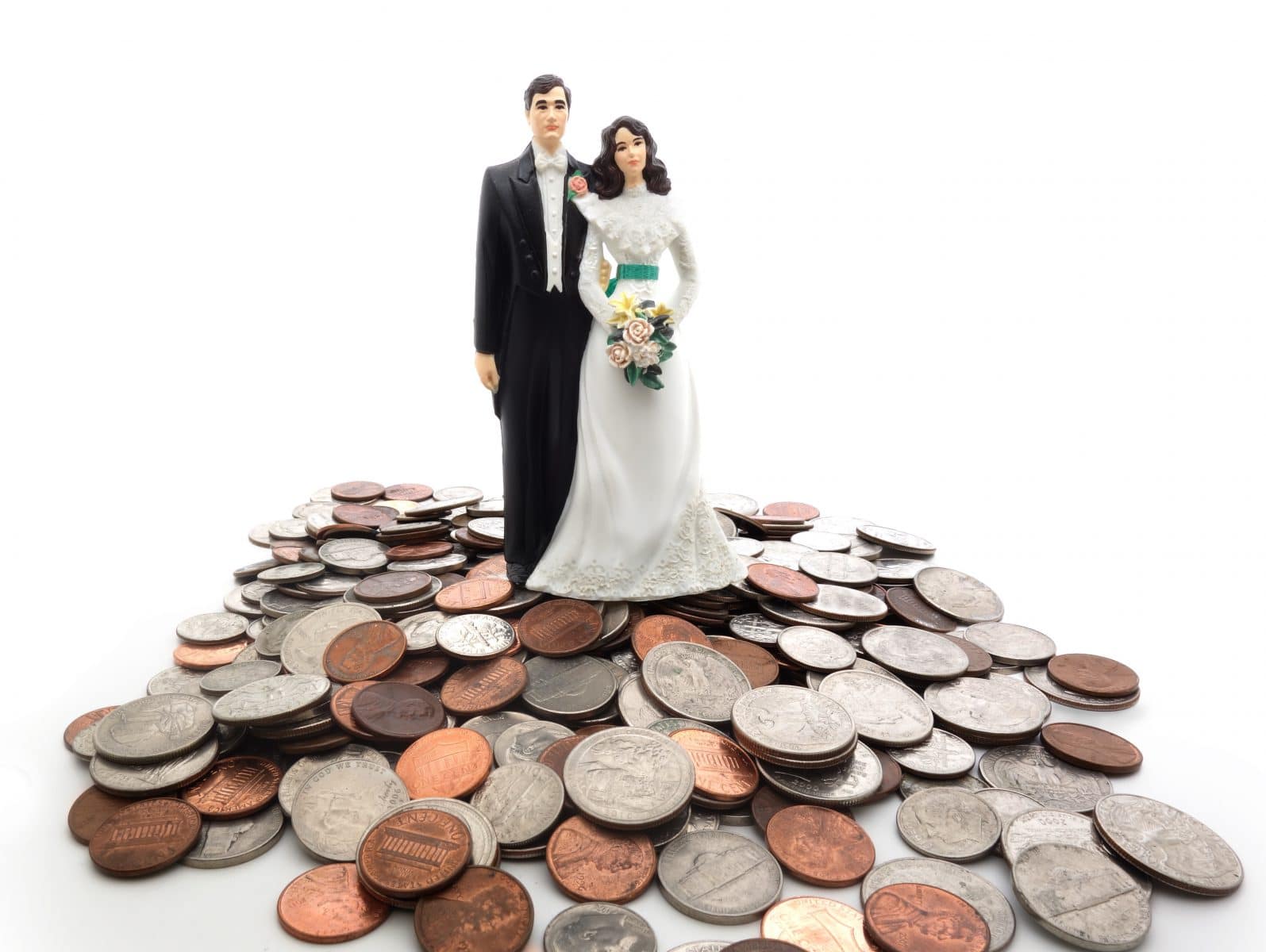 How would you pay for your wedding? Would you use your credit credit card or a wedding loan? A wedding is one of the happiest, most joyous events you can go to. A celebration of love, friendship, family and most importantly, free food and alcohol. Who wouldn't RSVP yes? But the food and the alcohol is only free for the guests. Someone has had to pay for it and we all know that weddings are not cheap. $1,500 may seem like a lot of money to spend on flowers but we guarantee it's the norm for a wedding.
So, let's say you're planning a wedding and you've noticed that your budget is growing and growing with everyday. Perhaps you realise, last minute, that you've forgotten a crucial element last minute. What do you do? How are you going to pay for it? Wedding loan or credit card?
Before taking a loan make sure it's something you need.
If you follow our Medium page you will remember that a few weeks ago we posted an article on credit cards and whether or not they are as helpful as we think they are. We'd be lying if we said that they don't carry some significant benefits when it comes to covering unexpected costs, paying for certain events (like weddings) and allowing us to be a little cheeky with our purchases. However, we do think it's time to consider some, just as helpful, alternatives loan with no credit check.
As lenders we may seem a little biased when it comes to weighing up credit cards versus a wedding loan. There is always going to be one side that we favour a little more than the other. Some of you will agree with us (we hope) and some of you will disagree. So, as we're in the business of helping people, we're going to help you make an informed decision on the best way to pay for your upcoming nuptials. We'd just like to make a note that when we say upcoming nuptials, we mean nuptials that are surely bound to happen for you at some point in the future, but bear us in mind when those Pinterest dreams of yours come true, too.
Is it a good idea to use a credit card or wedding loan to pay for your big day?
This is a hard one to answer because it really depends on your current financial situation and your history with responsible borrowing. Obviously, saving up and using your own cash to pay for things is always the most ideal and cost-effective path to go down. However, a storm could strike a tree down over your path and force you to head in an alternative-finance direction get a fast loan.
That tree is just an example – you could be hit with anything from unexpected bills getting in the way to a split-second decision to get those slightly more expensive linen covered chairs instead of just the wooden ones. Things don't always go to plan so think of us as backup quick loan.
Now, when it comes to the big day, things are going to be stressful enough. It's important to have that backup plan – be it a credit card or a wedding loan – pinned down and on standby. At this point, either one will help your situation as there are many benefits when it comes to turning to credit to pay for your wedding. These benefits include:
Benefits of using a credit card or wedding loan
You can say yes to things that would significantly increase the value of your day
It frees up cash that you may need for other things
Takes the stress out of what is supposed to be a happy time
It ensures you are covered for any extra wedding expenses that may pop up unexpectedly.
At the end of the day, it is up to you how you choose to pay for your wedding. It is always nice to know that you have options, though. Especially if you're the type of person who has been planning your wedding since you were 5 years old. Yep, we know all about your mood boards, Susan.
It's likely that you're going to want to pull out all the stops without crippling your bank account too much. Then, you've also got the honeymoon to think about all the while paying for your regular bills and expenses. It's hard work, so don't feel bad if you need to ask for some help.
And what about the rings? Don't forget the rings! Engagement rings and weddings rings aren't cheap so you'd either need to save up for, well, years, or use a personal loan for wedding ring. Imagine being able to give your partner the ring they've always wanted, without going grey in the process. A wedding loan would help you do exactly that.
How much does a wedding really cost?
If you are planning a wedding, it's likely you will have a budget in mind. Whether you're able to stick to that or not is another thing. According to the Australian Securities and Investments Commission (ASIC), the average cost of a wedding in Australia is $36,200. For some, that amount of money could mean they have to make certain sacrifices outside of their wedding. Substantial sacrifices.
ASIC also revealed that many Australians are choosing to move back in with their parents, sell large possessions such as their car, put their social life almost completely on hold, make sacrifices in their wedding, delay other plans such as buying a house or having a baby, turn to mortgage refinancing, or not get married at all as it is too expensive – sorry, grandma!
The lead up to your wedding is supposed to be exciting and positive, not stressful and tense. So why not let a wedding loan bring you the excitement and relaxation you should be feeling at such a happy time?
Why use a wedding loan and not a credit card?
The thing about credit cards is that, while they are very useful, they are also very dangerous. There is no set amount of time over which you have to pay back the money, so it's too easy to just scrape by, only paying the minimum per month. Doing this will mean that you have that debt swimming around you for years. Another downfall of using your credit card is that you can continue it use money from it even while you are paying it off. This will extend the amount of time it takes for you to you get out of that debt even further.
When it comes to paying for a wedding, the amount of debt you could be looking at may be substantial. If you were to pay for the wedding with your credit card, the amount of interest on that debt, if you leave aren't strict with repayments, could amount to much, much more.
Studies have shown that around 11% of newlyweds regret paying for their wedding with their credit card. This was due to the amount of interest they had to pay as well as the amount of time they took to pay it off.
So, why is a wedding loan better?
There are a number of reasons, but let's start with the interest. If your wedding is going to cost the Australian average of $36,200, what would be the difference in cost between a credit card and a wedding loan?
Well, let's say that your bank charges an interest rate of 17.22% per annum on your credit card and you could afford to pay $1,000 a month towards that balance. That would mean that it would take you 4 years and 3 months to pay off that debt and you would be paying $14,171 of interest on top of the initial $36,200. That would bring the cost of your wedding up to $50,371. That's a deposit on a house.
Now, if you could only afford to pay the minimum amount required each month of a credit card balance of $36,200, that would mean that you were paying approximately $735 a month. If you were to continue to do this every month, it would take you 7 years and an extra $25,355 to pay off that debt. And that is only if you do not make any more purchases with your credit card in that time period. Seems like a lot doesn't it? You'll be using a debt consolidation loan to pay off  your credit card you used to pay off your wedding. Why not cut out the middle man and just get a wedding loan instead of begging your boss for a pay rise or working longer hours.
Let's say you decide to use a wedding loan to pay for your big day. The average comparison interest rate for a wedding loan of $36,200 is about 9.9% per annum. If this was the case, and you were still paying a monthly amount of $1,000, it would take you 3 years and 8 months with an added interest amount of $6,977 to pay off your wedding loan. That would mean that the total cost of your wedding would be $43,177. That is $7,194 less than a credit card. That's your honeymoon. Don't be paying off debt for longer that you have to!
Furthermore, let's say that the minimum amount that your lender required you to pay off your wedding loan each month was also $735. This would mean that it would take you 5 years and 3 months with an interest amount of $9,946 to pay off your wedding loan. That's still less than what you would pay if you made a $1,000 dent in your credit card debt each month. Ideally, you'd have a bit of your own money saved up to put towards the wedding so you didn't have to borrow so much. This is just an example to show you the amount of interest you'd pay between a wedding loan and a credit card.
We offer loans of up to $4,600, and always recommend saving up for your wedding rather than using a loan to pay for the whole thing. Just know that if you forget something, or just have a few expenses to cover, we'll be right here to catch you (or the bouquet).
A wedding loan has a set borrowing amount
If you qualify, you'll be approved for the set amount that you apply for. This means that you won't ever be able to draw any more money out of your loan other than the initial amount lent to you. Even if you start to pay off your wedding, you still won't be able to spend any more than the original amount. This means that you can't be tempted to spend more money that you don't have, like you can with a credit card.
You can make interest free cash withdrawals from your wedding loan
As the wedding loan is paid into your bank account, you can withdraw any amount from that loan without being charged interest. You're just withdrawing money at an ATM like you normally would. This is especially beneficial if there is anything that you need to pay for with cash.
The repayments remain consistent
If you do choose to set up a fixed rate for your wedding loan repayments, you can rest assured that you'll never be hit with extra charges. This is great for budgeting for your repayments each month, knowing that your interest rate won't change. However, just be aware that some lenders will charge you extra fees if you decide to pay extra on a fixed rate wedding loan. This is something you should discuss with your lender before signing your loan contract.
Tips for saving on your wedding
Talk about the money side of your wedding with your partner and parents early on in the planning stages and figure out how far your income can take you
Prioritise your 'must haves' and start saving early
Make a wedding budget based on what you can afford first with applying for a wedding loan and try to stick to it as best as possible
Do your research and get as many quotes as necessary and try your best to negotiate
Don't tell suppliers it is for a wedding – they will bump up the prices
Have your wedding in the off-season – in winter on a Friday
Be brutal with your guestlist and consider not allowing plus ones – if you haven't spoken to them in a year, don't pay $100 a head for them to come to your wedding
Enlist some of your friends and family to help with the decorating to cut down costs
Have a backyard wedding or use a friend or family members place
Spread out your wedding expenses over a few months so you're not having to pay for everything at once
Some things to consider before applying for your wedding loan:
Can I repay the loan without entering financial hardship?
Is the cost of my wedding as low as it can be without sacrificing anything?
Is there a safeguard for repaying the loan in the event of a loss of income?
Do myself and my partner completely agree on the cost and financing of our wedding?
If your big day is coming up and you need a wedding loan, just jump back to our home page and get started with our simple application form. Apply today and you'll be saying 'I do' under a white rose covered arbor in no time.
Are you keen to start buying and trading shares but don't know where to start? Read Jacaranda's beginner guide to the share market here!