Scholarships Charles Darwin University
This semester's scholarship winners have been chosen. Stay tuned for the next round of scholarship offerings.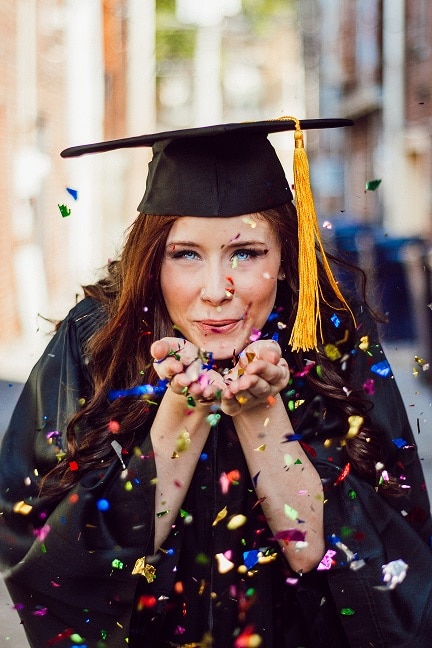 Thinking About Studying? Jacaranda Finance Could Help Foot The Bill
As a moneylender with a conscience, Jacaranda Finance believes in offering Australians the opportunity to apply for a personal loan regardless of their personal circumstances. We believe in the kind of customer service usually reserved for high-rollers, too.
So, to help us carve out the good customer service practices that consumers demand, we're building and deploying some smart technology to streamline our application and processing procedures.
To give back to our community and keep the FinTech sector striding ahead, we would like to sponsor an ambitious young person at Charles Darwin University who needs a helping hand to get ahead with their education at a higher level (University or TAFE).
We would like to offer a Charles Darwin student a scholarships to pay for University costs (to a cap of $5,000 per semester) for a forward-thinking student across any faculty.
How Do Jacaranda Finance's Scholarships Work?
Essentially, we want to reward CDU students for their hard work in any field. We will provide $5,000 per semester to one lucky student for 12 months. This money can be used to help cover anything you like. Course costs, textbooks, research materials or any other relevant material or equipment that will assist you in your studies.
Who Can Apply For Jacaranda Finance Scholarships?
As the cherry on top, on completion of their studies, students may even be considered for an internship or possibly employment with Jacaranda Finance.
To qualify for one of our scholarships, you must be:
18 years or older
An Australian citizen or permanent resident studying in Australia
Studying an undergraduate, graduate or masters degree
How Do I Apply For Scholarships With Jacaranda Finance?
Furthermore, we are also very strong supporters of Aboriginal, Torres Strait Islander, South Sea Islander and Indigenous Australian applicants.
To explore these scholarships further, you are invited to apply using the form at the bottom of the page.  Please make sure that you provide as much information about yourself as possible. We would also like to hear why you think you deserve the scholarships as well as answering this statement.
Q. Tell us why your education at Charles Darwin University is important to you and how you want to apply your knowledge and perfected skills to affect positive change in the world.
Answer this statement however you please. We'll be looking for inventive and compelling responses, so put your thinking caps on and get creative! We will review all applications and respond to applicants, notifying the successful party accordingly. Should you not hear back from us within 1 month, please consider your scholarship application unsuccessful.
What Documents Do I Need To Provide When Applying?
We won't accept any application that does not provide the following documentation:
Valid CDU student ID (so we can verify your enrolment with your university)
Transcript of your most recent achievements/marks in your chosen field of study
How Do You Pick The Recipients Of The Scholarships?
So, the lucky CDU recipient of Jacaranda Finance scholarships will demonstrate:
A capacity to take initiative in relevant situations
Impeccable research and communication skills
The ability to be innovative, creative and forward-thinking
The ability to succinctly present information
The applicant of our scholarships who best demonstrates all of the above will be deemed the winner.
When Do Applications Close?
Applications for the Jacaranda Finance Scholarship close on the 21st of June, 2019.
About Jacaranda Finance
We offer a quick personal loan service to thousands of Australians caught short of cash due to an unexpected expense.
Jacaranda Finance's streamlined assessment process means that a human, not a computer, assesses every application. Our loans range from $300 to $4,600 over a 12 to 24-month term. Our 12 to 24 month fast personal loan repayment period is suitably long to give you some breathing space while repaying.
We offer one of the quickest personal loan services in the country, with customer service ranking highly in our core objectives. Most applicants have an outcome on their application within one hour of completing the application.
We pride ourselves in being able to help people get out of stressful situations. Therefore, whether it's a loan you are after or scholarships to help you study, we'll always find a way to have your back.
What Our Clients Say
4.7

out of

5

based on

155

reviews.
Overall rating:
Very easy to deal with!
"Easy to follow instructions and very quick to respond to application. Cash was transferred promptly also. Simple and manageable payment plan with low interest rates and no hidden fees. Highly recommended"
Chris Martin
Jacaranda Customer
Thank you
"Did not think anywhere would give me a go due to my bad credit history. But thank god for Jacaranda Finance who helped me out when i need to get my car fixed."
Korey
Jacaranda Customer
A Great Help!
"Thank you so much for recently helping me out with a loan!! I was able to buy Christmas presents for my 3 kids - a lot of other lenders weren't able to help me out. Thank you so much again!"
Donna Treseder
Jacaranda Customer
Leave a Review
We'd love to hear from our valued customers, so drop us a line or two, whether it's feedback, suggestions or you just want to share the love. You can submit a review here.
Our Rates
We never charge early repayment fees
Small Personal Loan
($300 - $2,000)
WARNING: This comparison rate is true only for the examples given and may not include all fees and charges. Different terms, fees or other loan amounts might result in a different comparison rate with the lender that finances your loan.
Medium Personal Loan
($2,000 - $4,600)
Platinum Tier
12.00%
Interest Rate (APR)
Gold Tier
20.00%
Interest Rate (APR)
Silver Tier
47.80%
Interest Rate (APR)
WARNING: This comparison rate is true only for the examples given and may not include all fees and charges. Different terms, fees or other loan amounts might result in a different comparison rate with the lender that finances your loan.
Large Personal Loan
($5,000 - $10,000)
Platinum Tier
12.00%
Interest Rate (APR)
Gold Tier
17.00%
Interest Rate (APR)
Need help?
Jacaranda is 100% online. So, we do not accept applications over-the-phone. However, our friendly team is more than happy to answer any questions you may have.