9th November 2023
The Costs Of Owning A Pet
In this article, we'll detail the average costs of buying and owning cats and dogs in Australia, giving you an idea of how much you should budget each year for your furry little pals.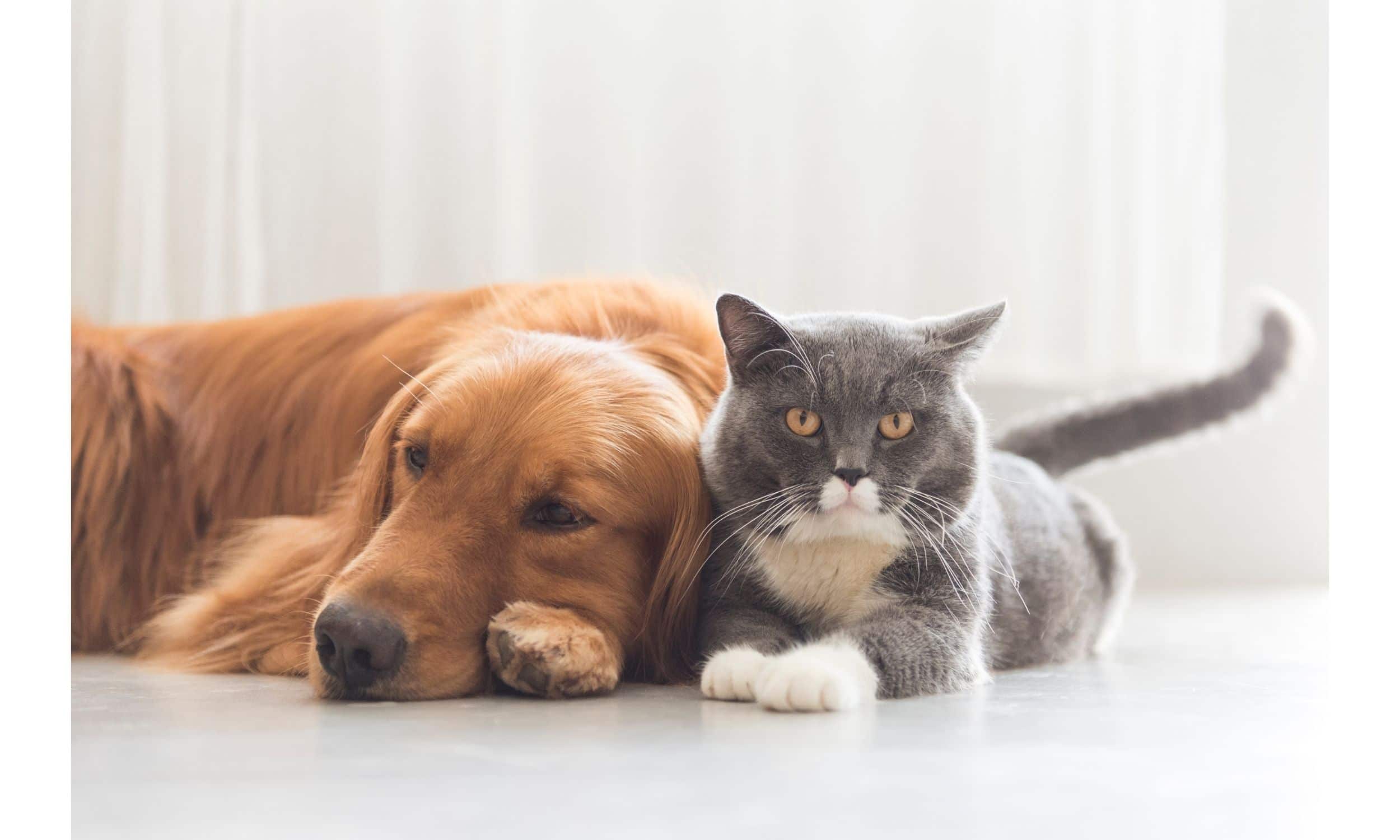 When it comes to the cost of owning a pet, most Australians tend to think of the initial expenses only. From adoption fees to vet visits and spoiling them with toys, it's easy to see that buying a pet isn't always cheap.
But buying a pet is a commitment, and with that comes ongoing expenses and some unexpected ones as well.
In this article, we'll detail the average costs of buying and owning cats and dogs in Australia, giving you an idea of how much you should budget each year for your furry little pals.
On this page:
---
---
Pet Ownership Stats Australia
How many pets do Australians own?
According to a survey conducted by Animal Medicines Australia (AMA) in 2019, there are an estimated 29 million pets in the country. Given our estimated population of around 25 million, there are more pets than people!
Three in five Aussie households - that's 5.9 million people, or 61% - have a pet today, and 90% have had a pet at some point in the past.
Compared to other countries, Australia has some of the highest pet ownership rates in the world. For example, 57% of households in the United States have a pet, and in the UK, that figure is just 40%.
Cats vs dogs: which is more popular?
Dogs take the lead in popularity, with 40% of households owning a canine companion. Cats come in second, found in 27% of households. About 22% of households with pets have one of each, while fish (11%), birds (9%) and small mammals like guinea pigs (3%) are also popular.
---
Download the FastMoney App now!
---
What is the average cost of owning a pet?
According to AMA's report, a cat or dog will cost you between $3,000 and $6,000 in the first year alone, mainly due to the higher upfront costs of buying a pet. After the first year, you can expect to pay $1,627 annually for a dog and $962 annually for a cat (on average).
The average household pays $2,158 each year for dogs and $1,393 for cats since many of them own more than one pet, and designer breeds (aka, more expensive breeds), are more popular.
In total, Australians spend a whopping $13.12 billion every year on their pets! Food accounts for the most significant chunk of this at 30% of all ongoing expenditures. Vet services follow this at 20%, pet healthcare products at 11%, and products and accessories at 9%.
What factors influence the cost of owning a pet?
The total cost of your pet, aside from the breed and how you buy it, can be reliant on a host of different factors. Click the links below to jump to a more detailed explanation of these costs.
There are the upfront pet costs when you first welcome your furry friend, which include:
There are regular ongoing costs that you can expect to pay, such as:
And there needs to be some budgeting for unexpected costs that arise, which can often be:
You'll also have to consider whether or not to take out a pet insurance policy, which can add significant costs to your total each year.
Upfront pet costs
Adoption and purchase fees
Depending on the age, breed, and condition of the pet, adoption fees can range anywhere from free to more than $5,000. Unless your pet has been given to you for free, the cheapest method of acquiring a pet is adopting from a shelter.
Adopting a pet through an RSPCA shelter will usually cost under $500 and also includes some benefits that can help you save on upcoming vet bills.
With purebreds and designer puppies, it's often a case that the more unique the breed is, the more expensive it is. Selective breeding processes and the rareness of breeders can increase the price, sometimes costing thousands of dollars.
While 28% of dog owners and 48% of cat owners didn't pay a cent for their little pal, as many as 15% spent over $1,000.
| Amount paid | Dogs | Cats |
| --- | --- | --- |
| $0 | 28% | 48% |
| Up to $200 | 16% | 28% |
| $201 - $500 | 23% | 15% |
| $501 - $1,000 | 18% | 6% |
| More than $1,000 | 15% | 3% |
| Average | $627 | $308 |
Registration
Most councils in Australia will require you to register your dog with them. A desexed, regular breed of dog will cost around $50, possibly even less. If your dog is a breed that your council deems aggressive or restricted, it can cost over $500 to register them.
As an example, the Brisbane City Council breaks down dog registration costs as follows:
| Registration Type | Initial Fee | Subsequent Years |
| --- | --- | --- |
| Non-Desexed Dog | $122.85 | $163.85 |
| Desexed Dog | $42.85 | $57.10 |
| Desexed Dog - adopted through an approved facility | $28.55 | N/A |
| Dangerous Dog | $643.30 | $213.60 |
| Non-Desexed Menacing Dog | $643.30 | $213.60 |
| Desexed Menacing Dog | $643.30 | $135.40 |
Not all states require you to register your cat. Depending on where you live, cats may need to be registered once they reach three months old. Before buying any pet, you can check with your local council to determine registration costs.
Vet bills
Initial vaccinations and check-ups can cost between $100 to $300. Add in de-sexing, and you can quickly pay up to $1,000 in the first year. Vet bills will generally become more expensive once you've owned your pet for a while.
Essential Supplies and Equipment
Setting up for a new pet requires an investment in bedding, crates, and other essentials, such as that first batch of food, some toys, puppy or kitten-proofing materials, etc. These essentials can easily cost anywhere between $500 to $1,000 at first.
Ongoing pet costs
Food and nutrition
The most expensive part of pet ownership annually is the cost of food. In 2019, Australians spent close to $3.9 billion nationwide on pet food. Animal Medicines Australia's survey showed that the annual average household spend on pet food in 2019 was $586 for dogs and $491 for cats.
Despite dogs costing more annually, they also have a shorter lifespan, at an average of 14 years. This equates to $8,204 throughout a dog's life. Cats, on average live for 17 years, which equates to $8,347 a lifetime.
Food expenses can easily pile up as well, depending on the breed, as bigger dogs will eat more than smaller dogs. Some owners might also want to spend more money on treats and specialty diets for their pets.
Ongoing vet expenses
After food, veterinary services account for the second largest category of pet spending, with Aussie pet owners spending more than $2.6 billion annually. That's a 19% increase - or $414 million - in just three years.
In the years that follow the initial vet expenses when you first buy your pet, you will still have to pay regular visits to the vet to ensure it stays healthy. These additional expenses can vary depending on the breed. Some purebreds, such as pugs, are more genetically predisposed to ongoing health issues, which can make treatment cost more over time.
Overall, 84% of dog owners and 68% of cat owners say they have taken their pet to a vet in the past 12 months. Dogs generally require more frequent visits to the vet than cats, which is why the typical dog will set you back $470 a year for vet expenses compared to $147 for cats.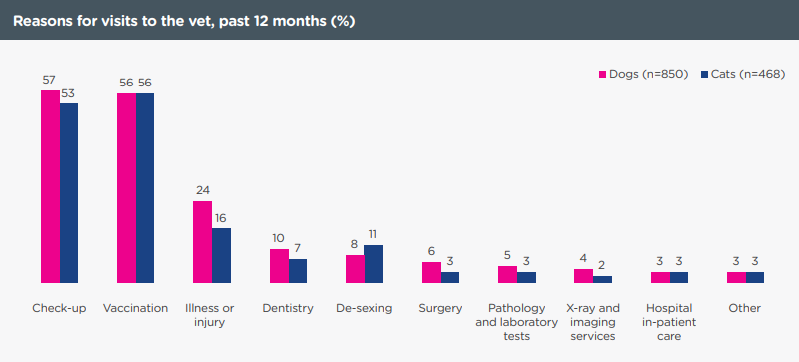 Grooming
Grooming expenses for your pet are also a subjective cost. Cats require little to no extra grooming costs despite the occasional nail trim. Dogs with longer hair will need more frequent grooming to prevent further health complications.
Grooming expenses also depend on your lifestyle choices. For example, some owners of designer breeds like to keep a consistent style for their dogs, which can lead to greater yearly expenses.
On average, you can spend roughly $45 on grooming a year for cats and $154 for dogs.
Toys & accessories
According to Animal Medicine Australia, Australians now spend over $1.2 billion each year on pet accessories. More than half of this ($600 million) of this is attributed to dog owners, who spend an average of $157 each year on toys and other fun things.
Another $250 million, or $96 per animal, is being spent on cat toys & accessories every year.
The cost of accessories can vary depending on how much you want to spoil your pet and is highly subjective as a result. Some items are necessary, including beds, collars, and toys. But if you have a destructive breed of dog, you might go through toys much faster than a docile cat owner.
Unexpected pet costs
Emergency vet bills
Whether it's an accident or a sudden illness, emergency vet bills can quickly escalate, sometimes reaching thousands of dollars. Procedures such as emergency surgery, overnight hospital stays, or extensive diagnostic testing can be particularly expensive.
According to Finder, here's the typical cost of some common pet accident or illness claims:
| Accident or illness | Average Claim Amount FY 2019 |
| --- | --- |
| Multiple fractures | $2,066.31 |
| Cancer | $3,503.74 |
| Gastroenteritis | $1,319.65 |
| Tick paralysis | $1,156.87 |
| Snake bites | $2,133.31 |
| Pneumonia | $1,610.57 |
| Diabetes | $1,952.39 |
| Ear infection | $883.38 |
Boarding and pet-sitting
When travelling or dealing with unexpected events that take you away from home, you may need to rely on boarding facilities or pet-sitters to care for your pet, often at short notice.
Boarding facilities offer a range of services, from basic care to luxury accommodations, and the costs reflect this. On the other hand, professional pet-sitters can provide more personalised care in your home or theirs, which can be less stressful for your pet and more costly for you, depending on the level of service provided.
Pet boarding and minding is a $700 million industry, according to AMA's report. The average dog and cat owner spends around $100 a year on these costs, although you could be looking at spending between $25 and $50 a night.
Training and behavioural classes
Training is an essential aspect of responsible pet ownership, particularly for dogs. It can help correct behavioural issues, such as excessive barking, chewing, or even aggression. Group classes tend to be more affordable, whereas private sessions can cost more but offer tailored guidance and one-on-one attention for your pet.
For a typical dog, you can expect to spend an average of $182 per year. While it's an investment upfront, professional training can lead to a better relationship between you and your pet and potentially save money down the line.
Pet Insurance 101: Is pet insurance worth it?
The different types of pet insurance
Similar to health insurance, different policy levels cover certain costs. According to the RSPCA, there are three main types of pet insurance: Accident Only, Accident and Illness, and Comprehensive. Here's a quick overview of each:
Accident Only: This type of policy covers a part of the vet bills for incidents. This can include car accidents, snake bites, fights with other animals, or anything deemed an "accidental injury" by your insurance provider.
Accident and Illness: This policy will cover a portion of the costs associated with an accident or illness, such as cancer, skin diseases, and hereditary conditions. Keep in mind that this type of cover generally doesn't include pre-existing conditions.
Comprehensive: This policy generally covers vaccinations, desexing, microchipping, as well as any other routine care. If you have a pet that might be susceptible to hereditary conditions, a comprehensive policy can be a suitable option.
How much does pet insurance cost?
Ongoing pet insurance costs are called 'premiums' and are paid on a monthly or yearly basis. According to Finder, comprehensive pet insurance costs between $81 and $120 a month but is more expensive for dogs than cats.
For dogs, Finder's research found the cheapest comprehensive pet insurance policy costs just $417 annually, while the most expensive will set you back $1,345 for a year.
Cats, on the other hand, cost between $260 and $887 a year to comprehensively insure.
How is the cost of pet insurance calculated?
There are a few key factors that determine the cost of pet insurance, including:
The species, breed and age of your pet: Certain breeds are more susceptible to health problems. For example, pugs are genetically prone to eye conditions, respiratory issues, and spinal deficiencies.
Where you live: If you live in an area considered more 'risky' for your pet, such as an area known for having paralysis ticks, this can increase your premium.
The type of cover: Comprehensive pet insurance is generally the most expensive type of policy.
Your excess: Just like health cover, you can select an excess to pay when you make a claim. The higher the excess, the less expensive the premiums and vice versa.
Any applicable government or administrative fees.
The pros and cons of pet insurance
To help you work out whether to take out pet insurance, we list some of the pros and cons in the table below:
Pros of pet insurance
You're covered in the case of an emergency, which could save you thousands of dollars.
Most policies include regular visits to the vet. If you suspect there's something wrong, you can take your pet just to be safe.
Some insurance plans include emergency boarding if there is no one to look after your pet while you're away.
Some insurers offer 100% refunds, but these usually expire after your pet reaches a certain age.
Cons of pet insurance
Exclusions will always apply, so it might not be helpful if your pet has a pre-existing condition or has major dental issues.
You may need to pay for your pet insurance upfront.
You can only claim for a certain percentage. According to Finder, you are responsible for about 20% of treatment costs on average.
Older pets can be harder to insure.
Is pet insurance worth it?
Whether you decide to get pet insurance or not is entirely dependent on your own preferences and circumstances. You may find that pet insurance is not worth it for you and your furry friend, especially if vet trips aren't a regular occurrence.
Most pet owners go without pet insurance. AMA's report found just 24% of dog owners and 19% of cat owners pay for pet insurance, respectively, suggesting most people find more value in simply saving money on their own for any pet-related mishaps.
However, if you want to be prepared in the event of your pet being involved in an accident or becoming ill, pet insurance could offer peace of mind. Emergency trips to the vet can be expensive, and your pet's life may depend on urgent care that comes with a hefty bill.
How to save money if you have a pet
Since the costs of owning a dog or cat can quickly add up, there are a few things you can do to save money. When acquiring a pet, consider adopting from a shelter to save on adoption fees and initial vet expenses.
With ongoing expenses, try to keep your pet in good health by exercising regularly and maintaining a balanced diet. This will reduce visits to the vet and save you more. Insurance costs might also be expensive upfront, but they can save you a lot in the long run.
If you have to leave your pet alone, hiring a friend or neighbour to pet sit for you can be much cheaper than sending your pet to a kennel or cattery. You can save money on grooming and training by doing it at home yourself. Some breeds may require more extensive grooming routines, so a trim every now and then can be necessary.
Vet bills caught you by surprise?
If your latest vet bill is a bit more expensive than you'd prefer, turn to Jacaranda Finance for a fast and flexible Vet Loan, so you can focus on what matters - getting your furry friend back to good health.
With our Vet Loans, you can borrow anywhere from $2,100 up to $25,000, with fixed interest rates and flexible loan terms as long as 48 months lets you repay this loan over time in manageable instalments suited to your budget.
You can apply in just 5-12 minutes1 and receive your funds on the same day2. What's more, you can check if you qualify first without impacting your credit score at all!
Apply for a Jacaranda Vet Loan online today or download our FastMoney app below to get started.
---
The information on this website is for general information only. It should not be considered professional advice from the website owner - Jacaranda Finance. Jacaranda Finance is not a financial adviser, and the content on this page does not consider your objectives, financial situation or needs. You should consider seeking independent legal, financial, taxation or other advice to check how the website information relates to your unique circumstances. Jacaranda Finance is not liable for any loss caused, whether due to negligence or otherwise arising from the use of, or reliance on, the information provided directly or indirectly by the use of this website.
William is the Content Manager at Jacaranda Finance. He has worked as both a journalist and a media advisor at some of Australia's biggest financial comparison sites such as Canstar, Compare the Market and Savings.com.au, and is passionate about helping Australians find the right money solution for them.
You can get in touch with William via
williamj@jacarandafinance.com.au
.