Check if you qualify with no impact on your credit score
QualifyCheck by Jacaranda Finance
At Jacaranda Finance, we're all about making your life easier and don't want to waste your time if you're looking for a loan. We think it's fair to give you the ability to check if you qualify for one of our products without impacting your credit history.
That's why we've introduced our new 'QualifyCheck' feature.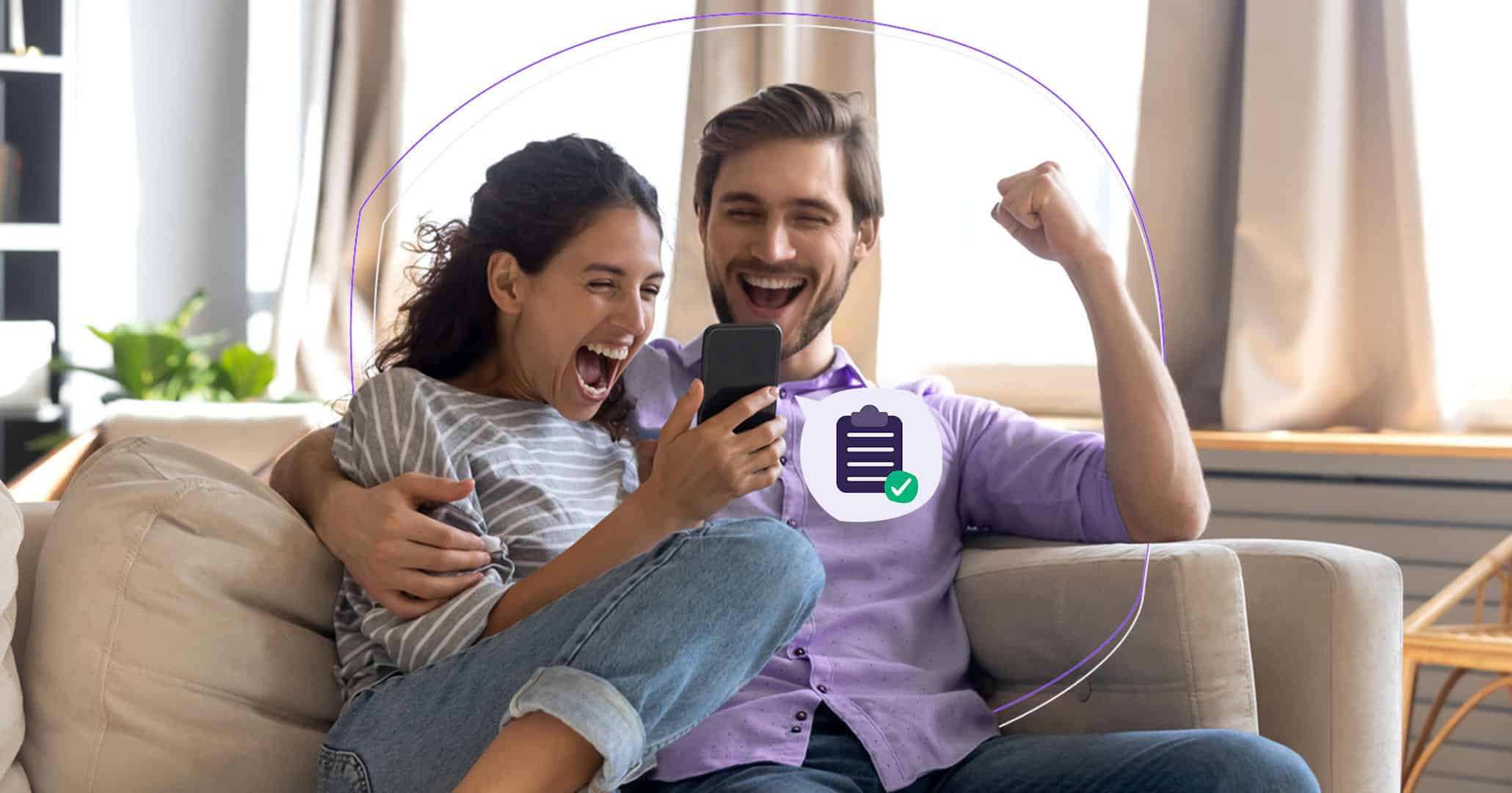 What is QualifyCheck?
QualifyCheck is one of our key application features. When you're considering applying with Jacaranda, QualifyCheck lets you check if you qualify for one of our loans in a way that does not impact your credit score.
If you meet our eligibility criteria, we'll let you know on the spot. You can then choose to move forward with submitting an application.
How is this different to other lenders?
Generally speaking, in Australia, applying for a loan often does impact your credit score. When you submit an application, a lender or credit provider will almost certainly conduct a hard credit check automatically as part of their application process.
This will result in a credit enquiry appearing on your credit report. As each lender has its own different eligibility requirements, this can be a real pain if all you're trying to do is find out if you can get the loan in the first place.
While making an application here and there generally won't impact your credit score, doing so too often could result in it dropping.
How to apply with Jacaranda Finance
Already checked if you qualify? If you're ready to apply, our loan application process has been perfected over time to be as simple and quick as possible. You can:
Apply in just 5-12 minutes1 (depending on your circumstances)
Receive a same-day outcome2 on your application
If approved, get your money within 60 seconds3 (NPP-enabled bank accounts only)
How does QualifyCheck work?
When you check if you qualify, we can access your credit file in a way that does not impact your credit score, and that is not disclosed to anyone other than yourself. You will get a notification if you have alerts set up on your credit file. This is called 'file access', and is different to a 'full credit enquiry'.
Once you've checked if you qualify, and in the case that you do qualify, you have the option to submit your application to Jacaranda to perform a credit assessment. By submitting a full application, you authorise Jacaranda Finance Pty Ltd to obtain a copy of your full credit file.
Other lenders will be able to see that you applied for a loan with Jacaranda.
Does QualifyCheck guarantee loan approval?
This eligibility assessment is not an approval. Based on the information you provide us, we can indicate that you qualify for a product based on what you have stated to us. 
We will then complete an assessment and verify the information you provided, which may result in your application being unsuccessful. If you proceed with the credit assessment, we may do a hard enquiry on your credit file, which may impact your credit score.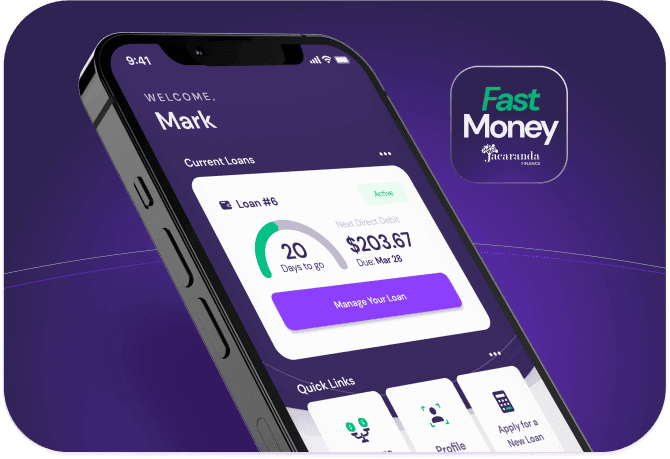 It's faster with the FastMoney App!
Easily apply for and manage your loan in-app
Fast same-day loan outcomes2
Make extra repayments, check your balance & more
Easy access to our customer service team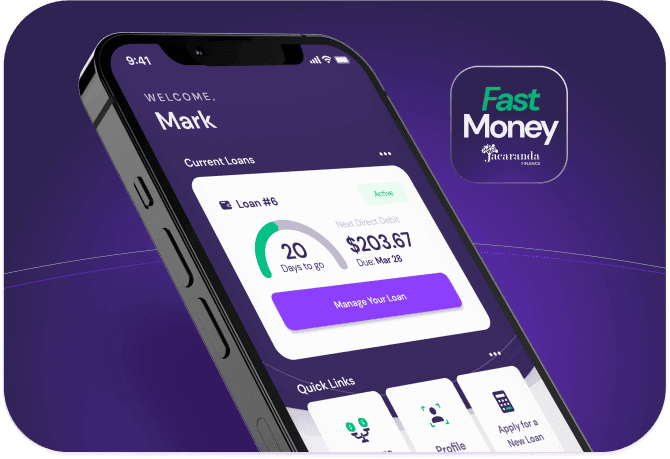 Check your repayments first
Sometimes we offer customers incentives encouraging an honest review of our services, be it negative or positive based on their unique experience. It is possible that some reviews were written by customers who received a reward regardless of their review being positive or negative. Last updated: 22/11/23
Google Rating
2,660+ Reviews
Word of Mouth
880+ Reviews
Product Review
1,790+ Reviews
Estimate your repayments in
3 Easy steps
Max Interest Rate
(Fixed)
Estimated Total
Fees & Charges
$1,504.63
Estimated
Total Repaid
$9,802.63
Comparison Rate Warning
WARNING: This comparison rate is true only for the examples given and may not include all fees and charges. Different terms, fees or other loan amounts might result in a different comparison rate.
Disclaimer: This is not an offer for credit. Example tables and calculators are not intended to be your sole source of information when making a financial decision. Any calculations made by you using this calculator are intended as a guide only. Consider getting advice from a licensed financial adviser or a free community based financial counsellor if you need it.
Boost your credit score fast with Comprehensive Credit Reporting
Jacaranda Finance also reports data under the Comprehensive Credit Reporting (CCR) regime.
This is yet another way we could help build your creditworthiness: by applying for and repaying one of our loans on time, your credit score could increase faster than ever.
Learn more about how Comprehensive Credit Reporting with Jacaranda could help you.
How else can you protect your credit score when applying for a loan?
1) Check your credit score first:
By checking your credit score first, you can assess where you're at financially and avoid applying for loans that are unlikely to be available to you.
2) Compare your options:
Do your due diligence and compare multiple lenders based on their fees, interest rates, and other loan terms. You should also compare lenders that you're likely to be eligible for.
3) Check each lender's criteria:
Compare these lenders and their products on their eligibility criteria too. It's vital that you meet these requirements, as not doing so can result in an instant rejection.
4) Ask them if you're eligible:
If it's unclear whether you meet that lender's criteria, they should have a way to ask on their website. Contact their customer service team to see if they can give you a more detailed answer
5) Apply for a reasonable amount:
It's important not to bite off more than you can chew with personal loans, and borrowing within your means can be a smarter way to apply.
6) Avoid making other applications:
Take the time to find the one lender that best meets your needs instead of spamming applications with multiple lenders at once.
7) Wait if you've been rejected:
This may not be ideal, but if you've recently been denied a loan, the right step to take next is to do nothing. Give it some time before applying with another lender if you can.
See all FAQs
Jacaranda Finance FAQs
Read some of our most frequently asked questions below to learn more about Jacaranda and our products.
Jacaranda offers three loan products with varying loan amounts that you could borrow:
These three loan products also have varying loan terms:
Jacaranda Express Personal Loan: 24 - 48 months
Jacaranda Cash Boost Loan: 9 - 18 months
Jacaranda Car Loan: 24 - 48 months
For detailed information about who our products are designed for, please review our Target Market Determinations
We only accept loan applications online via our online application form on our website or FastMoney app. We're 100% online, so there are no other ways to submit an application.
The good news is, being a 100% online lender, you may submit an application with Jacaranda 24/7, 365 days a year.
If you need assistance or can't find the answers to the questions you have before you decide to apply, simply contact our customer service team during normal business hours, and they will be happy to assist you.
The basic eligibility criteria you must meet before submitting an application:
Be at least 19 years of age.
Be employed on a permanent or casual basis.
Have a consistent income going into your own bank account for the last 90 days.
Be in control of your finances and be handling existing financial commitments comfortably.
Be an Australian citizen or permanent resident with a fixed address.
Have an active email address, phone number, and online banking account in your name that belongs to you.
We accept a wider range of credit history than a bank or a prime lender, but we do not recommend submitting an application if:
You are currently or recently bankrupt (you must be three years discharged and in control of your finances)
You are not comfortably repaying your existing financial obligations
The interest rate, fees and charges applicable will depend on your individual circumstances and the information verified during the loan application assessment. It will also depend on our assessment criteria and the loan product, loan amount and loan term you qualify for.
Use our loan repayment estimate calculator to get a guide on what your repayments could be. To get an idea of what rates, fees and charges are associated with our loan products, visit our rates and fees page.
We offer a 48-hour cooling-off period for all loan products. Anyone unsatisfied with their loan for any reason can return the total principal funds, including any payments made to third parties on your behalf, within a 48-hour cooling-off period and cancel their loan4.
If you purchased a vehicle or other item with your loan, Jacaranda does not require the seller to cancel the sale or release the funds back to you. Returning your purchase to the dealer, the seller or Jacaranda Finance doesn't qualify as a loan cancellation. The loan is only cancelled once the funds have been received and have cleared within the Jacaranda Finance bank account.