18th May 2023
Does Medicare Cover Dental Care?
The Australian healthcare system, Medicare, covers or subsides a range of medical services. For some people, that can include dental care.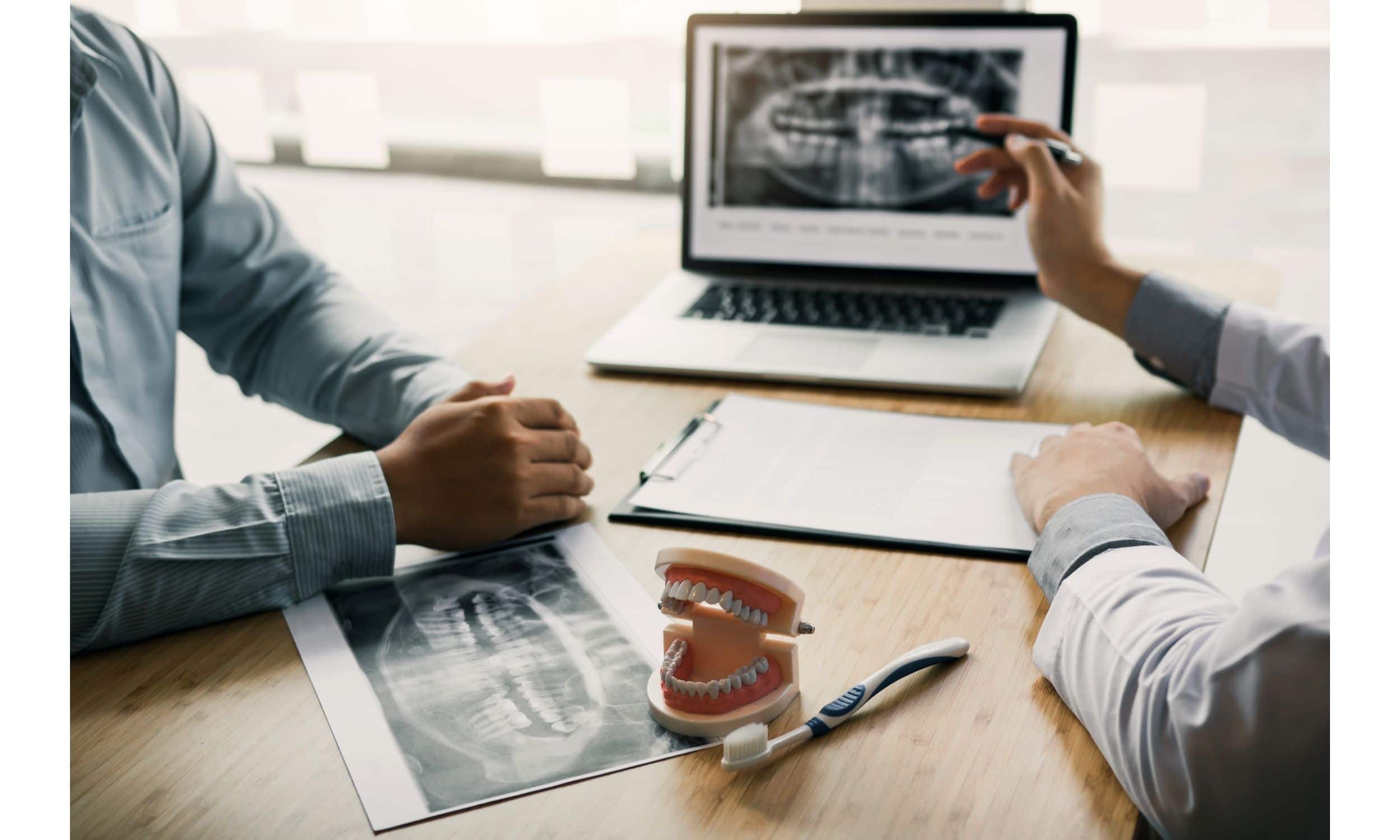 In this helpful guide, Jacaranda Finance dives into whether dental work is covered under Medicare and private health insurance, the different levels of dental insurance and what it can cost, how to save on your dental care and more.
Need a hand paying for expensive dental treatment? Check out how our dental loans can help!
On this page:
---
What is Medicare?
Medicare is Australia's publicly funded healthcare system that provides access to a wide range of medical and hospital services for Australian citizens, permanent residents, and certain visa holders.
Established in 1984, Medicare is financed through general tax revenue and the Medicare levy, a 2% tax on most taxpayers' income. Higher-income earners may also pay an additional Medicare Levy Surcharge if they don't have private health insurance.
As it stands, Medicare subsidises a large number of health services and products, such as:
Hospital services for public patients
Emergency hospital admissions and ambulances in certain states
Surgical services
Prescription medicines
Eyes and pathology tests
Part of regular GP checkups and more.
Medicare does not usually cover things like:
Medical and hospital costs incurred overseas
Cosmetic or optional surgeries
Ambulances in some states/territories
Does Medicare cover dental work?
Unfortunately, dental work such as routine dental check-ups, cleanings, fillings, extractions, or dentures for most Australians is not covered under Medicare. While Medicare may cover things like emergency dental work or dental work that is part of a broader treatment plan, those are the exception, not the rule.
Child Dental Benefits Schedule
The Child Dental Benefits Schedule (CDBS) is one such exception to Medicare's limited dental coverage. Under this scheme, children aged 2-17 can receive up to $1,000 for basic dental services, including cleaning, fillings, extractions, and root canals.
Public dental services
In addition to the CDBS, public dental services are available across Australia for eligible individuals, including low-income earners, pensioners, and Indigenous Australians. To find out what's available where you live, visit your state or territory health department website:
Note that although these services are usually free or heavily subsidised, access to public dental services may be subject to waiting lists and availability.
Is dental covered by private health insurance?
In most cases, dental procedures in Australia are only covered under private health insurance. Without private health insurance, any dental work needed will likely have to be paid upfront, which could cost you hundreds if not thousands of dollars!
However, not all health insurance policies cover dental work. Dental insurance is included in a health insurance extras policy. Depending on your level of coverage, the treatments and services included in your policy will vary.
See the differences between Medicare and private health insurance here.
Hospital cover vs extras cover: what's the difference?
There are technically three main types of health insurance policies: extras cover, hospital cover, and combined hospital and extras cover. When exploring private health insurance options, understanding the difference between them is crucial, as they each serve distinct purposes and cover different things.
As you'll see below, dental work is covered under an extras policy with private health insurance.
Purpose

What it covers

Different levels of cover

Hospital cover

Provide financial support for in-hospital treatments and services, primarily for accommodation, surgery, anesthesia, and other associated costs during a hospital stay.

Joint surgery & replacements
Weight loss surgery
Cataracts
Brain & nervous system treatments
Kidney and bladder treatments etc.

Extras cover

Focuses on ancillary and specialist services that Medicare typically doesn't cover in a public or private hospital or at external specialist locations.

Dental
Physiotherapy
Sleep services
Optical
Psychology
Other optional procedures

Comprehensive
Medium
Basic
A combined hospital and extras policy will have a combination of both extras and hospital coverage and will naturally cost more as a result.
How much does private health insurance cost?
The table below shows the average monthly cost of health insurance by state for separate hospital policies and extras-only policies. For a combined hospital and extras policy, meanwhile, you can expect to pay anywhere between $125 and $291 per month, depending on your circumstances.
| State | Hospital premium | Extras premium |
| --- | --- | --- |
| ACT | $101.35 | $16.00 - $58.29 |
| NSW | $101.35 | $16.00 - $58.29 |
| NT | $53.55 | $9.45 - $49.46 |
| QLD | $103.85 | $16.00 - $56.76 |
| SA | $100.70 | $16.00 - $57.16 |
| TAS | $103.19 | $11.95 - $52.42 |
| VIC | $104.90 | $16.00 - $57.06 |
| WA | $78.75 | $13.35 - $54.69 |
Source: Finder.com.au & Privatehealth.gov.au, via Comparing Expert (October 2022). Hospital policy premium estimates are based on a single basic Hospital policy, and Extras premium estimates are based on a Basic Extras policy with no surcharges or rebates applied.
What type of health insurance policies cover dental?
Because having just one level of dental coverage in Australia would be far too simple, private dental cover can be broadly categorised into four types: General dental, Major dental, Orthodontics, and Endodontics.
Each type of dental cover addresses specific dental treatments and services: your level of cover and your insurer will determine whether you're covered for each and how much coverage you have.
General dental cover
General dental cover typically includes routine dental treatments and preventative services to maintain good oral health. These services may include dental examinations, scales and cleans, simple fillings, and extractions. Some policies may also cover treatments like dental X-rays and fluoride treatments.
Major dental cover
Major dental cover addresses more complex and expensive dental treatments beyond routine care. This may include crowns, bridges, dentures, dental implants, and wisdom teeth removal. These services often require more advanced dental expertise and tend to have higher costs than general dental treatments.
Orthodontics
Orthodontics cover specifically targets treatments and services related to the alignment and positioning of teeth and jaws. This includes treatments like braces, Invisalign, retainers, and other orthodontic appliances used to correct issues such as crooked teeth, overcrowding, or malocclusion.
Endodontics
Endodontics cover focuses on treatments related to the dental pulp and the tissues surrounding the roots of teeth. The most common endodontic treatment is root canal therapy, necessary when the dental pulp becomes infected or inflamed. Other endodontic treatments may include apicoectomy (root-end surgery) and dental pulp regeneration.
What are the waiting periods for dental insurance?
When you sign up for a health insurance policy, you'll have to serve something called a waiting period. You are ineligible to claim after joining a health fund during these waiting periods. They exist to stop people from taking out a policy, receiving expensive treatment, and leaving before they can pay anything to the insurer.
According to the Private Health Insurance Ombudsman, the typical waiting periods for the above dental services are as follows:
General dental: 2 months
Major dental: 12 months
Endodontics: 12 months
Orthodontics: 12 months+
So chances are you'll have to wait at least a year before you can actually claim anything for expensive dental work. But the good news is that if you leave your health fund and join a different policy of equivalent or lower coverage, you don't have to re-serve those waiting periods.
Insurers also tend to hold promotions waiving the waiting periods for general dental, but these are uncommon for longer timeframes.
Which level of dental cover should I get?
Choosing the right level of dental insurance depends on your individual dental needs, budget, and personal preferences. If you meet the public dental care criteria, you might not need to get private health insurance. Otherwise, it's probably a good idea to have some level of protection for your teeth through a health insurance policy.
Extras policies cover most dental services, and you're very unlikely to find standalone policies in Australia that only cover dental treatment. So you'll need to compare private health policies based on what else they offer and their level of dental coverage.
Generally, the older you are, the more likely you are to need dental work, both in the form of regular checkups and specialist services like crowns, dentures and fillings. So a policy with major dental as an inclusion might be the way to go for older Australians.
On the other hand, young people with relatively good dental health may be better suited to general coverage. If you have a family with young kids, you'll probably want an insurance policy covering orthodontics for the multiple braces they'll almost certainly need.
How much is dental care with and without cover?
Dental coverage is designed to save you money on dental expenses not covered by Medicare. Unfortunately, most dental coverage plans will still have a gap payment, meaning you may be left with out-of-pocket expenses. However, some dentists offer gap-free dental, so check with your dentist beforehand.
Our article 'The Cost of Dental Procedures in 2023' discusses how much it typically costs in each state for some of Australia's most common dental procedures.
While you can see those fee breakdowns in greater detail by clicking the link above, here are some examples below:
| State | Checkup & clean with X-rays | Filling: front tooth | 1 root canal with filling | Ceramic crown |
| --- | --- | --- | --- | --- |
| NSW | $328 - $720 | $173 - $290 | $745 - $1,464 | $1,654 - $2,650 |
| QLD | $324 - $552 | $163 - $235 | $840 - $1,325 | $1,666 - $2,250 |
| VIC | $338 - $691 | $171 - $289 | $777 - $1,321 | $1,729 - $2,421 |
| WA | $331 - $483 | $153 - $250 | $670 - $915 | $1,631 - $2,005 |
| SA | $334 - $561 | $155 - $298 | $762 - $967 | $1,627 - $1,955 |
| TAS | $348 - $364 | $196 - $210 | $854 - $1,188 | $1,994 - $2,300 |
| NT | $367 - $447 | $170 - $183 | $757 - $907 | $1,859 - $2,073 |
| ACT | $373 - $435 | $210 - $240 | $922 - $1,102 | $1,875 - $2,200 |
Source: Smile.com.au, Australian Dental Association. These costs are guides only.
Most private health insurance policies offer a percentage-based benefit for dental services, typically ranging from 50% to 85% or more, depending on the policy and the type of dental cover.
So if, for example, you lived in NSW and had a ceramic crown put in by your dentist, your health insurance policy could cover you for anywhere between $827 and $2,252, depending on your level of cover and the cost of your procedure.
Know that some policies have annual limits on the amount you can be covered for specific dental services, and once reached, you'll no longer be able to claim any more on that item until the new year.
How to save on dental costs
If you want to avoid expensive dental care, it's crucial to look after your teeth first and foremost. Good dental health can minimise the need for expensive dental care and is also important for your general health.
According to Healthdirect, the best ways to look after your teeth is to:
Brush your teeth twice a day;
Floss once a day;
Limit sugar in your foods and drinks;
Visit a dentist for a routine dental check-up once a year.
If you require more extensive dental work and want to find the best savings, you can also do the following:
Ask your dentist how much the procedure will cost. Ask for the item numbers and call other dentists for quotes.
Ask if the procedure is necessary. Are there any risks? Do the benefits outweigh these risks?
Check if there is a less expensive alternative. For example, it can be almost ten times cheaper to pull a troublesome tooth than to get a root canal, and some specialists will recommend this depending on where the tooth is.
Consider using a payment plan if you need. Many dental practices offer payment plans or financing options to help make procedures more affordable.
Check for no-gap dental practices. Some insurers have a network of dental practices that offer better discounts or even no-gap fees, such as Bupa Dental.
Above all, researching and comparing private health insurance policies based on your needs and budget can be the most effective way to minimise the cost of caring for those pearly whites. You can compare policies for free using the Australian Government's compare health insurance policies tool.
Consider a dental loan
Did you know that about 40% of people put off going to the dentist due to cost, even if their teeth are causing them pain? Going to the dentist in Australia can be very expensive, and dipping into your hard-earned savings to pay for a solution can hurt even more than a decaying tooth.
Fortunately, our dental loans are available for up to $25,000 and as little as $2,100, so you can be confident that a Jacaranda loan can cover most significant dental procedures. With loan terms of up to 48 months and flexible repayment options, check out how our dental loans could help or contact our customer service team today.
---
The information on this website is for general information only. It should not be taken as constituting professional advice from the website owner - Jacaranda Finance. Jacaranda Finance is not a financial adviser, and the content on this page does not take into account your objectives, financial situation or needs. You should consider seeking independent legal, financial, taxation or other advice to check how the website information relates to your unique circumstances.
Jacaranda Finance is not liable for any loss caused, whether due to negligence or otherwise arising from the use of, or reliance on, the information provided directly or indirectly by use of this website.
---
William is the Content Manager at Jacaranda Finance. He has worked as both a journalist and a media advisor at some of Australia's biggest financial comparison sites such as Canstar, Compare the Market and Savings.com.au, and is passionate about helping Australians find the right money solution for them.
You can get in touch with William via
williamj@jacarandafinance.com.au
.