7th October 2022
This Week In Finance: 7 October 2022
Welcome to the latest edition of This Week in Finance, Jacaranda Finance's weekly wrap of all the top personal finance news affecting everyday Australians.
Last modified: 9th December 2022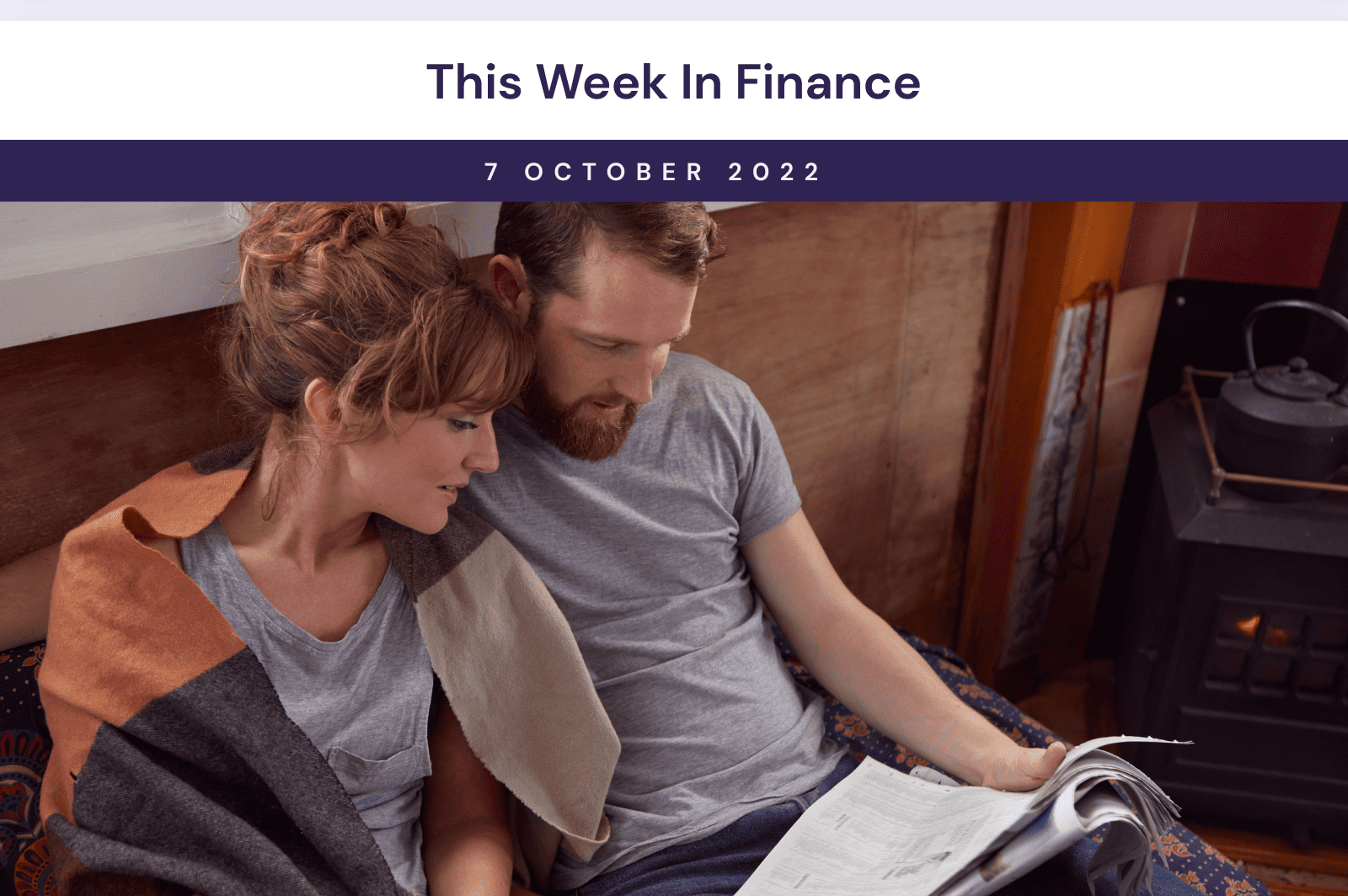 Another month means another cash rate increase in 2022, taking people's mortgage bills with it. The Reserve Bank made a smaller-than-expected increase to interest rates in October, citing financial stresses as a key reason for not increasing by even more.
While interest rates go up, house prices continue to go down, with capital cities recording another sizeable monthly decline in values over September.
This has also had a knock-on effect of fewer home loans being taken out for smaller amounts, but personal and car loan borrowing is actually soaring despite a higher interest rate environment. This has also led to another good month for new car sales, with electric vehicles in particular finding a host of new buyers.
Read more on all these top money stories from the past week below.
---
Another cash rate rise, but smaller!
For the sixth consecutive month, the Reserve Bank (RBA) has increased the official cash rate, leading to yet more increases in interest rates for households.
However, after four successive raises of 50 basis points (0.50%), the RBA chose to take a more conservative approach in October, bumping up the cash rate by 25 basis points to 2.60%.
The cash rate has increased substantially in a short period of time - it was at an all-time low of 0.10% in April - and RBA Governor Philip Lowe said this was a factor in this month's smaller increase.
"Reflecting this, the Board decided to increase the cash rate by 25 basis points this month as it assesses the outlook for inflation and economic growth in Australia," he said.
"Higher inflation and higher interest rates are putting pressure on household budgets, with the full effects of higher interest rates yet to be felt in mortgage payments. Consumer confidence has also fallen and housing prices are declining after the earlier large increases."
"Today's further increase in interest rates will help achieve a more sustainable balance of demand and supply in the Australian economy. This is necessary to bring inflation back down."
As the graph below shows, the last six months or so have made up for about eight years of cash rate decreases!
source:
tradingeconomics.com
Is your lender raising interest rates?
According to RateCity calculations, someone on a $500,000 variable mortgage could have seen a $687 increase in their monthly repayments since April 2022, assuming their lender has passed on each rate increase in full.
In the few days since Tuesday's announcement, each of the major banks has already announced they will be passing the full 25 basis point increase on to variable mortgage rates, as well as other key banks such as Suncorp and Macquire.
"Variable rates have now risen 2.5 percentage points since May, which means the average owner-occupier will soon be paying a rate that's well over 5 per cent," RateCity research director Sally Tindall said.
"The rate hikes aren't expected to end today, with Governor Lowe indicating there are more to come. All eyes are on the banks as to what they'll announce and how long they will make customers wait."
However, not every bank that passed on the extra home loan costs to customers has been as quick to do the same for savers.
NAB and Suncorp are two examples of banks that have raised interest rates on home loans but not savings accounts so far in October, according to Rate City's cash rate tracker.
Savings account and term deposit interest rates have not risen as quickly as home loan rates in general, meaning customers who depend on interest earnings from their bank accounts may be missing out.
According to our calculations, someone with $10,000 deposited could earn an extra $253 in interest in just one year if they switched to an account that passed each of these rate rises on in full, assuming they don't make any other contributions.
See also: Will The RBA Cash Rate Change Affect My Personal Loan Rate?
---
House prices fall again
Following the steady yet rapid increase in interest rates, CoreLogic reports that property values across the country have fallen for the fifth consecutive month.
The Home Value Index for September 2022 showed a -1.4% decline in values, slightly less than the -1.6% in August.
The biggest monthly falls were seen in capital cities, particularly Sydney (-1.8%), Melbourne (-1.1%), Brisbane (-1.7%) and Canberra (-1.6%), with Darwin being the only capital to not see a decline.
Housing values across the combined capitals are now -5.5% below the recent peak (-$46,100), but CoreLogic's research director Tim Lawless said the worst may be over.
"It's possible we have seen the initial shock of a rapid rise in interest rates pass through the market and most borrowers and prospective home buyers have now 'priced in' further rate hikes," he said.
"However, if interest rates continue to rise as rapidly as they have since May, we could see the rate of decline in housing values accelerate once again."
Home lending is also down, but personal lending is up
Higher interest rates also seem to be having an effect on home buying, with the value of new home loan commitments falling 3.4% in August 2022.
That's according to the Australian Bureau of Statistics (ABS) and follows an even larger 8.5% drop in July.
"Although lending continued to fall from the high levels of June 2022, the value of loan commitments in August remained elevated compared to pre-pandemic levels," Katherine Keenan, head of Finance and Wealth at the ABS, said.
"Owner-occupier loans in August were 36 per cent higher than February 2020, while investor loans were 70 per cent higher."
Personal lending however had a great month, with the value of new loan commitments for fixed-term personal finance up 9.5% in one month!
Lending for the purchase of road vehicles rose 17.7% following a 5.2% rise in July.
Check out Jacaranda Finance car loans today.
---
Car sales have a good month - particularly electric ones
As car lending is exploding at the moment, it only makes sense that new car sales are too.
FCAI's latest new vehicle sales report found 93,555 new vehicles were sold in September 2022, a 12.3% increase on the same period in 2021.
This follows the previous month's annual increase of 17.3%, which took car sales to the highest levels since 2017.
FCAI Chief Executive Tony Weber said there was also a big uptick in the number of electric vehicles sold, signalling that a growing number of Australians are ready to go green on their transport.
"During September 2022, 7,247 battery electric vehicles were sold, more than hybrid and plug-in-hybrid combined (5,141). Year to date, 21,771 battery electric vehicles have been sold," he said.
"While the overall market share of battery electric vehicles remains low (2.7%), there is a clear market trend towards zero-emission technology."
---
We've been overpaying for electricity
Finally, a new report has found that millions of Australians have spent years paying more than necessary to energy providers, to the tune of about $10 billion.
According to The Institute for Energy Economics and Financial Analysis (IEEFA), since 2014 consumers have been paying higher retail electricity prices than necessary due to flaws in network regulation. This is especially true for customers in the eastern states.
The report found that electricity providers received a 67% higher than normal level of profits from consumers between 2014-2021.
"This has imposed an unnecessary additional average cost of 6.8% onto people's electricity bills in 2020, or between $800 to $1200 per energy customer over the eight-year period, depending on the state they live in," the report said.
"Consumers are paying much more than necessary for safe and reliable electricity."
Check back next week for another wrap on the week's biggest finance stories.
Read our latest posts
William is the Content Manager at Jacaranda Finance. He has worked as both a journalist and a media advisor at some of Australia's biggest financial comparison sites such as Canstar, Compare the Market and Savings.com.au, and is passionate about helping Australians find the right money solution for them.
You can get in touch with William via
williamj@jacarandafinance.com.au
.