2nd September 2022
Car Loan Repayments 101
Here's all you need to know about how car loan repayments work.
Last modified: 29th June 2023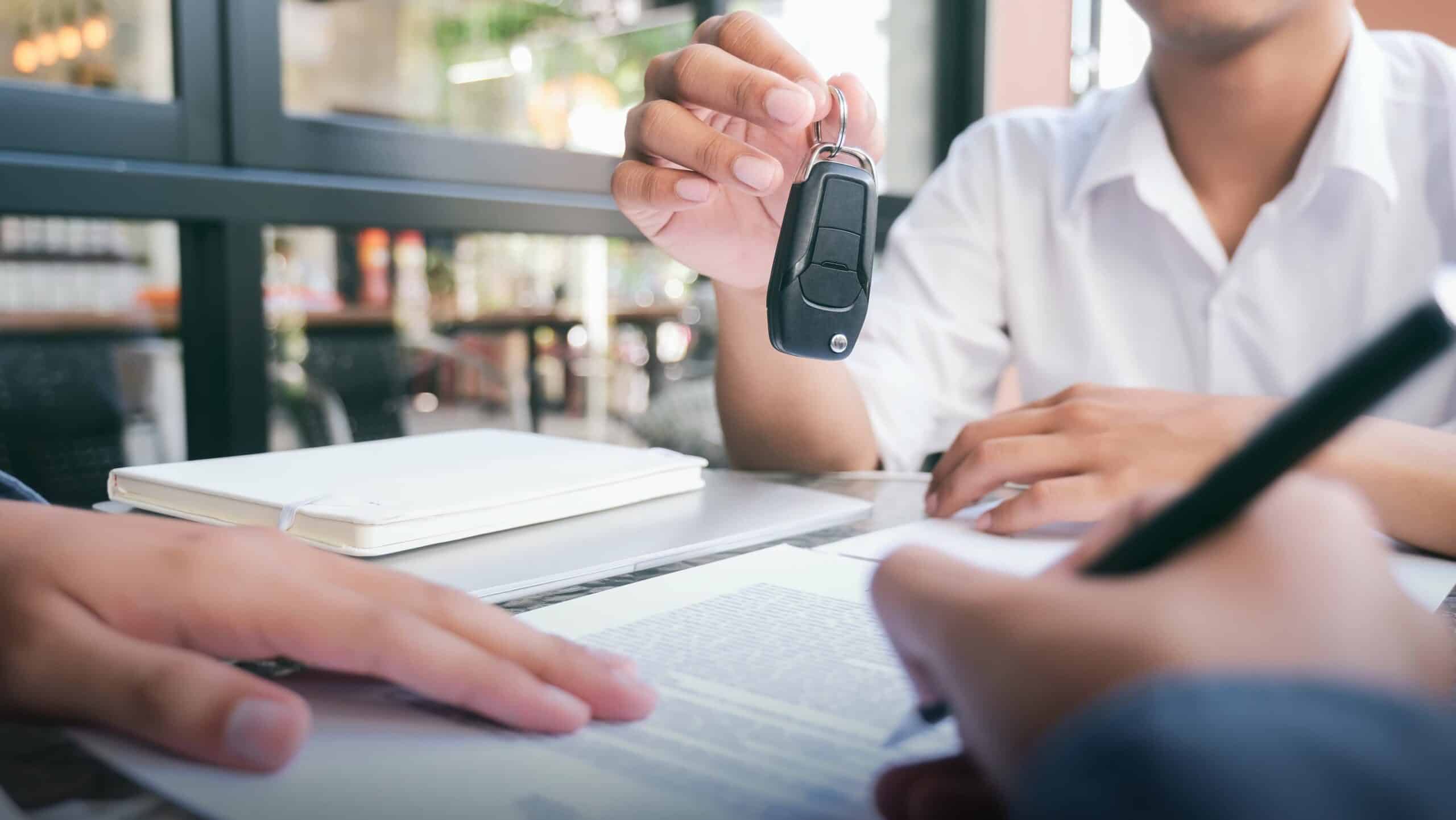 You've got the keys to your new car, thanks to an approved car loan from Jacaranda Finance! So, how do you repay the loan? At Jacaranda Finance, we believe in fast processes and express outcomes, meaning we aim to make the repayment process as streamlined as possible.
Here's all you need to know about how car loan repayments work.
On this page:
How do car loan repayments work?
When you take out a car loan with Jacaranda Finance, you, as a responsible borrower, are required to pay back the loan (plus interest) over time through instalments. Your contract will outline these repayments, including the amount, frequency, and any other fees you're required to pay.
See also: Personal Loan Repayments 101
Are car loan rates fixed or variable?
Most car loan interest rates are fixed, but depending on the loan and the lender they can be either fixed or variable. At Jacaranda Finance we charge fixed interest rates on our car loans, meaning your minimum repayments will stay exactly the same unless you choose to pay more.
This differs from variable interest rates, which can change at the lender's discretion. We don't do that here, providing you with more certainty regarding your monthly budget.
Read more: Fixed Rates vs. Variable Rates - What's The Difference?
How much are car loan repayments?
When you take out a car loan with Jacaranda Finance, your car loan repayments will be determined by the following factors:
How much you borrow (from $10,000 - $25,000)
How long the loan term is (from 24 months - 48 months)
The interest rate of your loan outlined on your contract
Any associated fees and charges
The more you borrow and the longer your loan, the more you'll pay overall, even if your month-to-month payments are smaller compared to a shorter loan length.
---
Car loan repayment example
Alister wants his own car so applies for a car loan with Jacaranda Finance. Jacaranda pre-approves his application on the same day he applies. This pre-approval outlines his budget ($15,000) and gives him seven days to choose the right car. He heads to a dealership, chooses a car within the budget provided, and contacts Jacaranda Finance.
Jacaranda then approves this car and sends him the approved loan contract, outlining his interest rate and any associated fees and charges. After Alister signs the contract, Jacaranda sends the $15,000 to the dealership, which hands over the keys to Alister.
---
Tips to reduce your car loan repayments
Based on the example above, car loan repayments can be pretty expensive given the cost of the average car. But there are ways you can reduce the cost of your ongoing repayments or even the cost of your loan overall.
Here are some of the top tips for reducing your car loan repayments.
1. Put down a deposit on the car
One way to reduce your car loan repayments is to put a deposit down on the car with your own cash before taking out a loan. This will reduce the amount you borrow from a lender and thus the repayments. The less you borrow, the less you'll pay.
Let's use the example from before. If Alister were to pay a $5,000 deposit, his car loan would drop from $15,000 to $10,000. Assuming his loan details stay the same, his weekly repayments would fall from $112 to $75, and he'd pay nearly $1,000 less overall.
These calculations are a rough guide only using an online loan repayment calculator.
2. Pay off your loan earlier
Jacaranda Finance offers flexible repayment options, meaning you can pay off your loan earlier with no fees. Adding more to your repayments might sound counterproductive: why would you pay more if you're trying to pass less?
The answer is that by paying above your minimum repayments, you can pay off your loan sooner and save money on interest payments.
In the example above, Alister's repayments are $112 per week. But after a pay rise, he decides to up his weekly repayments to $150. By doing so, he pays off his loan 10 months earlier and saves nearly $700.
We encourage customers to pay off their loans earlier if possible, so they can get back to driving with no finances owing.
If you would like to make extra repayments with an existing loan, log in to your account online or contact one of our friendly staff members.
Balloon payment loans
Balloon payment loans are slightly different to normal car loans. Acting more like a personal loan, this specific loan allows you to refinance your balloon payment.
A balloon payment is a lump sum someone can opt for when they receive a car loan from a lender. Though Jacaranda Finance does not offer balloon payments when someone takes out a car loan, many car lenders may. These lenders sometimes offer balloons up to 50% of the car's value.
The advantage of taking out a balloon payment is that you will have reduced repayments. The disadvantage lies in the payment itself. The balloon payment is presented to the customer at the end of the loan term as a lump sum payment. Depending on the size of the loan and the balloon, this could be thousands of dollars, which can be quite a lot to repay at once.
What happens if I miss a car loan repayment?
With most lenders, missing a loan repayment will result in a fee, often known as a dishonour fee or late payment fee. Common reasons for missing a repayment deadline include not having a direct debit set up to a linked bank account or not having enough money in the account to cover the cost.
When the team at Jacaranda Finance is notified of your missed repayment, we will endeavour to contact you to work out what has happened and how we can move forward. If for any reason you don't receive a call from us, get in touch with us as soon as possible. Neglecting to contact us as soon as you know you have missed a repayment could result in additional fees, interest and charges.
If you think you'll miss a future repayment, also get in touch with our customer service team at least 24 hours before the repayment date. We provide a number of options to help you keep your loan on track.
How can I apply for a Jacaranda Finance car loan?
To apply for a Jacaranda Finance car loan, simply submit an application through our 100% online application process. Our process is one of the quickest in the business: most will receive a near-instant outcome, and the rest should hear back from us on the same day of submitting an application.2
Getting pre-approval online with Jacaranda Finance can give you the confidence to go out and buy the right car without wasting days waiting for the paperwork to go through.
---
The information on this website is for general information only. It should not be taken as constituting professional advice from the website owner - Jacaranda Finance. Jacaranda Finance is not a financial adviser, and the content on this page does not take into account your objectives, financial situation or needs. You should consider seeking independent legal, financial, taxation or other advice to check how the website information relates to your unique circumstances.
Jacaranda Finance is not liable for any loss caused, whether due to negligence or otherwise arising from the use of, or reliance on, the information provided directly or indirectly by use of this website.
William is the Content Manager at Jacaranda Finance. He has worked as both a journalist and a media advisor at some of Australia's biggest financial comparison sites such as Canstar, Compare the Market and Savings.com.au, and is passionate about helping Australians find the right money solution for them.
You can get in touch with William via
williamj@jacarandafinance.com.au
.