12th October 2022
Funding A Wedding: Using Savings vs. Using A Loan
Our guide to funding your dream wedding aims to clear the air when it comes to using savings or a personal loan to pay for the big day. 
Last modified: 20th June 2023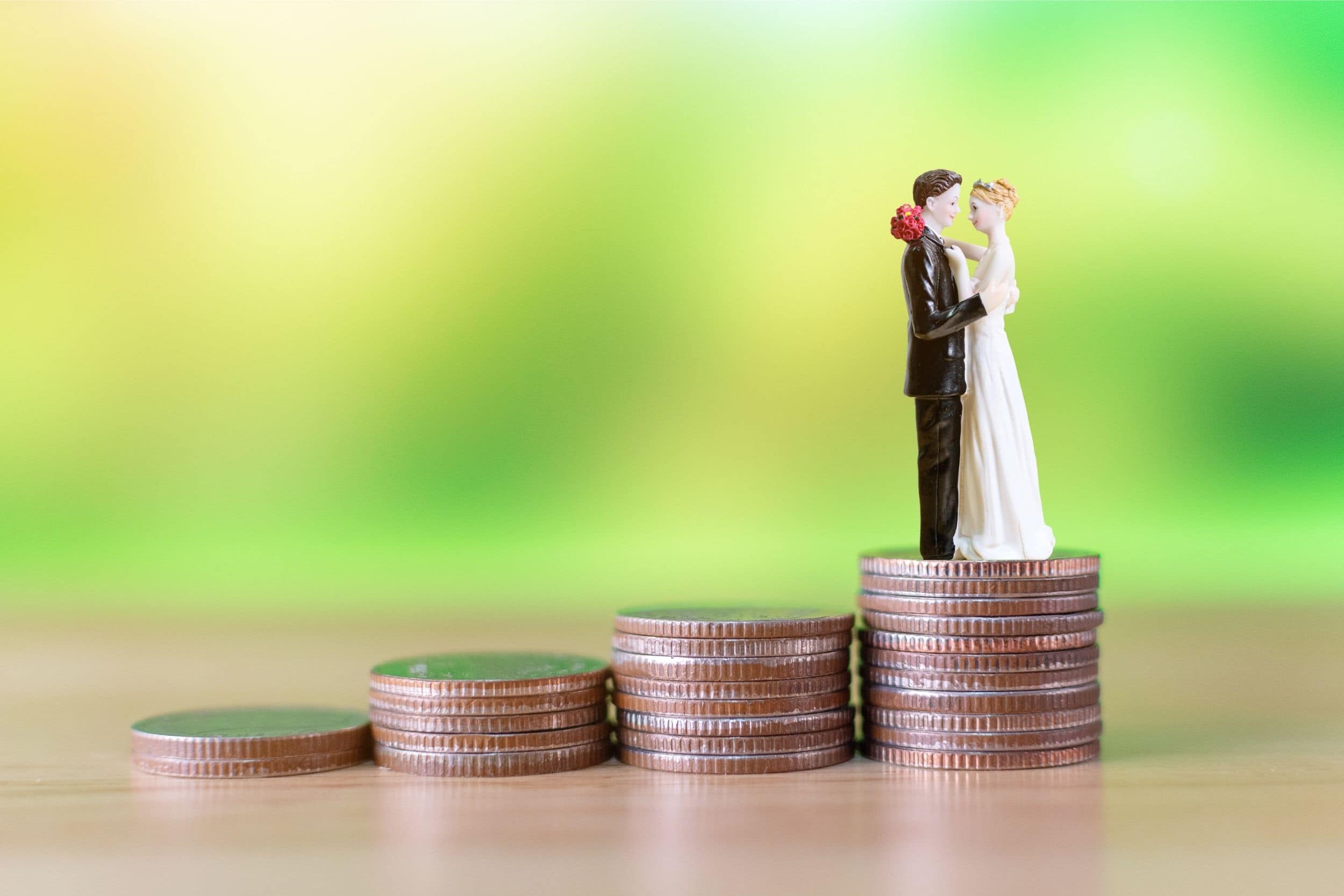 To make sure your big day is as special as possible, it's important to first decide how you plan on funding it.
Have you been saving for years for your fairytale wedding, or are you planning on maxing out the credit cards? Or, are you considering taking out a wedding loan to ease the financial stress and focus on planning?
Our guide to funding your dream wedding aims to clear the air when it comes to using savings or a personal loan to pay for the big day.
In this article:
---
The information on this website is for general information only. It should not be taken as constituting professional advice from the website owner - Jacaranda Finance. Jacaranda Finance is not a financial adviser, and the content on this page does not take into account your objectives, financial situation or needs. You should consider seeking independent legal, financial, taxation or other advice to check how the website information relates to your unique circumstances.
Jacaranda Finance is not liable for any loss caused, whether due to negligence or otherwise arising from the use of, or reliance on, the information provided directly or indirectly by use of this website.
---
How much do weddings actually cost?
Wondering how much couples actually spend on their big day? According to a survey conducted by Easy Weddings, the average Aussie couple in 2022 spent $32,000 on their wedding - an average of 25% above their initial budget of $25,667! While costs can fluctuate dramatically depending on the scale of your wedding, some of the common expenses to consider include the:
Venue (sometimes multiple depending on ceremony and reception);
Food, drink, and catering costs;
Professional photography;
Entertainment costs;
Floral arrangements and decorations;
Clothing and accessories (wedding dress, suits, jewellery);
Beauty (hair, makeup, spray tans, manicures);
Accommodation for the wedding party (if necessary).
There's also the ring to consider. According to a large survey run by Diamondport Jewellers in 2019, the average wedding ring spend was just shy of $5,300.
With tens of thousands of dollars going towards your wedding, how are you meant to pay for it all?
Option 1: Using savings to fund your wedding
Some couples may have a sizeable chunk of savings put aside to cover the costs of their wedding. Whether they've been saving for years or have received money from the family bank (i.e. parents), the knowledge of having strong financial backing when planning your wedding is more than desirable.
Many couples also opt for a longer engagement period in order to have more time to save. While forking out tens of thousands of dollars from your hard-earned savings account may seem daunting, it can make things a lot easier in the long run.
Advantages and disadvantages of using savings
Advantages

Disadvantages

Expenses are paid upfront, leaving you debt-free;
No interest fees are applicable;
Guaranteed costs upfront rather than a higher repayment period.

Potentially losing the financial security net of your savings if you need money after the wedding.
Issues arise if the wedding costs go over budget
This is money you could be spending on other things (such as a honeymoon or house deposit)
Option 2: Using a personal loan to fund your wedding
A wedding loan is a type of personal loan you can put towards any expense of your wedding. Whether you're wanting the loan to cover venue and catering costs, or more personal expenses like the wedding dress and makeup, a loan can take the stress out of paying lump sums upfront.
For some couples, a wedding loan might be the most feasible option when it comes to financing their big day. According to a survey conducted by moneysmart.com.au, 60% of couples in Australia on average take out a wedding loan to pay for the big day. If relying on savings won't cover the costs of your wedding, then a wedding loan might be the right option for you.
---
Example 1: Jeremy uses a personal loan to buy the perfect wedding ring.
Jeremy has been dating his girlfriend Serena for quite some time and is wanting to propose. He has the perfect ring in mind - a gold band boasting a square-cut sapphire accompanied by a trio of diamonds on either side. But there is one thing standing in the way of Serena being his girlfriend and Serena being his fiancé: the cost of the ring.
Amounting to a decent $5,900, this ring is going to be a bit of a financial setback for Jeremy if he were to buy it outright. He could dip into his savings, but he was planning to use them in the future - putting a deposit on a house with Serena etc. Jeremy decides to take out a wedding loan with Jacaranda Finance. He receives $10,000, buys the ring, and uses the rest to pay a portion of the venue, all with manageable repayments to Jacaranda.
---
While personal loans will incur interest and possibly additional fees and charges, they can be helpful in funding a special event like a wedding for those who'd rather pay in repayments than lump sums.
Advantages and disadvantages of a wedding loan
Advantages

Disadvantages

Repayments can be broken down into smaller chunks rather than lump sum payments
Ability to consolidate your wedding debt, if you use the loan to cover multiple expenses through different vendors
Can be easier to budget
Focus on the wedding planning
Can be used for a variety of purposes

Interest rates and possible fees
Still repaying a loan after the big day
May have to add security to receive a high loan amount
Can harm credit score if you fail to repay the loan
Savings vs wedding loans: Which is the right option for me?
While both payment options have their pros and cons, choosing the 'right' financial path will depend on your individual financial situation.
Couples who are comfortable financially and don't feel they need a loan may prefer paying upfront, whereas couples who might not have an established savings plan may find a loan could ease their financial stress. Another reason to get a loan is to remove stress from the situation and receive the money you need when you need it: repaying the loan over manageable instalments can be much less stressful than scrambling to try and find some savings, especially as the wedding date gets closer!
Some couples will go down the path of both savings and a loan. By choosing a few financial options to cover costs, couples can benefit from the financial security of a savings plan while also having a stress-free planning process. No matter how you choose to fund your wedding, though, the most important thing is that you and your partner have a wonderful day!
---
Example 2: Sarah uses a personal loan to pay for the venue & honeymoon after receiving funding from her parents
Sarah and Jessica are planning their wedding for which they have budgeted $25,000. Sarah's parents have pitched in to pay for the photography and catering costs which total $12,000, leaving $13,000 outstanding.
Sarah and Jessica pool together the money they are willing to spend and find they're still $8,000 short. The final venue payment is due in 2 days, so they need a quick solution. Sarah applies for a personal loan with Jacaranda and receives $10,000. She puts most of it into the wedding budget, and the other $2,000 she plans on using for the honeymoon.
---
How to set an achievable wedding budget
Setting a realistic budget for your wedding is the first step to being in control of your finances. You might have been dreaming of a ceremony that rivals Kate and Will's, but can your wallet bear the brunt? It's important to understand that no matter how you plan on financing your wedding, it needs to fall within your financial means.
If you're wanting to be savvy and minimise wedding expenses, check out our money-saving tips for your wedding article.
1. Understand your expectations
Is there a particular venue you've had your heart set on? Does your partner want a highly sought-after wedding band that's booked out months in advance? Are you planning on having dessert tables as well as a wedding cake?
Try writing down all of your expectations around the big day and make them as precise as possible. Then, you can start to research how much a certain caterer would cost, and the price of hiring that old-fashioned car that you've always loved. Once you've managed to come up with a rough estimate of each of these costs, you can start looking at the big-picture.
2. Check your priorities
At the end of the day, whether you have three outfit changes or stick to the one dress, your wedding is about celebrating love with family and friends. So, it might be a good idea to not spend every penny on planning for a wedding that doesn't need to be over the top. Instead, be smart with your budgeting and make sure the aspects that you and your partner value are prioritised.
3. Set a realistic budget
Most Aussie couples allocate roughly $25,000 for their dream wedding when they begin planning. Unsurprisingly, most end up going 25% over budget. This is because many fail to factor in additional costs that are more than likely to pop up throughout the planning process. While finding yourself in need of some extra cash when planning might not be the end of the world, having a realistic budget that you can stick to will alleviate a lot of stress.
If you can't justify spending thousands on an extra course during the reception, then don't. Thanks to social media, weddings continue to become more extravagant these days, and many find themselves overwhelmed with all of the 'must-haves'.
4. Plan it out
There are plenty of great resources out there to plan your wedding budget. The MoneySmart wedding budget planner template lets you factor in both your and your partner's expenses and spending to see how much you can realistically save before the big day.
Jacaranda Finance Wedding Loans
At Jacaranda Finance, we offer personal loans for weddings for up to $25,000. Apply now in just 5-12 minutes1 and you could receive your outcome on the same day2. Whether the loan amount covers the ring, the dress, the catering or the venue, let Jacaranda alleviate some of the wedding stress and help you pay for a portion of the costs of your special day. 
This article is an update to the original posted on 20th September 2021.
Jemima Kelly is a Content Writer at Jacaranda Finance. She is enthusiastic about accurate and informative content, and holds a Bachelor of Creative and Professional Writing from QUT.