8th November 2022
Can you get a personal loan for solar panels?
Solar panels are being installed at a record pace in Australia, and they can make for a solid investment. Unfortunately, they can also be quite expensive, presenting a potential roadblock for some.
Last modified: 20th November 2023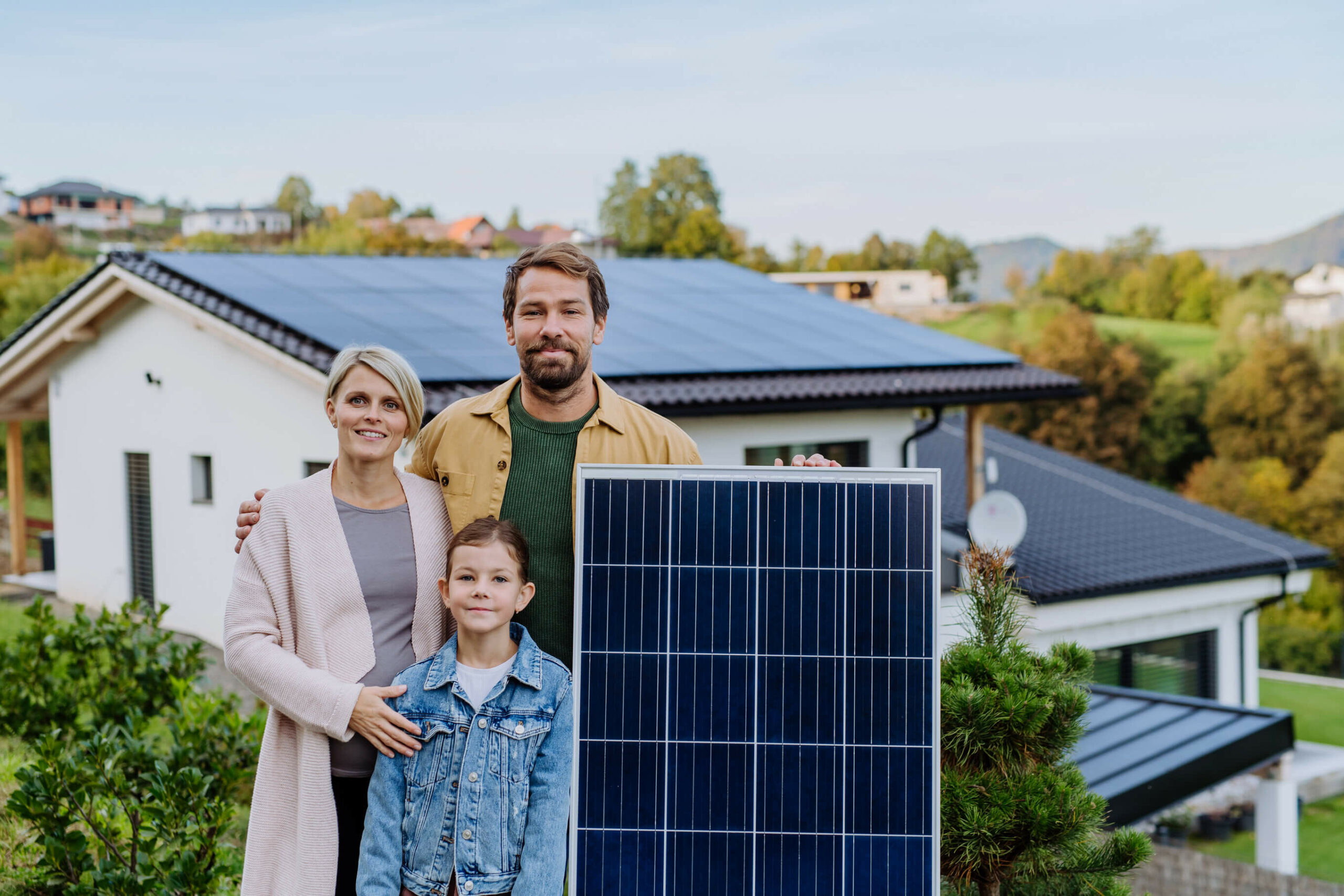 One financial option to fund the cost of solar panel installation is by using a personal loan. In this article, we'll go into detail on how solar panels work, how much they cost, how much they could save you on your energy bills, and of course, the pros and cons of using a personal loan to pay for them.
On this page:
The information on this web page is general in nature. The information does not take into account your objectives, financial situation or needs.
First things first: What are solar panels?
A solar panel is a collection of photovoltaic (PV) cells that are combined to generate energy from the sun's rays. Rooftop solar panels are installed on the roof of a home and convert light into energy which can power your home.
According to the Clean Energy Regulator (CER) more than 3 million Australian homes and businesses had a rooftop PV system installed by the beginning of 2022. Given we receive enough solar radiation in a single year to power the entire country 10,000 times over, having a few solar panels on a roof can generate a lot of energy for your home.
Solar panels vs solar batteries: what's the difference?
Often confused and used interchangeably with solar panels, a solar battery is a device that stores the excess energy generated from a solar PV system for later use. So essentially you can have both solar panels and a battery: the solar panels generate the electricity, and the battery stores it for you to use during periods where generation (a.k.a. sunlight) is low or demand from the grid is high.
How much do solar panels cost?
The cost of buying and installing solar panels on your roof can vary based on a number of key factors, primarily:
The system size (i.e number of kilowatts) and the number of panels
Your location and house design (i.e. will it be difficult to install?)
The angle of your roof (they must be angled towards the sun, so a flat roof can cost more to install)
The quality of the panels you choose
The installer you choose
Any government (state or federal) rebates you're eligible for
The market demand at the time
Your method of payment (i.e any extra costs associated)
Just to name a few. So it's hard to nail down an exact price for buying solar panels in Australia because there are so many different variables. However, the approximate cost of a good quality solar system installation according to SolarQuotes as of September 2022 is as follows:
| System size | Number of panels | Cost Range (September 2022) |
| --- | --- | --- |
| 1.5kW | 4 | $2,500 – $4,000 |
| 2kW | 6 | $3,000 – $4,500 |
| 3kW | 8 | $3,500 – $5,000 |
| 4kW | 11 | $4,000 – $6,000 |
| 5kW | 14 | $4,500 – $8,000 |
| 6.6kW | 18 | $5,500 – $9,000 |
| 7kW | 19 | $6,500 – $10,000 |
| 8kW | 22 | $7,500 – $11,000 |
| 10kW | 27 | $8,000 – $13,000 |
In short, you can expect to pay at least a few thousand dollars for good solar panel installation.
Note that this does not include the cost of buying and installing a solar battery: the two are separate things, and according to Solar Choice, the average out-of-pocket cost for a solar battery as of November 2022 is anywhere between $4,110 and $25,000 depending on the battery size.
How long does it take to save money with solar panels?
The main draw of installing solar panels - apart from being trendy - is to save money on your energy bills long-term. Ideally, the savings generated on your bills eventually eclipse the cost of buying the solar system in the first place. The length of time it takes to do this is known as the payback period.
As an example, let's say you bought an $8,200 solar panel system that saves you roughly $600 each quarter on your electricity bills. In this scenario, your payback period would be 3.4 years (8200 / (600 x 4)). Of course, you can continue to reap the rewards of cheaper electricity after this point, but the payback period is simply the length of time it takes for your investment to be worth the money.
The Australian Energy Council publishes a quarterly report on solar energy in Australia, and it calculates its own payback period numbers. Depending on the city and the size of the system, the average payback period can be as little as ~3 years and in excess of 10 years. Generally speaking, a payback period of 4-5 years is common for the typical household with solar panels.
Why should I install solar panels in my home?
Lower energy bills
One major reason to install solar panels (for most people) is to cut down on their household electricity bills. Depending on a number of factors like the solar system, the property, your energy consumption habits and more, annual savings on electricity thanks to solar panels can be over a thousand dollars in some cases. Canstar Blue, for example, worked out that a house in NSW with a 5kW solar system could reach estimated yearly savings of roughly $1,130.
Increasing property values
Installing solar panels can also earn you money when you sell your house. According to an Origin Energy survey in 2020, 77% of Australians think a house with solar is more valuable than one without. For the investors, 55% of renters said they would be willing to pay up to $10 a week extra for a solar home.
Overall, median house prices for properties with sustainable features like solar panels are 10% higher, according to the PRD Nationwide Green Guide for 2018.
Sustainability
Households alone are responsible for 12% of Australia's total carbon emissions each year and use 24% of the electricity. That's a lot!
Installing solar panels and other sustainable features can drastically cut down on your carbon footprint.
Government rebates aplenty
More and more government support - both state and federal - is popping up all the time to encourage everyday Australians to take a punt on some panels. These incentives can come in the form of:
Grants, which give a cash payment to people buying solar panels
No-interest loans for people in certain states/territories
Rebates and concessions that make buying and using solar panels cheaper
And more. Check out the Department of Energy's tool to find out if you're eligible for any rebates and assistance. You could save thousands!
Can you get a personal loan for solar panels?
If you're thinking of joining the green revolution and adding some shiny solar panels to your home's roof, then one popular method of paying for them is with a personal loan. Personal loans can be an ideal option for buying solar panels due to a number of reasons, mainly:
The maximum loan amounts, which tend to be larger than options like credit cards or buy now, pay later (BNPL)
The loan terms can be a bit longer than other options and can have more manageable repayments
As we showcased above, a good solar panel can easily cost $10,000 or more. That's more than most BNPL platforms allow you to borrow, and if you were to borrow that much on a credit card you could be facing a less-than-ideal situation if you need to pay the credit off all at once.
Personal loans, however, commonly have loan limits within this range and can let you spread out the repayments over several years.
What's more, a flexible personal loan (like Jacaranda's Express Personal Loan) lets you pay above the minimum required amount, so you can pay off the loan faster and save money if you choose.
One final benefit of choosing a personal loan over other options is the security they offer. Personal loans, like those offered by Jacaranda, undergo a thorough credit and financial assessment for all applicants, meaning you shouldn't be offered a loan that isn't suitable for your needs.
The better your financial situation, the better your loan terms can be with a personal loan. This is particularly true if you have an asset - usually a car or your home - that you can use as security on the loan, which can grant you access to higher loan amounts and better rates as well.
Solar panel personal loans: pros and cons
Personal loans can be a safe and reliable way to finance solar panel installation on your home, but they won't be for everyone. Whether a solar panel loan is right for you will come down to your unique situation: there are some potential negatives you should consider as well.
Below is a quick summary of the pros and cons of buying solar panels with a personal loan:
Pros

Cons

Higher loan limits: Personal loans tend to have maximum loan limits in the five digits, sometimes more! This can be ideal for something as costly as a personal loan.
Credit assessments: Most personal lenders will undertake a credit assessment when you apply to ensure you can afford the repayments before they send you an offer.
Flexibility: Personal loans can be used for a variety of different things, not just solar panels. Plus, you can make extra repayments and change their frequency (for free with Jacaranda!).
Longer loan terms: Personal loans can let you pay off the loan over several years (commonly 2-3), which can make the ongoing repayments easier to manage.

Generally higher rates: Other options like BNPL and Green Loans from certain banks can have lower interest rates in most cases. But these aren't available to everyone, and can have other drawbacks as well…
There may be fees: Personal loans can also charge monthly fees depending on the loan, as well as charges for missed/late repayments. But this is common across many credit products.
Eligibility criteria apply: Other products can be a bit looser with who they provide funds to. But a reputable personal lender will only provide loans to people who meet their internal criteria, which can end up excluding people with low credit scores, incomes etc.
Don't miss your repayments: Not only can you be charged a missed payment fee, but missing a repayment can have negative consequences on your credit score too!
Consider a Jacaranda personal loan
At Jacaranda Finance, our express home improvement loans can be used to buy and install solar panels and batteries for your home. With secured loans available for up to $25,000, a Jacaranda solar loan could be the solution you're looking for if you're ready to go green on your home.
We've helped thousands of everyday Australians turn their house into a home, so what are you waiting for? Check out our personal loans today and apply!
William is the Content Manager at Jacaranda Finance. He has worked as both a journalist and a media advisor at some of Australia's biggest financial comparison sites such as Canstar, Compare the Market and Savings.com.au, and is passionate about helping Australians find the right money solution for them.
You can get in touch with William via
williamj@jacarandafinance.com.au
.