6th September 2022
How BNPL can affect your loan application
In this article, we'll detail how buy now, pay later can impact your chances of approval for a personal or car loan.
Last modified: 8th March 2023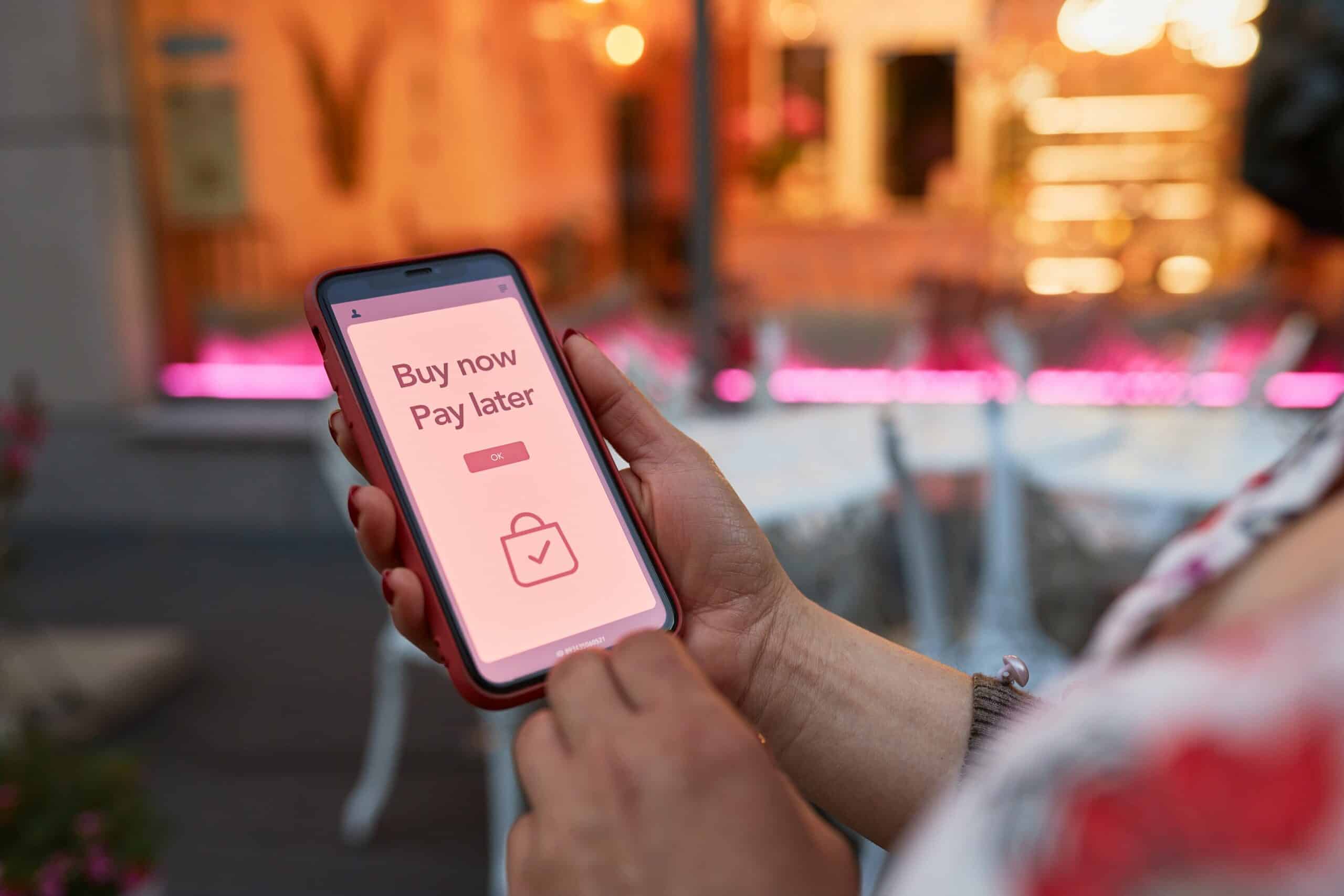 Buy now, pay later, or BNPL for short, has emerged as a new payment option in the last several years.
Traditionally known as 'lay-by', services like Afterpay and Zip sprang up in the middle of the 2010s, marketing themselves as the payment of choice for 'modern' customers.
But what is BNPL exactly, and can it affect your credit? As it turns out, BNPL might be worse for you than you thought. In this article, we'll detail how buy now, pay later can impact your chances of approval for a personal or car loan.
On this page:
This article is the first in a three-part series on things that can harm your loan application. Up next: payday loans.
First things first: what is BNPL?
Buy now, pay later (BNPL) is a payment option that allows customers to buy something straight away but pay for it in even instalments, usually four. Most major BNPL platforms require one upfront payment to start (often one-fourth), before scheduling the remaining payments.
The majority of BNPL platforms don't charge interest or ongoing account fees, separating them from the standard credit card which can charge interest rates in excess of 20% p.a. Instead, BNPL tends to charge the following:
Merchant fees, by charging retailers a small portion of each sale
Late payment fees for missed payments, commonly around $7-$10 each time
So if you make all your repayments on time, most BNPL platforms technically won't charge you anything. But the danger lies in those missed payments: recent research from Curtin University shows the late fees are effectively high 'quasi-interest rates', and can even be higher than a comparable credit card.
The research found that based on the average BNPL purchase of $151, a customer that either incurred late fees or account-keeping fees would pay an effective interest rate of 28.25% p.a. for Afterpay, which charges a $10 late fee and $7 for each subsequent missed payment.
What are the major BNPL platforms?
According to Roy Morgan Research, more than four million Australians (19.1%) used a BNPL service at some point in the year to June 2022, and around 83% of Aussies are aware of them. Yet separate research from the Reserve Bank shows BNPL still accounts for less than 1% of all purchases. But 1% of billions is still a significant number.
Making up the majority of these customer purchases are the following key BNPL platforms:
| | | | |
| --- | --- | --- | --- |
| | Number of instalments | Maximum credit limit | Costs |
| Afterpay | 4, fortnightly - 1 upfront | $1,500 transaction limit $2,000 outstanding balance limit | $10 late fee $7 for each subsequent late fee |
| Zip Pay | Flexible | $350 - $1,000 | $7.95 monthly fee if the balance is unpaid |
| Humm | 5-10, fortnightly | Up to $2,000 ('little things' plan) | $6 for each missed payment $8 monthly fee if 10 repayments |
| Latitude Pay | 10, weekly 10% of purchase upfront | Up to $1,500 | $10 late fee |
| Openpay | Up to 24 months, fortnightly 10% deposit over $2,000 20% deposit under $2,000 | Over $2,000, can vary based on application | Monthly fees up to $5 Late fees apply |
| PayPal Pay in 4 | 4, fortnightly 25% upfront | Up to $1,500 | N/A |
| CommBank StepPay | 4, fortnightly | Up to $2,000 | $10 late fee |
| NAB Now Pay Later | 4, fortnightly | Up to $1,000 | N/A |
Source
:
Individual providers' websites.
Will BNPL affect your loan application?
In short, yes, BNPL can affect your loan applications. But in a more detailed way, it's complicated. Despite not technically being categorised as credit, most lenders still view it as such, and if you use BNPL to make transactions of any size, this will be considered a debt by any responsible lender.
Unlike other 'bad debts and expenses' like gambling, wage advances or payday loans, Jacaranda Finance won't automatically reject your loan application if you reach a certain number of BNPL transactions. But every BNPL purchase we see in your financial statements will increase your debt-to-income ratio (DTI), which is essentially just your monthly debt payments divided by your gross monthly income.
According to Jacaranda Finance Customer Service Manager Ashleigh Garner, a higher DTI increases the chance of an unfavourable loan outcome.
"Your debt-income ratio is used to assess your ability to meet your repayments. Having more loans and debts to repay reduces the chances of us fitting a new repayment into your budget," she said.
"Each lender has its own guidelines, but generally speaking the more active debts you have at the time of applying, the greater your chances of rejection. That can include the common forms of debt, like mortgages, credit card repayments and other personal loans, but we include BNPL in that as well.
"If the amount you're paying towards BNPL services overcommits you and we can't fit a loan into your budget, you won't be approved."
Missed repayments can hurt your credit score
While using buy now, pay later platforms every now and then and paying on time, every time can only have indirect effects on your credit, missing repayments and being charged a late fee can directly lower your credit score.
An ASIC review in 2020 found that 21% of users missed a payment in a 12-month period, with nearly half of those (45%) getting stung with multiple late fees. Missing a payment and defaulting on the debt entirely could result in a credit default being reported on your credit file.
"Jacaranda's modern loan-processing platform MIMO will also spot late payment fees and defaults on your bank statements, which can stand out on any loan application," Ms Garner said.
"Try to cut down on any existing BNPL debts a few months before applying for a personal loan."
See also: How to improve your credit score.
How to use BNPL responsibly
You can still get a personal or car loan if you use BNPL. Like everything, moderation is key. Trying the following can help you use it responsibly and avoid any fallout:
Don't use it for everyday expenses: while non-essentials like clothing (28%) and electronics (16%) are the most common purchases, too many people use BNPL for essentials like food (9%) and bills/utilities (6%). The more you buy, the more you owe.
Stick to one at a time: there are well over a dozen providers available in 2022, and more could enter the market any day. Despite there being so many, they all mostly do the same thing, so just use the one and only one if you can.
Link your account to your debit card: Credit card users (66%-73%) are much more likely to miss repayments and suffer extra consequences than those who link their account to a debit card. Set up automatic direct debits to your everyday bank account, as paying your debts with a credit card is just swapping one debt for another.
Don't splurge: Only buy what you need or the occasional treat. Many BNPL companies offer incentives and discounts with certain brands, but this could be a huge expense if you get sucked in.
Budget accordingly: If you don't already have a budget, make one and factor your debts into it! Make reminders of when your repayments are due to be sure you have enough money in your linked account.
Tips to get your loan application approved
Each lender will have its own guidelines on how it assesses things like buy now, pay later, but as a general rule, doing the following is likely to boost your chances of being approved for a loan:
Increase your savings: having a good amount of regular contributions to your savings account is a positive sign for a lender. Adding extra money regularly can help you get approved.
Pay off other debts: other high-interest debts like credit cards can lessen your chance of approval, especially if you're struggling to repay them. The more debts you have, the higher your debt-to-income ratio, and the higher your chances of rejection. Consider consolidating your debts to make paying them off a bit more manageable.
Check your borrowing power: estimate your borrowing power online before you apply with a borrowing power calculator, such as ASIC's. Being honest with your expenses and income can give you a more accurate estimation of what you can afford, and could stop you from applying for an unrealistic loan.
Maintain consistent income: whether you're employed full-time, part-time or you're self-employed, try to maintain at least one year of consistent income from your work before you apply. This demonstrates to the lender you have a steady stream of money to pay off your loan.
And of course, you can improve your chances of loan approval by minimising your use of buy now, pay later services as well other things like payday loans, wage advances and spending on gambling.
Jacaranda Finance Personal Loans
A Jacaranda Finance personal loan could be a more responsible option than overusing buy now, pay later.
To get started, simply submit an application through our 100% online application process in as little as five minutes1. Our process is one of the quickest in the business: 90% of applicants will receive an instant outcome. The rest should hear back from us on the same day of submitting an application.2
William is the Content Manager at Jacaranda Finance. He has worked as both a journalist and a media advisor at some of Australia's biggest financial comparison sites such as Canstar, Compare the Market and Savings.com.au, and is passionate about helping Australians find the right money solution for them.
You can get in touch with William via
williamj@jacarandafinance.com.au
.