14th February 2023
5 Easy Home Renovation Ideas Under $15,000
Discover 5 budget-friendly home renovation ideas that can be completed for under $15,000. From updating your kitchen to revamping your bathroom, these projects are sure to give your home a fresh new look without breaking the bank.
Last modified: 21st April 2023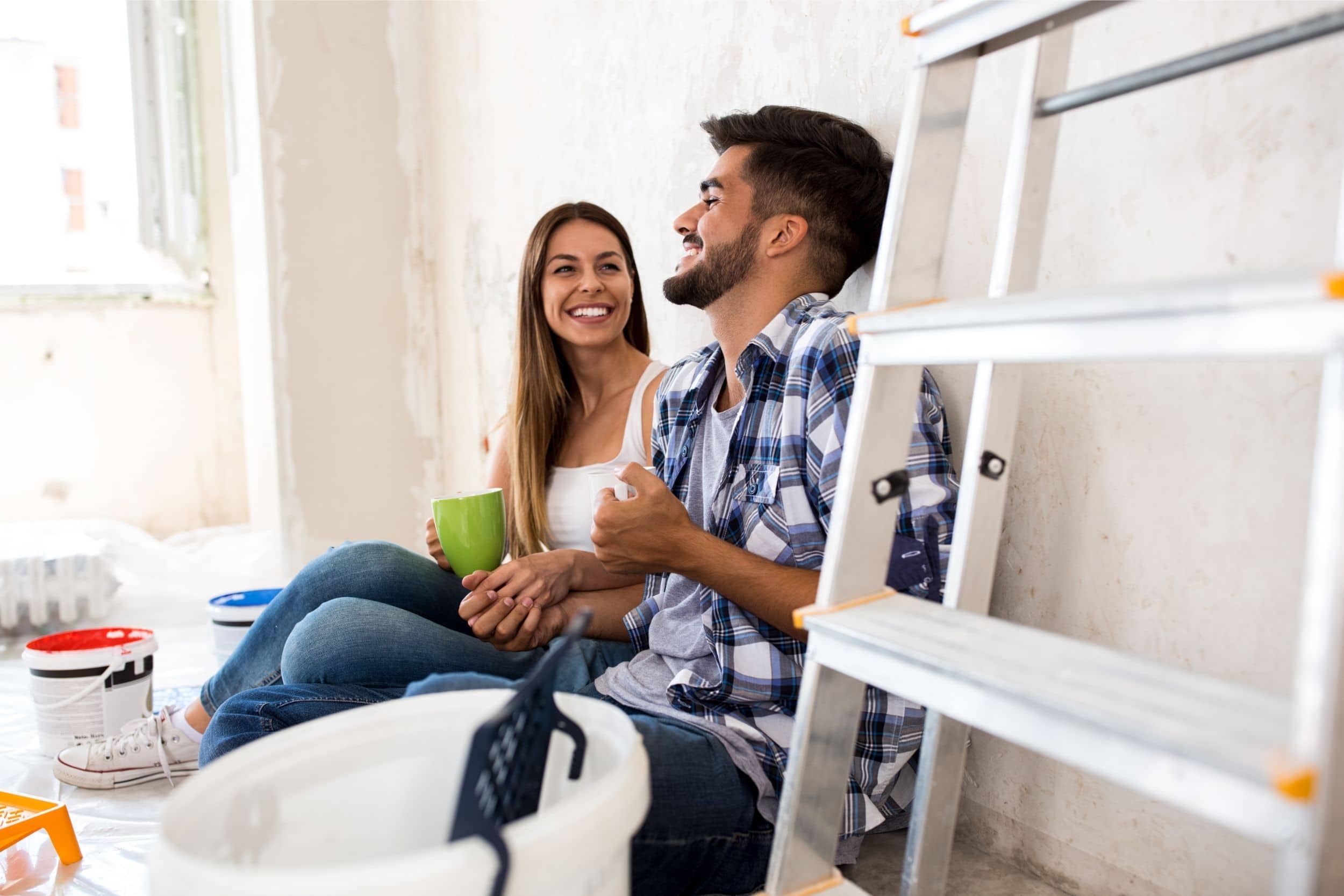 Renovating your home can seem like a daunting task, especially when you start thinking about the costs involved. According to our article on the cost of an entire home renovation, making home improvements can cost at least $40,000 and up to $300,000 or more!
But that's for a complete home renovation: you can make plenty of individual changes to your home that won't cost a fortune. If you're looking to renovate your home in ways that don't break the bank and are within a more modest price range, here are five 'easy' home renovations you can do for under $15,000.
At Jacaranda Finance, $25,000 is how much you could borrow with our secured personal loans. If you need money to finance your dream home renovation, then check out our home improvement loans to see how we could help!
---
On this page:
The information on this website is for general information only. It should not be taken as constituting professional advice from the website owner - Jacaranda Finance.
Jacaranda Finance is not a financial adviser and the content on this page does not take into account your objectives, financial situation or needs. You should consider seeking independent legal, financial, taxation or other advice to check how the website information relates to your unique circumstances.
Jacaranda Finance is not liable for any loss caused, whether due to negligence or otherwise arising from the use of, or reliance on, the information provided directly or indirectly, by use of this website.
---
1. New floors
Total cost: $5,000-$15,000
Replacing old flooring with new laminate, tile, stone or hardwood floors can be done for well under $15,000. The cost of installing new floors will largely depend on the material you pick and the size of the job: prices will often be described on a per-meter squared basis.
If you're in a bit of a DIY mood, installing new flooring isn't too complicated to do yourself. Bunnings is usually an excellent hub for supplies and advice when completing DIY home renovations and improvements.
Here's a breakdown of the approximate costs to install various different types of floors in a standard living room sized at 25m2 based on data from HiPages.
| Type of floor | Cost per/m2 | Total cost (25m2 room) |
| --- | --- | --- |
| Vinyl | $30-$40 | ~$1,000 |
| Timber | $50-$80 | ~$3,875 |
| Epoxy | $30-$35 | ~$750 |
| Parquet | $150 | ~$5,625 |
| Cork | $60-$100 | ~$2,250 |
| Floating floorboards | $40-$100 | ~$1,375 |
| Stone | $60-$120 | ~$5,000 |
| Tiling | $20-$100 | ~$2,250 |
| Bamboo | $100 | ~$2,500 |
Source: HiPages. Total cost may include installation costs as well as materials.
---
2. A fresh paint job
Total cost: $2,000-$10,000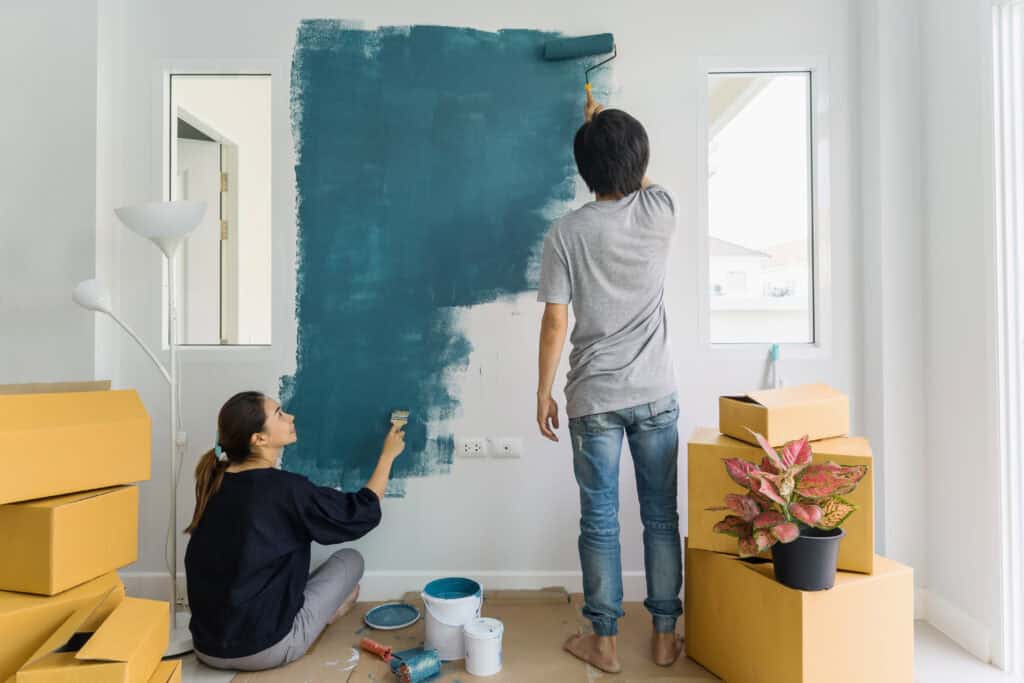 An often less extensive process than flooring, but equally as transformative, a fresh paint job can be a great way to refresh a home. According to HiPages, the average cost of painting a house in Australia can be anywhere from $2,500 to $20,000, depending on the size of the job and whether it's an interior or exterior painting.
For interior painting, you can expect to pay around $20 to $30 per square metre, while the exterior of your home could set you back anywhere from $15 to $45 p/m2.
That's if you're hiring a professional painter. As one of the simpler home reno jobs, painting can be DIY if you're up to it, but it is still more challenging than meets the eye. Not only will you have to buy all the painting tools (brushes, rollers, trays, tape etc.), but you'll also have to make sure you:
Fill in any cracks in the walls;
Sand down the plastered surface;
Clean the walls;
Tape up hardware and fixtures (light switches, fans, etc.).
---
3. New kitchen countertops & appliances
Total cost: $5,000 - $15,000
The kitchen is one of the most important parts of any home. Often called the heart of the home, kitchens are the most popular renovation option according to the Houzz & Home Renovation Trends Study (26%), followed by living rooms (23%) and bathrooms (17%).
If your kitchen is a bit old and outdated, you can replace the kitchen countertop without doing any real structural work or changes. A new kitchen bench can give a new style to a kitchen, and it's pretty easy. Plus, it can be highly affordable. While a full kitchen renovation can set you back tens of thousands, hiring a specialist to install new laminate, timber, marble or natural stone surface on your countertop can cost anywhere between $5,000 to $15,000, according to HiPages.
Some alternatives you can look into for smaller, budget-friendly kitchen upgrades include:
Installing new cabinets
New flooring or lighting
Upgrading your appliances.
If you're in the market for a new fridge, dishwasher, oven or another high-end kitchen appliance, check out our white goods loans.
---
4. Revamp your bathroom
Total cost: $5,000 - $25,000
A good bathroom that looks nice, is well ventilated and meets your space requirements is an incredibly underrated part of a home. If your current bathroom isn't up to scratch, renovating it could be a good idea.
Renovating your bathroom can lead to high costs: HiPages states that a bathroom renovation can cost anywhere from $10,000 to $35,000. It's easy to see why when you consider all you can do with a bathroom remodel:
Replace the shower screen and mirror
Replacing the showerhead or taps
New floors/tiles and a new coat of paint
Adding a new vanity or counter
Adding heated floors
Adding new storage
Adjusting the wall frames
And completely stripping out the existing bathroom
However, simple bathroom renovations using more budget-friendly materials can be kept to under $15,000, and if you're doing something simple like replacing the showerhead, you could even do that yourself with a few tools and some elbow grease. For example, OpenAgent says that budget bathroom renos can be done for as little as $5,000, while the average sits at just over $17,000.
See our bathroom loans page for a cost breakdown of the main elements involved in a bathroom renovation, and for more information about how a Jacaranda loan could help you.
---
5. Landscaping: Front and backyards
Total cost: $5,000 - $10,000
Landscaping your front and back yards can be an easy way to make your home look nicer to you and potential buyers! As we'll explain below, landscaping can be one of the most cost-effective ways to increase the value of your home.
OpenAgent says landscaping can usually cost about 5% - 10% of your home's value as a general rule. For example, if your home is valued at $500,000, that could mean shovelling $25,000 - $50,000 into the landscaping.
But again, that's for a full landscaping job: individual projects here and there can cost a lot less:
A garden redesign (including 3D renderings) can cost up to $6,000
New retaining walls with plants can cost about $3,000
New natural turf and garden light can set you back around $2,500
New trees and bushes could cost approximately $3,500
You get the idea. Bigger projects like a deck can cost roughly $160-$220 per/m2. These exterior projects are most immediately visible when finished and can give your home some enhanced street appeal to make the neighbours jealous.
Check out our landscaping loans to see how Jacaranda could help you transform your home's exterior.
---
The total cost of renovating a house
According to Architecture and Design, 50% of all full house renovations in Australia can cost anywhere between $40,000 and $300,000. The average renovation costs in our most expensive states are as follows:
Average renovation costs in the most expensive states for 2022
| State | Cost |
| --- | --- |
| VIC | $71,000 |
| NSW | $66,600 |
| QLD | $60,500 |
| ACT | $60,000 |
| National Avg | $63,500 |
But as mentioned, these are the average costs for a full renovation. Renovating just one room or specific thing in your home will cost a lot less. The overall cost of your project will largely depend on several factors:
The size of the job
The materials used
The contractors/builders
The location
The state of the market and the cost of acquiring materials.
What renovations add the most value to a home?
Renovating is a great way to get new life out of an older home. Even smaller renovations, like new flooring and paint, can rejuvenate your home and make it seem modern, stylish, and even more valuable!
Westpac research found 89% of people believe renovating is good for increasing the value of their home, and they're not entirely wrong. While not always the case, some renovations can really give your home's value a boost, such as:
A new yard: Landscaping can add as much as 28% to your property's value (OpenAgent), while other exterior upgrades that add value can include a nice fence (+10%), a patio or deck (+12%) and a nice new garden (5%-17%).
Green tech and solar panels: According to an Origin Energy survey in 2020, 77% of Australians think a house with solar is more valuable than one without, and the median price for properties with sustainable features is 10% higher on average! Features like solar panels can also make a home sell much faster on the market.
Bathroom and kitchen upgrades: Redoing your bathroom can have a recovery rate of 75% (i.e. 75% of the cost is added to your home's value), while a full kitchen remodel can provide a return on investment of 62%.
Meanwhile, 'quirky' renovations like painting your walls a unique colour or picking an odd style of carpet can reduce your home's resale value. Even if you like it, you have to consider what the average person prefers if making a profit is your goal.
Jacaranda Finance Renovation loans
Jacaranda Finance could give you the financial boost you need to get the ball rolling on your dream renovation project. We offer fast and flexible renovation and home improvement loans for up to $25,000, with manageable repayments spread over loan terms of up to 48 months.
Apply in minutes1 today!
William is the Content Manager at Jacaranda Finance. He has worked as both a journalist and a media advisor at some of Australia's biggest financial comparison sites such as Canstar, Compare the Market and Savings.com.au, and is passionate about helping Australians find the right money solution for them.
You can get in touch with William via
williamj@jacarandafinance.com.au
.