How to use the FastMoney App
Fast and reliable finance from $2,100 to $25,000 for everyday working Australians. Try the App now!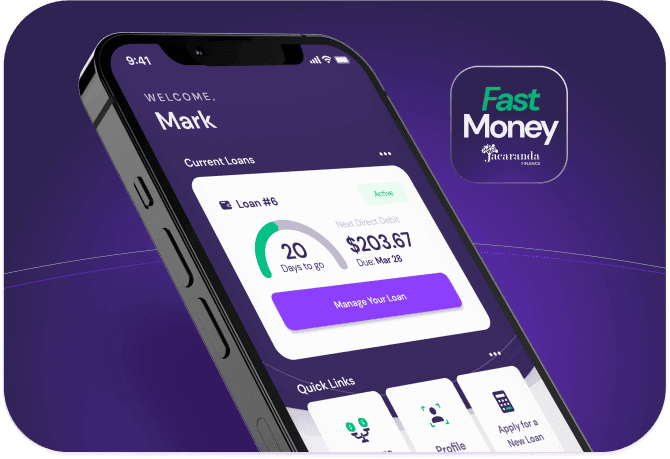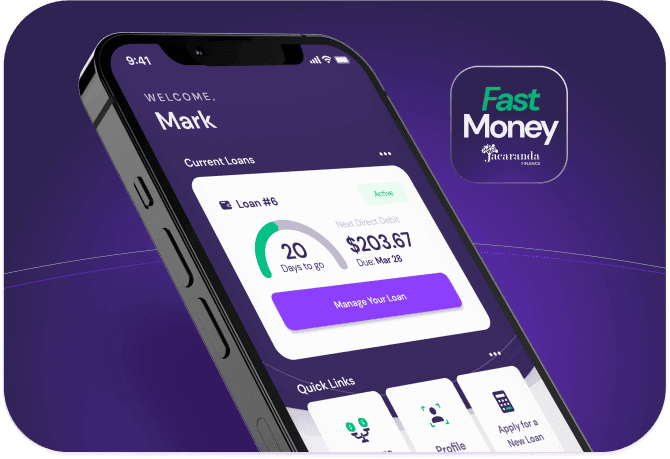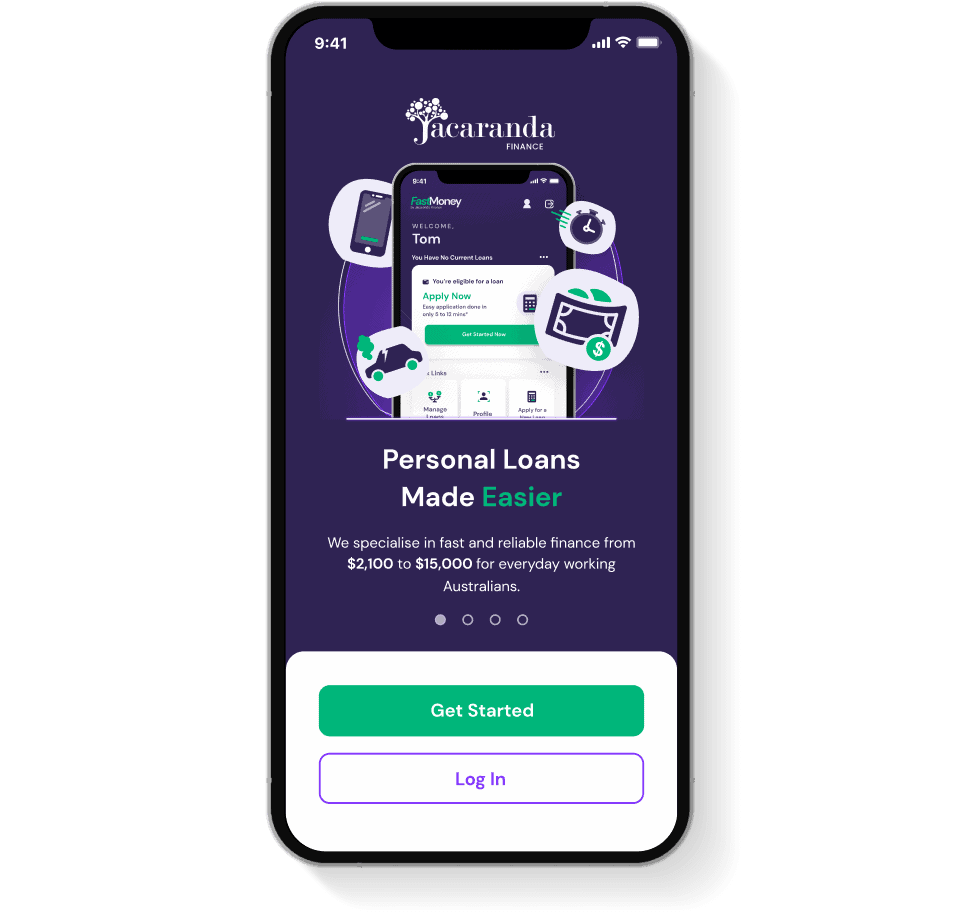 About the app
The FastMoney App from Jacaranda Finance is a one-stop shop to quickly manage and apply for loans with an award-winning lender. Currently, the app lets you do the following:
Apply for a loan in just 5-12 minutes1 or refinance your existing loan;
Receive a same-day outcome2 on your application and 60-second transfers to your bank account if approved3;
Check your loan balance and loan contract;
Request loan statements;
Request to change your repayment dates and frequency (weekly, fortnightly, monthly);
Quickly contact our customer service team for anything you need;
Safe, secure data protection and encryption with biometric logins available.
Who can use the FastMoney App?
Anyone with a smartphone can download the app and make an account, whether you're an existing Jacaranda customer or not. To apply for and manage a loan, however, you must meet the minimum eligibility criteria we have for each of our loan products:
The basic eligibility criteria you must meet before submitting an application:
Be at least 19 years of age.
Be employed on a permanent or casual basis.
Have a consistent income going into your own bank account for the last 90 days.
Be in control of your finances and be handling existing financial commitments comfortably.
Be an Australian citizen or permanent resident with a fixed address.
Have an active email address, phone number, and online banking account in your name that belongs to you.
We accept a wider range of credit history than a bank or a prime lender, but we do not recommend submitting an application if:
You are currently or recently bankrupt (you must be three years discharged and in control of your finances)
You are not comfortably repaying your existing financial obligations
How do you download it?
You can download the FastMoney app on either Google Play or the Apple Store anytime by clicking the links above. It's completely free to use: the only fees and charges are the ones associated with your loan.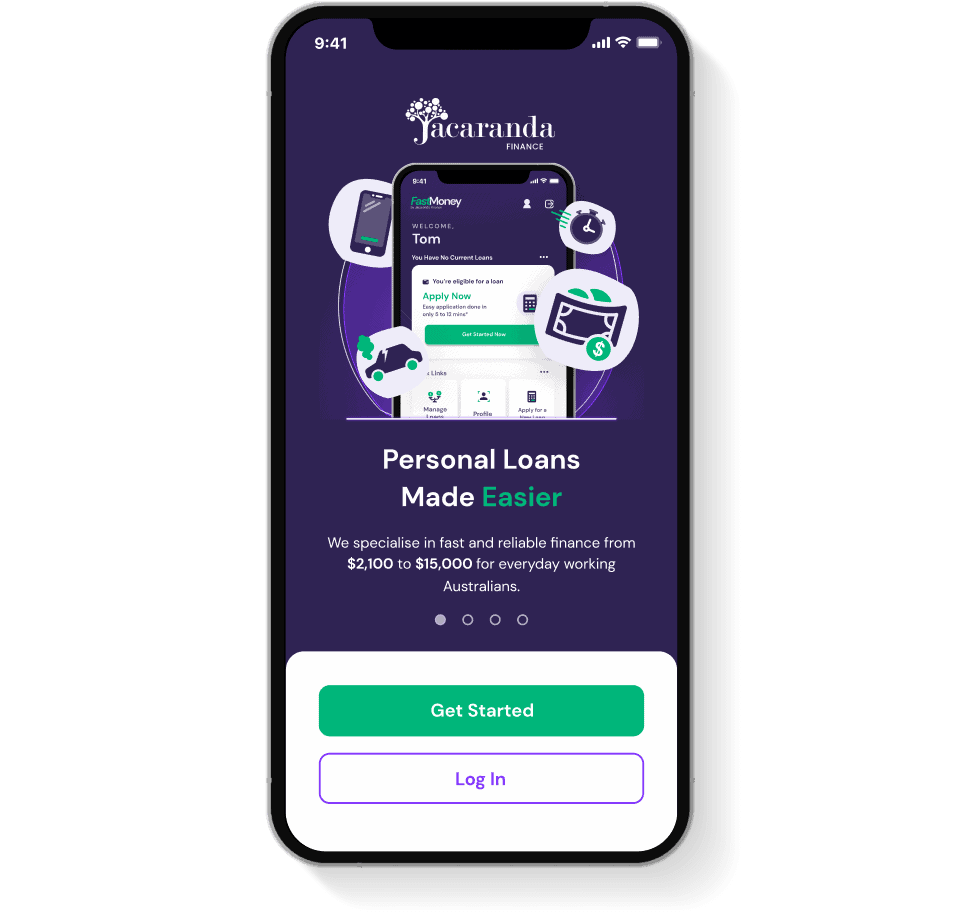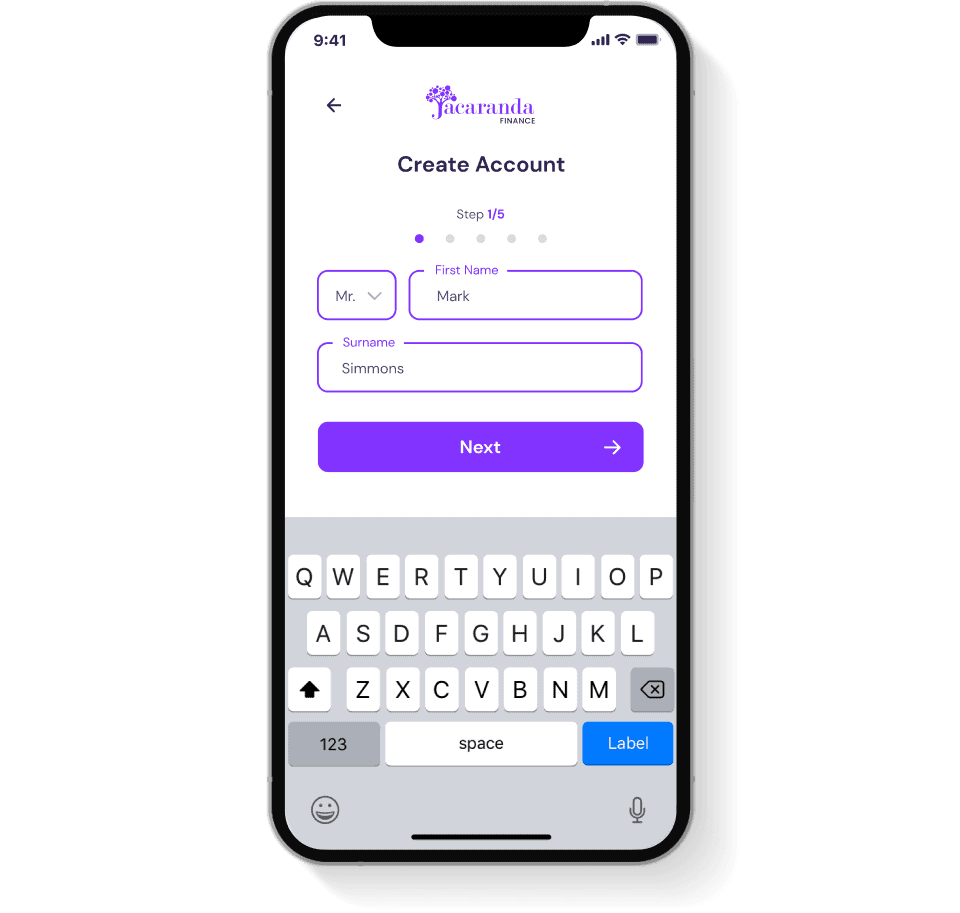 How to sign in
On the FastMoney app home screen, you'll be directed to either 'get started' or log in. If you're an existing customer, log in with your current email address and password you created when you first signed your loan contract. Don't worry if you can't remember your password - we can send you a link to create a new one.
Upon successfully logging into the app for the first time, you'll be prompted to create a 4-digit passcode. After confirming this, we'll also ask if you want to set up either a Face ID or a fingerprint login for faster access next time.
If you're not already a customer with Jacaranda, you'll hit the 'get started' button to begin an application (see below).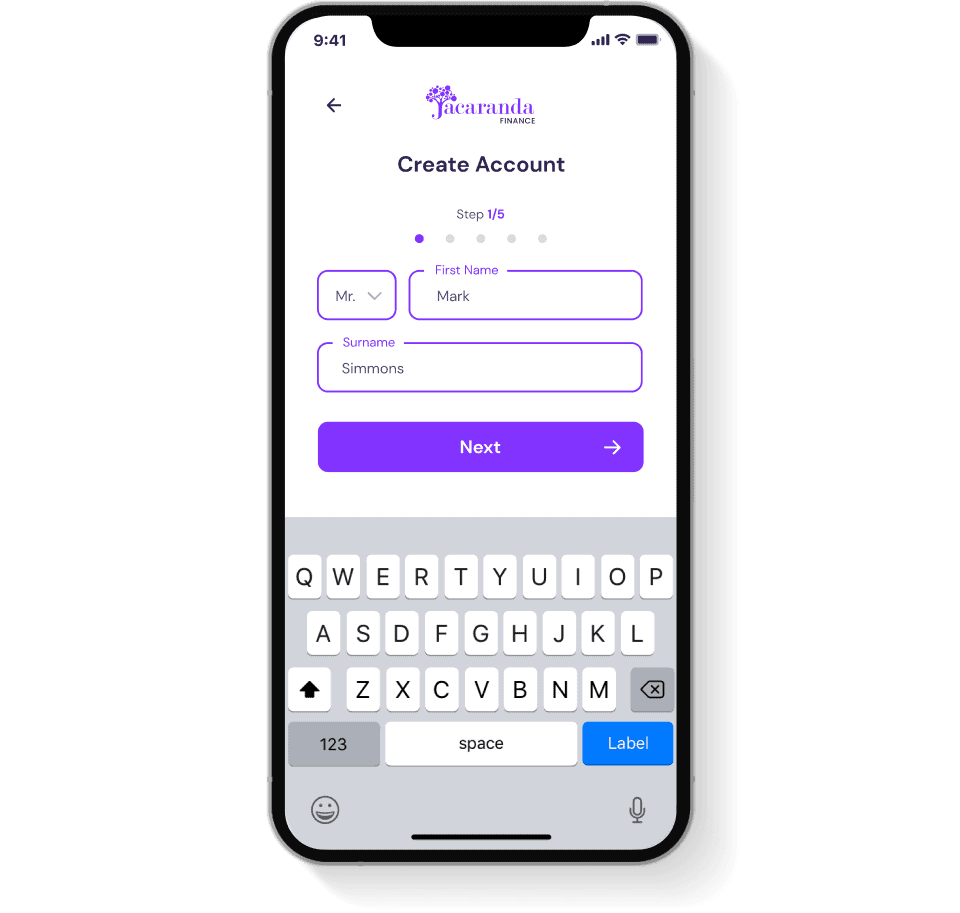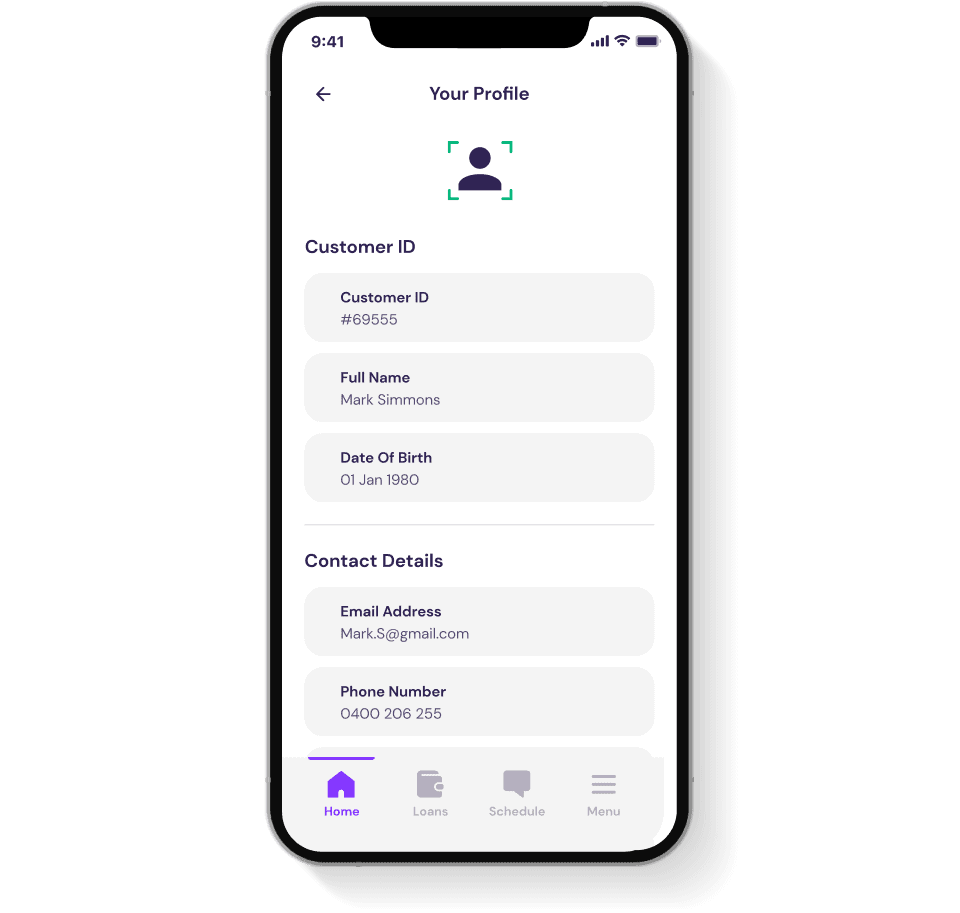 Manage your profile with ease
Your profile in the FastMoney app contains all your important details like:
Your unique customer ID
Your full name, DOB
Your email address and phone number
Your residential and postal address
Your payment details
Notifications
You can hit the button at the bottom of your profile to request a change to any of your personal details, such as your address or contact information, at any time.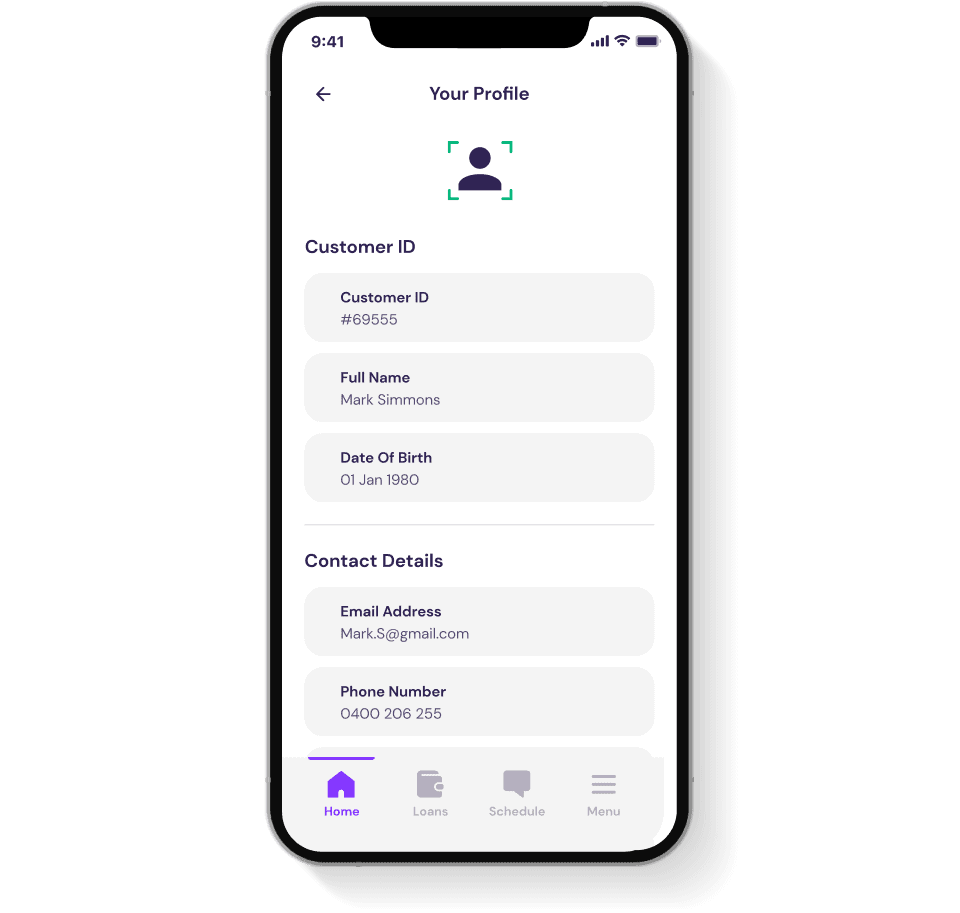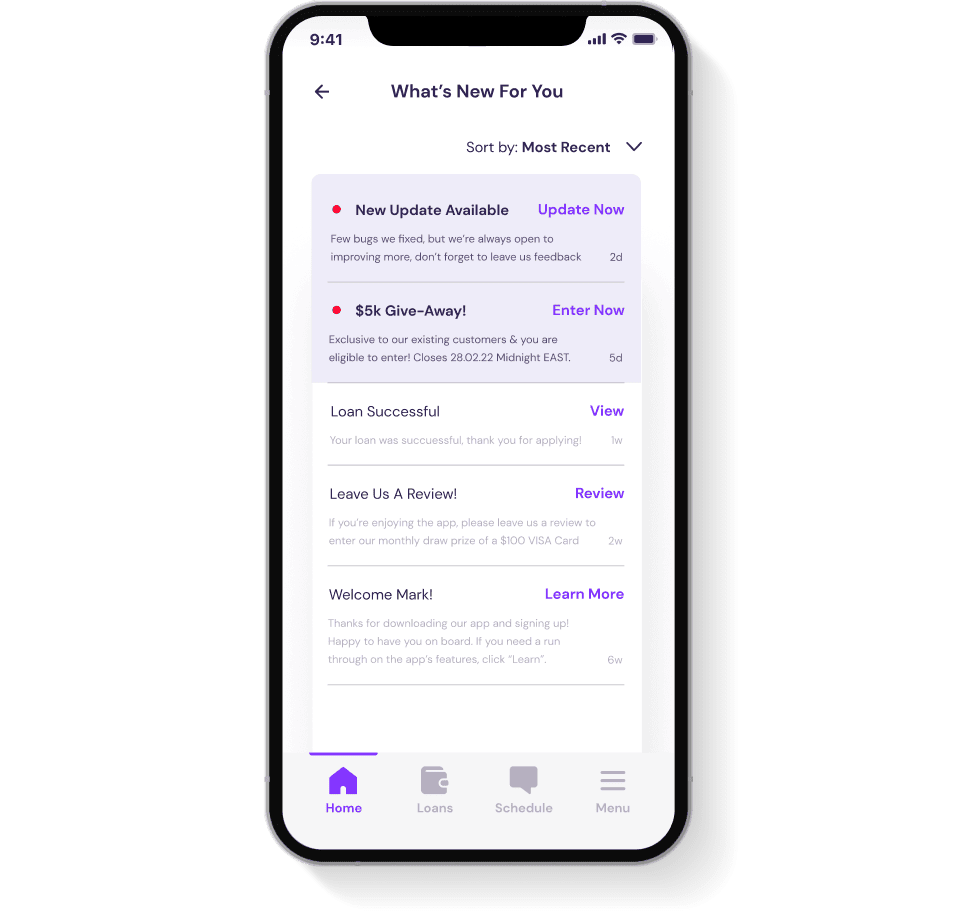 View your notifications
At the bottom of your screen and in your customer profile, there's a small section containing your most recent notifications. These will include a range of updates from Jacaranda, including:
New updates to the app
Any giveaways and competitions we're running
If your loan repayments were successful
And more. You can turn push notifications to your phone on and off through the settings menu in the app.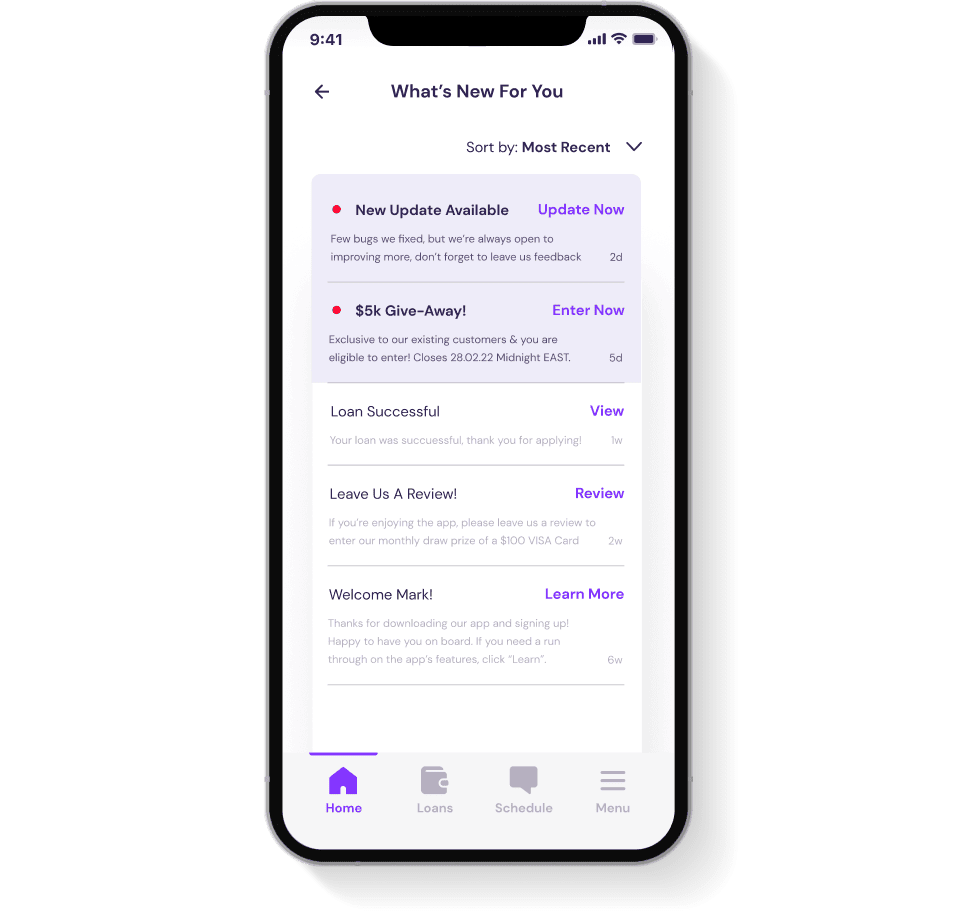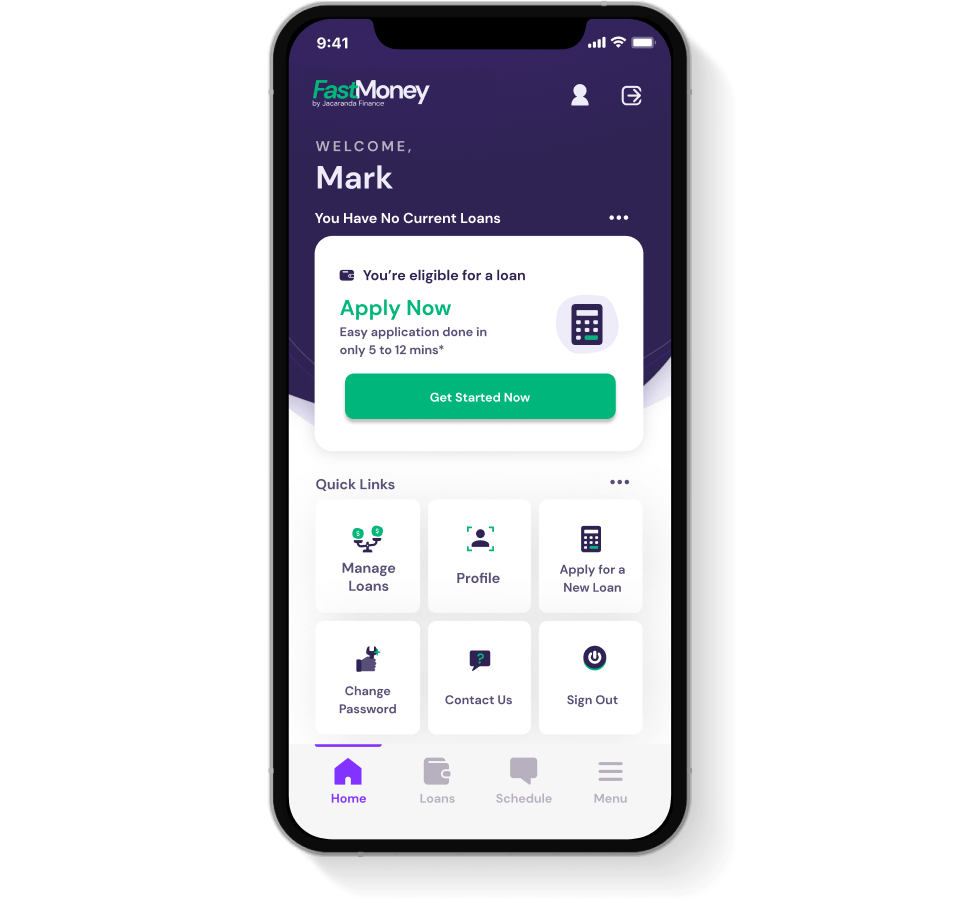 Apply for a new loan
Applying for a loan with Jacaranda has always been easy. Thanks to the FastMoney app, we're making it easier than ever for you to:
Complete your application in just 5-12 minutes1 depending on your circumstances;
Receive a same-day outcome on your application2 if you apply during normal business hours; and
Have the funds transferred to your account in under 60-seconds3 if approved (if you have an NPP-enabled bank account).
Here's how to apply for a loan with Jacaranda through the FastMoney app:
Login or create an account (see above). Alternatively, hit 'get started'.
You'll then be redirected to our external application window.
By entering just a few initial pieces of information, you can check if you qualify for one of our loans via an initial assessment without impacting your credit score.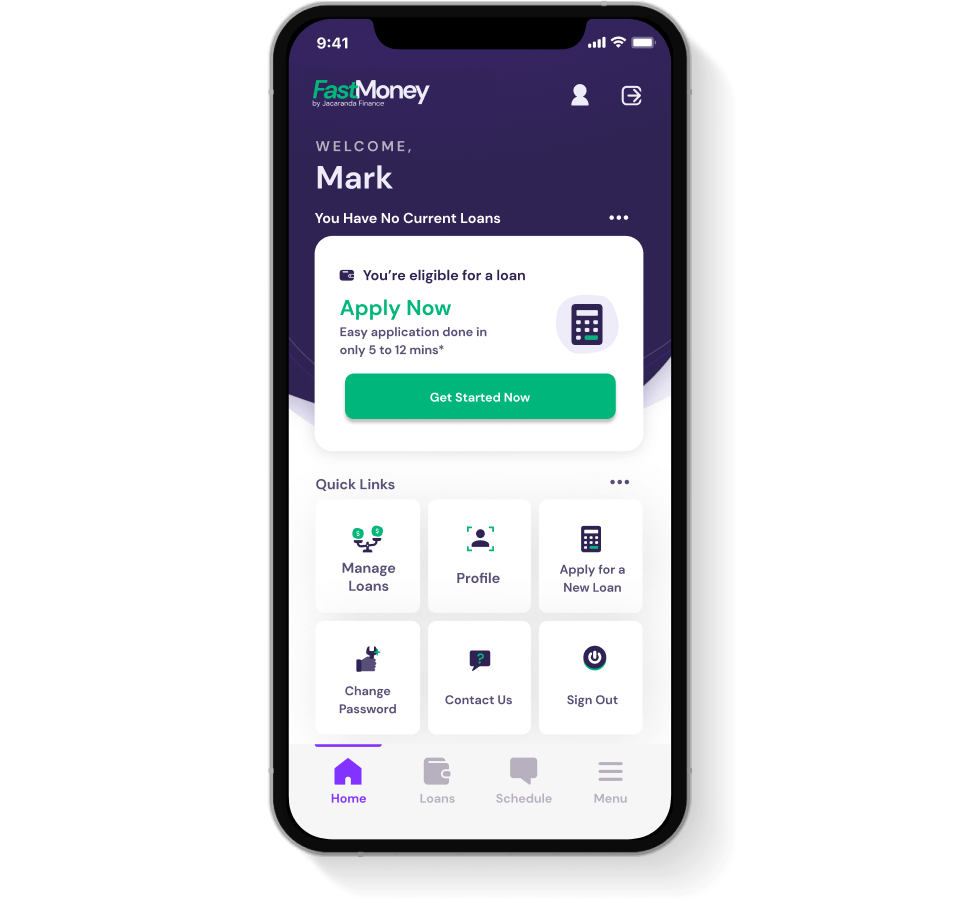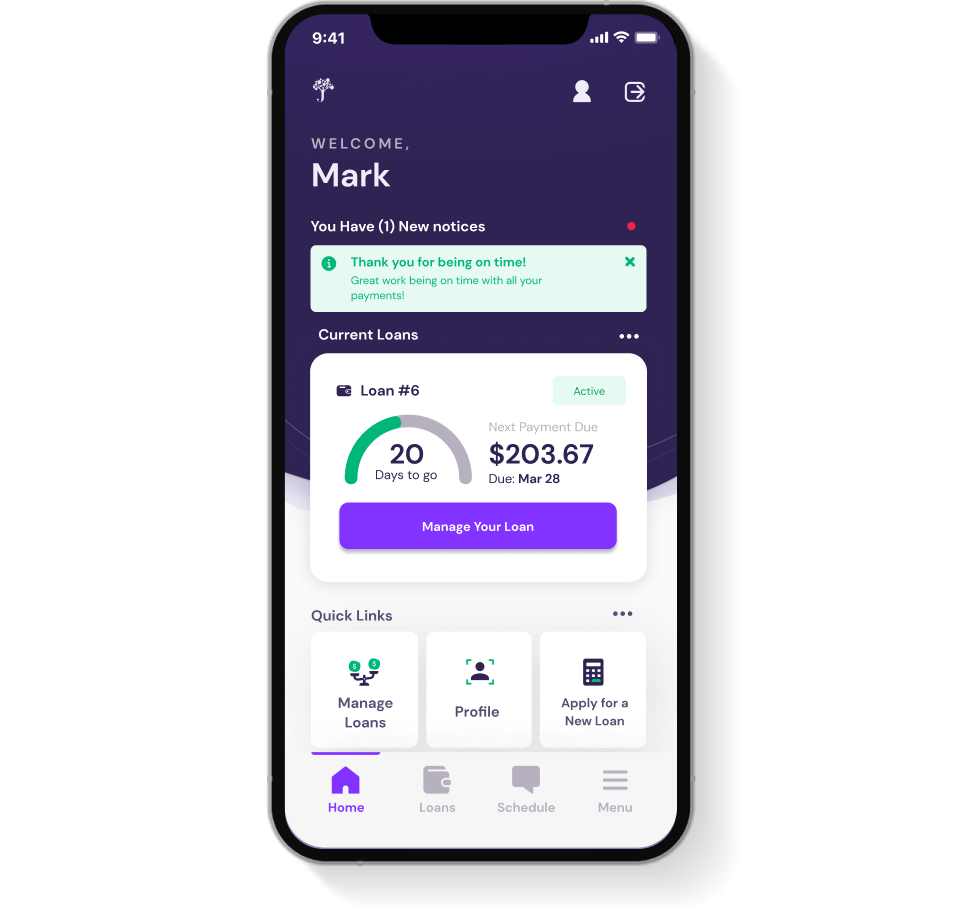 Check your loan balance
There are two ways to view your loan balance. First, you can see a broad overview of your balance at the top of your personal dashboard, which will display how much you've repaid, what you still owe, how much your next repayment will be and when.
For more details on your loan balance, you can select 'manage your loan' to see things like:
Your repayment history
Your loan term, interest rate and start date
Your past loans (if any)
Options to make extra repayments, change your repayment schedule and more
Read your loan contract
When you sign your digital contract, a copy of your loan contract is emailed to you. If you want to view this contract at any time to review the terms and conditions of your loan, you can do this via the FastMoney app.
To read a copy of your loan contract, enter either your loan dashboard or your profile. You should see an option called 'view loan contract' near the bottom. We will then email you a copy of your contract from there.
It's also possible to access a copy of the loan contract by logging into the customer portal or by asking our customer service team.
Request loan statements
You can request a copy of your loan statement via the FastMoney app, which we will email to you.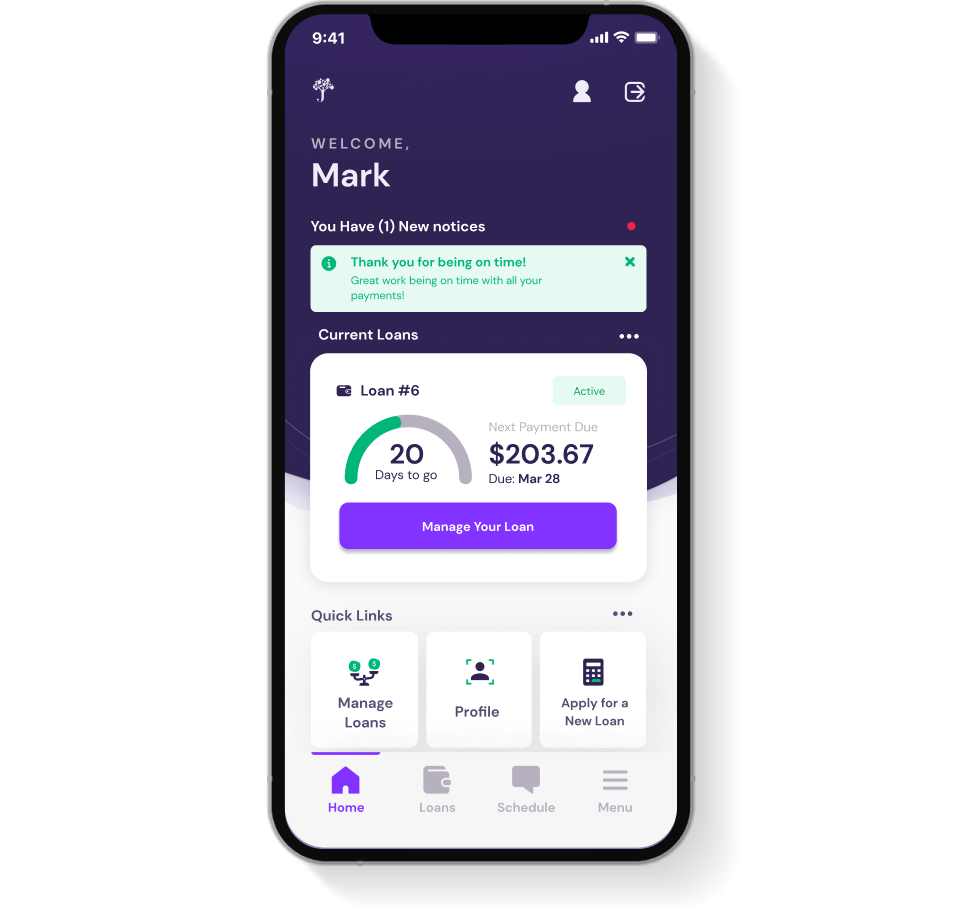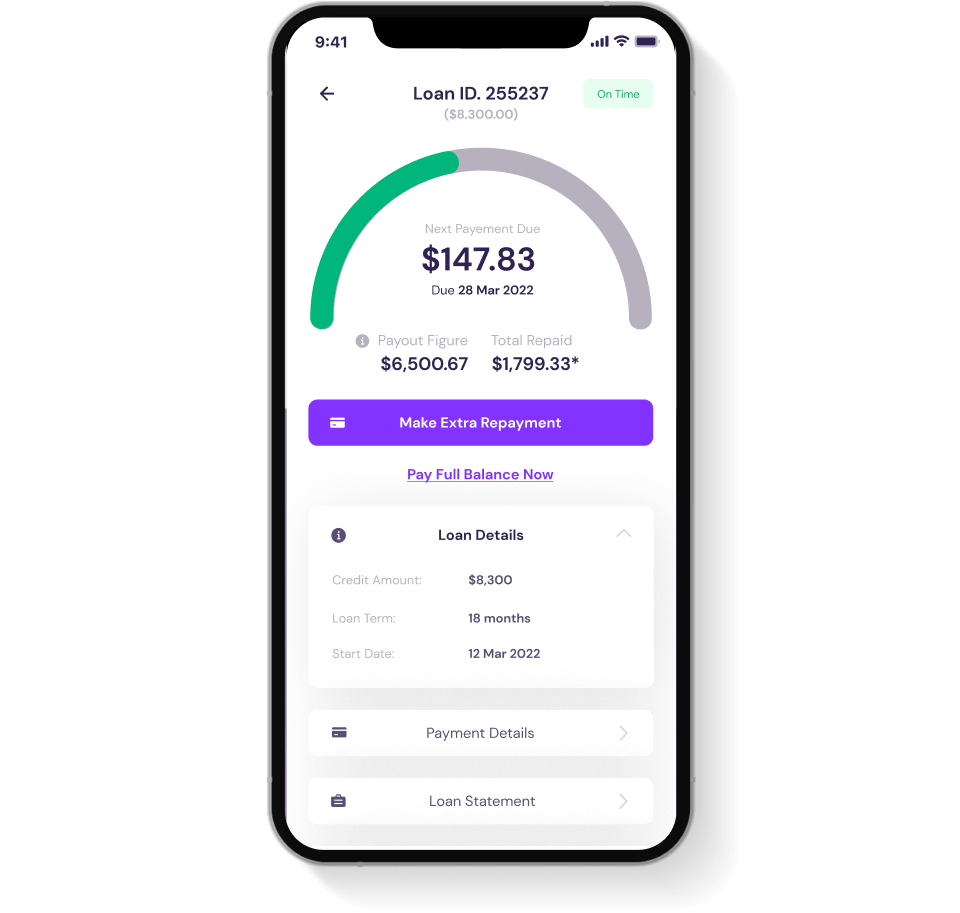 How to manage your repayments in-app
You can manage your existing loan on the go, anywhere, anytime with the FastMoney app. You'll be able to do the following via your customer dashboard.
Note that you can only request to change your repayments via our app. Our customer service team will still need to review your request before approving it.
View your next repayment date
At the top of your dashboard, you'll see the date your next direct debit is due and how many days you have until then. This will also show you how much your next repayment will be.
Change your repayment date
When you first sign your loan contract, we will usually align your direct debits with the date your regular income is deposited. If you want to change this date (for example, you get a new job with a different pay schedule), then it's easy to do this via the FastMoney app.
Simply hit 'manage your loan' in your dashboard and select 'change repayments'. You'll then see the option to choose a new date for your next direct debit to be withdrawn from your nominated bank account.
Once you've selected an eligible date, hit 'request change', and we will consider your new repayment schedule for approval via a contact form. This change may not be instant.
Make extra repayments
At Jacaranda Finance, you can pay extra on top of your minimum repayments if you wish to do so at no additional cost. In fact, paying extra into your loan can result in smaller interest charges overall and reduce your total loan term.
To make extra repayments, go to the dashboard. Hit 'manage your loan', and you'll see an option called 'make extra repayment' near the top. Here, you can select a new amount you'd like to pay during each repayment cycle.
Pay out your loan
If you've come into some extra money recently, you might want to pay out your remaining balance altogether. You can also do this with the FastMoney app at no extra cost.
Go to your loan dashboard, select 'manage your loan' and choose 'make extra repayment'. Here, you should see an option to make a lump sum payment into your loan. If you pay off your remaining loan balance, we will contact you to confirm that you no longer owe anything.
Fixed fees that have already been incurred are due and payable.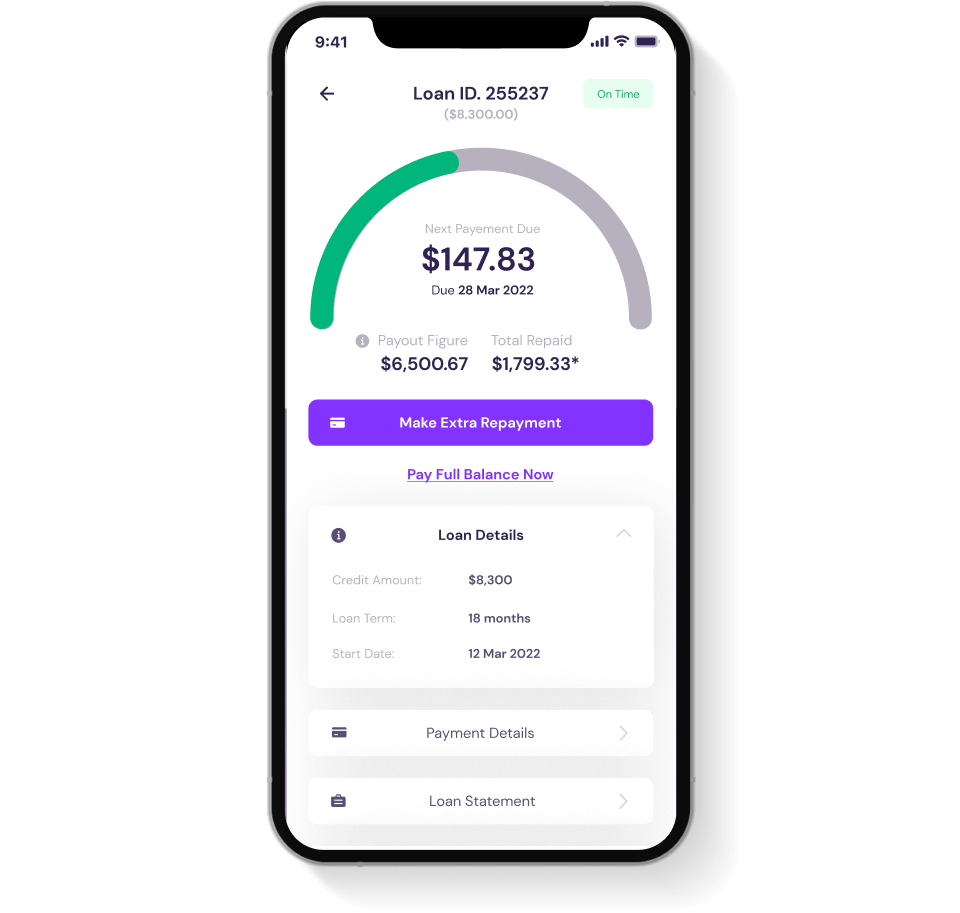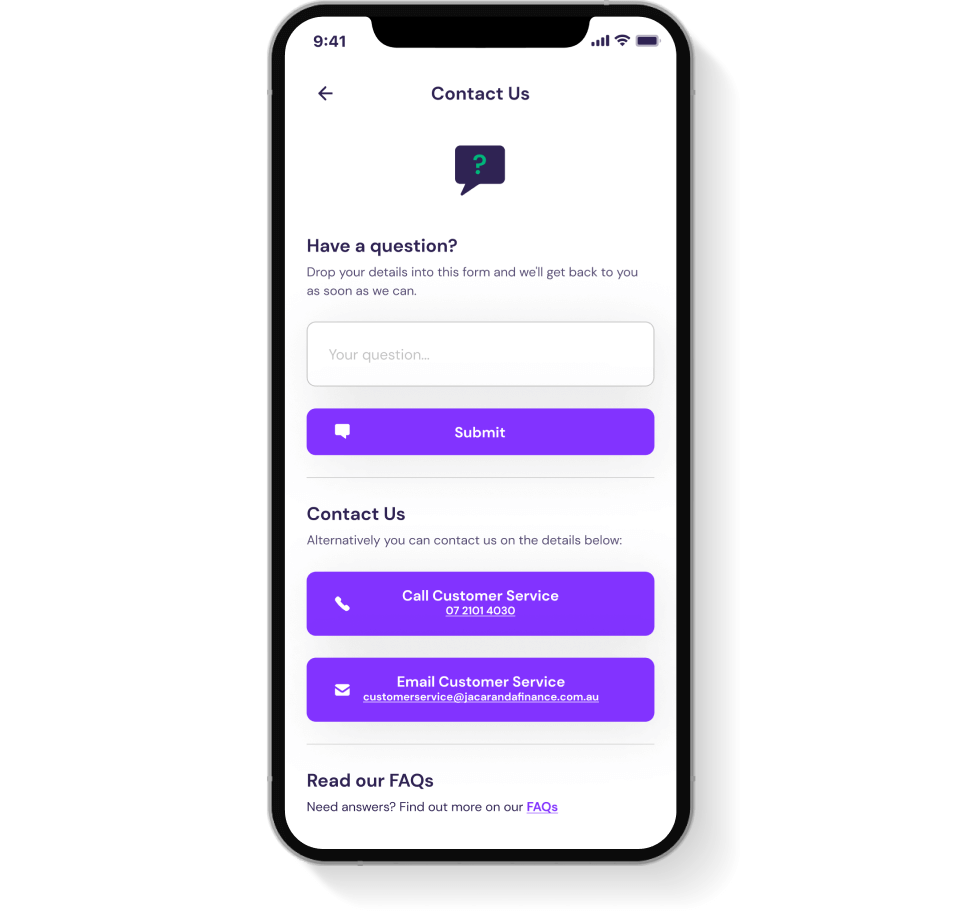 Contact Jacaranda with ease
The FastMoney app provides quick access to our friendly, Australian-based customer service team. Just click the 'Support' button on the dashboard to email or call us. Alternatively, you can arrange for us to contact you. We'll be happy to answer any questions you might have.
You can also contact Jacaranda right now by viewing our details here.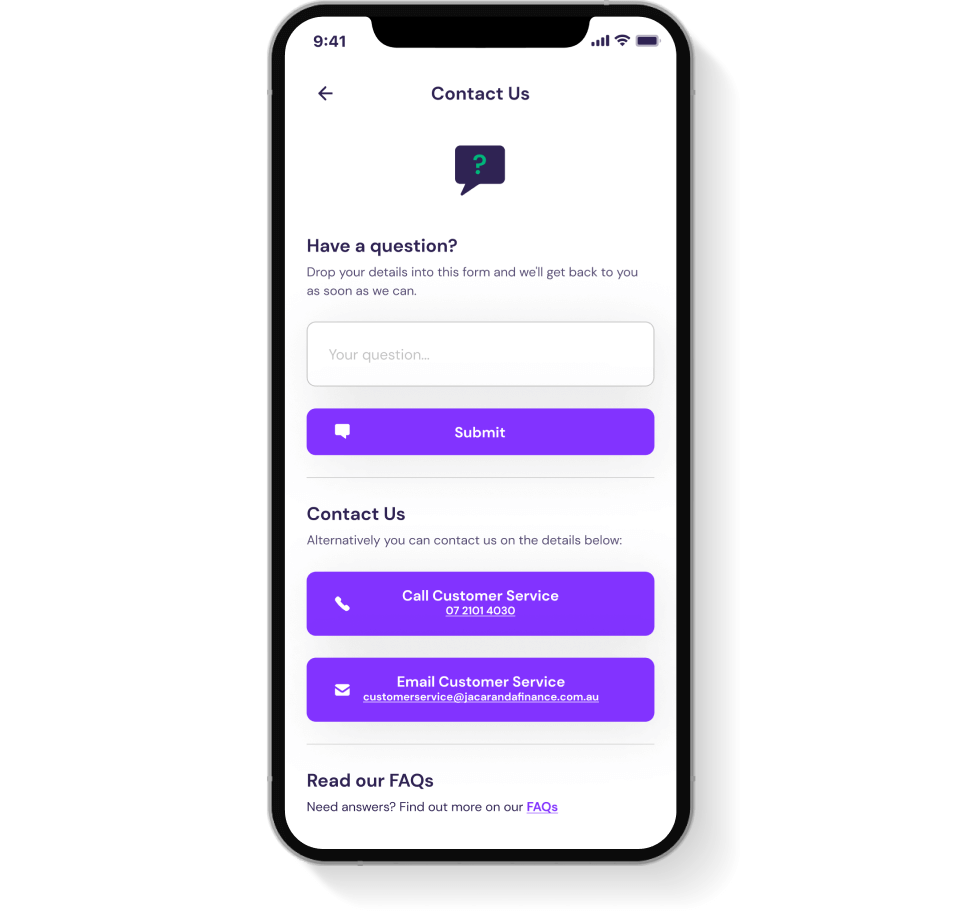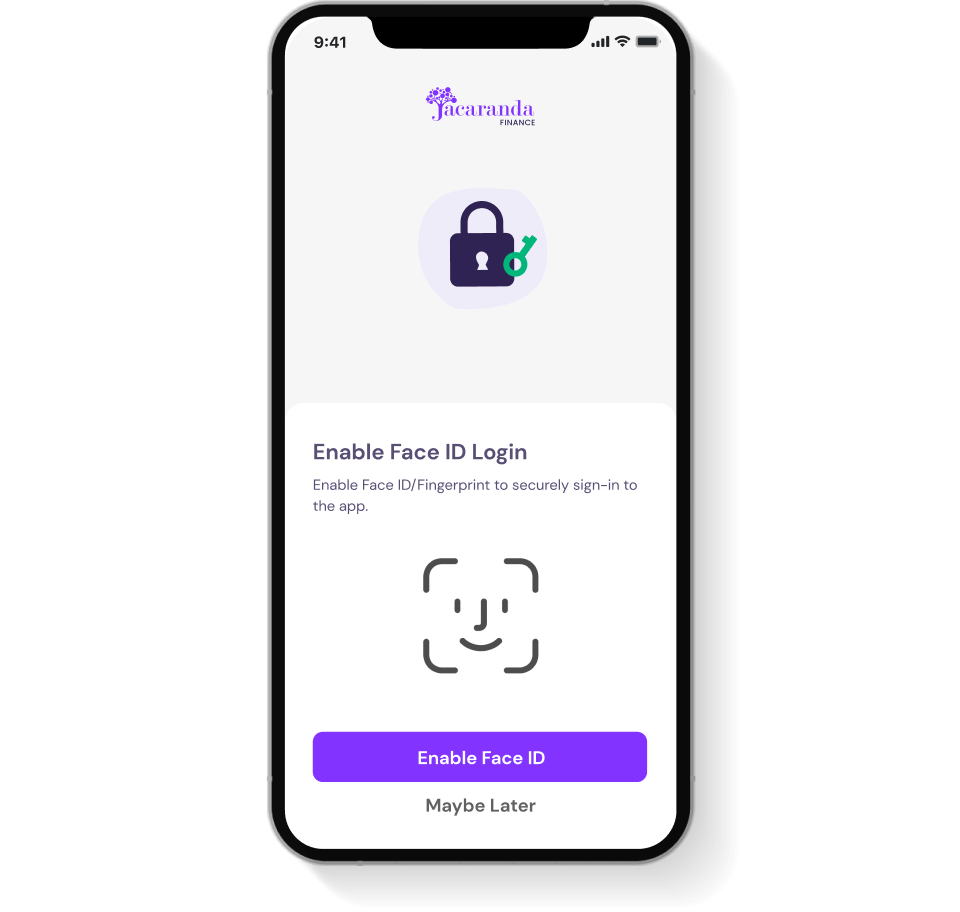 Secure data storage
The FastMoney app is protected with passwords and biometric logins, and we continuously monitor for suspicious activities. We also comply with all necessary data regulations, and your information is protected via encryption.
See our privacy policy for more information.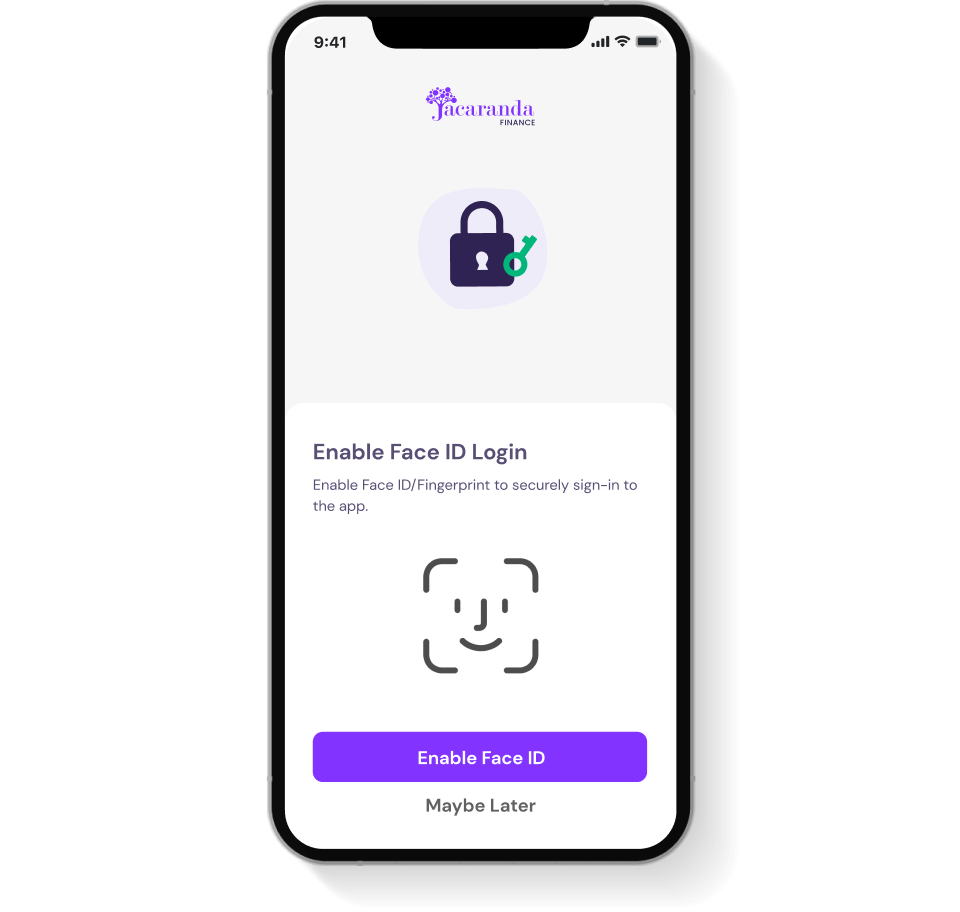 Customer Testimonials On Trusted Platforms
Sometimes we offer customers incentives encouraging an honest review of our services, be it negative or positive based on their unique experience. It is possible that some reviews were written by customers who received a reward regardless of their review being positive or negative. Last updated: 22/11/23
The amount you can borrow will ultimately depend on the strength of your application, but we offer the following minimum and maximum loan amounts:
For detailed information about who our products are designed for, please review our Target Market Determinations. Use our loan repayment estimate calculator to get a guide on what your repayments could be.
Yes, as a responsible lending body, Jacaranda Finance completes a credit check on all applications. However, our assessment process takes into consideration your entire financial situation, meaning your credit score isn't the main determining factor of approval or rejection. The better your financial position, the better your loan can be.
We will never perform a credit check without your express consent, which you provide to us when you apply for a loan with Jacaranda Finance. We store your acknowledgement and consent for seven years and it can be supplied on demand.
As a rule of thumb, there are four reporting bodies that we may use to conduct a credit search:
Our loan application process has been designed to be as simple and quick as possible, as we know how important it is to receive your funds in a timely manner. How quickly you can apply for a personal loan and receive your funds will depend on your situation.
Applying for a loan with Jacaranda Finance takes most people 5-12 minutes1, but it could take longer depending on a number of factors such as but not limited to how fast you are at typing or if you have all the required information on hand.
After applying, most customers get an outcome on their loan application on the same day during normal business hours once we have received all of the supporting information we require. We do not guarantee same-day outcomes for all customers.2
Once an applicant has been approved and they have signed a contract, we automatically attempt to release the money to the applicant's bank account. Most customers have a New Payments Platform (NPP) bank account and receive the money in their bank account within 60 seconds. For other customers, the money will be available overnight on weekdays and overnight the following business day if approved on a weekend or public holiday.3
Thanks to our secured self-service customer portal, you can easily manage your personal loan repayments online 24/7, 365 days a year.
Repayments can be automatically deducted via direct debit, so all you need to do is make sure you have the money in your nominated bank account by the due date. To make it simple, you can ask to align your repayments with your pay cycle, whether it's on a weekly, fortnightly or monthly basis.
After your loan is paid off in full, the repayments will stop, and you can choose to make extra repayments at any time and at no extra cost.
Read more: Personal Loan Repayments 101
We are dedicated to providing you with finance when you need it, which is why we're open on Saturdays! We could provide you with a personal loan if you apply during our business hours on the weekend:
Monday-Thursday: 8am-5pm
Friday: 8am-4pm
Saturday: 8am-12pm
Sunday: Closed
The fees and charges on your Jacaranda personal loan will vary depending on a few factors including the amount you apply for, the repayment term, your credit rating, and the strength of your application.
Once you submit an application, we'll provide you with an offer that includes all the details in relation to the loan including the amount, repayment term, fees, interest rate, and terms and conditions.
See our rates and fees page for more information.
You can get a loan with Jacaranda for a huge range of things! Some of the most common reasons people apply for a loan with us are:
And more!