14th April 2023
10 Tips to Get Your Rental Bond Back in 2023
Moving house can be stressful enough without having to worry about whether you'll get your rental bond back or not.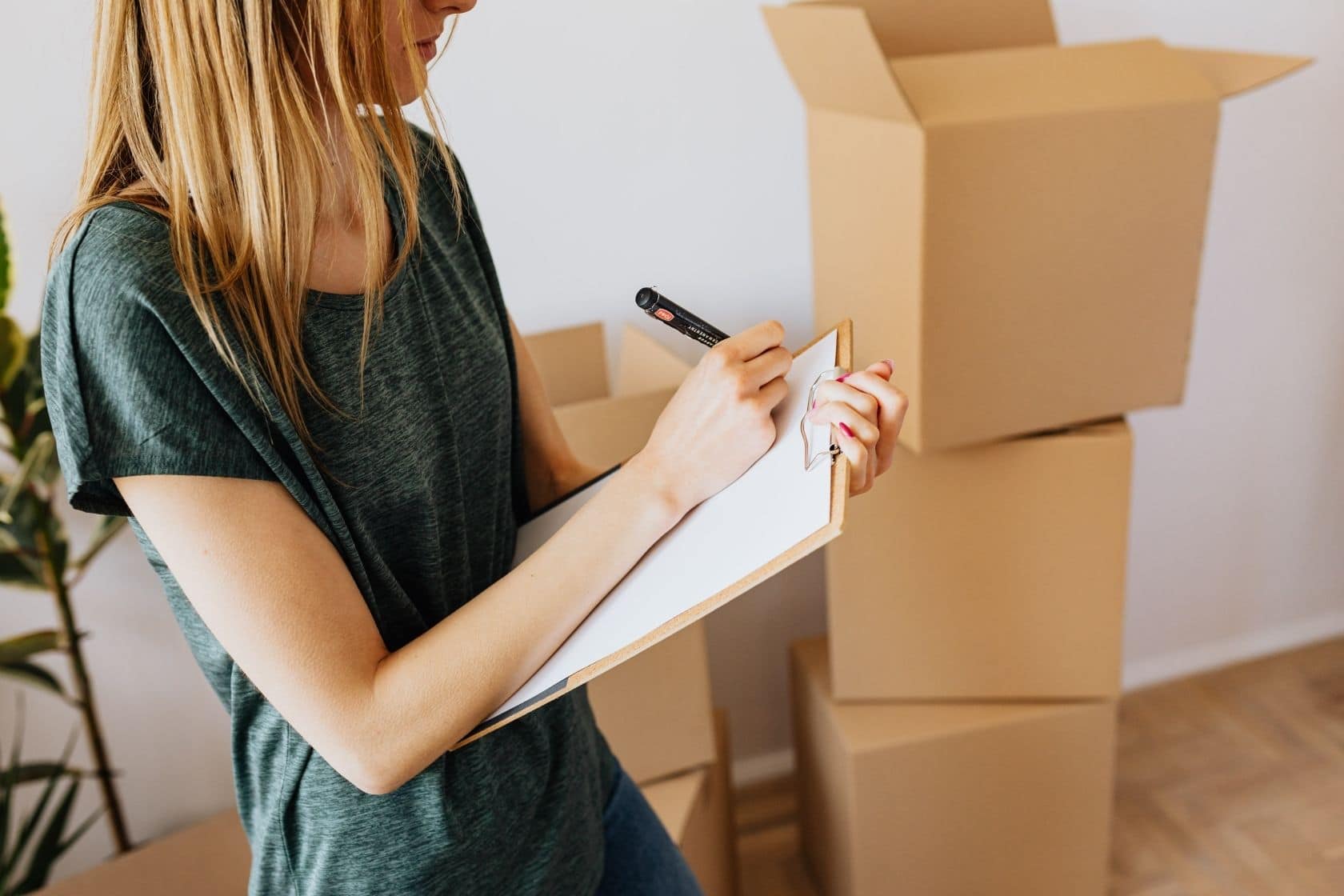 With rental markets extremely tight across Australia right now, not getting some - or all - of your bond back could be catastrophic, both to your finances and your ability to secure future rentals. And yet, tenants not getting their bonds back is a common occurrence.
According to NSW Fair Trading, approximately 25% of tenants in Australia do not get their full bond back when moving out of a rental property. A 2020 survey by Rent.com.au meanwhile found 30% failed to get their full bond reimbursed, with the most common reasons being cleaning issues, damage to the property and unpaid rent.
While there are plenty of legitimate reasons to withhold a bond from a tenant, there are plenty of ways you could feel hard done by if you're moving out of a rental property. However, there are steps you can take to avoid this from happening. In this article, we'll break down our top 10 tips on getting your rental bond back and what you can do if you don't.
On this page:
What is a rental bond?
A rental bond is a lump sum security deposit paid at the start of a tenancy agreement by renters to either the property manager or the landlord. It acts as a financial security net for the landlord in the event of damaged property, missed rental payments, or any other breaches of the lease agreement.
The typical rental bond can be quite expensive, even when split between several tenants. Paying for a rental bond can be a big ask, particularly during a cost-of-living crisis.
"Many Australian households are really feeling the squeeze right now, particularly with the rental crisis we're experiencing here in Australia," Compare the Market's Natasha Innes told Jacaranda Finance.
"There's no doubt that if Aussies are struggling to pay rent and other bills, they would also be struggling to pay their bonds. If you're moving into a new rental property, you have to cover moving costs, fuel and then pay the bond on top of all of that."
See also: Moving Out - Your Financial Checklist.
How much is the average rental bond?
Rental bonds increased across NSW, Victoria and Queensland by an average of 27% in 2022, according to MyBond. The cost of a rental bond will vary depending on several factors, primarily:
Your weekly rent
Your state/territory of residence.
Our analysis of Domain's rental figures shows that the average weekly cost of renting across the capital cities rose by 16% over 12 months to December 2022.
The standard maximum that can be charged for a bond is four weeks' rent upfront, with two weeks extra rent sometimes able to be requested depending on the state or territory. Given these soaring rental prices, you could expect to pay the following for the typical rental bond in 2023:
Median rental bond cost per property
| Capital City | DEC-2022 | Rental bond (4 weeks' rent) | +2 weeks rent |
| --- | --- | --- | --- |
| Sydney | $613 | $2,452 | $3,678 |
| Melbourne | $465 | $1,860 | $2,790 |
| Brisbane | $515 | $2,060 | $3,090 |
| Canberra | $625 | $2,500 | $3,750 |
| Adelaide | $450 | $1,800 | $2,700 |
| Perth | $480 | $1,920 | $2,880 |
| Hobart | $508 | $2,032 | $3,048 |
| Darwin | $570 | $2,280 | $3,420 |
| Combined Capitals | $525 | $2,100 | $3,150 |
Based on these figures, the typical rental bond per property could cost over $3,000.
What are the main reasons for losing a rental bond?
Landlords are legally required to provide a reason for any deductions made from the bond, and tenants have the right to dispute any deductions they believe are unfair.
According to Domain, the main reasons tenants lose part or all of their rental bonds are:
Rent arrears (being behind on rent at the end of the tenancy agreement)
Other unpaid utility bills
Taking items from the property not owned by the tenants
Damage caused by the tenant (not 'fair wear and tear')
A lack of cleaning to a 'reasonable standard' at the end of the tenancy
Other violations of the lease agreement
However, your landlord generally will not be able to make legitimate claims for the following:
A failure to pay rent at any point during the lease that has been repaid
A failure to hire professional cleaners (the property must simply be in a similar condition to when you moved in)
Personal reasons (just plain not liking you)
Damage caused by events outside your control (or damage they failed to repair)
"Most of the time when someone hasn't received their bond refund it's because they haven't left the property in the same condition as when they moved in," Ms Innes said.
"If you've punched a hole in the wall after a night out or fell asleep in the bathtub and flooded the apartment, chances are you can kiss your bond goodbye.
"If you didn't clean the property before leaving or pay for a cleaner, then the landlord might withhold some of your bond to pay for that cleaner.
"In a time where you've got to line up three blocks away to see a rental property, you need to be on your best behaviour to ensure you have a squeaky-clean rental history."
Top 10 tips to get your rental bond back
Whether this is your first time moving into a rental property, or you're a seasoned renter who's been through the bond process several times, here are our top 10 tips you can follow to help ensure you get your bond fully refunded each time.
See the ten tips below:
---
1. Provide sufficient notice to your landlord
Ensure you provide sufficient notice to your landlord or real estate agent before moving out. This will help them find new tenants, prepare the property for inspection, and keep you in their good books when the time comes to hand over the keys.
Each state/territory's rental legislation will specify a timeframe both owners and tenants must provide when deciding not to renew the lease.
2. Fill out a detailed condition report when you move in
The condition report is one of the most important documents to have as a tenant. At the beginning of your tenancy, the property manager will complete a report detailing the property's condition, inside and outside. After they finish the report, it is sent to you, and you will have a certain number of days to add your comments and photos.
Be as detailed as possible; the condition report can be used as evidence in a dispute regarding your rental bond. After you complete and sign the report, keep a copy for your records.
3. Keep records and photos of everything
This is one of the most important things you can do and should be done during your entry condition report and regularly throughout your time living there.
There is no such thing as too many photos and notes regarding a rental property. Take the report with you, go to every room in the property, make notes, and take pictures of any marks, damage, cracks, or dents. For example, note cracked ceilings, dirty walls, broken bathroom tiles, and peeling paint.
Take photos of any issues as they appear throughout your lease, and keep digital and physical records of all communications you've had with your landlord or property manager. A good strategy is to ensure each lease member has their own version: you don't want the person with all the photos on their phone to leave, especially if it's on bad terms.
4. Read your lease agreement carefully
Don't just skim it: it's vital that you thoroughly read every line in your lease agreement before you sign it. This will let you know what you can or can't do and what the owner is responsible for compared to you.
For example, tenants commonly trip up by bringing pets into the home when they aren't allowed, or they try to alter the property without permission. Whether you want to replace blinds or put in hooks, the landlord should approve any alterations (no matter how minor) first.
If they have approved it, make sure you receive written permission. This can be useful if the property manager claims they didn't approve the change.
5. Clean the property thoroughly
One of the most critical parts of getting your rental bond back is ensuring the property is clean. The landlord can claim your bond if the property isn't near the same condition as when you moved in.
Your first step should be to check the tenancy agreement for a complete list from your property manager of what needs to be cleaned. For example, many lease agreements require the tenant to get a professional steam clean of the carpets.
While you could employ some elbow grease, giving your place a thorough clean yourself can often be time-consuming and may not even guarantee you get your bond back anyway.
How much does a bond cleaner cost?
The easiest way to ensure the property is in good condition is to hire a professional cleaner. While it comes at an extra cost, a bond cleaner knows precisely what the agent expects and requires. Plus, most bond cleaners guarantee their work, so they can go back to the property and amend it for free if there's an issue.
A handy tip is to use one that the agent recommends. But if you decide to compare your options, Airtasker quotes the median bond cleaner cost at $350, with typical prices ranging from $260 - $460.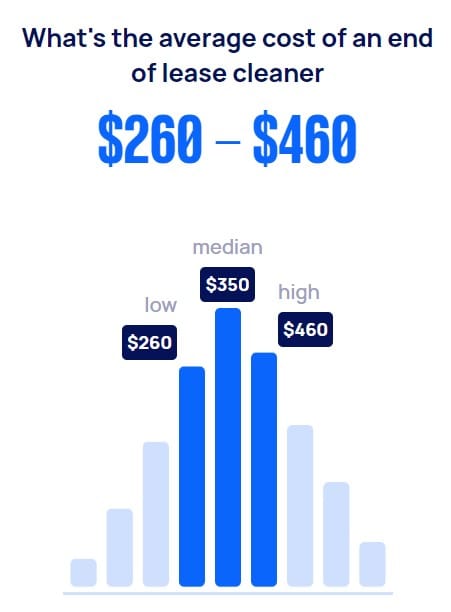 6. Repair any damages as required
Take note of any property damage, and if possible, fix them before leaving. This includes repairing broken appliances, wall holes, or cracked tiles. This way, you can increase the likelihood of getting your rental bond back.
Know the difference between 'fair wear and tear' and damage
It's reasonable that a home lived in will have some fair wear and tear. As a tenant, you aren't responsible for fair wear and tear, but unexpected damage to the property can make you liable. For example, faded or cracked paint is generally deemed fair wear and tear, but an unapproved paint job can be considered damage.
However, what's considered 'fair wear and tear' instead of damage is often a source of dispute between the landlord or property manager and the tenant. Here are some examples from NSW Fair Trading:
| Fair wear and tear | Damage |
| --- | --- |
| Faded curtains or frayed cords | Missing or torn curtains |
| Furniture indentations and traffic marks on the carpet | Stains or burn marks on the carpet |
| Scuffed up wooden floors | Badly scratched or gouged wooden floors |
| Faded, chipped, or cracked paint | Unapproved, poor quality paint job |
| Worn kitchen benchtop | Burns or cuts in the bench top |
| Loose hinges or handles on doors or windows and worn sliding tracks | Broken glass |
| Water stains on the carpet from rain through leaking roof or nasty plumbing | Water stains on carpet caused by overflowing bath or indoor pot plants |
| Paint worn off the wall near light switch | Damage to paint caused by removing posters stuck with blu-tack or sticky tape |
7. Attend the final inspection
A pre-vacate (or pre-exit) inspection sees the real estate agent or property manager inspect the property before the tenants move out. This allows them to discuss and address any areas of concern to receive your bond back.
It's a handy way to clarify the agent's interpretation of 'good condition'. Ask if you can obtain a checklist that outlines what they expect you to do when you vacate.
It's also worth considering attending the final inspection, where you can address issues as they come up and hand over all relevant keys and household items. Bring those copies of your records and entry reports with you and have them ready.
8. Return all the keys
After you've vacated the property for the last time, you'll need to hand over all the keys, security devices, and any other items you were given.
If you don't do this, the house can be deemed unsecured, and you might have to pay to replace the keys or locks. If you lose a key during your tenancy, tell your landlord and property manager immediately.
9. Complete all rental payments and invoices
Before you move out, ensure all rental payments and relevant invoices are settled. This will be the final step in getting your rental bond back. If you were paying a water bill as part of your lease agreement, you should expect to receive a bill that will either need to be paid directly or deducted from your bond.
If you don't complete all rental payments, you can risk being put on a blacklist on the tenancy database. This can significantly affect your ability to be approved for future rental applications.
10. Understand your rights and responsibilities as a renter
As a tenant, you have rights and responsibilities that you need to understand. Ensure you read and understand your lease agreement, including any terms and conditions related to returning your rental bond. This will help avoid misunderstandings or disputes with your landlord or real estate agent.
See our section above on 'rental bond loans by state' to find the appropriate links to your rights and responsibilities as legislated.
What if there's a dispute over your rental bond?
If your landlord claims part or all of your bond, the general process is as follows. Bear in mind that these may vary slightly depending on where you live.
The Landlord Makes a Claim
Your landlord will claim your bond through the relevant government authority in your state or territory. They will need to provide evidence and a reason for the claim.
You will receive notification of the claim, usually via email or mail. The notification will include details of the claim, the amount being claimed, and the reason for the claim.
Respond and negotiate.
You will need to respond to the claim within a specified time frame, usually 14 days. You can dispute the claim by providing evidence to support your case or negotiate with your landlord to reach a settlement.
The first step here is to contact your property manager or landlord to try and resolve the dispute. Ideally, you want to negotiate with them to avoid going to a tribunal.
A Refund of Rental Bond form should be provided if both parties agree. After this is signed, the bond can be returned.
Apply to the relevant tribunal.
If you and your landlord cannot come to an agreement, you may need to attend a hearing at the relevant tribunal or court. You will be able to present your case and provide evidence to support your claim.
Generally, the information you'll need handy if your dispute goes to the tribunal includes:
A receipt of the bond amount paid;
A copy of the lease agreement to show the start tenancy date and type of tenancy;
A copy of the condition report to show evidence of the condition of the property before starting tenancy;
Any images, copies of letters, emails, and other correspondence;
The amount of notice given by the tenant or landlord to end the tenancy.
Here's a quick rundown of each state or territory's organisation that deals with bond disputes:
ACT: ACAT
NSW: Fair Trading NSW
NT: NT.GOV.AU
QLD: Rental Tenancy Authority (RTA)
SA: SA.GOV.AU
TAS: Consumer, Building and Occupational Services
VIC: Consumer Affairs Victoria
WA: Department of Mines, Industry Regulation and Safety
The final decision is made
A decision will be made by the tribunal or court based on the evidence provided by both parties. If the decision is in your favour, you will receive your full bond back. If not, the bond money will be paid to the landlord to cover the claimed amount.
If you disagree with the decision made by the tribunal or court, you may have the option to appeal the decision.
Helpful resources for tenants
If you're experiencing issues with your rental bond and need advice or advocacy, each state or territory has a tenants' support service available. Here's a list of who you can go to in each state or territory:
Rental bond loans by state
See below for more detailed information on rental bonds in each state/territory. You can also check out our rental bond loans if you need to borrow funds for your rental bond payment to be repaid in affordable instalments.
---
The information on this website is for general information only. It should not be taken as constituting professional advice from the website owner - Jacaranda Finance.
Jacaranda Finance is not a financial adviser, and the content on this page does not take into account your objectives, financial situation or needs. You should consider seeking independent legal, financial, taxation or other advice to check how the website information relates to your unique circumstances.
Jacaranda Finance is not liable for any loss caused, whether due to negligence or otherwise arising from the use of, or reliance on, the information provided directly or indirectly by the use of this website.
William is the Content Manager at Jacaranda Finance. He has worked as both a journalist and a media advisor at some of Australia's biggest financial comparison sites such as Canstar, Compare the Market and Savings.com.au, and is passionate about helping Australians find the right money solution for them.
You can get in touch with William via
williamj@jacarandafinance.com.au
.