12th October 2023
How Much Does a Root Canal Cost?
If a dreaded trip to the dentist has revealed you need a root canal, you may be wondering how much it'll cost you.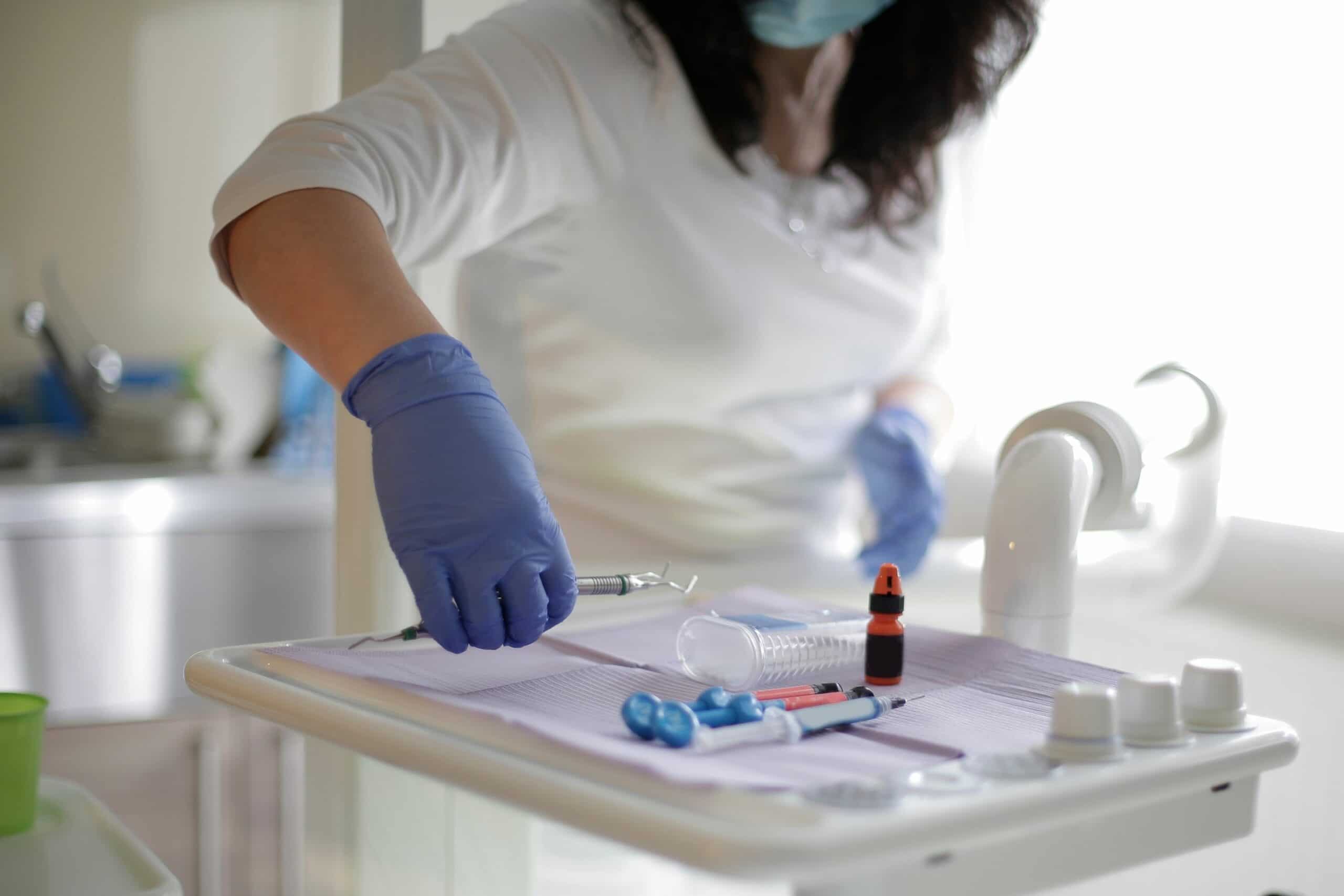 Dental work in Australia can be very expensive at the best of times, and root canals are one of the pricier procedures you can get. But how much exactly can a typical root canal end up costing?
This guide gives a rundown of what a root canal is, why it's important, and how much it could cost on average.
Originally written 14 May 2021.
On this page:
---
---
Understanding root canals
What is a root canal?
A root canal is a form of endodontic treatment aimed at repairing damage inside a tooth. The root canal process involves accessing the tooth's soft centre, known as the dental pulp, removing it and subsequently filling and sealing the space. At times, it might also necessitate removing the tooth's crown (aka the tooth's surface).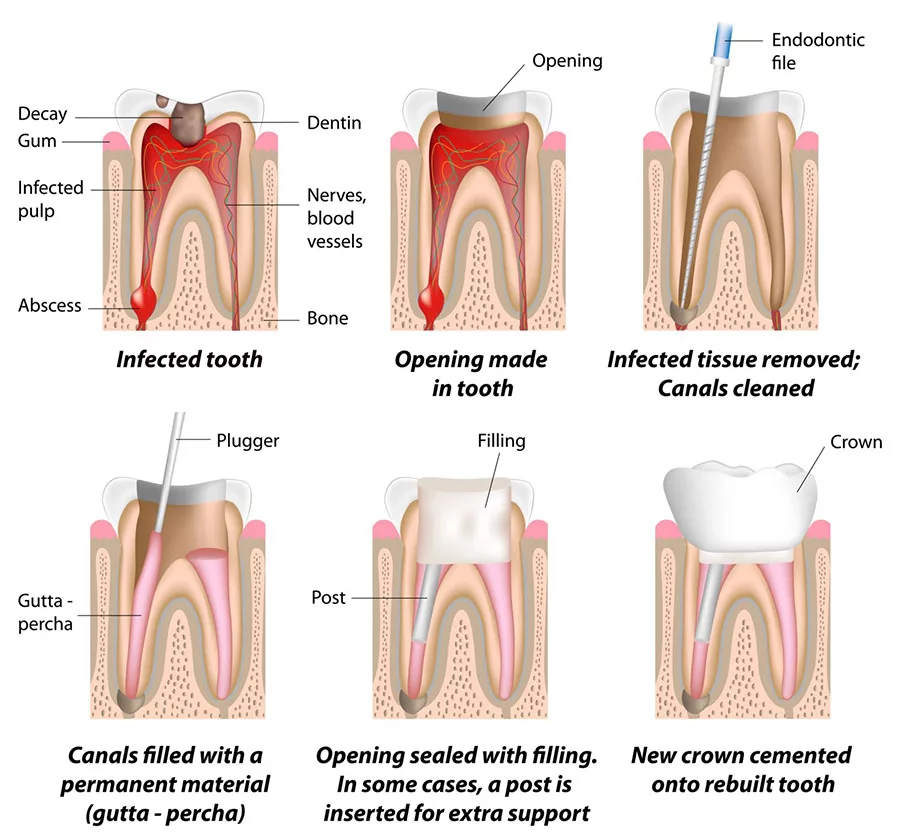 Root canals are primarily done to salvage a severely infected or damaged tooth, as losing even a single tooth can sometimes create a cascade of dental problems. When the pulp inside the tooth gets damaged, pain, infections or abscesses can follow.
Real teeth are also notably more efficient than their artificial counterparts for biting and chewing.
How root canals work
Step-by-step root canal procedure
As the image above demonstrates, root canals can be an exact and complex procedure. Generally, the process for discovering and fixing a root canal is as follows:
Diagnosis: An X-ray is taken to see the root canal shape and check for infections in the surrounding bone. You may then be referred to a specialist at a later date.
Anaesthesia: The dentist numbs the tooth area to ensure a pain-free procedure.
Tooth isolation: Rubber is placed around the tooth to keep it dry during the treatment.
Access opening: An opening is made on top of the tooth to access the pulp chamber.
Cleaning the root canal: The damaged and diseased pulp is removed, and the canals are cleaned.
Filling the canals: The space is filled with a biocompatible material.
Restoration: A filling is placed to seal the access hole, and often, a crown is added for protection.
How long does root canal treatment last?
Root canal treatments are usually highly successful and can last a lifetime, but there's no guarantee. According to BetterHealth Victoria, 90-95% of people who undergo root canal treatment don't need another one on the same tooth. For those who do, factors such as oral hygiene, the tooth in question and its placement, other poor dental habits like teeth grinding, and more can degrade the longevity of a root canal.
---
Download the FastMoney App now!
---
Recognising the signs: How do I know if I need a root canal?
While your dentist or endodontist is the only one who can identify if you need a root canal, there are some symptoms you can keep an eye out for. According to healthdirect, the signs of an impending root canal include:
Severe toothache when biting or chewing;
Severe tooth pain in general;
Sensitivity to hot or cold temperatures;
Swollen or tender gums;
Darkening of the tooth;
Pus around the tooth;
Swelling around your face or neck;
If you're experiencing any of these or even just a loose tooth, see your dentist for a checkup as soon as possible. The more you delay, the worse it'll get.
Pricing breakdown: How much does the average root canal cost?
The cost of a root canal will depend on a few factors, including the number of root canals needed, the practitioner, whether you require a crown, follow-up appointments, and your health insurance policy. You could spend up to several thousand dollars on root canals if you're not careful!
Based on data from the Australian Dental Association and Smile.com.au, the average cost of a root canal without a crown in Australia can range from $2,000 to $3,400. For just one root canal with a filling, you'll be looking at around $900, but four root canals with a crown can cost up to $4,760 on average.
For a detailed breakdown of the costs of all major dental & medical procedures in Australia, see our articles below.
Root canal cost by state
The table below shows how much you can expect to pay for a root canal in each Australian state or territory. As you can see, the costs can vary significantly.
| State | One root canal with a filling | Two root canals with a crown | Three root canals with a filling | Four root canals with a crown |
| --- | --- | --- | --- | --- |
| NSW | $784 - $971 | $2,867 - $3,471 | $1,350 - $1,771 | $3,433 - $4,271 |
| QLD | $853 - $1,077 | $2,920 - $3,552 | $1,515 - $1,907 | $3,582 - $4,382 |
| VIC | $814 - $1,042 | $2,819 - $,3744 | $1,424 - $2,046 | $3,429 - $4,748 |
| WA | $747 - $785 | $2,644 - $3,134 | $1,303 - $1,507 | $3,200 - $3,856 |
| SA | $854 - $1,235 | $2,722 - $3,685 | $1,402 - $1,935 | $3,270 - $4,385 |
| TAS | $880 - $1,108 | $3,151 - $3,869 | $1,636 - $1,948 | $3,907 - $4,709 |
| NT | - | $2,856 - $3,450 | $1,291 - $1,461 | $3,510 - $4,246 |
| ACT | $793 - $1,120 | $2,911 - $4,030 | $1,399 - $2,240 | $3,517 - $5,150 |
Health insurance and root canals
Does private health insurance cover root canal therapy?
In most cases, dental procedures in Australia are only covered under private health insurance. Specifically, you'll need an extras policy to be covered for most dental work.
Depending on the type of extras coverage you have, your private health insurance policy may cover root canal therapy. While general dental (e.g. general checkups, cleaning, x-rays) is included in most extras policies, major dental is typically only included in a higher level of extras cover. Generally, the waiting period for major dental treatment is six to twelve months.
Depending on your policy, your health insurance provider will cover a certain amount of the root canal treatment, leaving you with a gap payment. This gap payment will be based on the cost of the procedure and how comprehensive your insurance policy is.
Does Medicare cover root canals?
Medicare doesn't typically cover dental procedures, including root canals, so you'll need a good private health insurance policy with appropriate cover or bear the cost out of pocket.
A possible exception is the Child Dental Benefits Schedule (CDBS), which provides up to $1,000 yearly for basic dental services to children aged 2 to 17. 
Each state and territory also provides public dental services for children and adults, emergency dental and certain specialist procedures. Generally, you'll need to have any of the following to be eligible:
Pensioner Concession Card issued by the Department of Veterans Affairs
Pensioner Concession Card issued by Centrelink
Health Care Card
Commonwealth Seniors Health Card
Visit your state or territory health department website to discover what could be available under these schemes.
Is it better to get a root canal or a tooth extraction?
Sometimes, your dentist or specialist might recommend simply removing the affected tooth (or teeth) instead. For instance, the tooth might be too damaged to repair, or its location might make removing it too difficult or not worthwhile.
Not only is this a simpler procedure, but it's also a lot cheaper: a simple tooth extraction can cost less than $200, a far cry from the $2,000+ you can often pay for a root canal.
However, saving a natural tooth is usually the preferred route, as it avoids potential alignment issues and maintains natural biting and chewing functions. Ultimately, it'll come down to what your dentist or specialist recommends or which of the two you'd prefer if given the choice.
Tips to save money on your root canal
If you're keen on trimming down the costs of your root canal (without getting the tooth pulled), there are several proactive steps you can take, such as:
Find a good health insurance policy: Compare plans that fit your needs and budget, offer good coverage and minimise your out-of-pocket expenses.
Opt for insurer-recommended dentists: Some insurance companies partner with specific dental clinics, providing patients with preferable rates, discounts, or even no-gap services.
Stay alert for dental deals: Dental clinics occasionally introduce promotions or discounts, especially for high-ticket procedures like root canals. Keep an eye out for these opportunities to save money.
Research costs and ask for quotes: Once you've shortlisted a dentist, reach out to them for a detailed cost breakdown before finalising your appointment.
Go to a dental school or university: Consider getting the procedure done at a dental school/university where rates are often discounted.
If it's not too late, the best way to avoid high dental costs like a root canal is to maintain oral health proactively. Consistent brushing, flossing frequently, moderating sugary food and drinks and ensuring annual dental checkups are all ways to look after those pearly whites.
The risks of delaying a root canal
What happens if you don't get a root canal?
Delaying a needed root canal can lead to serious complications. An untreated infection can spread to nearby tissues, potentially resulting in painful abscesses, and, in rare scenarios, can even lead to sepsis, heart attack, or stroke.
A root canal is typically the most effective option to treat a damaged or infected tooth, as removing it is generally less effective, and antibiotics and fillings can't be used to solve the issue.
If your dentist has advised you that you need a root canal or you suspect that you may need one, it's important to prioritise this. While it is going to cost you money, it's vital to protect your health and well-being. Plus, no one likes being in pain all the time!
Financial assistance: what if you can't afford a root canal?
Unfortunately, root canals and other specialist dental work can be prohibitively expensive in Australia, even after private health insurance or available Medicare schemes. But not getting one often isn't an option, especially if you're in a lot of discomfort.
If you need a root canal and don't have the funds available, you can talk with your dentist to try and negotiate a payment plan. This could spread out the costs of your root canal over a manageable period of time.
Another viable option is to consider a Dental Loan with Jacaranda Finance.
Consider a Dental Loan from Jacaranda
Did you know that 'Dental Expenses' are one of the top 10 most common reasons Aussies took out a loan with Jacaranda Finance in 2023? About 40% of people put off seeing the dentist due to cost, even if their teeth are causing them a major problem.
That's where we come in.
At Jacaranda Finance, we offer fast, flexible and reliable Dental Loans ranging from $2,100 up to $25,000. Our fixed interest rates and loan terms up to 48 months provide structured, manageable repayments, helping you pay for your much-needed dental work over time.
You can apply in just 5-12 minutes1 and check if you qualify beforehand without impacting your credit score at all!
Hit 'Get Started' or download our FastMoney app to begin your Dental Loan application with Jacaranda today.
---
The information on this website is for general information only. It should not be considered professional advice from the website owner - Jacaranda Finance. Jacaranda Finance is not a financial adviser, and the content on this page does not consider your objectives, financial situation or needs. You should consider seeking independent legal, financial, taxation or other advice to check how the website information relates to your unique circumstances. Jacaranda Finance is not liable for any loss caused, whether due to negligence or otherwise arising from the use of, or reliance on, the information provided directly or indirectly by the use of this website.
William is the Content Manager at Jacaranda Finance. He has worked as both a journalist and a media advisor at some of Australia's biggest financial comparison sites such as Canstar, Compare the Market and Savings.com.au, and is passionate about helping Australians find the right money solution for them.
You can get in touch with William via
williamj@jacarandafinance.com.au
.