4th October 2023
Personal Loan Statistics 2023
Read our one-stop shop for all the key personal lending stats you could ever need.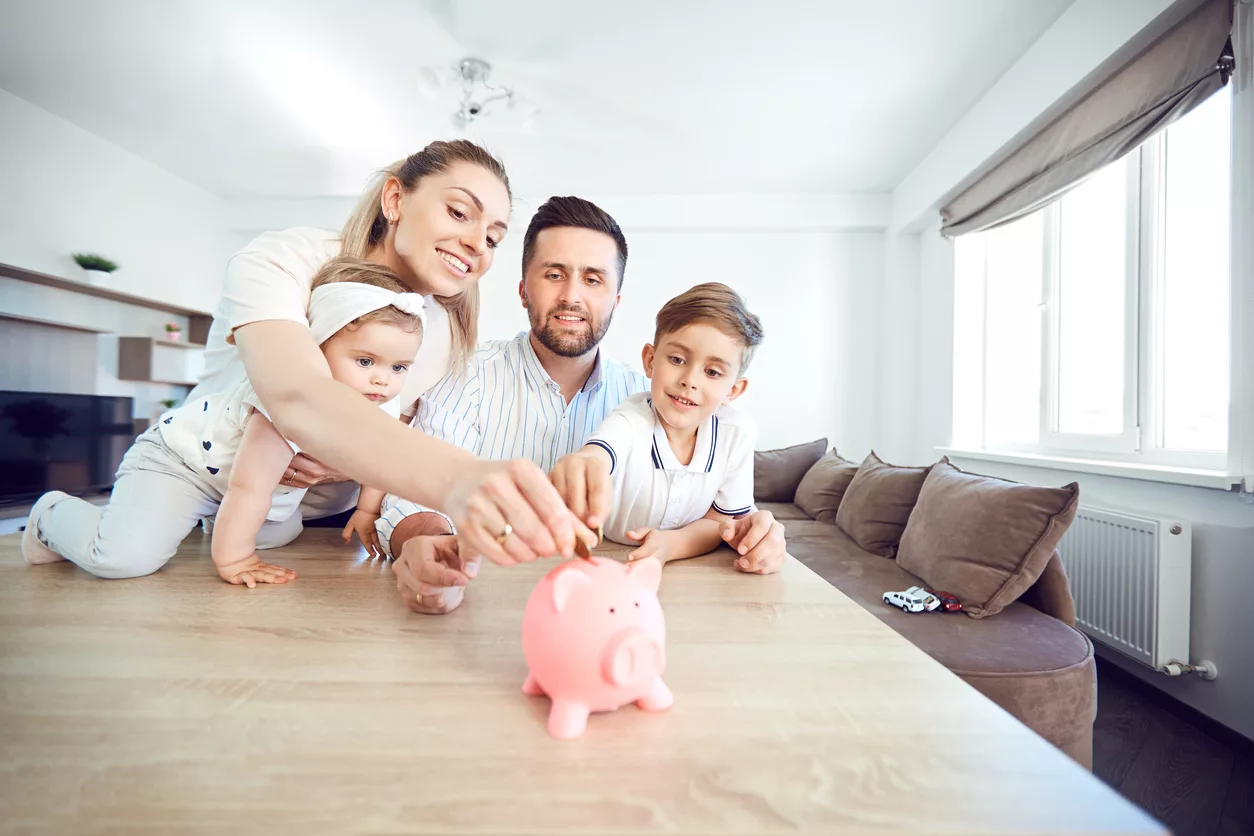 Personal loans in Australia serve many purposes, from consolidating debts to funding unforeseen emergencies or even taking that much-needed holiday. But just how many Australians have one? What's the average loan size? And how do these figures vary across the different states and territories?
If you're looking for the answers to these questions and more, you're in the right place. Delve into this comprehensive guide on Personal Loan Statistics for 2023.
On this page:
---
Download the FastMoney App now!
---
The number of personal loans in Australia
Aussies have been taking out personal loans for some time now, and numerous sources cite just how many of us have one or have used one in the past.
"While demand for personal loans declined year-on-year, the average limit per account, and the average credit score of applicants, has increased," Kevin James, General Manager Advisory and Solutions, Equifax, said.
"This could indicate that consumers who previously weren't feeling financial strain have begun to consolidate their debts so they can better manage their credit payments."
The value of personal loans
The total value of outstanding personal loans (that is, loans that still need to be repaid) spiked to an all-time high of $170.7 billion in July 2019. That's according to the Reserve Bank of Australia (RBA), which also shows that the total value of outstanding loans has since dropped to $143 billion as of July 2023.
Since the RBA began recording personal loan data in 1976, the average outstanding balance across Australia has been $80 billion.
Despite this apparent drop, the value of new loans funded has risen steadily since then. According to Australian Bureau of Statistics (ABS) data, the value of new personal loans in July 2023 was 9.2% higher than 12 months prior, at $2.3 billion.
That's just under the record value of new loans ($2.36 billion), which occurred just two months earlier in May. Comparatively, in July 2019, the value of new loans was $1.64 billion.
Average personal loan size by state
As of September 2023, the average Australian's personal loan debt is $7,328 a year, according to Finder's Consumer Sentiment Tracker.
Queenslanders had, on average, the most personal loan debt with $8,060. This contrasts with Tasmanians, who owed the least at an average of only $4,027.
| State | Average personal loan debt |
| --- | --- |
| NSW | $7,949 |
| VIC | $6,378 |
| QLD | $8,060 |
| ACT | $5,839 |
| TAS | $4,027 |
| WA | $7,745 |
| SA | $6,897 |
Source: Finder Consumer Sentiment Tracker April 2022 - March 2023.
Note that this data is for outstanding personal loan debt only. It does reflect how much the typical Aussie initially borrows with a personal loan.
Some research shows that the average amount borrowed with a personal loan in Australia is around $15,000 - $16,000. Money.com.au's data says the average personal loan amount is even higher at just under $23,000!
Comparatively, loan provider Plenti states that Australia's average car loan size is approximately $31,738.40.
At Jacaranda Finance, our online loans range from $2,100 - $25,000, with our Car Loans allowing you to borrow up to $25,000.
Personal loan rates & fees
In this section, we break down what you can typically expect to pay for a personal loan based on the broad range of fees and interest rates on the market.
Average personal loan interest rates
he most common and expensive charge you can expect on a personal loan is the interest, calculated as a percentage of the loan balance on a per-annum (annual) basis.
The interest rate on your loan can vary significantly from lender to lender and even the same lender's products. Usually, your interest rate will be influenced by factors such as:
Your credit score: Borrowers with higher credit scores are generally offered lower interest rates because they're considered less risky.
Your recent financial history: Positive or negative financial behaviours in recent months can influence your rate when you apply.
The loan amount and term: Larger or longer-term loans may have different interest rates than smaller or shorter-term loans.
Whether the loan is secured or unsecured: Secured loans often have lower interest rates than unsecured loans.
Fixed or variable interest rates: Variable interest rates tend to be lower than fixed rates, although this is not always true.
Because of all these factors, the average personal loan interest rate can be slightly misleading, and the result will differ depending on the source.
For example, Money.com.au analysis of thousands of loan requests shows an average interest rate of 13.87% p.a in 2023. According to Mozo, meanwhile, the average interest rate on unsecured personal loans is 10.35% p.a, while the average rate on secured loans is 8.95% p.a.
For new loans funded in the month, the Reserve Bank shows an average fixed interest rate of 10.59% p.a. as of July 2023. These interest rates are steadily increasing due to many cash rate increases since 2022.
Average personal loan fees
Generally, personal loans can come with a range of additional fees and charges, which can include:
Establishment fees;
Ongoing fees (monthly, annual, or other);
Extra repayment fees
Early repayment fees;
Missed repayment fees;
Documentation fees;
Encumbrance/REVV check fees;
Risk fees
Early exit fees;
And of course, interest charges
According to our Guide to Personal Loan Fees, here are the average, minimum and maximum amounts you could expect to pay for some of the above.
| Fee | Average | Minimum | Maximum |
| --- | --- | --- | --- |
| Establishment fee | $270 | $0 | $600 - $1,800 |
| Annual fees | $1 | $0 | $110 |
| Monthly fees | $2 | $0 | $15 |
| Other ongoing fees | $5 | $0 | $400 |
| Extra repayment fees | $10 | $0 | $25 |
| Early repayment fees | $100 | $0 | $300 |
| Missed repayment fees | $25 | $0 | $50 |
| Documentation fees | $5 | $0 | $100 |
| Encumbrance/REV check fees | $5 | $0 | $100 |
Need to calculate your loan repayments?
---
Sometimes we offer customers incentives encouraging an honest review of our services, be it negative or positive based on their unique experience. It is possible that some reviews were written by customers who received a reward regardless of their review being positive or negative. Last updated: 22/11/23
Google Rating
2,660+ Reviews
Word of Mouth
880+ Reviews
Product Review
1,790+ Reviews
Estimate your repayments in
3 Easy steps
Please consider: The example repayment is a guide based on the highest rate available for a product. Fees, credit criteria and terms and conditions apply. Your loan offer may vary once your details are captured and verified and an assessment is completed.
Max Interest Rate
(Fixed)
Estimated Total
Fees & Charges
$1,504.63
Estimated
Total Repaid
$9,802.63
Comparison Rate Warning
WARNING: This comparison rate is true only for the examples given and may not include all fees and charges. Different terms, fees or other loan amounts might result in a different comparison rate.
Disclaimer: This is not an offer for credit. Example tables and calculators are not intended to be your sole source of information when making a financial decision. Any calculations made by you using this calculator are intended as a guide only. Consider getting advice from a licensed financial adviser or a free community based financial counsellor if you need it.
---
Top personal loan purposes
Personal loans are a highly flexible product and can be used for a variety of different reasons. According to Finder, 88% of personal loans are taken out for planned purchases such as holidays, weddings and home renovations, while the remaining 12% are used for unplanned expenses. Such expenses include emergency car repairs, medical bills or other emergencies.
But the biggest reason Aussies take out a personal loan is to buy a new car. Finder's data found that around 20% of personal loans are used to buy a car (aka a car loan), which is backed up by official data from the ABS.
The 'purchase of a road vehicle' is comfortably the most common use of loans, with $1.3 billion borrowed in July 2023 alone. Excluding refinancing, that's more than half the $2.3 billion of new loans taken out that month!
What do Jacaranda Finance customers borrow for?
Jacaranda Finance data shows some slightly different results. As we primarily offer smaller maximum loan amounts ($2,100 - $25,000) and shorter loan terms (9 months - 48 months), the top 10 reasons our customers take out a personal loan are as follows.
Vehicle repairs, holidays, debt consolidation and medical expenses are all among the top reasons Aussies borrowed money in 2023.
| | Loan purpose | % of loan applications |
| --- | --- | --- |
| 1. | Vehicle Repairs, Servicing & Maintenance | 18.22% |
| 2. | Holiday & Travel Expenses | 11.63% |
| 3. | Debt Consolidation | 6.39% |
| 4. | Emergency Medical Expenses | 5.63% |
| 5. | House Furniture | 5.51% |
| 6. | Buying a Car (New or Used) | 5.88% |
| 7. | Dental Expenses | 4.91% |
| 8. | White goods | 3.99% |
| 9. | Home Maintenance & Repairs | 4.52% |
| 10. | Rental Bonds & Moving Expenses | 2.83% |
Source: Jacaranda Finance. Based on data from 1 January 2023 - 30 September 2023.
Online personal loans on the rise
Gone are the days of lining up at a bank to apply for a loan: the internet and the resulting explosion of competition in the lending market have seen the vast majority of loan applications occur digitally. For example, NAB's 2023 Half-Year Results revealed that 96% of personal loans were opened digitally, up from 87% the previous year.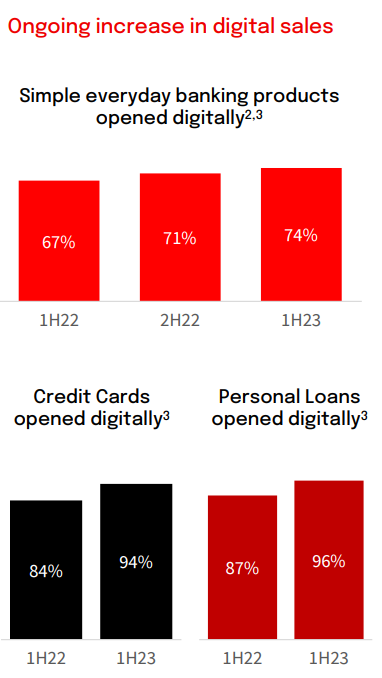 Online lending becoming mainstream has also led to customers abandoning the big banks in favour of smaller lenders. In 2010, Banks controlled 86% of the personal loan market, while non-bank lenders controlled 14%. But as of 2021, that split changed to 72%/28%.
Credit score statistics
Credit scores and personal loans go hand-in-hand. Your credit score is essential because it represents to credit providers your trustworthiness as a borrower and your responsibility with money. A higher credit score can improve your chances of a successful loan application for a desirable product that meets your needs!
In Australia, credit scores can range between zero and 1,000 to 1,200, depending on the credit reporting bureau. The sections below detail the average credit scores across different demographics and states/territories.
Average credit score in Australia
Data from Finty suggests the average credit score across all states and territories is about 657, which is quite literally an 'average' credit score! However, according to credit reporting company Equifax, the average credit score among Australians is 846, which would be high enough to put the average Aussie in the 'very good' range.
Women (858) tend to have a slightly higher average credit score than men (836).
Average credit score by age
Credit scores skew higher for older Australians. The silent generation (74+) has an average credit score of 936, compared to 665 for Gen Z (18-24).
| Age group | Average credit score |
| --- | --- |
| Gen Z (18-24) | 665 |
| Millennials (24-39) | 796 |
| Gen X (40-54) | 868 |
| Baby Boomers (54-74) | 918 |
| Silent Generation (74+) | 935 |
Average credit score by state
People in the ACT have the highest average credit score (888), while the lowest is in the Northern Territory (799).
| State | Average credit score |
| --- | --- |
| NSW | 846 |
| VIC | 862 |
| QLD | 822 |
| ACT | 888 |
| TAS | 858 |
| WA | 847 |
| SA | 850 |
| NT | 799 |
What about car loan statistics?
Want to know how many cars are sold in Australia each year? Or what the average car costs? We've also compiled a page containing the most sought-after Australian car statistics, which you can read by clicking the button below.
Need a fast personal loan?
With a Jacaranda Finance personal loan, you can borrow up to $25,000 over loan terms as long as 48 months, providing you with manageable, fixed repayments. If you feel like applying for one of our loans, you can first check if you qualify without affecting your credit score and go from there.
Our loan application process has been perfected over time to be as simple and quick as possible. You can:
Apply in just 5-12 minutes1 (depending on your circumstances)
Receive a same-day outcome2 on your application
If approved, get your money within 60 seconds3 (NPP-enabled bank accounts only)
Apply online or via our FastMoney app today!
---
The information on this website is for general information only. It should not be taken as constituting professional advice from the website owner - Jacaranda Finance. Jacaranda Finance is not a financial adviser, and the content on this page does not take into account your objectives, financial situation or needs. You should consider seeking independent legal, financial, taxation or other advice to check how the website information relates to your unique circumstances.
Jacaranda Finance is not liable for any loss caused, whether due to negligence or otherwise arising from the use of, or reliance on, the information provided directly or indirectly by use of this website.
William is the Content Manager at Jacaranda Finance. He has worked as both a journalist and a media advisor at some of Australia's biggest financial comparison sites such as Canstar, Compare the Market and Savings.com.au, and is passionate about helping Australians find the right money solution for them.
You can get in touch with William via
williamj@jacarandafinance.com.au
.