16th November 2023
Bigger loans, lower interest rates available from Jacaranda!
Jacaranda Finance has today launched a brand-new personal loan product with a lower, more competitive interest rate.
Last modified: 20th November 2023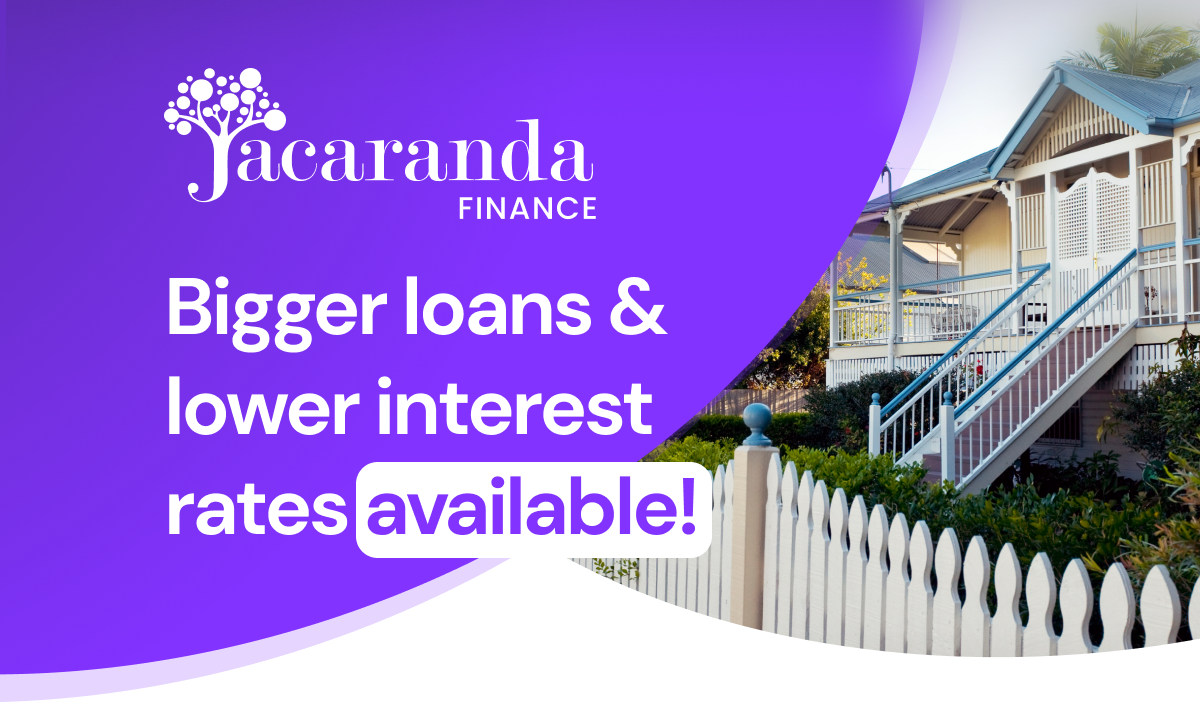 As of 16 November 2023, borrowers who own their own property may be able to qualify for an interest rate of 14.95% p.a. (comparison rate 29.30% p.a.)*.
This new lower rate will be available for those who qualify for Jacaranda's Platinum product. It also comes with:
A larger maximum loan amount of $25,000 (up from the previous maximum of $15,000); and
A longer maximum loan term of 48 months (up from the previous maximum of 36 months).
---
*Comparison Rate Warning: the comparison rate is based on $10,000 over 36 months. WARNING: This comparison rate is true only for the examples given and may not include all fees and charges. Different terms, fees or other loan amounts might result in a different comparison rate.
---
Sometimes we offer customers incentives encouraging an honest review of our services, be it negative or positive based on their unique experience. It is possible that some reviews were written by customers who received a reward regardless of their review being positive or negative. Last updated: 22/11/23
Google Rating
2,660+ Reviews
Word of Mouth
880+ Reviews
Product Review
1,790+ Reviews
Estimate your repayments in
3 Easy steps
Please consider: The example repayment is a guide based on the highest rate available for a product. Fees, credit criteria and terms and conditions apply. Your loan offer may vary once your details are captured and verified and an assessment is completed.
Max Interest Rate
(Fixed)
Estimated Total
Fees & Charges
$1,504.63
Estimated
Total Repaid
$9,802.63
Comparison Rate Warning
WARNING: This comparison rate is true only for the examples given and may not include all fees and charges. Different terms, fees or other loan amounts might result in a different comparison rate.
Disclaimer: This is not an offer for credit. Example tables and calculators are not intended to be your sole source of information when making a financial decision. Any calculations made by you using this calculator are intended as a guide only. Consider getting advice from a licensed financial adviser or a free community based financial counsellor if you need it.
According to Head of Growth Matthew Wong, this updated product is the latest example of the digital lender's commitment to offering a product that meets the needs of our customers and enables them to book in bigger ticket items such as home renovations.
"Our personal loan is coming down in rate and up in loan amount to the point where we are now competing with many banks who are doing risk-based pricing," Mr Wong said.
"We know that times are tough at the moment with the cost of living as high as it, and mortgage holders are particularly struggling due to consistent interest rate rises.
'That's why our customers can now access a personal loan interest rate with Jacaranda that's around the market average."
Money.com.au analysis of thousands of loan requests shows an average interest rate of 13.87% p.a in 2023 - just below Jacaranda's new product offering.
According to Mr Wong, the typical Aussie often finds themselves locked out of accessing the finance they need for mid-sized expenses from the big banks.
"This is often true even if they are quite responsible with money," he said.
"By lowering our interest rates and changing our maximum loan amount & loan terms, we're giving these responsible Australians a competitive alternative if they need to borrow funds fast.
"Thanks to Comprehensive Credit Reporting, which Jacaranda is now a part of, customers who repay their loans on time, every time, can improve their credit scores quickly and unlock further financial opportunities in the future."
William is the Content Manager at Jacaranda Finance. He has worked as both a journalist and a media advisor at some of Australia's biggest financial comparison sites such as Canstar, Compare the Market and Savings.com.au, and is passionate about helping Australians find the right money solution for them.
You can get in touch with William via
williamj@jacarandafinance.com.au
.