17th March 2023
The Cost of Living Explained
Unless you've been living under a rock or in a dark, windowless room for the past 12 months or so, you're probably aware of the rising cost of living in Australia.
Last modified: 21st April 2023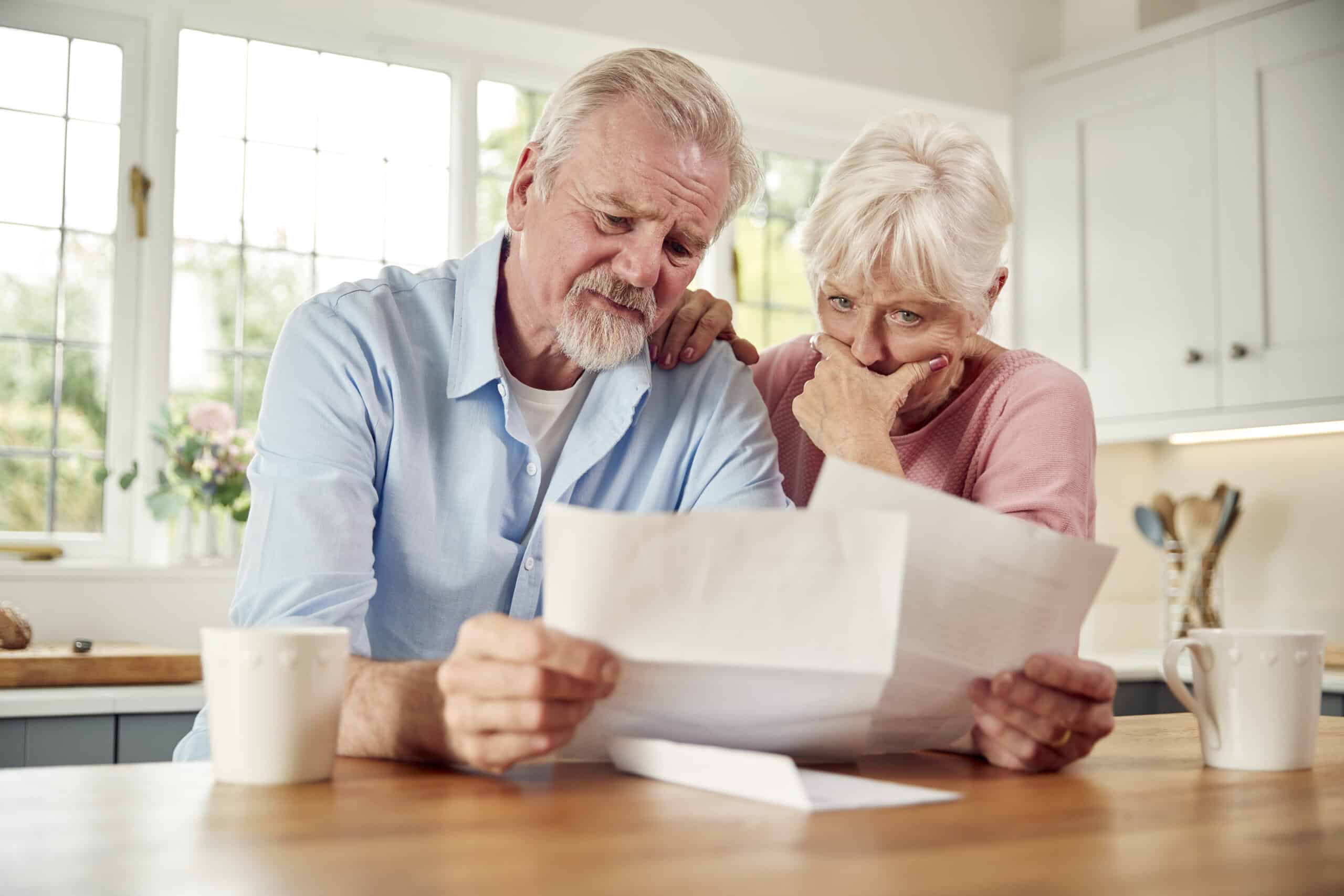 According to research by major bank NAB, the cost of living is the largest cause of stress among a majority (51%) of Aussies. One in three Australians identify money as a 'significant' cause of stress, and 25% say they're concerned about how they're going to make ends meet.
But what exactly is the 'cost of living'? Is there an exact definition? How do we measure it? And what expenses have risen in cost the most in recent months?
Take a deep dive into the cost of living in our latest article.
On this page:
---
The information on this website is for general information only. It should not be taken as constituting professional advice from the website owner - Jacaranda Finance. Jacaranda Finance is not a financial adviser, and the content on this page does not take into account your objectives, financial situation or needs. You should consider seeking independent legal, financial, taxation or other advice to check how the website information relates to your unique circumstances.
Jacaranda Finance is not liable for any loss caused, whether due to negligence or otherwise arising from the use of, or reliance on, the information provided directly or indirectly by use of this website.
---
What is the cost of living?
There's no set definition for it, but the cost of living is generally how much it costs to afford the essentials needed to live comfortably. While it isn't literally paying to be alive, it can indirectly mean that: things like food, shelter, and medical treatment aren't really optional but still cost money, after all, and not having them can have dire consequences.
At the time of writing in 2023, the cost of living has increased quite sharply, and there's little respite on the horizon. "Non-discretionary" items - that's the essentials - like fruit and vegetables, medications, petrol for your car and energy for your home have seen significant price rises, while the discretionary (non-essential) items like entertainment, restaurants and nice clothing also cost a lot more than they used to.
Essentially, the cost of living is the minimum expenditure needed to maintain a certain standard of living.
How do we measure the cost of living in Australia?
According to the Australian Bureau of Statistics (ABS), "no statistical agencies compile true cost of living or purchasing power measures as it is too difficult to do so". The cost of living for one person could be very different to the next, so we don't officially measure it. However, we come pretty close.
While different sources compile data on the changing costs of certain types of expenses (we'll showcase some of these further down), the main source of data used to describe our rising cost of living is the Consumer Price Index (CPI), also known as inflation.
What is inflation?
At its most basic level, inflation is the rate of increase in prices over a period of time. It's a measure of our buying power: the faster inflation increases, the less our money is worth.
Some level of inflation is good. For example, the boffins at the Reserve Bank of Australia (RBA) generally try to keep inflation within a target range of about 2-3%. Unfortunately, that hasn't been going too well lately.
According to our latest CPI figures, inflation peaked at 8.4% over the 12 months to December 2022 and fell slightly to 7.4% in January 2023, which are among the largest increases we've ever seen.
"High inflation is damaging and corrosive," the head of the RBA Philip Lowe said.
"It hurts people, puts pressure on household budgets and erodes the value of people's savings. It increases inequality and hurts people on low incomes the most."
How do we measure inflation?
The CPI measures the costs of 11 categories of necessary goods and services (known as a 'basket') month-to-month and tracks their price movements, with different weights given to different types of expenses based on their importance:
When the cost of the overall basket goes up, the monthly CPI has officially increased. This can also mean the cost of living has indirectly gone up.
What is the cost of living in Australia?
The cost of living in Australia is generally quite high and climbing, although the true cost will be relative to where each person lives and the income they earn. Someone living in a capital city, for example, won't have the same cost of living as someone in regional Australia.
However, two sources - collaborative databases Expatisan and Numbeo, which collect data from real people - have listed the typical monthly expenses in Australia for both families and singles.
The numbers don't make for good reading, with even a single person expected to require several thousand dollars each month just to pay for the necessities:
How does Australia's cost of living compare to other countries?
Multiple sources have found Australia to have one of the highest costs of living in the world, although our standard of living is also very high. Expatisan research shows that as of 2023, the cost of living in Australia is more expensive than 87% of countries in the world!
Meanwhile, global research by Economic Intelligence in 2022 placed Sydney as the 10th most expensive city in the world, sitting just behind major cities like Paris, San Francisco, Los Angeles and Hong Kong.
| | | |
| --- | --- | --- |
| Ranking | Country | Price Index* |
| 1st | Bermuda | 237 |
| 2nd | Singapore | 227 |
| 3rd | Cayman Islands | 200 |
| 4th | Switzerland | 196 |
| 5th | Bahamas | 193 |
| 6th | Hong Kong | 183 |
| 7th | Ireland | 177 |
| 8th | United States | 168 |
| 9th | Denmark | 162 |
| 10th | Norway | 159 |
| 11th | Australia | 156 |

Source: Expatisan, Cost of Living Ranking by Country. Accurate as at March 2023.
What are the biggest living expenses in 2023?
The high cost of living has influenced nearly everyone, so there's a good chance you're acutely aware of at least some of these expenses. Below, we've broken down the costs that are affecting Aussies the most in 2023 and how much they've increased overall.
You might find your spending on some of these has gone up by more or less than the average Australian.
Click here to jump to each section:
Mortgages
From the inflation figures: 'New dwelling purchases by owner-occupiers' rose 14.7% over 12 months to January 2023.
Mortgages are the cost you might've heard about the most in recent months, and if you're one of the ~33% of Australians with an active mortgage, you're living it right now.
To combat rising inflation, the RBA has increased the cash rate - essentially the cost of borrowing between banks - from its record low of 0.10% in April 2022 to 3.60% as of March 2023. That's an increase of 350 basis points, or 3.50% p.a, in less than one year!
These increases are almost always passed on to mortgage holders in the form of interest rate rises on their home loans. According to an analysis by AMP:
"The average household in Australia has a mortgage of around $600,000 (across variable and fixed loans). As a rough guide, monthly mortgage repayments are due to increase by around $13,000 per year if we account for the full increase in the cash rate so far."
So for the average household with a mortgage, their monthly costs on their house alone could have increased by more than $1,000!
The chart below shows just how sharply the average variable home loan rate has increased in line with the increase in the RBA cash rate.
Rent
From the inflation figures: 'Rents' rose by 4.8% over the 12 months to January 2023.
Roughly one-third of the population rents their home, and rents have also increased quite sharply. Research by Compare the Market in February 2023 found more than half (53.9%) of renters have seen their rent increase in the past 12 months. On average, renters are forking out an extra $1,932 a year on rent alone.
"These aren't small increases that Australian renters are experiencing," Compare the Market's Natasha Innes said.
"Over a year, it's enough to pay for a return trip overseas, fill up a 50-litre tank car around 22 times or potentially pay for more than a year's worth of electricity."
This research is supported by Domain's quarterly rent report, which said in its December 2022 edition:
"It has been a record-breaking year; asking rents are at historic highs across the combined capitals and all cities (apart from Darwin and units in Perth), rents are rising at the fastest annual pace ever seen across the combined capitals and the number of vacant rental properties at an all-time low for the month of December, fuelling a landlords' market and presenting an ongoing rental crisis in many parts of the country."
Our analysis of Domain's rental figures shows the average weekly cost of renting across the capital cities rose by 16% in 12 months, up from $453 per week in December 2021 to $525 per week in December 2022.
Combined weekly rents: Units and Houses
| Capital City | DEC-2022 | DEC-2021 | Year-on-year growth |
| --- | --- | --- | --- |
| Sydney | $613 | $533 | 15.35% |
| Melbourne | $465 | $410 | 13.95% |
| Brisbane | $515 | $450 | 14.45% |
| Canberra | $625 | $600 | 4.35% |
| Adelaide | $450 | $400 | 12.70% |
| Perth | $480 | $425 | 12.75% |
| Combined Capitals | $525 | $453 | 16.10% |
Energy
The cost of powering our homes through electricity and gas has increased dramatically. The quarterly inflation figures for December 2022, for example, show:
Electricity prices rose 11.7% in 12 months across Australia;
Gas and other household fuels rose 17.4%
Other utilities rose 10.4%
Oil, gas and coal prices around the world have risen sharply following the Russian invasion of Ukraine, and energy companies in Australia have passed on these costs accordingly. The Federal Government has forecast electricity prices to rise by as much as 50% over the next couple of years and gas prices by 40%.
In February 2023, one of Australia's biggest energy companies, EnergyAustralia, announced major price increases for electricity and gas customers, just to name one example.
According to EnergyAustralia, Australians on variable electricity contracts would see their prices go up by 14% per year, with gas prices also going up by as much as 26.7%, or $480 a year.
"We know these price rises won't be welcomed by households already experiencing cost of living pressures," EnergyAustralia Chief Customer Officer Mark Brownfield said.
"A perfect storm of issues during 2022 meant it is costing us more both to generate and purchase wholesale electricity for our customers.
"These issues include the sustained impact of the war in Ukraine on energy prices, extreme weather conditions and coal supply issues, along with some increases in market administration costs."
Fuel/petrol and transport
Those global factors mentioned above also contributed to a dramatic rise in the cost of fuel. Petrol prices, for example, saw a CPI increase of 11% in the three months to March 2022 alone, which is the highest single increase since the Gulf War in 1990.
To combat this, the Federal Government halved the fuel excise - a tax levied on petrol and diesel bought at the bowser - from 46 cents per litre to 22 cents per litre, but this was quickly restored by September 2022. For the December quarter, automotive fuel prices remained 13.2% higher compared to 12 months prior: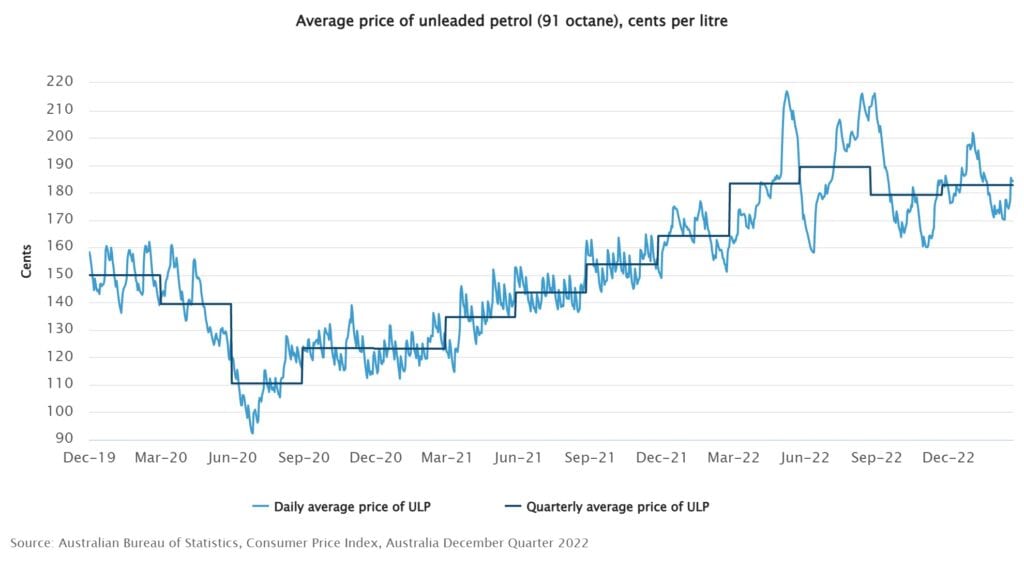 In many Australian cities, fuel price records were smashed in 2022 and continue to be so.
The RACQ's Annual Fuel Price Report, for example, found average retail unleaded and diesel price records were broken in every location throughout Queensland, with Brisbane surging past its previous all-time high by 34 cents per litre (cpl) for regular unleaded.
"We saw an increase in oil prices following the Russian invasion of Ukraine and subsequent international sanctions against Russia," The RACQ's Ian Jeffreys said.
"Without the excise cut, prices on the most expensive days in June would have been about 24cpl higher and the daily average in Brisbane may have spiked at about 246cpl for regular unleaded.
"Thankfully, global prices have eased since and while fuel markets are extremely volatile, the future is looking brighter."
Groceries
You would no doubt have noticed your typical shopping bill has looked a lot bigger in recent months. The cost of groceries has in fact gone up significantly, and according to a Canstar Blue survey in January 2023 it is now the biggest financial concern among Australians (18%), ahead of the cost of rent (11%), electricity and gas (10%) and mortgage rate hikes (10%).
There are various different sources that paint a clear picture of just how much groceries have increased in price. One is the Grocery app Frugal, which found in its latest Grocery Price Index (GPI) that food prices had risen nearly 10% annually in October 2022.
But the official figures are the most telling. Overall, the ABS CPI numbers show 'food and non-alcoholic beverages' increased in price by 9.2% annually in 2022, which reflects 'elevated input costs for farmers and producers of packaged goods, as well as strong Christmas'.
The biggest price increases have been seen in dairy products, which are up nearly 15% over the past 12 months!
Percentage change in grocery prices to December 2022
| | Change from previous quarter (%) | Annual change (%) |
| --- | --- | --- |
| Bread and cereal products | +3.4% | 12.2% |
| Meat and seafood | 1% | +8.2% |
| Dairy and related products | +4.2% | 14.9% |
| Fruit and vegetables | -7.3% | +8.5% |
| Other food products | +2.7% | 11% |
| Non-alcoholic beverages | +0.7% | 10.5% |
| Non-durable household products | +2.3% | 12% |
"To describe the past year's grocery pricing as volatile would be a gross understatement, and having analysed the quarter just gone, and reading the early indicators of the quarter we've just begun, there's no reason to believe that volatility is going to end anytime soon," Frugl CEO Sean Smith said.
"We've identified that even low-budget supermarket products are being affected by inflationary pressures, which means for all budget-conscious shoppers, grocery inflation is having a very real impact on their cost of living."
Other major expenses
Depending on your lifestyle and circumstances, you might also have noticed your spending on healthcare, childcare, recreation and other things has skyrocketed lately.
Looking at the official CPI figures, you're right to think that way. In the 12 months to December 2022:
Healthcare costs rose by 3.8%
Childcare and education costs rose by 4.6%
Recreation costs rose 9%
Holiday and travel costs rose 17.8%
You get the idea. In fact, none of the 11 categories tracked by the ABS saw an annual price decrease. The cost of living is rising everywhere, and for most people it's inescapable.
But at least our wages are increasing…right?
The best way for households to keep pace with the rising cost of living is for the money they receive to go up as well. If household income does not increase in line with inflation, then wages are said to be decreasing in real terms.
The official figures collected by the ABS' Wage Price Index (WPI) make for a pretty grim reading on that front too. The latest WPI data shows wages rose 3.3% in the 12 months to December 2022. But CPI rose 7.8% in the same period – the biggest gap between wages and inflation since the ABS began gathering this data in 1997.
While there was a temporary spike in real wages due to COVID-19 lockdowns, the overall trend of the last few years is an absolute decline in Australians' wages compared to the cost of living. While prices have gone up, the wages we make from our jobs haven't increased since 2009…
How much money are Aussies saving?
You've probably guessed by now that Australians are saving less money as a result of higher costs and lower wages. And you'd be correct!
The ABS also collects data on Australia's household savings ratio, which is just how much of a household's income is saved during a period of time.
The highest the savings ratio has ever been in Australia was 23.6%. That was in June 2020, right in the middle of COVID-19-enforced lockdowns. Back then, the combination of a lack of spending due to being inside, increased government benefits like JobKeeper and JobSeeker, withdrawals from superannuation accounts, pauses on mortgage and loan payments and more led to a massive increase in the ability of many Australians to save money.
As the country re-opened, this number fell back towards a more typical level in the ~10% and below range, but the latest figures show household savings dropping to a level that could be considered dangerous.
In December 2022, the household saving ratio declined from 7.1% to 4.5%, the lowest level since September 2017. PRD Chief Economist Dr Asti Mardiasmo told Savings.com.au that a savings rate below 5% was cause for concern.
"At the moment it's even more of an issue due to the fact that our costs are still increasing – rate rises, mortgage repayments, and just day-to-day costs," Dr Mardiasmo said.
"What this means for households, is that there is now even more segregation between those who do have a higher income and savings account than those who don't - particularly as we ride out the next three-to-six months."
To make matters worse, the money Aussies do manage to squirrel away isn't earning as much in interest as it used to.
The ACCC announced in February 2023 that it would be investigating banks for failing to increase interest rates on deposits - which earn interest for customers - at the same rate as mortgages.
Australian households together hold more than $1.3 trillion in savings and deposit accounts, but based on Savings.com.au's analysis:
By the time of the first RBA rate increase in April 2022, the gap between the average savings account and home loan interest rate was 2.36% p.a
But in January 2023, that gap had increased to 3.93% p.a.
Struggling with the cost of living?
While many experts agree that the current high inflation will ease off by around 2024-2025, that will come as little relief to people who are already feeling the pinch right now.
Tips to reduce your expenses
While these won't always be options for everyone, here are some of the more common things you can do right now to minimise your expenses or maximise the return on the money you bring in right now…
1. Cut down your energy use
Cutting down on how much electricity and gas you consume could save you hundreds of dollars a year.
If you haven't already, make sure you get into the habit of doing the following:
Use less heating and cooling. Only heat or cool the room you're using rather than the whole house, and avoid using aircon altogether unless you have to.
Only run your washing machine with a full load and use cold water if possible, as this uses less energy. You should obviously try to not use a dryer if it's a sunny day outside.
Use energy-efficient appliances and lights if you can and try to use them outside of peak times if possible.
Avoid the dreaded 'standby'. Appliances on standby mode can use 10% more electricity, so turn them off at the wall instead!
2. Compare energy & utility providers
Using the above tactics to reduce your energy bills is all well and good, but doing that as well as comparing energy providers to find a cheaper one can save you even more money.
The Australian Government has an energy comparison tool called Energy Made Easy, which can help you find a more affordable plan.
3. Find a high interest savings account
There is a huge difference in the interest rates on offer on savings accounts right now.
Among the big four banks, the average interest rate as of February 2023 is 1.25% p.a. But the highest rate on the market is 5.15% p.a according to RateCity.
On a balance of $10,000 with monthly deposits of $1,000, you'd be missing out on more than $620 in interest in just one year if you stuck with the lower-rate account
4. Drive less and get smart with petrol
Did you know that Compare the Market analysis back in January 2023 found the average difference between the cheapest and most expensive petrol stations across the capital cities was nearly 26 cents per litre? In Sydney it was 54 cents!
Our article on tips to save on fuel recommends the following strategies to cut down on costs at the bowser:
Download and use fuel comparison apps
Monitor petrol price cycles
Consider carpooling
Catch public transport (or cycle) if you can
Set the correct tyre pressure
5. Reduce your grocery bills or use food boxes instead
YouGov found that Australians could actually save as much as $1,360 annually by ordering groceries online and making use of promo codes, online specials and discounts. You could also try:
Buying in bulk
Buying frozen over fresh
Buying less meat
Buying fewer non-essentials like lollies and snacks
Buying seasonally
What's more, if you take advantage of signup offers then food boxes such as HelloFresh and YouFoodz can be more cost-effective over the short-term
6. Do a subscription 'spring clean'
Our article 'the real cost of subscription services' goes into detail on how much Aussies waste on things they don't use, but continually pay for. The average Australian spends $105 monthly on payments for services they no longer use such as video streaming. That's nearly $1,300 a year!
Comb through your finances and cancel the subscriptions you can do without.
7. Look for any government benefits you're eligible for
Several states and territories have announced new schemes, grants and concessions for people to help pay for the essentials, or to just spend money on the local economy.
These are in addition to existing schemes for vulnerable groups: check out Services Australia to find a complete list of these schemes for any benefits you can claim.
8. Sell stuff around the house
If you don't need it, get rid of it. You can easily sell stuff online via eBay, Gumtree and Facebook Marketplace, and given the high cost of everything these days there'll be no shortage of people who'll buy it.
Have and look and see if you can sell any books, appliances, furniture or even something you've made.
9. Find extra income
Back in 2021, nearly half (48%) of Aussies either had or planned to start a 'side hustle', which is an extra-income generating activity outside of your main source of income.
Common side hustles include freelancing, working in the gig economy (like Uber), dog-sitting and walking, tutoring, painting and much, much more.
If you've got a particular talent or even just some free time, try making a bit of extra money on the side to get by.
10. Consolidate your debts
One option to eliminate your debts and get yourself back on track to financial freedom could be a debt consolidation loan.
Check out our article on the pros and cons of debt consolidation loans to see if one could be right for you.
Resources for debt & financial assistance
If you're struggling with money or debts as a result of the cost of living crisis, you can call the free National Debt Helpline on 1800 007 007 (Monday – Friday). Aboriginal and Torres Strait Islander peoples can also call the free Mob Strong Debt Helpline on 1800 808 488.
ASIC MoneySmart also recommends doing the following:
William is the Content Manager at Jacaranda Finance. He has worked as both a journalist and a media advisor at some of Australia's biggest financial comparison sites such as Canstar, Compare the Market and Savings.com.au, and is passionate about helping Australians find the right money solution for them.
You can get in touch with William via
williamj@jacarandafinance.com.au
.