6th September 2023
Moving House Costs & Expenses
Moving house can be a stressful time for everyone. From finding a new place to packing, there seems to be no shortage of things to sort out.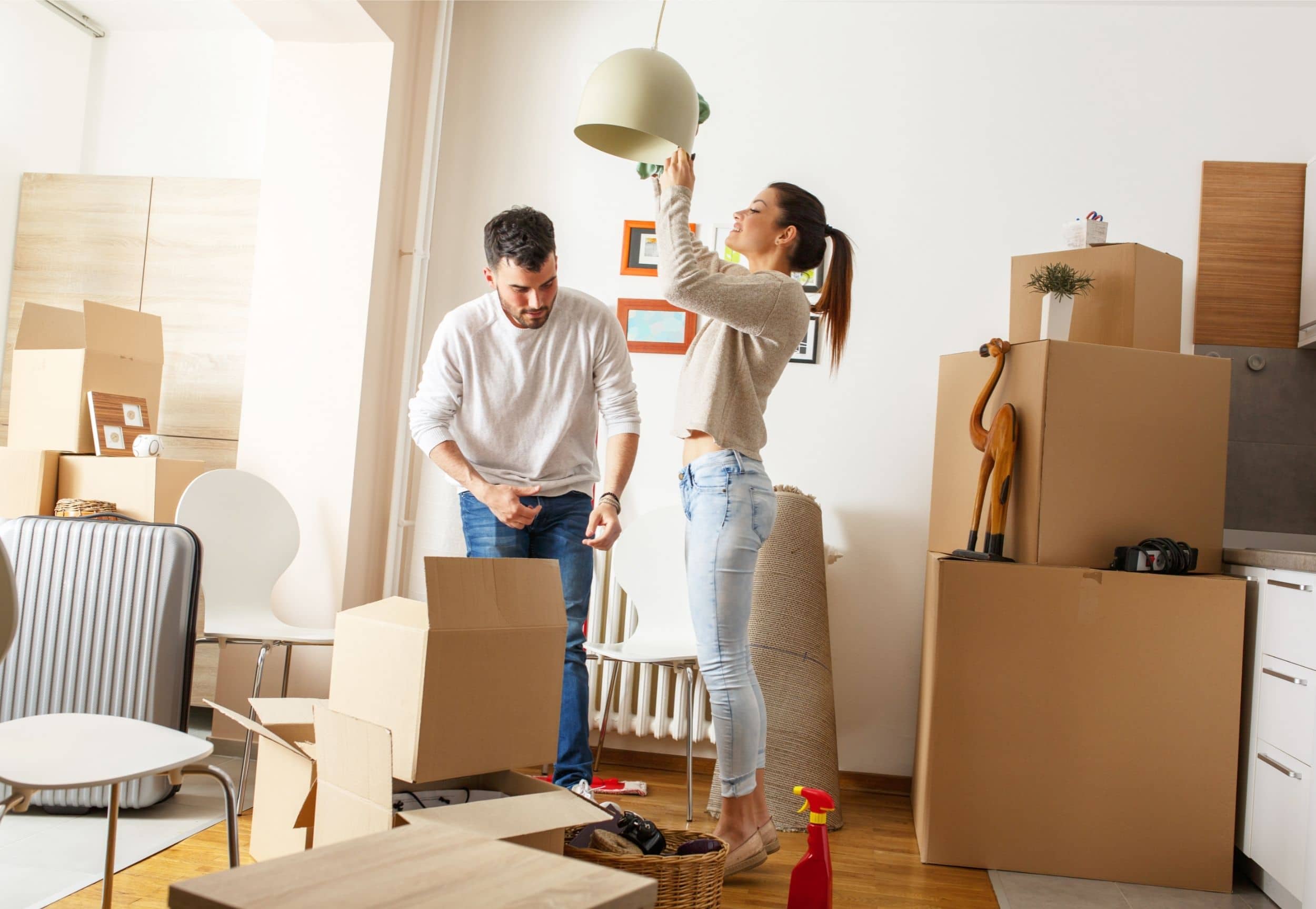 To make things even more challenging, moving can also be really expensive!
As many as 1.14 million Aussies move at least once every year. With the cost of living as high as it is, finding a way to save when moving is crucial, regardless of whether you're a renter or homeowner.
In this guide, we'll discuss the key costs and expenses you might need to consider when moving house and some tips and resources for moving smoothly.
Originally published 22 June 2021.
On this page:
---
Download the FastMoney App now!
---
What is the average cost of moving house?
According to the Muval Movers Index for 2022, the average Australian spends approximately $3,000 each time they shift. Movers budget $1,581 on removalist costs and $1,451 for additional expenses such as boxes, cleaning and packing services.
This is similar to that quoted by HiPages, which found national moving costs typically average around $1,400 and range from $700 to $2,500.
What's the average cost of moving interstate?
Unsurprisingly, those moving interstate spend even more on moving costs. According to Muval, people moving to an entirely new state spend upward of $4,180 on average, while HiPages recommends budgeting anywhere between $2,600 - $5,850 (for a three-bedroom house).
Costs to consider when moving house
Moving costs can be pretty complicated and vary wildly based on several different factors:
Whether you use removalists or DIY
The removalists you choose
The number and size of the items moved
The size of your current and new home
The distance of your move and expected duration
Access to the property
Whether you're a renter or homeowner
And much more. We've broken down the average costs you'll need to consider below. Remember that your exact costs will likely differ based on the above factors.
Removalist costs
Boxes and packaging costs
Furniture costs
Rental bond costs
Cleaning costs
Utility costs
Other costs
Average removalist costs
The most common expense when moving is paying for removalists. The cost of hiring a removalist can vary depending on which of their services you decide to use. Typically, removalists offer the following:
Packing boxes and tape;
Transportation;
Temporary storage (in some instances);
Loading and unloading of furniture and belongings;
Removalists sometimes offer specialised services, including moving large, delicate items (e.g. pianos) or even transporting pets.
According to Muval, Australians spend an average of $1,581 on removalists.
Removalists typically charge hourly, ranging from $75 to $300 per hour. Freelance removalists from Airtasker can cost a bit less, at around $100 - $250 per hour.
You can use comparison websites like Muval, Airtasker, Find a Mover, etc., to search for the best deal.
Removalists vs. DIY: Which is better?
If you decide to forego the removalists and transport everything yourself, there are obvious financial benefits. The only costs you'll need to consider are hiring a van/truck for yourself and paying your friends, who will inevitably need to help you.
However, there's a lot to think about when doing it yourself. You'll need:
More time
Physical fitness for lifting and carrying heavy objects
Help from family and friends
Stress relief if/when something goes wrong.
A hybrid approach could be a better option than full DIY moving: pack up all the more minor things yourself, and allocate a few of your biggest items for removalists to take.
Average boxes and packing costs
Nearly two-thirds (63%) of Aussies say packing is among the top three most loathed tasks when moving house. You'll need somewhere to store and transport all your clothes, plates, personal possessions, electronics, wall paintings, and everything in between.
If you know someone who recently moved, it could be an idea to message them and see if they have any packing boxes you could borrow or buy. If not, packing boxes can be purchased from the likes of Storage King, Officeworks and National Storage.  
When budgeting for boxes, bubble wrap, tape, etc., a general rule is to set aside at least $100 for these.
Average furniture costs
Did you know that half of all movers end up buying new furniture? Muval's Index shows furniture was the number 1 purchase triggered by moving (50%), ahead of kitchen appliances (40%) and entertainment appliances (39%).
A new abode is often the perfect time to replace those old couches you've meant to throw out. Here's how much you'll generally need to spend on new pieces of furniture, from the low-end to the high-end of the market:
| Furniture type | Typical cost |
| --- | --- |
| Couches and lounges | $500 - $2,000 |
| Bed frames and mattresses | $300 - $2,000 |
| Dining sets | $200 - $2,000 |
| Office furniture | $100 - $800 |
| TVs | $200 - $10,000 |
| Outdoor settings | $500 - $2,500 |
| Kitchen Appliances | $300 - $1,500 |
Source:
Soho.
Average cleaning costs
While this will generally only apply if you're renting, ensuring the home is clean is important as your property agent/landlord will conduct an end-of-lease inspection. Failing to have the property appropriately clean and free of damage could result in you losing your bond (see above).
The easiest way to ensure the property is in good condition is to hire a professional cleaner. A handy tip is to use one that the agent recommends. But if you decide to compare your options, Airtasker quotes the median bond cleaner cost at $310, with typical prices ranging from $250 - $400.
Costs can fluctuate depending on the size of the home, the services included (e.g. if they will also be doing carpet cleaning or pest control), and the property's condition. Typically, smaller properties are cheaper to clean; a bond clean will be relatively inexpensive if the property is already generally clean.
How clean should your property be when moving out?
While you should check your tenancy agreement for the exact requirements for your property, the general rule is that the home only needs to be as clean as it was when you moved in. 'General wear and tear', such as light scratches or worn carpets, is also usually acceptable.
Average rental bond costs
Also applying to renters only is the rental bond. The bond is usually equivalent to four weeks' rent, depending on your state, and it will be returned to you at the end of your tenancy if the property is in good condition.
However, if you continue to rent, you'll likely need to pay a new rental bond to secure your next property. At four weeks' rent, plus an extra two weeks' rent in advance as a deposit, this could cost more than $3,200 for the median rental property in Australia!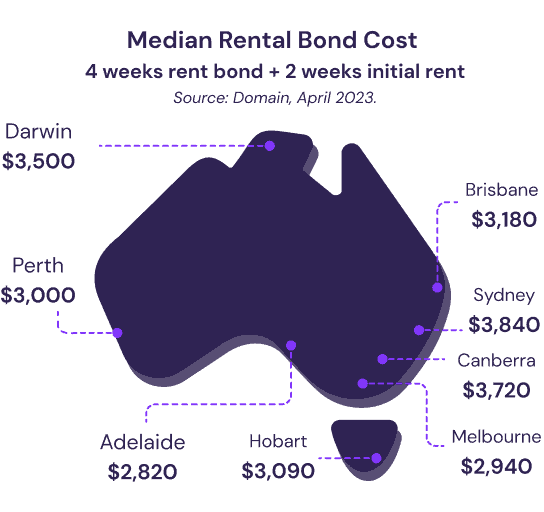 What if you're not renting?
Congratulations if you're transitioning from a renter to a homeowner! Here are some of the fees and charges you may have to pay:
Mortgage fees: Application/upfront fees for new mortgages can cost hundreds of dollars.
Stamp duty: This tax on property transactions varies by state and property value but will usually be thousands of dollars at least.
Conveyancing or solicitor fees: These professionals assist with the legal aspects of buying or selling property.
Property inspection fees: If you're buying a new property, you might want a professional to inspect it to identify any potential issues.
Council rates and other levies: These might be prorated depending on when you move.
Average utilities & connection fees
When you move into a new home, you'll need to set up utility services such as electricity, gas, water, and internet. Alternatively, you can transfer them across from your previous property.
You might be charged for setting up these utilities in your new home or disconnecting them from your previous one.
According to Finder, here are the connection and disconnection fees for electricity in Australia as an example (natural gas has separate fees):
| State/Territory | Connection fee | Disconnection fee |
| --- | --- | --- |
| NSW | $12.24 - $41.58 | $12.24 - $41.58 |
| VIC | $22.04 - $61.66 | $22.04 - $65.55 |
| QLD | $12.55 | $12.55 |
| SA | $50.25 | $50.25 |
| ACT | $88.47 | $38.2 |
| WA | $31.10 | $31.10 |
Other moving costs to consider
There's no shortage of other expenses that you might need to pay for when moving house. Some notable extra costs that can rear their head might include the following:
Mail redirection to your new property
Storage costs if you need the extra space
Pet relocation, especially if you're moving interstate
Home and contents insurance (renters can still get contents insurance for their valuables)
Travel and petrol costs, especially if you're driving between the two properties a lot
Waste removal
A full grocery shop for your new home
And much more. While often not directly related to your move, these costs can add up if you're not careful, and not paying them can sometimes lead to even bigger expenses later on.
Tips to save on moving costs
It's almost impossible to move 100% stress-free, nor is it really possible to move without spending a cent. It can be an incredibly lengthy and difficult process, but to make things a bit easier on yourself, here are some tips for a more cost-effective (and time-effective) move.
Plan early! The more time you have to plan and get organised, the better.
Shop around. Compare quotes from multiple removalists and rental truck companies. Be as detailed as possible to get the most accurate cost estimate. The same goes for cleaners and other professionals.
Collect and label your boxes: Collect free boxes from local stores or friends. Label all boxes clearly with their contents and destination rooms, and use household linens and clothing to wrap fragile items, saving on packing materials.
Measure any furniture you'll be taking to ensure it fits in your new place. If not, sell it and look for good deals on new (or used) replacements!
Stay organised and enlist help. Keep all move-related paperwork in one place. Ask friends or family to assist with packing or moving day tasks, streamlining the process and potentially reducing costs.
Budget! Set a budget for your move to avoid spending more than needed.
Need help with the funds?
If all these costs seem a bit daunting and you'd rather avoid reaching into your savings for the big move, Jacaranda can help with that. Our fast online loans can be used for rental bonds and moving expenses: borrow up to $25,000 over 48 months with flexible repayments to suit your needs!
---
The information on this website is for general information only. It should not be taken as constituting professional advice from the website owner - Jacaranda Finance. Jacaranda Finance is not a financial adviser, and the content on this page does not take into account your objectives, financial situation or needs. You should consider seeking independent legal, financial, taxation or other advice to check how the website information relates to your unique circumstances.
Jacaranda Finance is not liable for any loss caused, whether due to negligence or otherwise arising from the use of, or reliance on, the information provided directly or indirectly by use of this website.
William is the Content Manager at Jacaranda Finance. He has worked as both a journalist and a media advisor at some of Australia's biggest financial comparison sites such as Canstar, Compare the Market and Savings.com.au, and is passionate about helping Australians find the right money solution for them.
You can get in touch with William via
williamj@jacarandafinance.com.au
.