Exclusive early access to Jacaranda Finance Customers!
Need funds to help manage your day-to-day cash flow? We've got you covered with our FlexiCredit Line of Credit Product! Before applying for one, it's a good idea to understand how they work.
Our flexible FlexiCredit product ranges from $1,000 to $2,000. As you pay down your outstanding balance, you can drawdown up to your credit limit as you need to.
As an existing Jacaranda Finance customer, you have exclusive early access to this exciting new product! Simply log in to the FastMoney app or your online account to apply.
Apply in minutes1
Borrow up to $2,000 - use as required!
Manage your money from our FastMoney app
No application or establishment fees
1.
What is a line of credit?
A line of credit is a flexible product that allows you to access funds up to a predetermined credit limit as needed. Like a credit card, you don't have to borrow the full amount you're approved for all at once. Instead, you can drawdown on this amount in smaller increments starting from $200: interest and fees are only charged on your outstanding balance. 
A line of credit offers you flexibility in what you choose to borrow and how much you need to repay.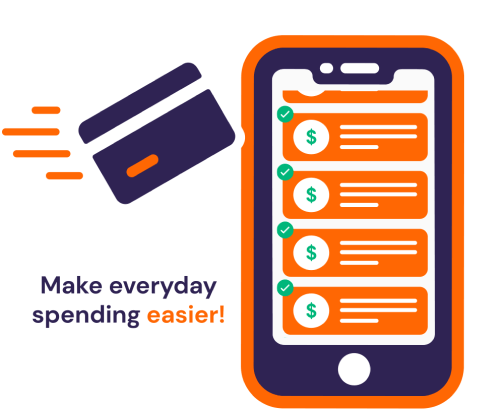 About Jacaranda's Line of Credit
A Jacaranda FlexiCredit Line of Credit comes with a maximum loan amount of $2,000: you can drawdown on this amount in smaller increments starting from $200, all the way up to your approved credit limit. Using the FastMoney app, funds are paid into your nominated bank account whenever you need them.
Our Line of Credit is an unsecured loan with no set loan term. However, once you drawdown from your Line of Credit, you must repay a set repayment amount, which will be stated in your contract. These repayments will include interest - see the 'rates and fees' section below - but any unused funds will not. 
What can you use our line of credit for?
A flexible loan for everyday expenses
FlexiCredit is a flexible credit product and an effective tool for making purchases, simplifying your finances and even smoothing out your cash flow. You can use it for just about anything in your day-to-day life. If you need quick funds to pay for key everyday expenses, a line of credit with Jacaranda Finance can provide the funds you need, when you need them.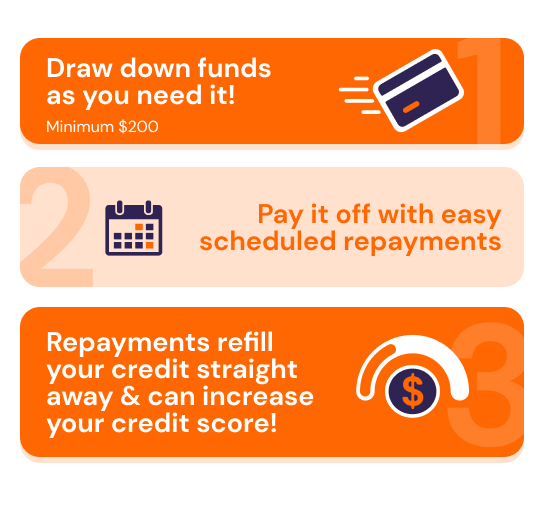 2.
Line of Credit: Rates & Fees
FlexiCredit is an affordable way to pay for your everyday expenses. There are no hidden fees or charges here; what you see is what you get.
See the table below for a quick guide to the FlexiCredit rates, fees and charges.
This is not an offer for credit. The amount you can borrow as well as the offer you receive may vary once you complete an application and all relevant details are captured and verified. Fees, credit criteria and terms and conditions apply. Example tables and calculators are illustrative only and are not intended to be your sole source of information when making a financial decision. Consider whether to get advice from a licensed financial adviser.
3.
Manage your Line of Credit easily
Need to drawdown funds from your line of credit? It's easy with the FastMoney app.
Add funds to your bank account and manage your repayments at the press of a button.
Download the FastMoney app on your smartphone today!
Apply now in 5-12 minutes1