4th May 2023
The Top 10 Money Apps in Australia
Are you looking for ways to manage your finances better? There's an app for that!
Last modified: 11th July 2023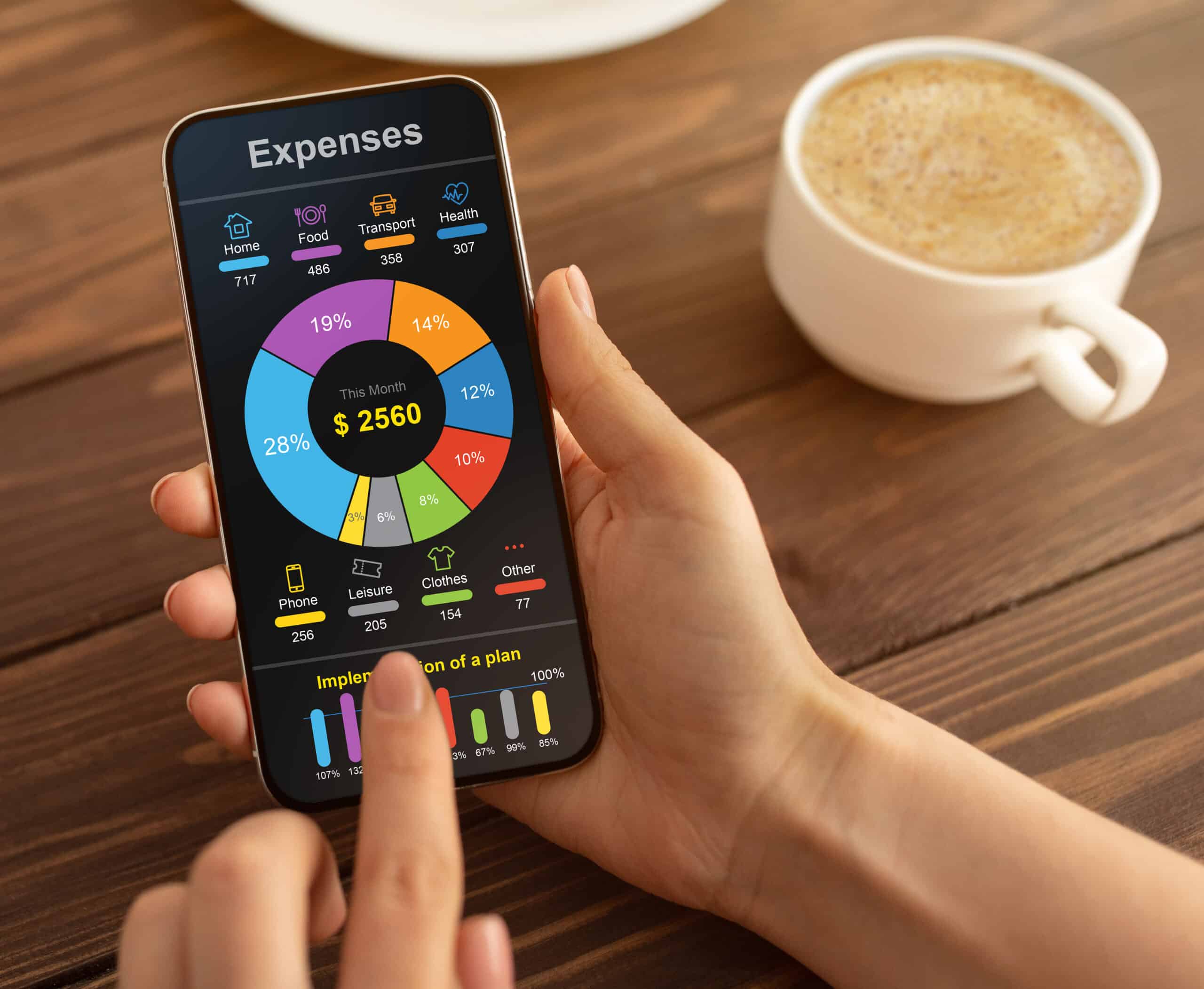 With so many money apps available in Australia, knowing which ones are worth downloading can be difficult. Whether you're looking to save money, track your spending, or invest for the future, there's almost certainly an app for you.
In this article, we'll explore Australia's top 10 money apps that can help you take control of your finances.
On this page:
---
Download the FastMoney App now!
---
What are the different types of money apps?
Before jumping into the top 10 money apps, it's useful to know what kinds of apps exist in the realm of personal finance. Each type of app will help you with something different.
Spending tracker apps
Spending tracker apps usually connect to your bank accounts and collate all your transactions and deposits into those accounts. They can then automatically (or manually) provide breakdowns of how much you spend in a given time period and what you spend it on so you can decide where you need to make changes.
Budgeting apps
Rather than going into the minutia of every dollar you spend, budgeting apps can give you a broader overview of your financial situation and provide tips and tricks to improve it.
Investing & micro-investing apps
Investing is a way of saving for your future, and there are plenty of apps for that now. One kind of investing app to spring up recently is the micro-investing app.
These micro-investing apps simplify the process of investing by enabling users to invest small amounts of money periodically, whether that be through savings 'roundups' or scheduled transfers to an investment portfolio.
Bank apps
Chances are one of the best money management apps available to you could be your own banking app. Banks have had to up their game in this space recently, meaning many of them don't just display the money in your account anymore. A good banking app should also provide some of the features discussed below.
Other niche apps
Some of the apps in this list will be tailored to a specific purpose, such as saving on fuel or groceries. Others might help you make the most of your tax return.
The top 10 money apps
In no particular order!
Information accurate as of April 2023.
#1: Frollo
App type: Spend tracking, budgeting
Availability: iOS and Google Play.
Cost: Free (basic version)
Apple Store rating: 4.9
Google Play rating: 3.1
Frollo is a personal finance fintech designed to give Australians a complete view of their finances. Founded in 2016 and known for providing open banking services to other major finance businesses, Frollo's app allows you to track your spending, set budgets and more by automatically syncing to your financial accounts. That includes your bank accounts, credit cards, personal loans, superannuation, investments and more from over 100 financial institutions.
Frollo also provides users with personalised insights and alerts to help them stay on track with their financial goals. A key feature it introduced recently is the 'Financial Passport', which provides an easy overview of your finances over the past 12 months that can easily be shared with brokers when applying for a loan.
Frollo key features:
Automatic transaction categorization
Syncs to your bank accounts, superannuation, investments and more
Set savings goals and challenges
Automatic bill tracker and personalised insights
Bank-level security and encryption
Other budgeting tools and credit score tracking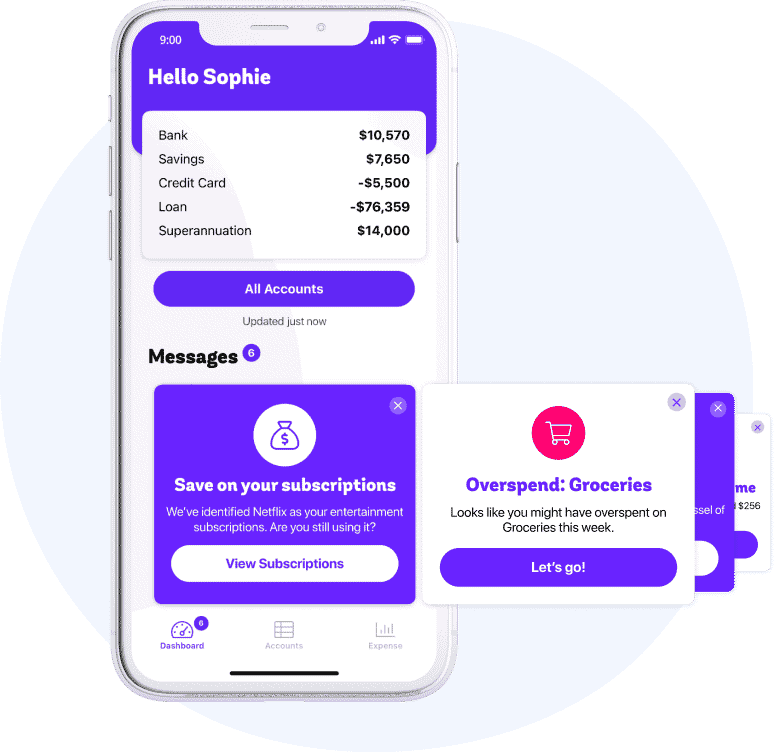 #2: WeMoney
App type: Budgeting
Availability: iOS and Google Play.
Cost: Free
Apple Store rating: 4.4
Google Play rating: 3.4
Founded in 2019, WeMoney is a personal finance app that aims to help users take control of their finances by providing a complete view of their financial situation. WeMoney users can link their bank accounts, credit cards, and other financial accounts to the app to track their spending and income automatically and see their overall wealth (assets minus their liabilities).
Key features of WeMoney include transaction categorization, budgeting tools, savings goals, credit score tracking, bill reminders, and personalized insights. WeMoney can also compare your spending to others in your demographic group.
Using WeMoney, you can also access a range of deals and discounts on key financial products and services, such as energy bills and insurance.
WeMoney key features:
See all your accounts in one place (bank accounts, credit cards, loans, investments, superannuation etc.)
Set monthly budgets & goals
Track your overall net worth & credit score
Upcoming bill reminders
Automatically categorise transactions
In-app comparison offers to get a better deal
Insights & conversations with other WeMoney users
#3: Beem
App type: Spend tracker
Availability: iOS and Google Play.
Cost: Free
Apple Store rating: 4.9
Google Play rating: 4.0
If you hate it when friends and family owe you money and having to keep track of who owes what, this could be the app for you. Originally founded in 2017 as 'Beem It', Beem's core feature is the ability to track and split expenses within a group easily.
Whether it's for a holiday, family, friends or housemates, Beem lets you immediately add an expense that keeps tabs on who owes who and how much they owe. It will then keep a running total for each person, simplifying overall debts based on how much you might owe other people in the same group.
Users can automatically link their bank accounts, credit cards, and other financial accounts to the app to track their spending and income. When it's time to settle up those debts, Beem provides instant payments without ever having actually to leave the app! You can even nudge your friends with reminders if they're being slack with settling up.
Beem key features:
Track shared expenses with friends & groups
Split bills
Send instant payments
Store your loyalty cards and earn rewards for your spending
#4: Raiz
App type: Micro-investing
Availability: iOS and Google Play
Cost: Starting from $3.50 per month.
Apple Store rating: 4.7
Google Play rating: 4.3
Originally named 'Acorns', Raiz was the trendsetter for micro-investing in Australia when it launched here in 2015. The core feature of Raiz is simple: by connecting your bank account or card to an investment portfolio, you can:
Automatically round up every purchase to the nearest dollar and invest it
Set up recurring investment amounts
Raiz offers a range of diversified portfolios that can be customised to match the user's investment goals and risk tolerance. It also has a 'My Finance' feature in-app that provides spend tracking and categorisation, which are turned into personalised insights.
Raiz users can also earn rewards points for using the app, redeem them for cash, or transfer them to their investment account.
Raiz key features:
Round-up savings
Automatic Investing & recurring investment scheduling
Lump-sum investments available
Multiple customisable portfolios
Raiz rewards programs for spending
Raiz Kids available for child investment funds
Superannuation funds also available
My Finance feature with a personalised overview of your spending, transaction categorisation etc.
#5: GetReminded
App type: Budgeting
Availability: iOS and Google Play
Cost: Free
Apple Store rating: 4.5
Google Play rating: 4.4
GetReminded is an app that aims to help Australians avoid late fees and missed payments by sending reminders for bills, subscriptions, and other financial obligations. Founded in 2018, GetReminded users can link a range of financial products, such as bank accounts, credit cards, and utility bills to get reminded of when everything is due.
In fact, GetReminded has a list of everything the app can set reminders for, and these include:
Phone plan payments
Electricity and gas plans
Insurance policies
Rent, mortgage repayments etc.
Car & vehicle registration
Subscription service payments
Credit card repayment and expiry dates
Memberships
Frequent Flyer points
Birthdays, anniversaries and more!
One of the unique features of GetReminded is its customizable alerts. Users can set up alerts for specific bills or payments and custom reminder times and frequencies. The app also offers a "snooze" feature, allowing users to delay reminders for bills they are not ready to pay.
GetReminded can send offers and deals for financial products and services through the app. If you're overpaying for a certain policy, you could find a cheaper or better deal by clicking on these offers (although not a guarantee).
Get Reminded key features:
Automated reminders for important household bills
Reminders for multiple categories (insurance, energy bills, loan repayments etc.)
Can recommend different policies & products in-app
Annual cost summaries for your bills
Push notifications to your mobile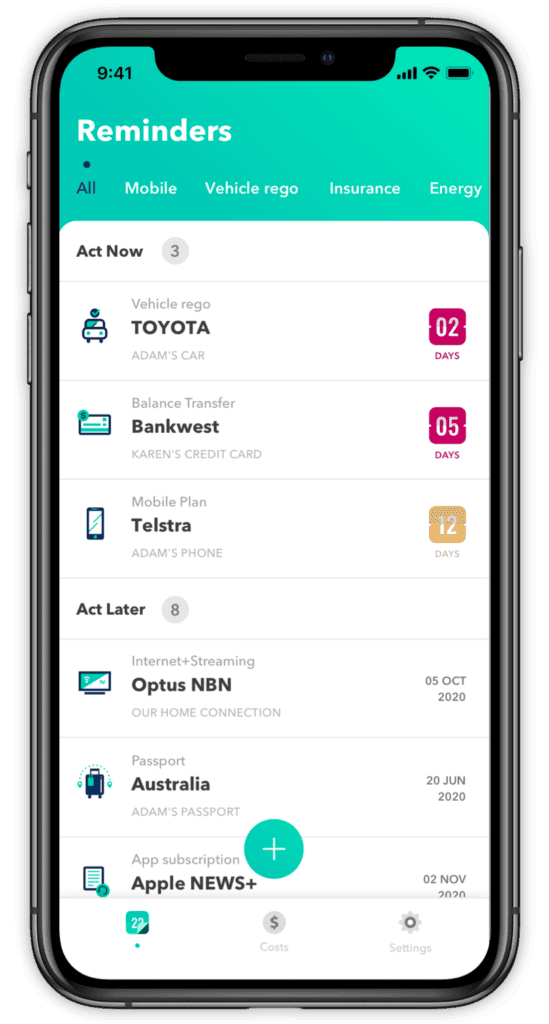 #6: Goodbudget
App type: Budgeting
Availability: iOS and Google Play
Cost: Free (basic plan), US$8 per month paid.
Apple Store rating: 4.7
Google Play rating: 4.4
Goodbudget is an American-made app labelled a 'budgeting app for the modern age'. Unlike some of the other apps in this article, however, it uses more of a manual approach to budgeting and saving.
Goodbudget uses virtual 'envelopes' to help users budget their money and allocate funds to different categories, such as rent, groceries, and entertainment. Users can track their expenses and savings goals using these envelopes and receive alerts when they are close to reaching their budget limits. You can also set monthly limits for certain envelopes and export your data to other platforms like Excel or other devices.
This app can break down your spending for you in nice-looking infographics, analysis and reports. It's free to use to start with, but there are limits on the number of envelopes you can make before using the paid version.
Goodbudget key features:
Set monthly spending limits & goals
Spending analysis for each envelope (category)
Exportable data
Sync to your bank accounts & other devices
Expense tracking
Pay off debt and manage payments
#7: Spriggy
App type: Micro-investing
Availability: iOS and Google Play.
Cost: $60/year
Apple Store rating: 4.8
Google Play rating: 4.7
Spriggy is a relatively new app in Australia, and chances are it isn't meant to be used by the person reading this article. Instead, Spriggy is a budgeting and savings app for kids (ages 6-17) and to help their parents teach them about money management.
Instead of giving kids coins and notes for pocket money, Spriggy is taking pocket money into the 21st century. Parents can link their bank accounts to the app to transfer money to their child's Spriggy account, which can be used to make purchases with the prepaid debit card. Parents can also set up controls to limit their children's transactions and track their spending.
The app also offers savings goals, which can help children learn about the importance of saving money and setting financial goals, as well as a tonne of educational resources and fun challenges.
Spriggy key features:
Automated weekly or fortnightly pocket money payments.
Set visual savings goals, teaching kids how to save
Set and manage paid/unpaid jobs around the house
Track spending as it happens with real-time notifications
Transfer emergency funds instantly
Fun pre-paid card designs, reorder new cards anytime
#8: The ATO app
App type: Other (Tax)
Availability: iOS and Google Play
Cost: Free
Apple Store rating: 3.3
Google Play rating: 4.0
It might seem odd to include an app from the Australian Taxation Office (ATO) in this list, but it is genuinely very helpful and highly regarded when it comes to tax time.
The ATO's app was designed to help Australians manage their tax and superannuation obligations. Key features include the ability to lodge tax returns, enter deductions and relevant receipts/documents, view and update personal details, and track the progress of refunds.
Users can also use the app to manage their superannuation, including viewing account balances and contributions. The ATO app sends notifications and reminders for important tax deadlines as well.
ATO app key features:
myDeductions: record your work expenses & other deductions
Tax withheld calculator: calculate the amount of tax to withhold from salary and wage payments
View in real-time when lodgments and payments are due
See an overview of your super balance and accounts
Complete your tax returns and more.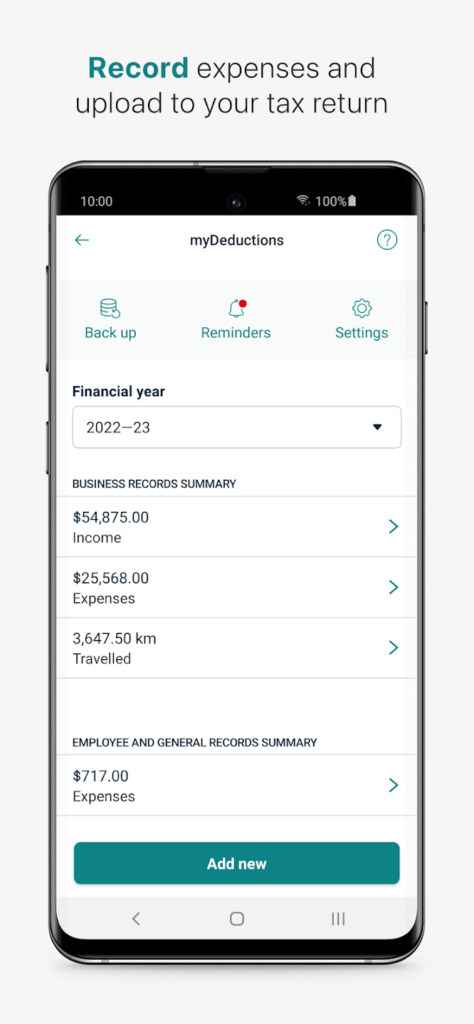 #9: Frugl Everyday Grocery App
App type: Budgeting, other niche apps (groceries)
Availability: iOS and Google Play.
Cost: Free
Apple Store rating: 3.0
Google Play rating: 2.8
Food and groceries have seen one of the biggest overall price increases thanks to recent sky-high inflation, stretching household budgets. That's why Frugl Group - which tracks retail prices and data - released the Everyday Grocery App, allowing you to view and compare grocery prices to find the best deal you can.
Frugl's app updates regularly with the best prices from Australia's major grocery retailers across thousands of stores and tens of thousands of products. It can also send you the best coupons and deals for the week and lets you create shopping lets, filter products based on your allergies and preferences and more.
Frugl key features:
Easily find the best grocery deals from retailers each week
Compare prices on tens of thousands of products
Filter out items based on your preferences and allergies
Create your own custom shopping lists
Share your savings & tips with other users
#10: Fuel Map and other fuel comparison apps
App type: Other (Fuel savings)
Availability: iOS and Google Play
Cost: Free
Apple Store rating: 4.6
Google Play rating: 4.4
Fuel and petrol is another key household purchase we need to make that has seen massive cost increases lately. Petrol prices saw an 11% increase in the first quarter of 2022 and remain very high today, which means it's crucial to compare fuel prices at a range of service stations near you.
That's where Fuel Map can help. Created by an Australian developer and supported by user community data, Fuel Map has a map-based interface, real-time fuel price updates, and the ability to search for nearby fuel stations. Users can filter search results by fuel type, brand, and distance, helping them save money by finding the cheapest fuel in their area.
Other similar apps include the likes of PetrolSpy, the My 7-eleven app, MotorMouth, Refueler and more.
Fuel Map key features:
Compare fuel prices at nearby stations
Keep track of your purchases in the fuel log
Add your own prices to the crowd-sourced database
See also: Top 6 Tips to Save on Fuel in 2022
About our FastMoney app
The FastMoney app from Jacaranda Finance is now available on both the Apple and Google Play stores. With the FastMoney app, we make it easy for new or existing Jacaranda customers to do the following:
Check your eligibility in minutes without impacting your credit score;
Apply for a loan in just 5-12 minutes1;
Receive a same-day outcome2 on your application and 60-second transfers to your bank account if approved3;
Check your loan balance and loan contract;
Request loan statements;
Make extra repayments;
Request to change repayment dates and frequency (weekly, fortnightly, monthly);
Quickly contact our customer service team for anything you need;
Download the app today!
How to find the right money app for you
A list of 10 apps barely scratches the surface of what's out there at the moment if you're looking for a bit of help managing your money. While going old-school and doing it yourself could work, we have the technology now to give a more complete and, more importantly, unbiased view of how much you spend, what you spend it on and where you can improve.
Download a couple of these free apps and try them out for a while to see if they work for you or not. Taking just a few minutes out of your day to sync up your spending to an app could revolutionise your relationship with money.
---
The information on this website is for general information only. It should not be taken as constituting professional advice from the website owner - Jacaranda Finance. Jacaranda Finance is not a financial adviser, and the content on this page does not take into account your objectives, financial situation or needs. You should consider seeking independent legal, financial, taxation or other advice to check how the website information relates to your unique circumstances.
Jacaranda Finance is not liable for any loss caused, whether due to negligence or otherwise arising from the use of, or reliance on, the information provided directly or indirectly by use of this website.
William is the Content Manager at Jacaranda Finance. He has worked as both a journalist and a media advisor at some of Australia's biggest financial comparison sites such as Canstar, Compare the Market and Savings.com.au, and is passionate about helping Australians find the right money solution for them.
You can get in touch with William via
williamj@jacarandafinance.com.au
.