4th September 2023
How Much Do Overseas Holidays Cost?
Itching to go overseas? It can come at a significant cost.
Last modified: 6th September 2023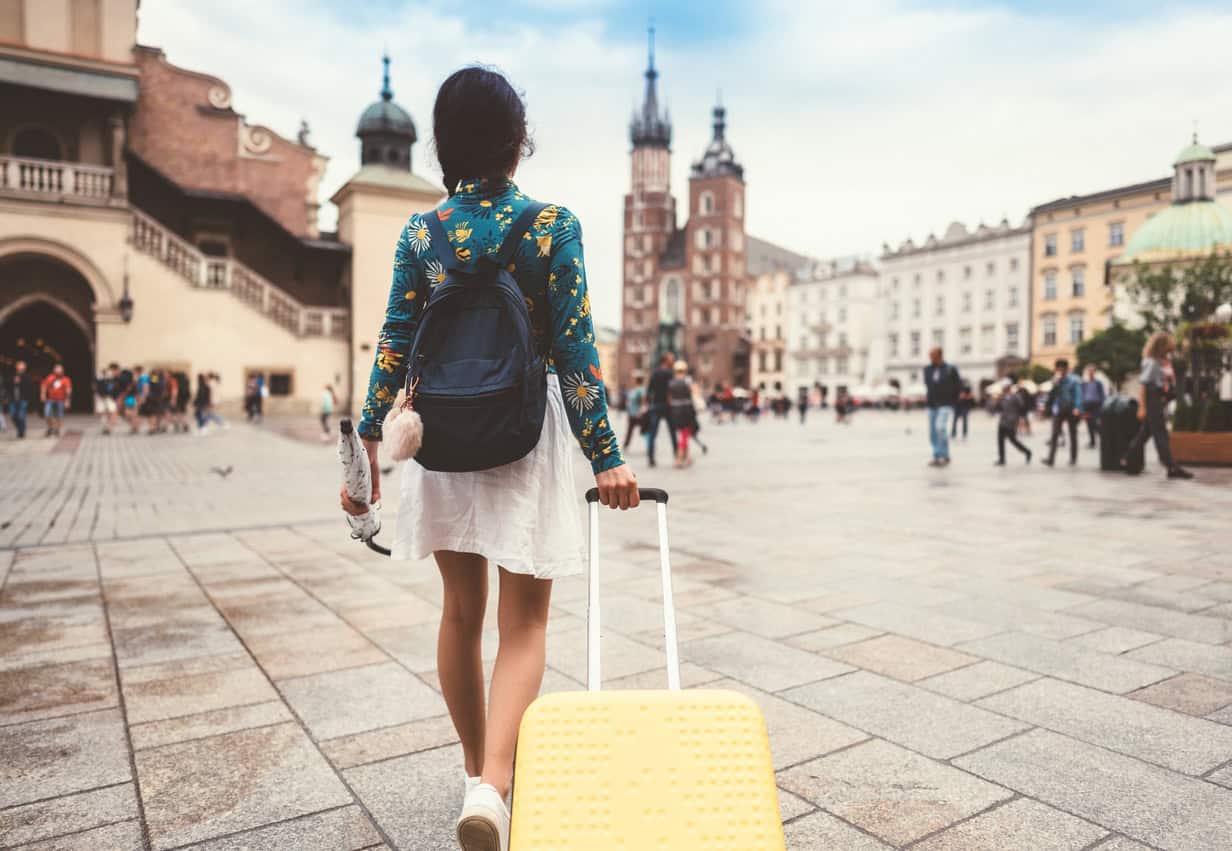 We Australians love our travel, with as many as 2.2 million leaving for a short-term stay in another country each year. You might be one of those Aussies planning a holiday soon, but how much should you budget for that dream getaway?
In this article, we outline the typical costs of an international trip, giving you an idea of the main expenses involved.
Originally published on 1 September 2019.
On this page:
---
---
What does the typical overseas holiday cost?
Your typical overseas holiday can be extremely costly once you factor in flights, accommodation, transport, food and, of course, making memories!
Back in 2015, the average three-week overseas holiday cost $4,679, according to Westpac, but eight years on, flights alone could cost that much. Now, almost two in three (65%) of Aussies with intentions to travel over the next 12 months have had to cancel or postpone their plans due to cost, with 66% believing travel has become too expensive.
The following table shows the average cost of trips to popular destinations among Aussie tourists, according to data from Budget Your Trip. These figures are for one person only.
| | Two weeks (AUD) | One month (AUD) |
| --- | --- | --- |
| | $6,026 | $12,911 |
| | $4,127 | $8,843 |
| | $2,979 | $6,383 |
| | $1,305 | $2,797 |
| | $2,845 | $6,096 |
Source: budgetyourtrip.com, accurate as of 7 August 2023. Dollar amounts are based on 'mid-range' travellers.
Average international airfare costs
See also: Loans for Domestic Flights.
The plane ticket is one of the first items to tick off when booking your overseas trip. This is often one of the most significant lump sum expenses you'll come across when travelling, so keeping an eye out for a good deal can pay off.
Airfares have become significantly more expensive in 2023. Globally, average ticket prices have risen at twice the rate of inflation. Closer to home, the Australian Bureau of Statistics (ABS) found that the cost of international travel, mainly airfares, was up more than 12% from 12 months to June 2023.
To give you an idea of how much the typical return flight overseas will cost you, travel search engine Kayak found that among the top 10 most searched international destinations for Aussies, only one (Auckland) saw a drop in airfares compared to 2022.
| Most-searched destinations | Average return economy airfare | % change since 2022 |
| --- | --- | --- |
| Bali, Indonesia | $897 | 18% |
| 2. London, UK | $2,751 | 13% |
| 3. Bangkok, Thailand | $1,080 | N/A |
| 4. Manila, Philippines | $1,051 | + 6% |
| 5. Tokyo, Japan | $1,370 | N/A |
| 6. Athens, Greece | $2,933 | + 36% |
| 7. Singapore | $1,095 | + 24% |
| 8. Ho Chi Minh City, Vietnam | $990 | N/A |
| 9. Auckland, New Zealand | $588 |   - 18% |
| 10. Paris, France | $2,625 | 19% |
Source: Kayak, via The New Daily. Data for the June-July school holiday period.
Ways to save on airfare costs
Book in Advance: Airfares tend to rise as the departure date approaches.
Use Flight Comparison Tools: Websites like Skyscanner or Kayak allow you to compare prices across different airlines.
Be Flexible with Dates: Flying on weekdays or during off-peak seasons can be cheaper.
Consider Nearby Airports: Sometimes, flying to a less popular airport near your destination can save you money.
Use rewards: Leverage any rewards and credit card points for cheaper flights, upgrades, hotels, etc.
Average international transportation costs
Researching how you will navigate the streets of a foreign country should not be left to the last minute.
Renting a car is one of the most common ways to get around in most countries, especially if you're travelling as a family. As the hire car industry is quite competitive, take some time to browse different rental options, as hiring a rental car for a long trip can be very costly.
Another conceivably cheaper option would be to catch public transport where possible. Understanding the public transport systems of a foreign country may seem overwhelming, but it could save you heaps - a month's travel pass in Mumbai can cost less than $5!
You might also enjoy public transport in some countries, as Australians pay the second most in the world to use public transport.
Average daily transport cost (AUD)
| USA | $72 - $295 |
| --- | --- |
| UK | $58 - $125 |
| New Zealand | $31 - $140 |
| Indonesia | $12 - $44 |
| Japan | $30 - $114 |
Source: budgetyourtrip.com, accurate as of 29 August 2023. Dollar amounts are based on 'mid-range' travellers. Includes inner-city travel (taxis, local buses etc.) and inter-city travel.
Ways to save on transport costs
Use public transport: It's often much cheaper than taxis or rideshares.
Purchase transport cards: Many cities offer daily, weekly, or monthly passes with unlimited rides for a set price.
Rent a bike: Some cities have affordable bike-sharing programs, making it a cost-effective way to explore.
Carpooling: Apps like BlaBlaCar allow you to share rides with locals travelling in the same direction.
Average international accommodation costs
Alongside airfares, paying for accommodation is one of your bulkier overseas costs. Depending on the length of your stay and the quality of accommodation, it can easily cost several thousand dollars, which might be a good chunk of your budget.
For example, a couple travelling to Europe for two weeks might pay over AUD $4,000 for accommodation. A backpacker might pay around $1,500 for a month's trip.
Again, it's well worth your time to do a bit of research about what type of accommodation suits you best.
Some accommodation options include:
Hotels
Motels
Holiday Inns
Hostels
Airbnbs
B&Bs
Average daily accommodation cost (AUD)
| USA | $201 |
| --- | --- |
| UK | $151 |
| New Zealand | $108 |
| Indonesia | $51 |
| Japan | $94 |
Source: budgetyourtrip.com, accurate as of 29 August 2023. Dollar amounts are based on 'mid-range' travellers.
Ways to save on accommodation
Book in advance: Especially during peak seasons, to secure better rates.
Use booking websites: Platforms like Booking.com or Airbnb might offer deals or discounts.
Stay in hostels: They aren't just for young backpackers. Many now offer private rooms at a fraction of the cost of hotels.
Consider homestays: Staying with locals can be cheaper and offers a more authentic experience.
Average activities & sightseeing costs overseas
What's a holiday without entertainment? There are so many great destinations and activities to choose from, so little time. And, in some cases, so little money! Budgeting could be your saving grace when it comes to seeing the sights.
Regarding your budget, consider the big stuff (the Disneyland-type expenses) first, and then leave some petty cash for anything extra you might want to buy or see.
Again, local knowledge could be the key to saving money and not being vulnerable to tourist traps.
Average daily entertainment cost (AUD)
| USA | $86 |
| --- | --- |
| UK | $54 |
| New Zealand | $56 |
| Indonesia | $16 |
| Japan | $30 |
Source: budgetyourtrip.com, accurate as of 29 August 2023. Dollar amounts are based on 'mid-range' travellers.
Ways to save on activities and sightseeing
Free walking tours: Many cities offer 'pay-what-you-feel' walking tours led by locals.
City passes: These often bundle several attractions at a discounted price.
Visit during off-peak times: Some attractions offer discounted rates during non-peak hours or days.
Student or senior discounts: Always ask if there's a discount available based on age or student status.
Average food & dining costs overseas
Eating out in a different country is a great way to immerse yourself in the culture. It can also become expensive, especially if you fall into tourist traps. According to Westpac, Aussies spend hundreds of dollars on impulse food purchases overseas on average.
Depending on the country, you might have to leave a tip if you eat out somewhere. In America, for example, tipping the wait staff 15-20% of the total cost of your meal is not only a nice gesture but an expectation. However, in some European countries, the published restaurant prices in some European countries accommodate any gratuity.
In a high-end country like the USA, dining out costs US$23 per person, while the total daily cost of food can be as high as $58 (US) on average!
Average daily food cost (AUD)
| USA | $91 |
| --- | --- |
| UK | $74 |
| New Zealand | $48 |
| Indonesia | $25 |
| Japan | $49 |
Source: budgetyourtrip.com, accurate as of 29 August 2023. Dollar amounts are based on 'mid-range' travellers.
Ways to save on food & dining costs overseas
Ask the locals: Local knowledge could be beneficial when finding a good bite. Either look on websites, ask someone who's been to the area or ask a local like your hotel manager.
Do some meal prep: Yes, that's right: go grocery shopping, create a meal at your home away from home, and take the leftovers for lunch.
Set a daily food budget: This helps avoid overspending on meals.
Average international travel insurance costs
If you're going overseas, buying travel insurance is highly recommended by the Australian Government's Smartraveller website. Travel insurance can cover medical emergencies, lost baggage, travel delays/missed flights and more.
The cost of travel insurance depends on factors such as where you're going, how long you're going for, your age, what you plan to do (risk of activities) and the level of cover you choose (basic, essentials, comprehensive).
According to data from Finder, travel insurance can cost as little as $2 - $6 per day. For example, a 10-day trip to Bali for a 25-year-old costs $55 on average and ranges from $21.76 to $115.
Ways to save on travel insurance
Special travel insurance: Some insurers offer specialist types of travel insurance, including backpackers, over 65s, and winter sports insurance. These can cost a bit extra, but could be worth it!
Compare policies: Use comparison websites to find the best rates and coverage options.
Annual multi-trip policies: If you travel frequently, consider purchasing an annual policy instead of individual ones for each trip.
Avoid duplication: Check if your credit cards or existing insurance policies offer travel coverage.
Adjust excess: Opt for a higher excess (the amount you pay towards a claim) for a lower premium.
Visa and passport costs
You'll need an active passport to cross any overseas border. If you're an Australian citizen and don't yet own a passport, or it's outdated, visit the Australian Passport Office website ASAP and follow the steps provided. The cost of a new adult passport valid for ten years is around $325.
A visa is another important legal document you may need to enter and travel through a country. As this is not dependent on Australia but rather the country you're visiting, the Australian Government Department of Foreign Affairs and Trade (DFAT) recommends you keep up to date with the visa requirements there.
Some countries will charge a departure fee when you leave. Usually, this is included in your airfare. For example, Australia charges a $60 Passenger Movement Charge (PMC).
How to pay for your next holiday
With overseas holidays costing thousands of dollars upfront with flights and accommodation, and the ongoing costs while you're there also piling up, how are you meant to pay for it all? Choosing the correct method of spending your money overseas can be an excellent way to reduce unnecessary expenses and save.
There are generally four different ways to pay during your overseas holiday:
Cash
Debit cards
Travel money cards
To get those funds in the first place, you can turn to a holiday personal loan.
Consider a Holiday Loan from Jacaranda Finance
A Holiday Loan is a personal loan used to pay for travel expenses. According to our data, holidays and travel are commonly listed as one of the most common reasons for taking out a loan!
A Jacaranda Express Holiday Loan can provide you with up to $25,000 for your next holiday. You can apply in just 5-12 minutes1 and could receive your funds on the same day.
What's more, you can check if you qualify first without impacting your credit score at all!
Check out our Holiday Loans today, or download our app below and get started on an application.
The information on this website is for general information only. It should not be taken as constituting professional advice from the website owner - Jacaranda Finance. Jacaranda Finance is not a financial adviser, and the content on this page does not take into account your objectives, financial situation or needs. You should consider seeking independent legal, financial, taxation or other advice to check how the website information relates to your unique circumstances.
Jacaranda Finance is not liable for any loss caused, whether due to negligence or otherwise arising from the use of, or reliance on, the information provided directly or indirectly by use of this website.
William is the Content Manager at Jacaranda Finance. He has worked as both a journalist and a media advisor at some of Australia's biggest financial comparison sites such as Canstar, Compare the Market and Savings.com.au, and is passionate about helping Australians find the right money solution for them.
You can get in touch with William via
williamj@jacarandafinance.com.au
.