16th October 2023
How To Save Big On Your Wedding (And Still Have The Best Day Ever)
Our comprehensive guide will go through some tips to save on the biggest wedding expenses in Australia.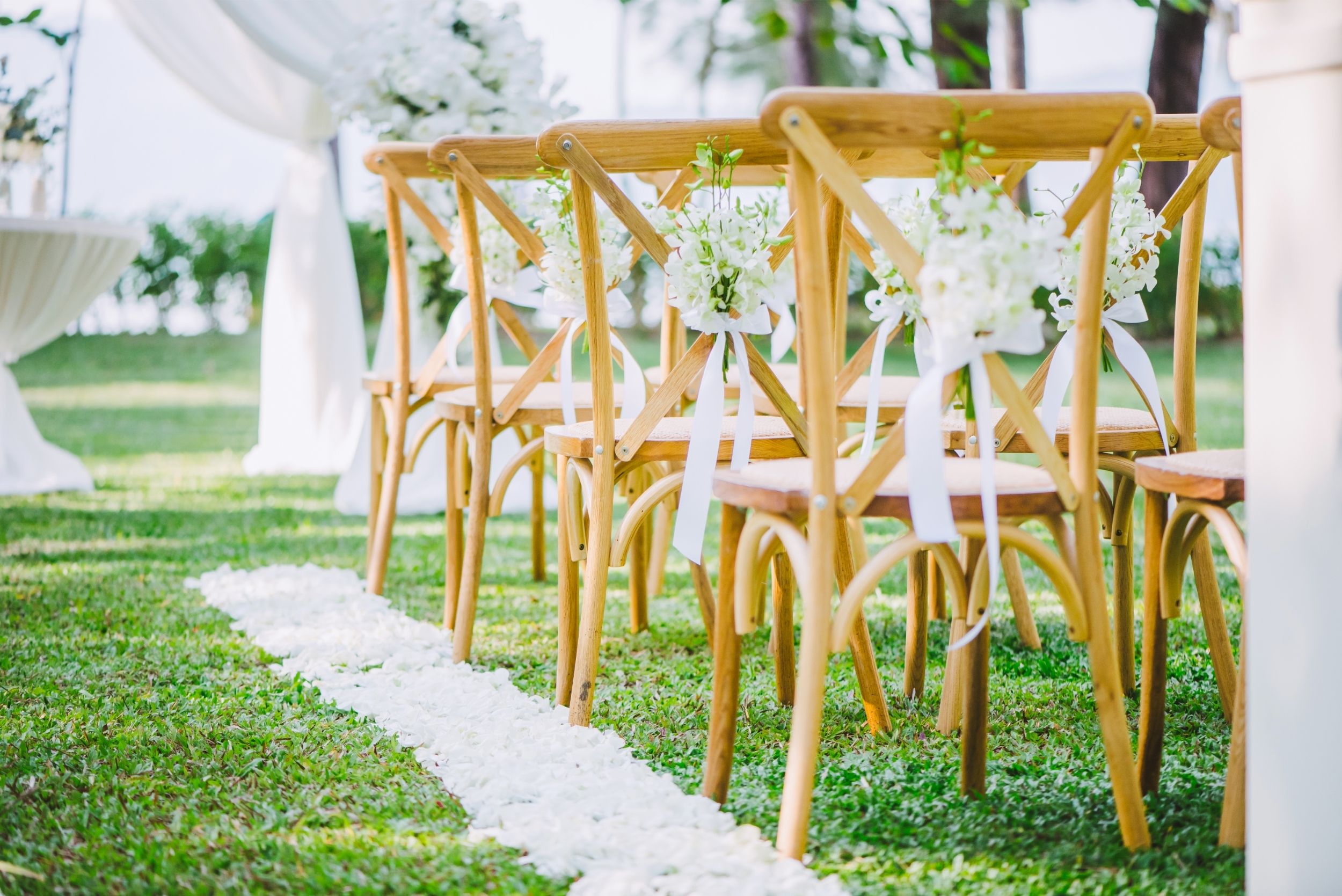 Your wedding day should be one of the best days of your life. It's a day for you to celebrate love with your friends and family. But it can also easily be a massive cause of stress for soon-to-be newlyweds.
Even if you plan on having an intimate, low-key ceremony, you can easily spend thousands more than planned. Fortunately, the high cost of weddings means plenty of opportunities to save.
If you're looking to cut down on the cost of your wedding but still make it the best day ever, you're in luck. Our comprehensive guide will go through some tips to save on the biggest wedding expenses in Australia.
Originally published 13 July 2021.
On this page:
---
---
How much does the average wedding cost?
Wedding costs in Australia can vary significantly, depending on where you look. According to ASIC's MoneySmart, the average Australian wedding costs $36,000. The Easy Weddings 2023 Wedding Industry Report also found a similar figure, with an average cost of $34,715.
That's an 8% increase on the average wedding cost from 2022 and is 26% over the original budget set by the average engaged couple ($27,550).
Victorian weddings were the most expensive at an average cost of $37,430, just ahead of New South Wales ($37,108). In contrast, Tasmanian weddings were the cheapest, costing $26,381 on average.
Average Wedding Cost by State
| State/Territory | Average Cost (2023) |
| --- | --- |
| NSW | $37,108 |
| VIC | $37,430 |
| QLD | $29,786 |
| SA | $31,124 |
| WA | $31,694 |
| TAS | $26,381 |
| ACT | $28,196 |
| NT | $30,375 |
Money is the most significant stressor for weddings
Easy Weddings' research discovered that the cost-of-living crisis is seriously affecting couples' wedding budgets in 2023. In fact, 'sticking to a budget' is their number one stressor ahead of the wedding at 23%, well ahead of the guest list at 16%.
To reduce costs, 9% of couples are cutting guest numbers, while 23% are scaling back in other areas like videography or floral arrangements.
What are the most common wedding costs?
Your most common wedding costs, which we'll cover in greater detail below, are typically:
The venue & location
Attire (suits, dresses etc.) & accessories
Catering and beverages
Head (per-person) costs
Invitation and stationary costs
Photography & videography
Decor & flowers
Entertainment
Wedding planners/coordinators
Transport
---
Download the FastMoney App now!
---
Tips to save on: Wedding venue costs
The wedding venue - both the reception and the ceremony - is usually the most considerable wedding expense by far. According to Easy Weddings, the average cost of a wedding venue in Australia is $14,758, with 43% of the typical budget allocated to the venue(s) alone.
Standard fees here include rental fees for the venue itself and accommodation costs for yourself and any out-of-town guests.
Fortunately, you have a lot of freedom when choosing where to tie the knot and party afterwards. Some tips to save on your wedding venue are as follows.
Off-peak and weekday bookings: Opt for the off-season or a weekday, like a Friday, to secure a venue at a reduced rate compared to prime Saturdays or peak season.
Dual-purpose venues: Choosing a venue that hosts both the ceremony and reception can eliminate transportation costs and offer package deals or discounts.
Is all-inclusive really best? Ensure you find a vendor who doesn't require you to use their caterer, entertainment or other add-ons. If you know where to look yourself, you can save thousands.
Natural beauty and minimal decor: Selecting naturally beautiful venues such as gardens or historical buildings often reduces the need for additional decorations.
Versatile and non-traditional spaces: Non-traditional venues like public parks, community halls, or even your backyard usually have lower (or non-existent) rental fees and allow for more personalised, cost-effective setups.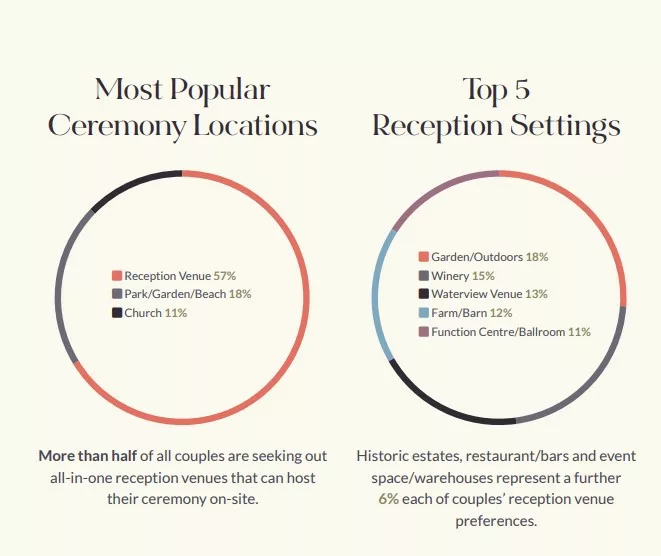 Tips to save on: Wedding attire & accessories
Dressing to the nines on your wedding can cost a small fortune! According to Easy Weddings data:
Most couples will spend an average of $656 on the total cost of their bridesmaid dresses;
Formal wear will cost around $1,413 in total for the groom and groomsmen;
The average wedding dress budget comes in at $2,304; and
The typical engagement ring spend is about $6,000
If that seems like a lot, here are five key tips to save on wedding dresses, suits, and other accessories like jewellery.
Shop sales & trunk shows: Monitor bridal stores for sales events or sample sales for discounted dresses.
Consider second-hand: Websites like StillWhite offer pre-loved dresses at a fraction of the original price. Additionally, check out op shops to see what they have to offer.
Rent accessories: Many brides choose to hire their wedding jewellery instead of forking out thousands for an item they'll likely wear once. Instead of purchasing, consider renting high-value items like jewellery.
Limit bridesmaids' costs: While you might want your whole friendship group in your bridal party, choosing two or three of your best friends will be much more financially smart. Reduce the number of bridesmaids or opt for more affordable attire.
DIY hair & makeup: Consider doing your own hair and makeup or enlist the help of a talented friend.
Need help paying for the perfect wedding ring? Check out our Engagement Ring Loans!
Tips to save on: Wedding catering & beverage costs
No good wedding ever lets anyone go hungry, and the same can be said for having a steady supply of alcohol and non-alcoholic drinks! Ensuring your guests are well-fed is crucial, making it one of the biggest wedding expenses.
In 2022, the average cost of wedding catering was a whopping $5,429! But depending on factors like your wedding's size, it can easily end up in the five-figure range. Here's how you can spend below the average on food and drink:
Choose a buffet over a sit-down dinner: It gives guests variety and often comes at a reduced cost.
Limit alcohol choices: Offer one signature cocktail, then switch to more affordable beer and wine.
Eco-friendly disposable cutlery: Bamboo plates and cutlery are cheaper and sustainable.
Dessert alternatives: Opt for dessert buffets, doughnut walls, or cupcakes instead of an expensive cake.
Source your own alcohol: Buy alcohol during sales, avoiding venue markups.
Tips to save on: Wedding head costs
One of the simplest ways to have a less expensive wedding is to invite fewer people! Save on wedding head (per-person) costs by doing the following.
Streamline the guest list: Limit to close friends and family.
Limit bridesmaid numbers: Reducing the bridal party can save significantly.
Restrict plus ones: Only allow essential plus ones, avoiding doubling catering costs.
Digital invitations: Use digital invites for younger guests comfortable with technology.
Simple decor: Opt for simpler centrepieces and decor, focusing on core elements.
Tips to save on: Wedding invitation & stationery costs
An often forgotten cost of wedding planning is the invitation itself as well as any other stationary designs used on the day, like menus, table arrangements, signs and more. These tend to be the first thing guests see when they arrive, so getting them right is important.
The average cost of wedding invitations in Australia is $805, but you can cut down on that:
DIY design: If you have a design-savvy friend or family member, ask for their help.
Limit physical prints: Direct guests to a personalised wedding website for details.
Bulk order: Group print orders to save on shipping and total costs.
Digital RSVPs: Use email or website-based RSVP systems to save on postage.
One main seating chart: Have a seating chart at the entrance and one menu card per table. People won't mind sharing a menu!
Tips to save on: Wedding photography & videography costs
You'll always want to have lifelong memories of the big day, and 93% of couples hire professional photographers for their wedding (Easy Weddings). But the average cost of a wedding photographer in Australia is $3,164, leaving quite a bit of room for savings.
You can save on your wedding's photography & videography costs by doing the following:
Find local talent: Professional photographers are super expensive. While their work is incredible, you can save yourself money by finding an up-and-coming photographer who charges significantly less.
Book by the hour, not the day: Most wedding parties hire their photographer for the whole day, but their services are only used for a set number of hours. Booking by the hour can be a lot cheaper sometimes.
Go old school: Instead of a photo booth, grab a few Polaroid cameras and leave them around the reception for guests to take themselves and add to your photobook.
Less is more: While there will be many expensive photograph packages, save time and money and opt for the basic one.
Tips to save on: Wedding decor & flower costs
The freedom that comes with wedding decor is exciting, but it also can get out of hand quickly when it comes to costs. Flowers alone can range in cost from $1,800 to as much as $5,000 on average!
In-season flowers: Flowers are one of the hidden extremities regarding wedding costs, and a wall full of them will certainly tip your budget over the edge. Choose flowers that are in season to save on costs.
Reuse decor: Repurpose ceremony flowers and decorations for the reception.
Alternative centrepieces: Use fruits, candles, or simpler designs instead of elaborate floral arrangements.
DIY decor: Tap into your crafty side or engage friends to create a handmade decor.
Rent over purchase: Renting decor items can be more affordable than buying them outright.
Tips to save on: Wedding entertainment costs
Almost three-quarters of couples want their wedding music in the hands of professional musicians, and the average music cost sits at just over $1,800 in 2023. DJs are the most popular choice, followed by a band or a DJ/band combo.
Local bands or DJs: Opt for local talent that may not carry the premium of more famous acts.
DIY playlists: Create your own music playlist and use a reliable sound system.
Limit duration: Instead of booking for the entire event, focus on key moments.
Off-peak discounts: Some entertainers offer discounts for weekday or off-peak season bookings.
Use talented friends: If you know someone who is musical or entertaining, see if they'd perform.
Tips to save on: Wedding planner costs
Using a wedding planner in Australia can save you money and time by taking away a lot of the responsibility from yourself. It's also essential to factor in the cost of hiring a wedding planner.
Fees can vary widely based on experience, demand, and services offered. Some planners charge a flat fee, a percentage of the total wedding cost, or an hourly rate.
Here are some tips for saving on the cost of wedding planning:
Partial planning: Instead of a full-service planner, hire for specific services or consultations.
Day-of coordination: Opt for a coordinator just for the wedding day.
DIY approach: With the help of friends and family, manage planning and rely on online resources.
Package deals: Some planners offer packages that include vendors at discounted rates.
Digital planning tools: Use wedding planning apps or software to stay organised.
Tips to save on: Wedding transport costs
One final major cost to consider when planning your wedding is the cost of transport. How will you and your partner get there? How will the guests get there? Will they need accommodation?
While arriving in a vintage or classic car is the most popular choice, you can save on transport costs for your wedding by doing the following:
Local venues: Choose venues close to each other to reduce transport needs.
Multiple services discount: Companies that offer multiple vehicles might provide a package deal.
Alternative vehicles: Consider non-traditional transport like minibuses or vans, which can be cheaper.
Limit rental time: Rent vehicles for specific transfers rather than the whole day.
Guest carpools: Encourage guests to carpool, reducing the need for larger shuttles or buses.
How to pay for your wedding
There are several ways to pay for your wedding, and given their sheer expense, it's a good idea to put some serious thought into this. MoneySmart's survey found 82% of couples dipped into their savings to pay for their wedding; 60% of surveyed couples got a loan, and 18% used their credit card.
Fewer couples are also relying on their parents or family to pay for the big occasion. Easy Weddings' data shows less than a third (31%) combined funds from the Bank of Mum and Dad in 2023, a 14% decrease from the previous year.
Weddings are stressful enough, even without the added financial pressure. If digging into your savings and paying everything upfront doesn't sound ideal, consider a Wedding Loan from Jacaranda Finance.
About our Wedding Loans
With a Jacaranda Wedding Loan, you can borrow up to $25,000 over as long as 48 months, repaying your expenses in manageable instalments. Our fixed interest rates can help your budget from spiralling, and you can pay off your loan faster if you'd like at no extra cost!
Check if you qualify for one of our Wedding Loans today without impacting your credit, or apply in just 5-12 minutes1 if you're ready to go.
---
The information on this website is for general information only. It should not be considered professional advice from the website owner - Jacaranda Finance. Jacaranda Finance is not a financial adviser, and the content on this page does not consider your objectives, financial situation or needs. You should consider seeking independent legal, financial, taxation or other advice to check how the website information relates to your unique circumstances. Jacaranda Finance is not liable for any loss caused, whether due to negligence or otherwise arising from the use of, or reliance on, the information provided directly or indirectly by the use of this website.
William is the Content Manager at Jacaranda Finance. He has worked as both a journalist and a media advisor at some of Australia's biggest financial comparison sites such as Canstar, Compare the Market and Savings.com.au, and is passionate about helping Australians find the right money solution for them.
You can get in touch with William via
williamj@jacarandafinance.com.au
.